Another year come and gone, another batch of delicious recipes tested, shot and shared.
I'm really proud of the recipes we put out this year, both the recipes themselves as well as the photography. The past few years have really seen a shift from quantity to quality, with fewer, longer and more thoroughly tested posts and recipes. I still can't figure out how I used to post 3-4 times a week (now I'm lucky if I get 2 recipes published).
What's in store for 2020? Well, if my list of recipe ideas is any indicator, it's going to be a tasty year!
(Also, because I don't mention it here often enough, be sure to join our facebook group if you haven't already! It's a friendly community and fabulous resource and for anyone looking for cooking tips and recipe inspiration. Join us, won't you?)
2019 by the numbers:
Posts published: 75
Comments received: 587
Words written: 74,042
Average post length: 987 words
Photos taken: 19,475 (622GB worth!)
Most liked: Chocolate Maraschino Layer Cake (14,050 likes!)
Most pinned: Strawberry Cake Roll
Books read: 64
Countries visited: 5
Without further ado, here are most popular posts from 2019 and from the past decade (be sure to click through to see all of them, including the most popular images from Instagram!)
Your Favorite Posts this Year
These were the top visited posts published this year according to Google Analytics.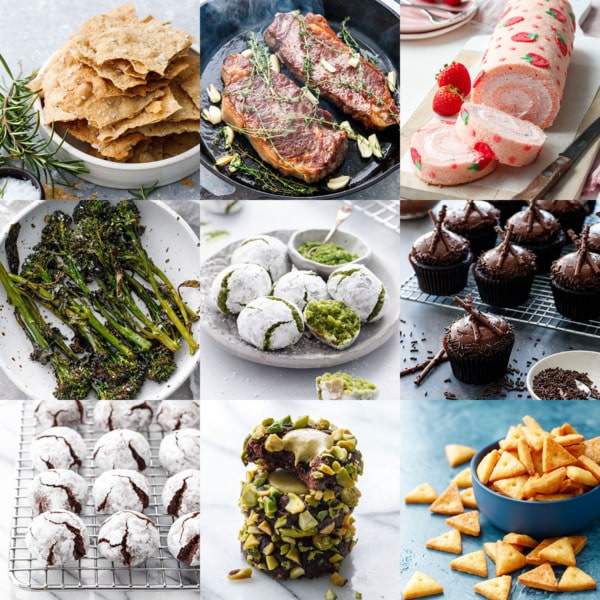 1. Sourdough Crackers with Olive Oil & Herbs / 2. Reverse Sear Steak / 3. Strawberry Cake Roll / 4. Crispy Oven-Roasted Broccolini / 5. Matcha Amaretti Cookies / 6. Ultimate Chocolate Cupcakes with Chocolate Cloud Frosting / 7. Chocolate Amaretti Cookies / 8. Chocolate Pistachio Cream Thumbprints / 9. Homemade Cheese Crackers
The Most Popular Posts of the Decade
Since we're entering a new decade, I figured I'd round up the top visited posts from the past 10 years. Most of these will probably look familiar to you, as they've appeared in the annual round ups year after year (well, except for the magic lemonade… that one surprised me this year!)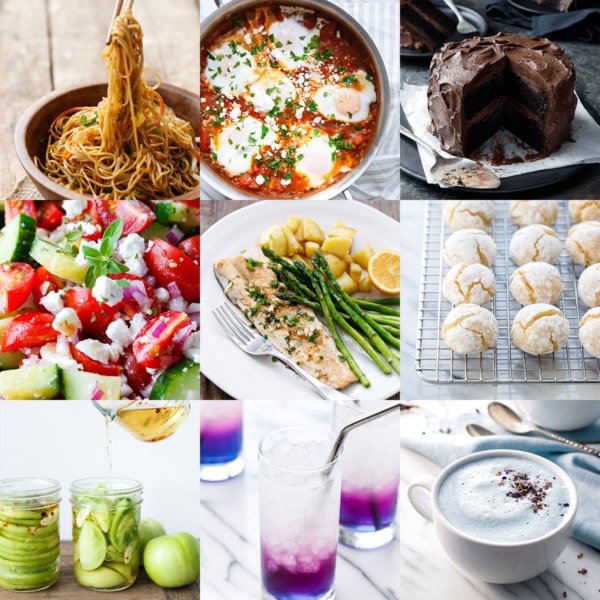 1. Soy Sauce Noodles / 2. Shakshouka / 3. Ultimate Chocolate Cake with Fudge Frosting / 4. Tomato Cucumber Salad / 5. Pan-Fried Trout with Garlic, Lemon & Parsley / 6. Soft Amaretti Cookies / 7. Pickled Green Tomatoes / 8. Butterfly Pea Lemonade / 9. Blue Moon Milk
Most Popular on Instagram
These were the top 9 most liked posts on Instagram this year. A few surprises here, namely a savory recipe (GASP!) since savory recipes tend to get noticeably less reach when compared to sweet ones (those cucamelons are pretty darn cute, though!) Always interesting to see that the most popular recipes on instagram tend to be completely different from the most popular blog recipes (with a few exceptions like the ever-popular amaretti cookies—everyone loves those, no matter what platform!)
1. Chocolate Maraschino Layer Cake / 2. Cookies 'n Cream Puff Ice Cream Sandwiches / 3. Cookie Dough Ice Cream Sandwiches / 4. Black Sesame Cinnamon Rolls with Matcha Glaze / 5. Matcha Amaretti Cookies / 6. Chocolate Pistachio Cream Thumbprints / 7. Cookies 'n Cream Puff Ice Cream Sandwiches / 8. Pumpkin Cake Roll with Mascarpone Whipped Cream / 9. Cucamelon Pickles
****
Tell me, what was YOUR favorite recipe this year?
Here's to plenty of delicious things to come in 2020!