My favorite soft and chewy amaretti cookies with added matcha green tea powder for a unique flavor and striking color.
This recipe is proving to be quite the versatile cookie, lending itself to endless iterations, including this virescent matcha variation that is, like the original, naturally gluten and dairy free!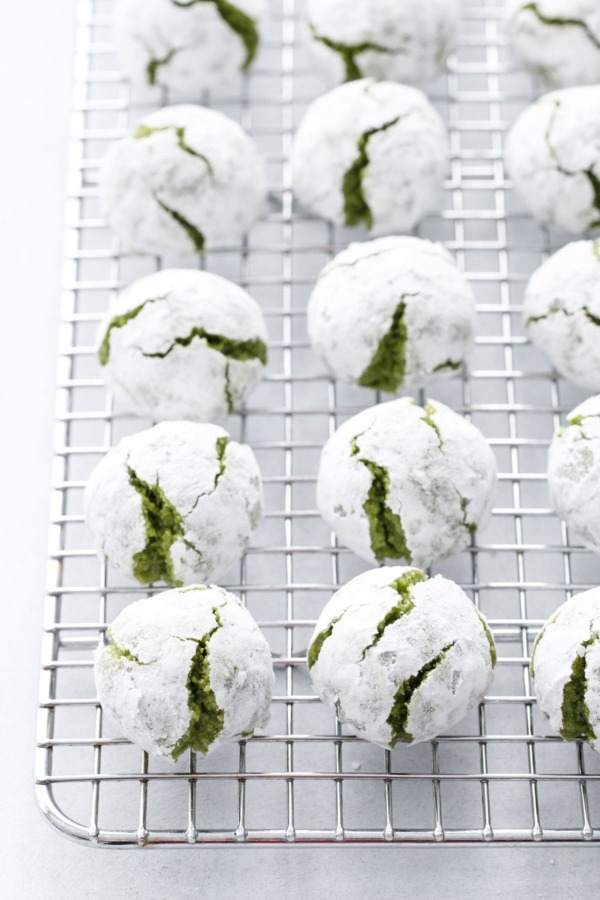 Another day, another amaretti.
I swear, this recipe is turning into one of my all-time favorites (and yours). The fact that it's so easy to adapt for a variety of flavors and striking natural colors only adds to that love. So far, I've done soft almond amaretti. Raspberry amaretti. And now, matcha amaretti. (I'm totally doing a chocolate version next.)
The flavor is as captivating as the color, with a hint of matcha green tea to compliment the natural almond essence. And for those of you who think matcha is bitter, there's enough sugar in these cookies to negate that bitterness entirely.
Consider these step 1 in transforming yourself from a match-hater to a matcha-lover.
As reader Jacqueline suggested (she's the one who inspired this flavorful variation in the first place!) make a batch of these and a batch of the raspberry amaretti for a festive red and green Christmas cookie display.
Or, even more timely… since St. Patrick's Day is coming up… well, I don't need to tell you that these would be the perfect treat. (There's absolutely nothing wrong with making Japanese-flavored Italian cookies on an Irish holiday, right? I didn't think so.)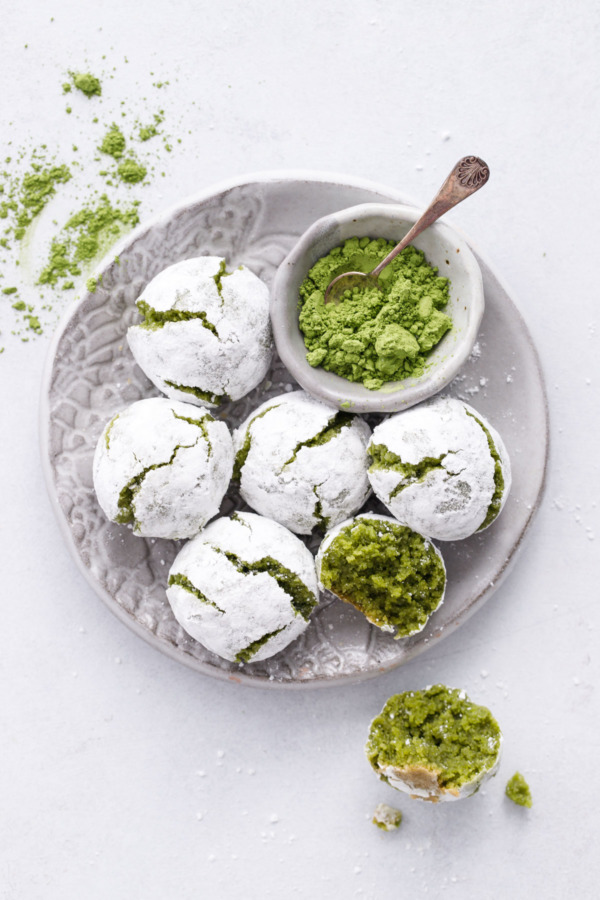 The lovely chewy outsides of these cookies yield to a soft, marzipan-like middle. They'd be perfect served with a bowl of ceremonial-grade matcha or even a frothy matcha latte in the morning (or any time of day, really—I personally make myself a matcha latte every morning using this mix recipe; I make it hot in the winter and iced in the summer). Heck, they'd even be great with a cup of coffee.
I dusted these with a thicker layer of powdered sugar than previous variations, as I decided I really like the way the color stands out in the cracks. But you could certainly do a lighter layer of sugar on the outside and more of the green would show through.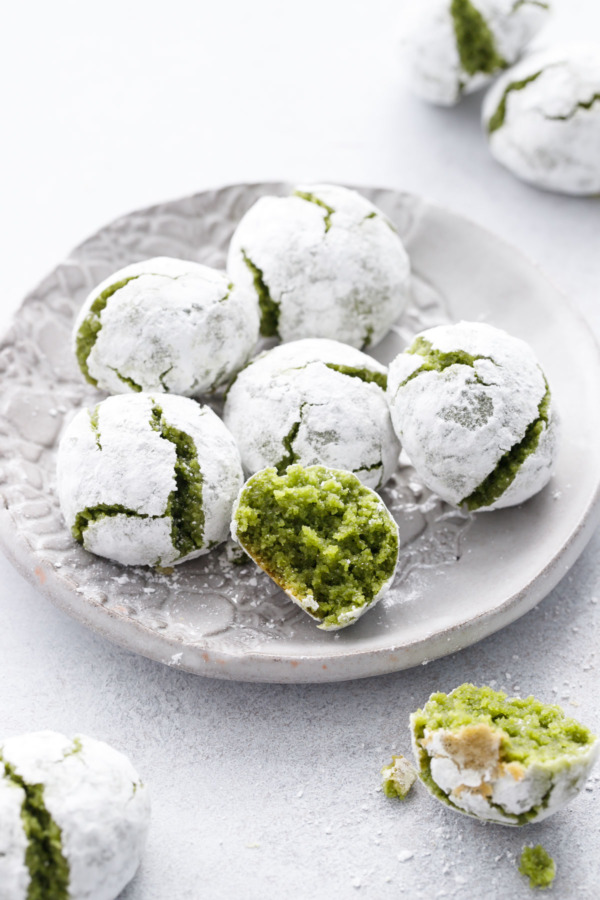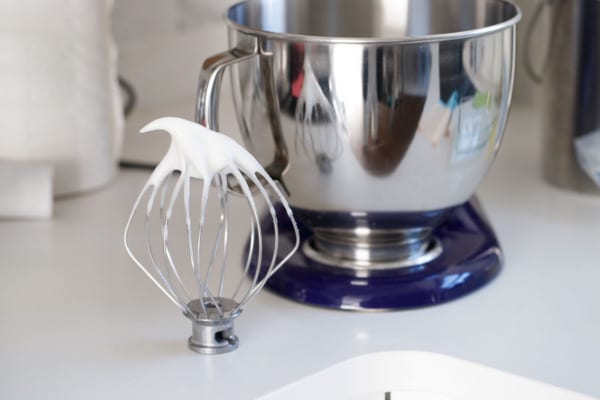 The perfect medium-stiff peaks will hold a slumped point. Like an eagle's beak, as I've heard it described.
One of the factors that can make these cookies spread is over beating egg whites, so once yours start forming soft peaks, reduce your mixer speed and keep a close eye on it. You can always beat more, but there's no coming back from overbeaten egg whites.
Once your egg whites are ready, however, there's no need to be delicate about mixing it in to the dough (you're not making macarons here). Smush and mash the whites into the almond flour, almost kneading it with the spatula (and you can use your hands too which I find is easier at the end).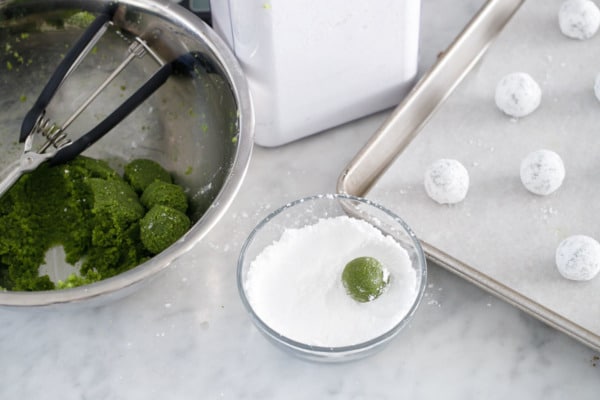 These cookies are super quick and easy to make, and are best when fresh. That said, if you want to make some ahead of time you can freeze balls of dough (without the powdered sugar coating), and then bake as described. They might need a minute or two longer if baked from frozen, and might be a bit less crackly than those baked from fresh.
After baking, the cookies will keep quite well in an airtight container for about 5 or so days, after which point they do start to dry out a bit and aren't quite as delectable (still perfectly edible though).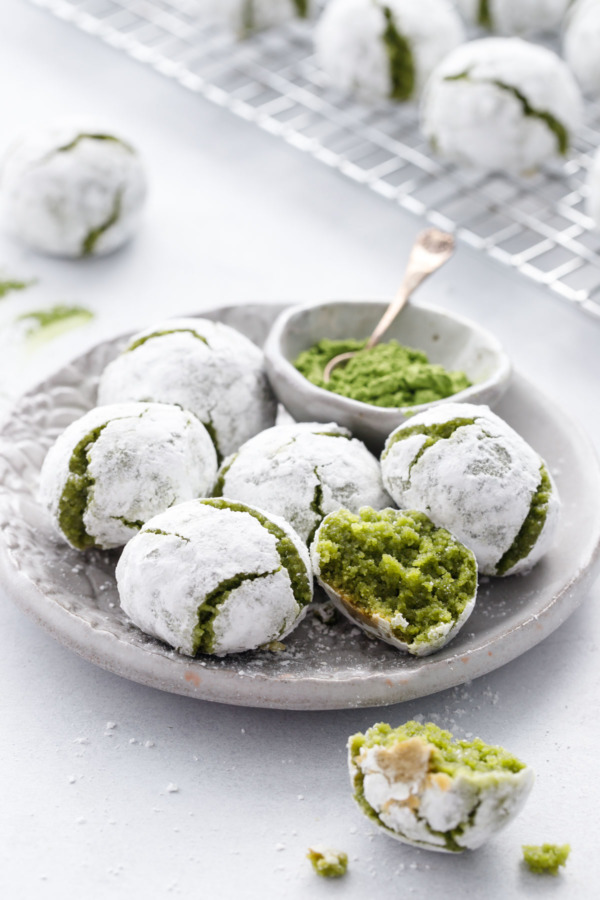 It's worth another mention (if you haven't read the original post which goes over all the variables that can affect the outcome of these cookies) that I find baking these on a set of stacked cookie sheets (two identical cookie sheets one nested on top of the other) makes for a more evenly baked, chewier cookie. The two cookie sheets serve as insulation, essentially, keeping the bottom from getting too brown before the rest of the cookie is done.
If you use a single cookie sheet instead, you'll probably only need to bake them for 22 to 25 minutes. You'll end up with browner bottoms and softer middles than my cookies.
The good news is these cookies don't spread much, so you can pack them pretty tightly (I can fit an entire batch on a single cookie sheet). Give them no more than an inch of space between cookies, offsetting the rows to fit in even more.
Want to see how these amazing little cookies are made (along with the original, chocolate and raspberry variations)? Check out the video: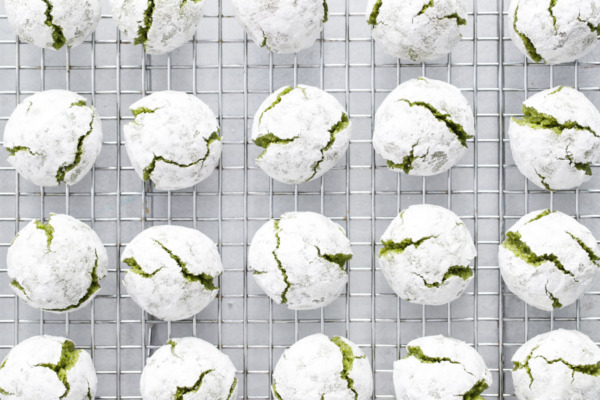 Matcha Amaretti Cookies
Soft and chewy almond cookies with matcha green tea powder for a unique flavor and striking color.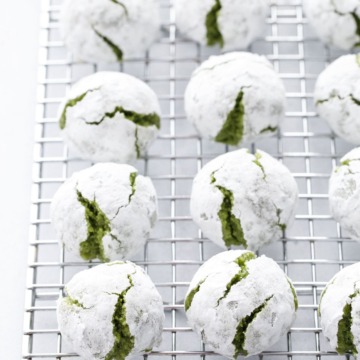 Ingredients:
2 1/4 cups (200g) almond flour or very finely ground almonds, sifted
1 cup (200g) granulated sugar
1 tablespoon (5g) matcha powder
pinch salt
2 large egg whites (about 60 grams)
1/4 teaspoon lemon juice
1/2 teaspoon almond extract
confectioners' sugar, as needed
Directions:
Preheat oven to 300 degrees F. Stack two matching, heavyweight, light to medium colored cookie sheets one inside the other (stacking two cookie sheets together keeps the bottoms of the cookies from getting too brown). Line with parchment paper or a silicone baking mat.
In a large bowl, whisk together almond flour, sugar, matcha and salt until evenly incorporated.
In a mixing bowl or the bowl of a stand mixer fitted with the whisk attachment, whisk egg whites and lemon juice until they hold soft peaks.
Add beaten egg whites and almond extract to dry ingredients and stir until mixture forms a soft, sticky dough, kneading with your hands if necessary. No need to be gentle here, we're not making macarons. ;)
Lightly dust your hands with powdered sugar. Use a small cookie scoop to portion dough into 1-inch balls. Roll into a smooth ball, then roll in powdered sugar. Arrange on parchment or silicon-lined baking sheets, leaving 1 inch of space between cookies.
Bake for 30 to 35 minutes until tops are cracked and bottoms are just barely golden (if you are NOT using doubled cookie sheets your cookies will brown much quicker, and will likely only need 25 minutes, so watch them closely). If you prefer crunchier cookies you can give them an extra 5 minutes or so or until the tops begin to brown too. Remove from oven; let cool a few minutes, then transfer to wire racks to cool completely.
Cookies will keep at room temperature in an airtight bag or container, for up to 5 days.
Did you make this recipe?
Let us know what you think!
Leave a Comment below or share a photo and tag me on Instagram with the hashtag #loveandoliveoil.