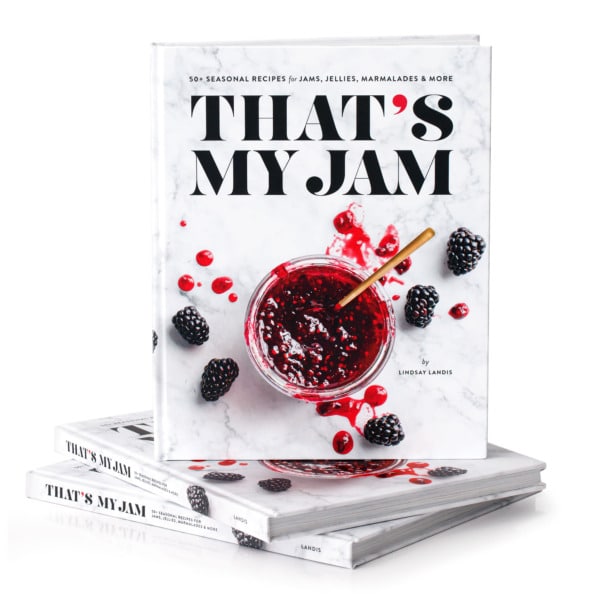 That's My Jam
by Lindsay Landis
50 seasonal recipes for jams, jellies,
marmalades & more!
Make every season canning season.
Over 50 delicious jam recipes featuring the best of each season, preserved using water-bath canning methods for year-round enjoyment.
From the author of The Cookie Dough Lover's Cookbook and Breakfast for Dinner comes That's My Jam, featuring over 50 seasonal jam, jelly, and marmalade recipes highlighting the best of seasonal produce, including Peach Lavender, Raspberry Balsamic, Mango Passion and MORE, plus a detailed getting started guide with tips, tricks, and the tools you need to become an expert canner.
Organized by season, with stunning, full color photographs as well as tips, tricks, and variations to make each recipe your own. As an added bonus, each recipe includes a beautifully designed printable label: simply print out onto sticker paper or card stock and take your jars from ordinary to extraordinary. Perfect for gifting!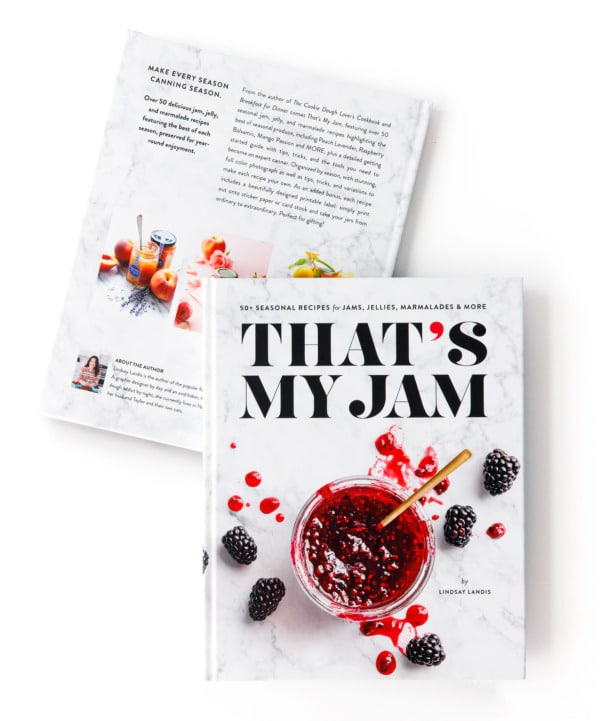 What's Inside
52 unique recipes for homemade jams and jellies, organized by season (including a new SHOULDER SEASON chapter with recipes combining fruits from multiple seasons).
13 BONUS recipes for sweet and savory dishes to showcase your jams.
Access to downloadable printable labels for each and every recipe, for gift-ready jams.
Getting started tips, tools, and information for new and experienced canners alike.
Resources for supplies, jars, and extended reading.
If you are…
An experienced canner looking for some unique new recipes or some designerly labels to up your packaging game…
A beginning canner looking to play with new flavors and techniques…
A newbie who has been wanting to learn how to can but has been hesitant to try…
A jam-lover looking for small batch recipes suitable for freezing (all the recipes in this book can be frozen instead of processed in a water bath).
…this book is for you!
Canning Resources, Supplies & Printable Labels
As a companion to the book, I've compiled a number of resources, tips and tools. Since technology to make links clickable in physical books does not exist yet (lol), this page will have to make do for now. I hope you find it helpful!
I've also included download links for all the labels in the book, as well as notes about the jars and label material used in each recipe.
Printable Labels
You can access the PDF printable label files for all the recipes in the book by clicking the links below (right click and choose 'Save As' to save the PDF to your computer).
Beginner's Resources
New to canning? Check out these helpful books and online resources:
Tools & Equipment
For a full list of all my recommended tools and equipment, please visit the canning supply shop.
Jars
(This section contains affiliate links)
Labels & Label Materials