This moist and fluffy butter cake is bursting with bright lemon flavor, topped with a crispy toasted meringue that practically melts in your mouth. Talk about one unique dessert!
So you've heard of lemon meringue pie… but what about lemon meringue cake? It's the delicious dessert mashup you never knew you wanted, combining a tender lemon butter cake with swirls of crispy meringue.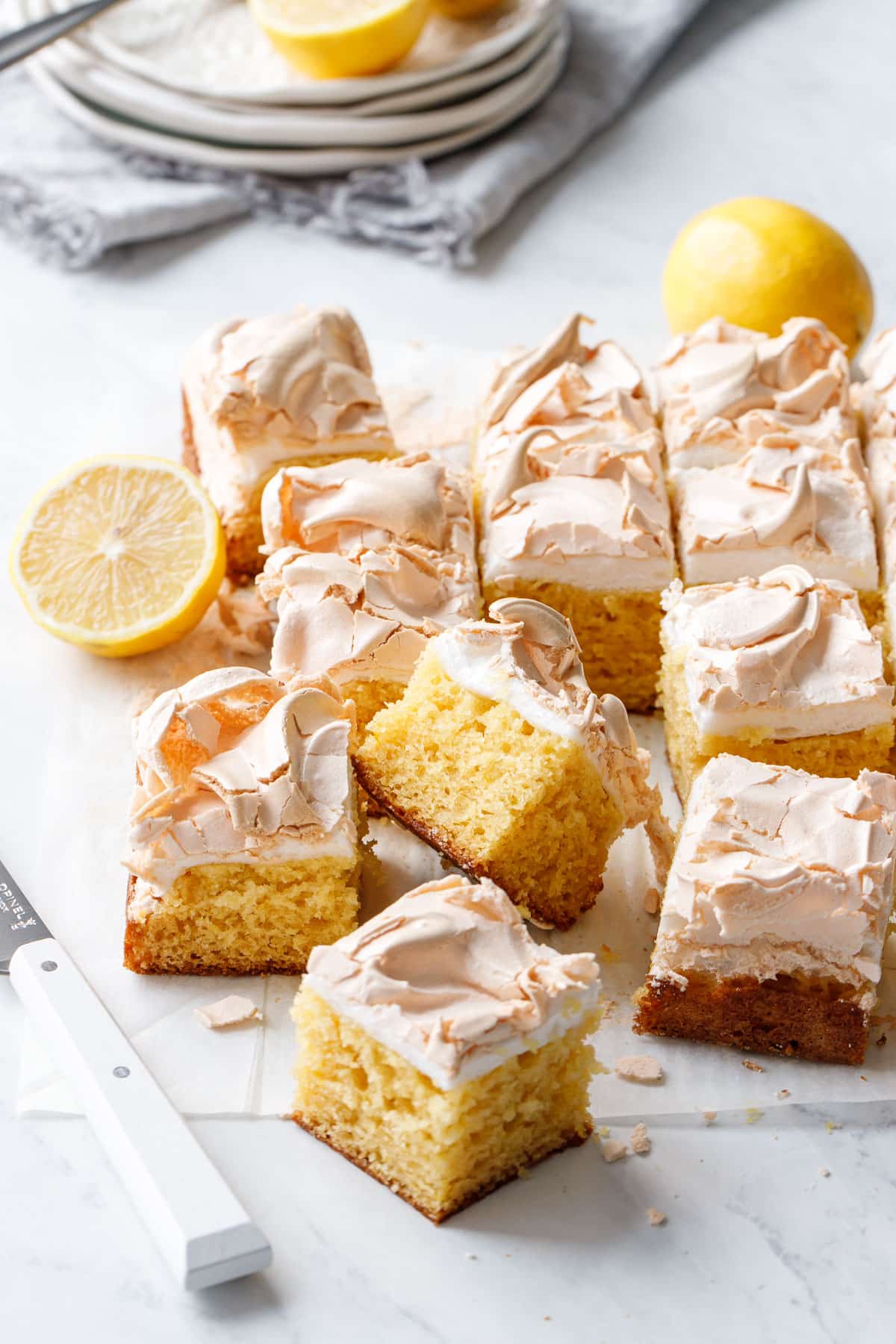 This recipe was created in partnership with Amoretti (use coupon code LOVEANDOLIVEOILFREESHIP for free shipping on your order!) All opinions expressed here are my own.
Baking is as much about texture as it is flavor, and one of my favorite tricks to elevate baked goods is to introduce a textural contrast, in this case via a crispy meringue topping.
I'd actually brainstormed and tested a lemon meringue blondie a few years back, which proved frustratingly problematic (the blondie wouldn't fully bake with the meringue topping, I still have no idea why).
So when I decided to attempt a cake with a similar meringue topping, I pulled out my first test cake from the oven fully expecting an underbaked disaster.
Disaster it was not.
I was pleasantly surprised, as I fully expected this one to give me a lot more trouble (though I still tested it a few times, tweaking the flavors and the proportion of cake to meringue [my first cake was like 4 inches tall, no exaggeration]).
In the end, the butter cake base bakes perfectly in the time it takes for the meringue to get golden brown and crispy, and the result is ever so satisfying, both tastefully and texturally.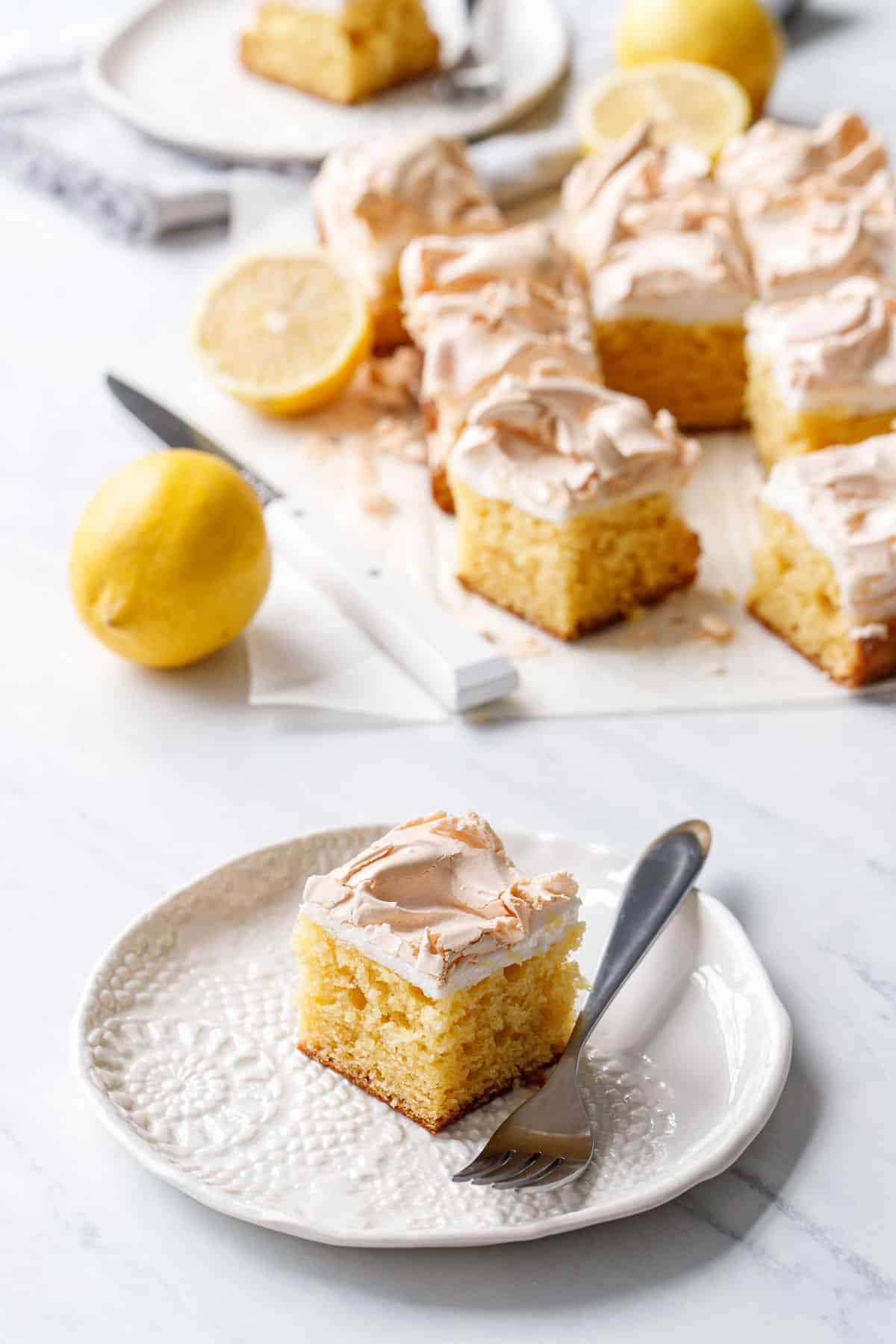 Instead of typical cake frosting, this cake is baked with a layer of fluffy meringue on top. As it bakes, the meringue gets crispy on the top but remains fluffy in the middle, making for a delightful textural experience when you get a bite of both soft cake and crispy meringue that melts on your tongue.
I mean, how many other cake recipes do you know that bake with the frosting??
The cake itself is tender and moist (thank the sour cream for that!), with a coarse, buttery crumb and a surprisingly bright lemon flavor. Paired with the delicately crispy meringue on top, it really is fantastic.
To achieve the enticing lemon flavor in this recipe, I used Amoretti's Natural Lemon Meringue Artisan flavoring. It's smoother and creamier than lemon extract, with a hint of vanilla and an almost marshmallow-y sweetness that goes beautifully with this butter cake.
The difference in flavor between my first cake (made with regular lemon extract) and the second (with the Amoretti flavoring) was remarkable; the later was the clear winner, with a noticeably brighter, but not harsh, lemon flavor with secondary notes of marshmallow and vanilla.
The Lemon Meringue flavoring manages to add a vibrant lemon flavor that's both intense and smooth at the same time, not overly harsh or bitter like some lemon extracts can be. It adds an intensity of lemon flavor that would be impossible to achieve with fresh lemons—you'd need at least 4 or 5 lemons worth of zest and a whole lot of lemon juice to even come close (and too much lemon juice would negatively affect the texture of the cake), and then the cake would likely end up overly bitter and acidic. But the Lemon Meringue flavoring strikes the perfect balance of bright and fruity, tart and sweet. It really is far superior to lemon extract in that regard.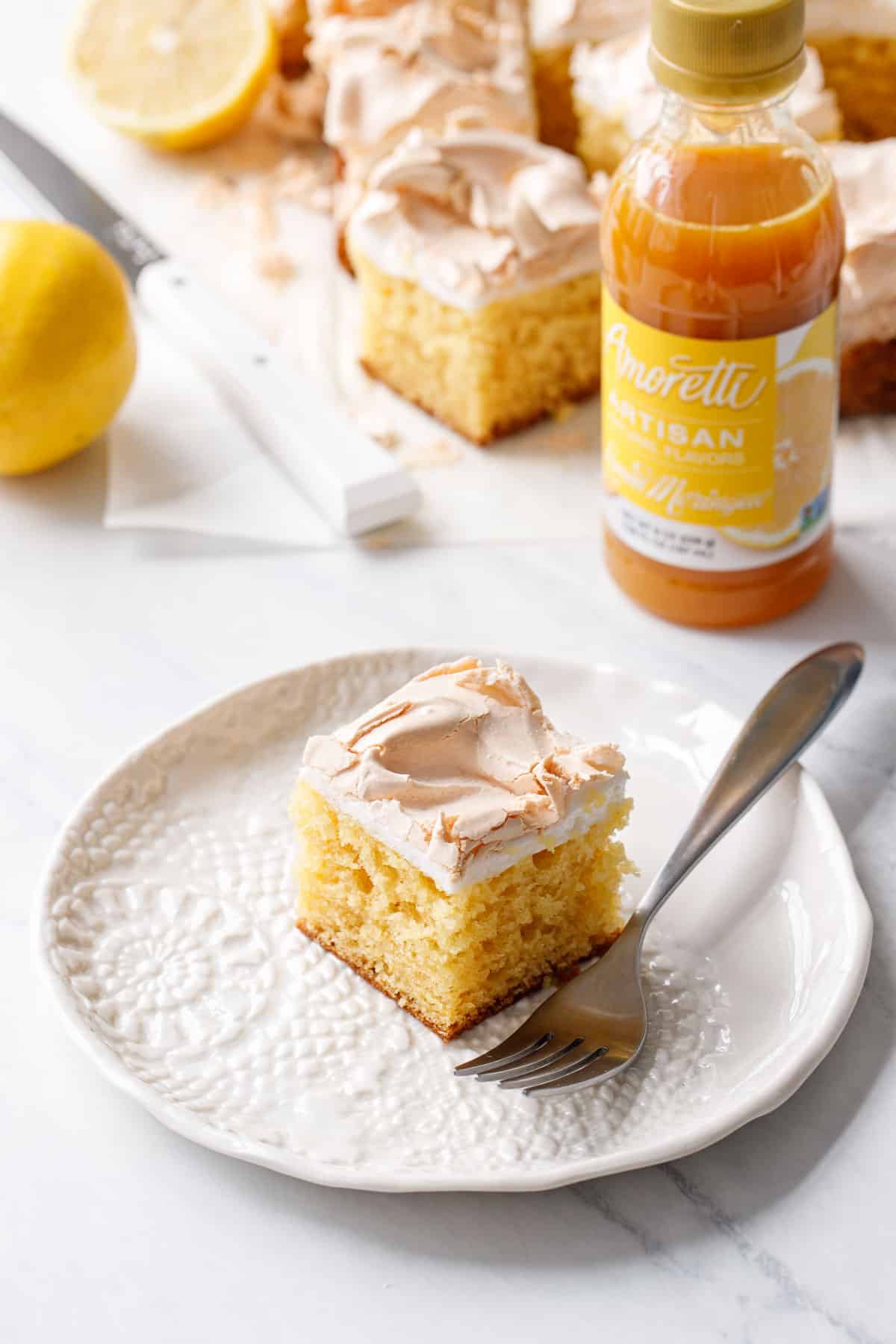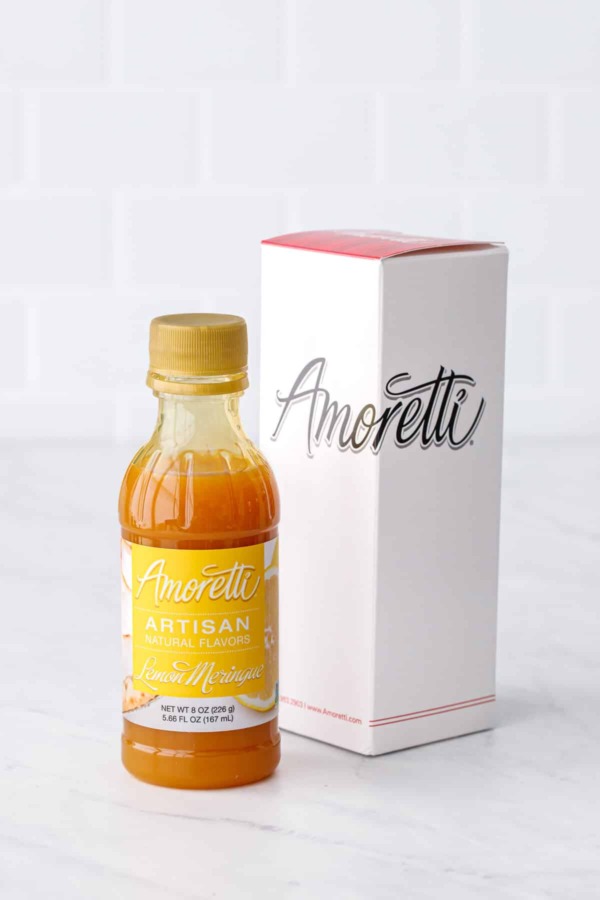 I think this product would be wonderful in my Lemon Meringue Ice Cream (which I actually debated remaking/rephotographing for this partnership if the cake had taken a disastrous turn like I initially expected). Especially since adding lemon flavor can be tricky with ice cream (adding straight acid to milk/cream will cause the cream to curdle, and chunky ice cream is… decidedly not delicious.) But a tablespoon or two of this in the ice cream base would enhance the lemon-meringue flavor in the ice cream beautifully, without any curdling.
Use coupon code LOVEANDOLIVEOILFREESHIP at Amoretti.com for free shipping on your order!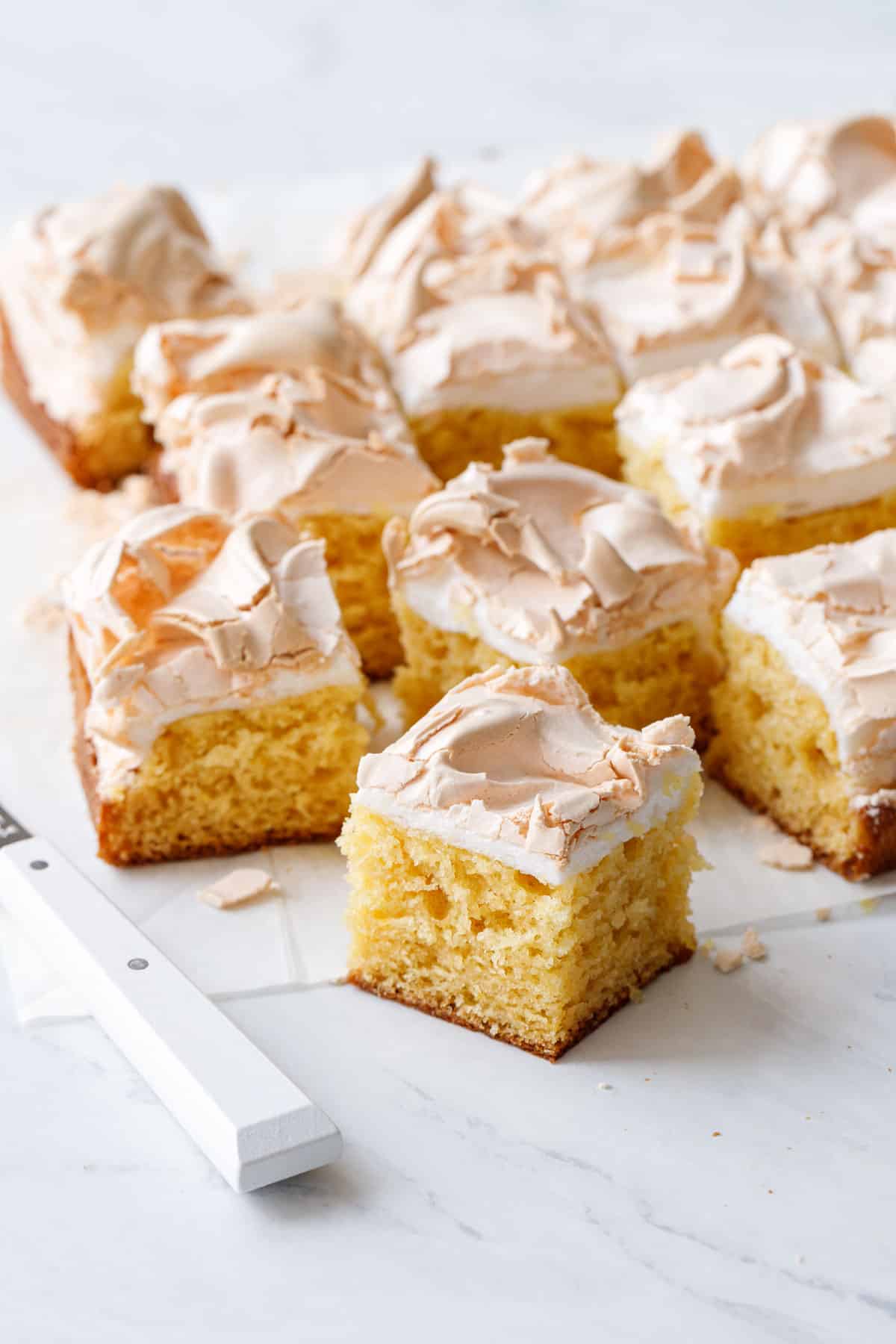 The cake base is actually based on my sour cream coffee cake recipe, with a similar coarse, buttery crumb made with sour cream for extra moisture and richness. So, technically, you could call this a coffee cake, which makes it perfectly acceptable to eat in the morning.
In the end though, I opted to call it a butter cake rather than a coffee cake, as I feel like the sweet meringue pushes it a bit further into the dessert realm than breakfast.
That said, if you wanted a true coffee cake more appropriate for brunch, leave off the meringue layer and finish it off with a sprinkle of sugar for a crispy top crust, or even a thick crumb layer instead.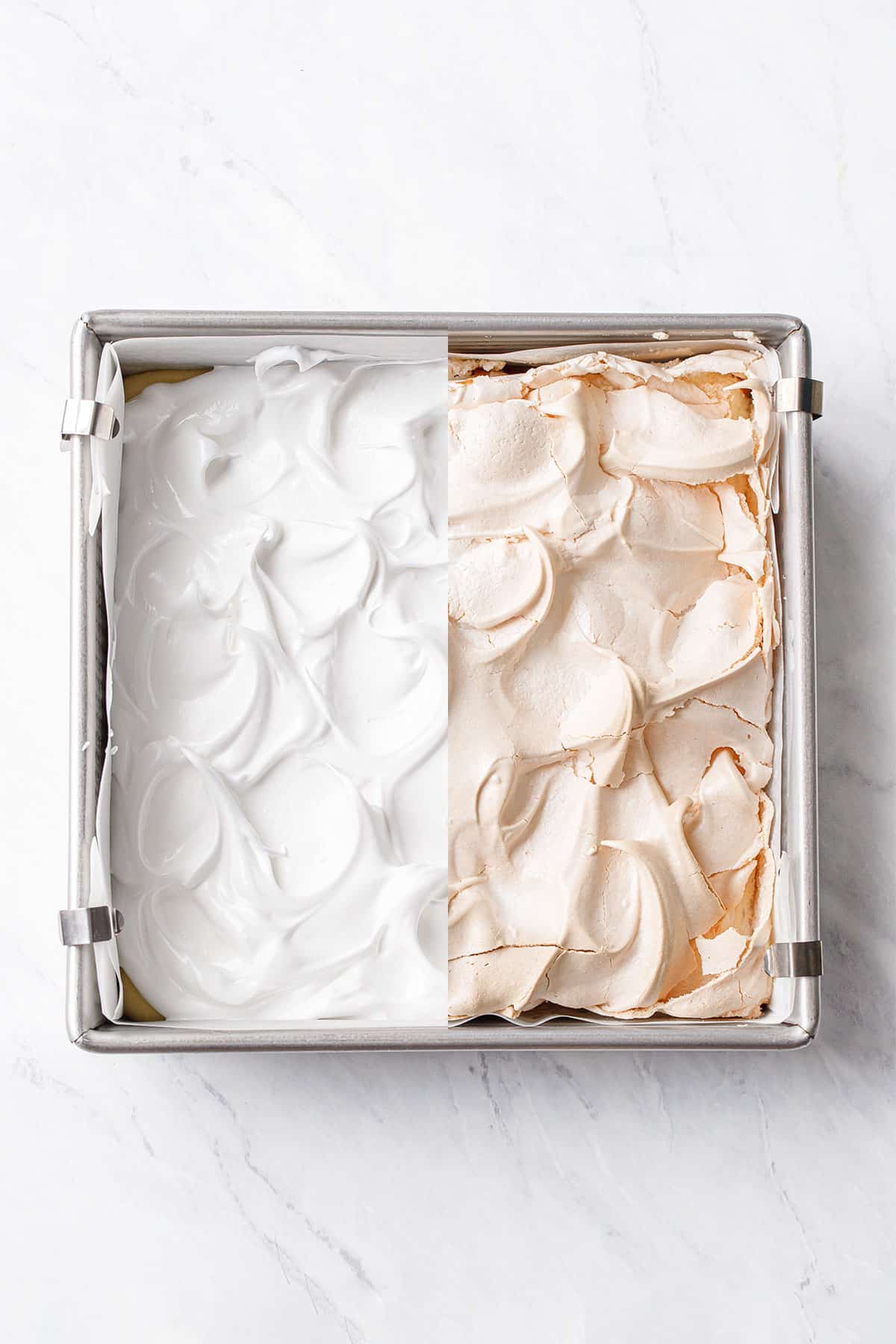 Tips for a Stable Meringue
While the meringue topping here isn't quite as finicky as a pavlova, it is still important to build a stable meringue structure so it doesn't completely collapse in the oven. Yes, it does partially collapse (mostly as a result of the steam from the cooling cake beneath it), and will seem like it completely falls apart when you slice into it, but the mess is part of the beauty of this cake. Embrace it!
To achieve a fluffy, stable meringue:
Make sure your mixing bowl is clean, as even the smallest molecule of fat will cause the meringue to fail. I like to rub the inside of the bowl with a cut lemon (the half I just squeezed for the juice needed for the cake batter will work perfectly); the acid will help form a more stable meringue.
Start the mixer on medium-low speed and beat the egg whites until they are foamy and hold soft peaks, and then start adding the sugar, a tablespoon at a time.
Continue to beat the meringue on medium (resist the urge to crank up the speed, which will result in larger bubbles and a less stable meringue). It'll take 10 to 15 minutes to form a thick, glossy meringue that holds stiff peaks. When you rub a bit of the meringue between your fingers, you should feel no grains of sugar; if you do, beat it a little bit longer.
Drop smaller dollops of meringue on top of the cake batter rather than just piling it all in the middle; this will make it easier to spread it into an even layer.
Use the back of a spoon to make swoops and swirls over the surface of the meringue.
The meringue will puff up quite a bit in the oven, but will fall as it cools, and will collapse even more when the cake is cut. You will not get perfect slices from here, just embrace the messy nature of this cake.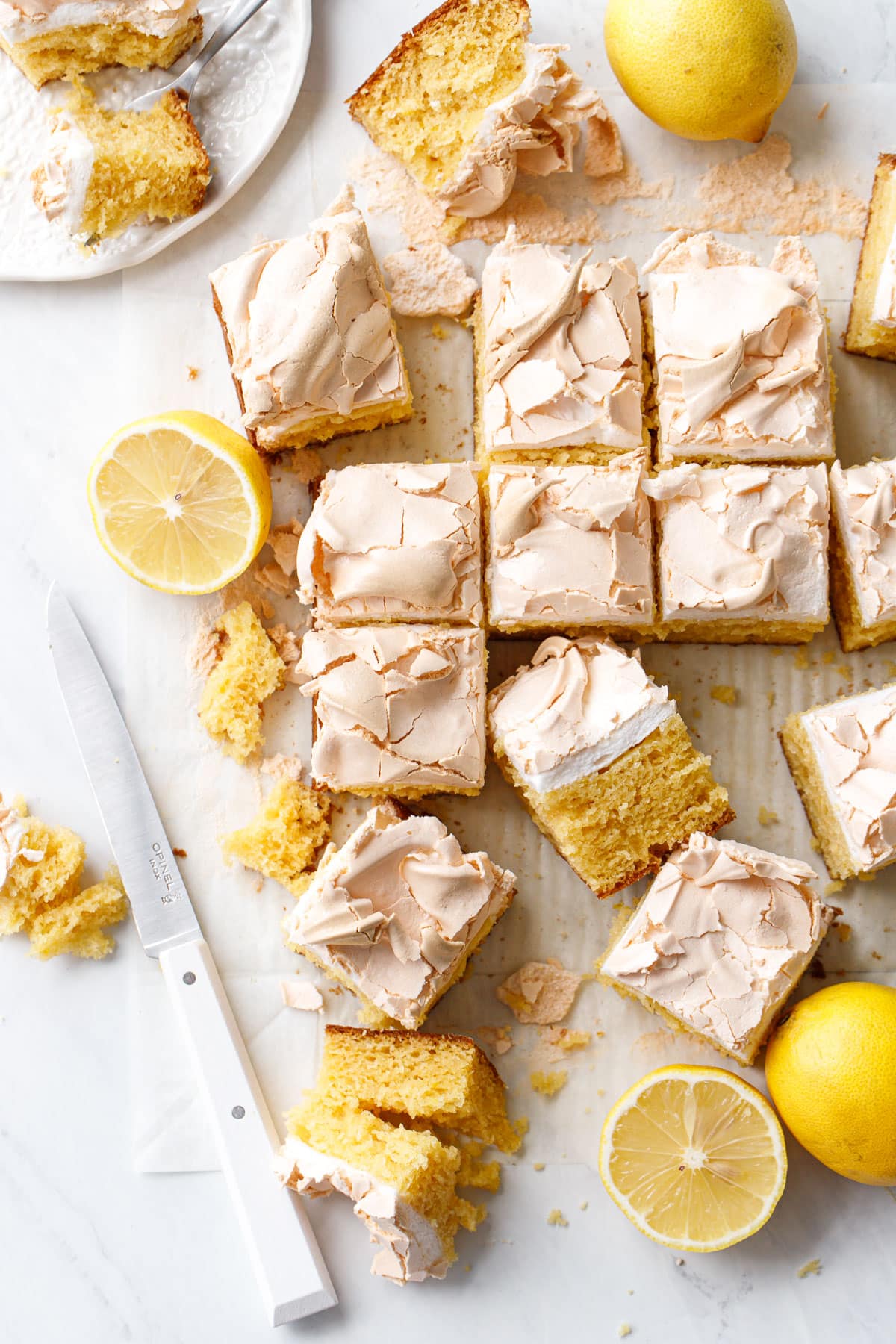 This recipe will give you one 8-by-8-inch square cake.
While I cut my cake into 16 small squares, you could opt to cut this into 9 larger slices if you prefer. Or if you don't care about symmetrical square pieces of cake, go for 12 rectangles even (actually I think this would probably be the perfect sized slice, though rectangles make for less pleasing photos, so.)
You can also bake this recipe in a 9-inch round pan (ideally with a removable bottom like a cheesecake pan), or even double the recipe in a 13-by-9-inch rectangle pan (it'll need slightly longer to bake).
Checking for doneness is a bit tricky with this one, since the cake is fully hidden underneath that thick layer of meringue. Try not to open the oven before you absolutely have to (as this can cause the meringue to collapse). Give the pan a quick jiggle, there should be no movement in the center (compared to when it's not fully cooked, the center will still jiggle a bit even under the meringue).
You can also use a long skewer (toothpicks would be too short in this case), to check near the center. You're looking for a few moist crumbs, no gooey batter. At this point the meringue should be light golden brown and crispy.
Swaps & Substitutions
Lemon Meringue Flavoring: the Amoretti Lemon Meringue Artisan flavoring is very unique in its flavor profile—it's sweet and creamy tasting, with notes of vanilla and marshmallow and an intense yet almost buttery lemon flavor (whereas many lemon extracts tends to taste rather harsh, too much like floor cleaner in my opinion). It is a very unique product and does not have a direct replacement; I highly recommend purchasing it for use in this recipe.
If you opt to use regular lemon extract, use 1 to 2 teaspoons to taste, as well as an extra tablespoon of sugar since the Artisan flavoring is sweetened.
Leaving out the extract entirely will result in a much milder lemon flavor (I'd recommend using twice the lemon zest in this case, along with the additional tablespoon of sugar).
Sour Cream: you can use plain, whole Greek yogurt in place of the sour cream, though the lower fat content will lead to a drier cake overall. I do not recommend using low fat yogurt, or low fat sour cream either for that matter. The fat is necessary to achieve the proper moist and tender crumb.
Egg Whites: Fresh egg whites will give you the fluffiest, most stable meringue. I've never had much luck using carton egg whites in situations in meringue, it just doesn't whip up for me; powdered egg whites or meringue powder may work better. I imagine you could also use aquafaba here too.
If you need a recipe to use up the 2 egg yolks you'll have left over, here are a few egg yolk recipes so they don't go to waste!
Flour: I used all-purpose flour, but you could use cake flour for an even finer, lighter crumb (use an equal amount by weight, not volume, since cake flour is lighter than AP). I have not tested this recipe with gluten-free flour, but an all-purpose mix should work ok, though the texture might not be quite as light and tender.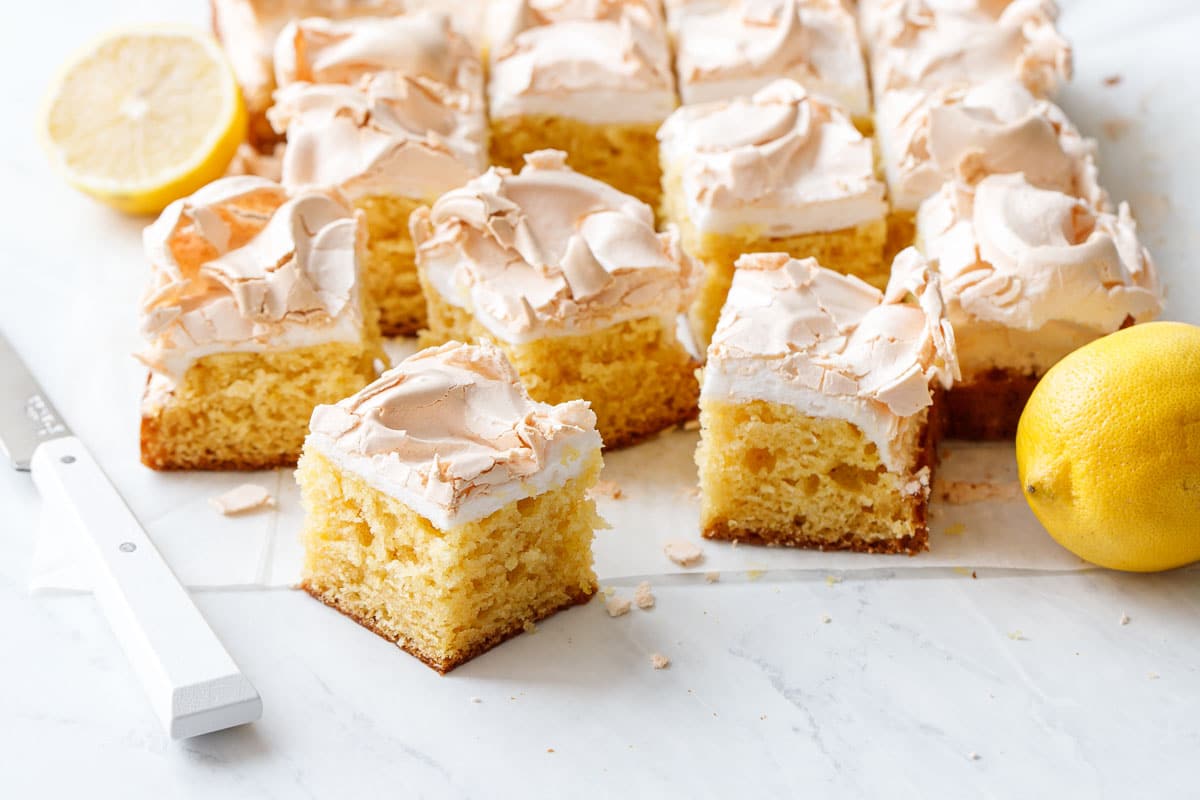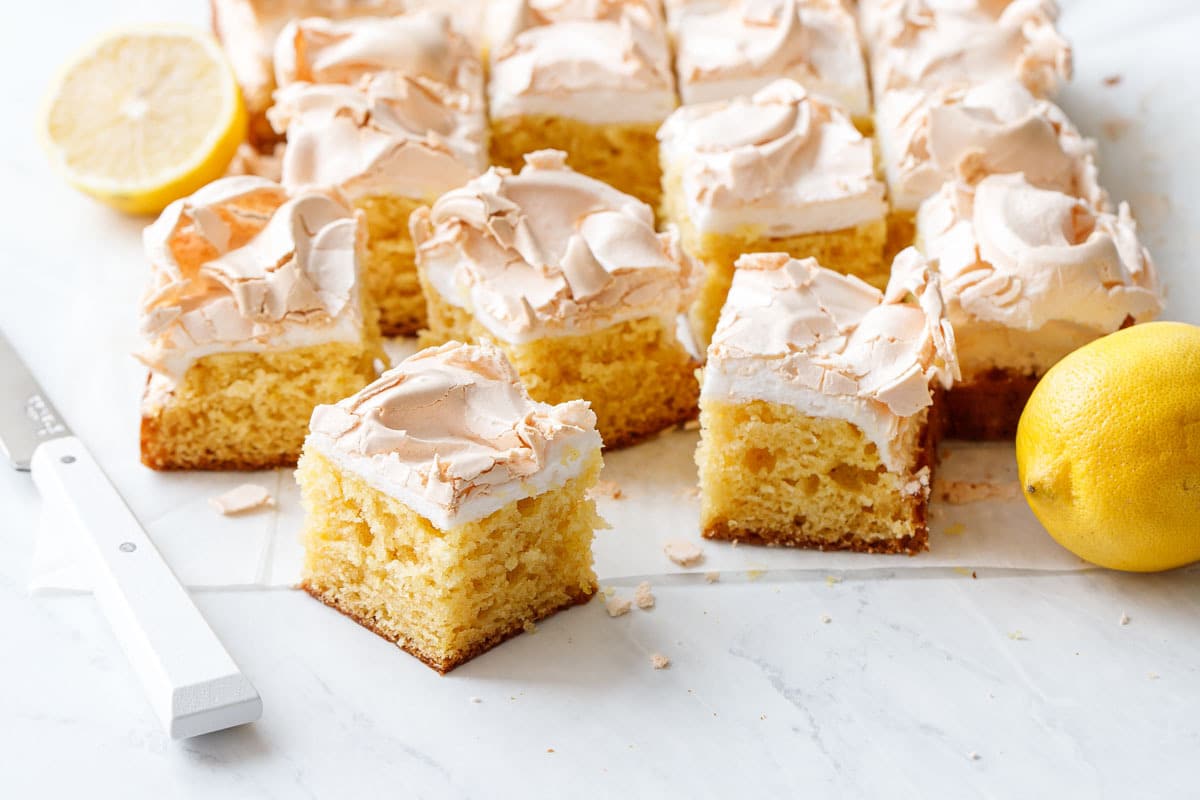 Lemon Meringue Butter Cake
This moist and fluffy butter cake is popping with bright lemon flavor, and topped with a crispy toasted meringue that practically melts in your mouth.
Ingredients
For Meringue Topping:
2

/

65

g

large egg whites

½

cup

/

100

g

granulated sugar

¼

teaspoon

cream of tartar
For Butter Cake:
¼

cup

/

56

g

unsalted butter (½ stick)

,

at room temperature

½

cup

/

100

g

granulated sugar

1

teaspoon

finely grated lemon zest

,

from 1 lemon

1

large egg

,

at room temperature

½

cup

/

120

g

full fat sour cream

,

at room temperature

½

teaspoon

baking soda

1

cup

/

125

g

all-purpose flour

¾

teaspoons

baking powder

½

teaspoon

fine sea salt

2

tablespoons

/

42

g

Amoretti Natural Lemon Meringue Artisan flavor

1

tablespoon

freshly squeezed lemon juice

½

teaspoon

vanilla extract
Instructions
Preheat oven to 350 degrees F. Butter an 8-by-8-inch square baking pan; line with parchment paper (but leave parchment unbuttered).

To make meringue, whisk sugar with cream of tartar. Place egg whites in a clean mixing bowl or the bowl of a stand mixer fitted with the whisk attachment. Whip on medium speed until eggwhites form fine bubbles and hold soft peaks. Slowly add sugar, 1 tablespoon at a time, whipping about 30 seconds before the next addition. After 10 to 15 minutes the meringue should be thick and glossy and hold stiff peaks; when you rub some between your fingers you should not feel any grains of sugar.

If you have two mixing bowls, just trade the clean one onto the mixer and set the bowl of meringue aside; otherwise transfer the meringue to another bowl and then put the used mixing bowl back on the mixer (no need to clean it completely before proceeding with the next step).

In a small bowl, rub lemon zest with sugar until fragrant and evenly distributed.

In a mixing bowl or the bowl of a stand mixer fitted with the paddle attachment, cream butter and sugar together until fluffy, 2 to 3 minutes. Add egg and mix until incorporated.

Mix baking soda in with sour cream; whisk baking powder and salt in with flour.

With the mixer on low speed, add half of dry ingredients to batter, followed by half of sour cream and all of the lemon flavoring, lemon juice, and vanilla. Scrape down the sides of the bowl, then mix in remaining flour, then remaining sour cream until just incorporated.

Spread batter into prepared pan. Dollop meringue on top, then spread evenly over top of cake, using the back of a spoon to make swoops and swirls.

Bake for about 30 to 35 minutes or until meringue is lightly golden brown and a long skewer inserted near the center comes out with a few moist crumbs attached.

Place pan on a wire rack to cool completely before lifting out of pan to slice. Cut into squares. Cake is best the day it is made, but will keep, refrigerated in an airtight container, for up to 3 days (though meringue will soften the longer it sits).
All images and text ©
for Love & Olive Oil.
Did you make this recipe?
Let us know what you think! Leave a Review below or share a photo and tag me on Instagram with the hashtag #loveandoliveoil.
Disclosure: This post was created in partnership with Amoretti. As always, all opinions written are purely our own. We're incredibly grateful for opportunities like these that allow us to continue sharing delicious recipes with you, so thank you for supporting us and the brands we love.