This magical color-changing lemonade gets it's natural color from the butterfly pea flower, changing from rich blue to vibrant magenta right before your very eyes!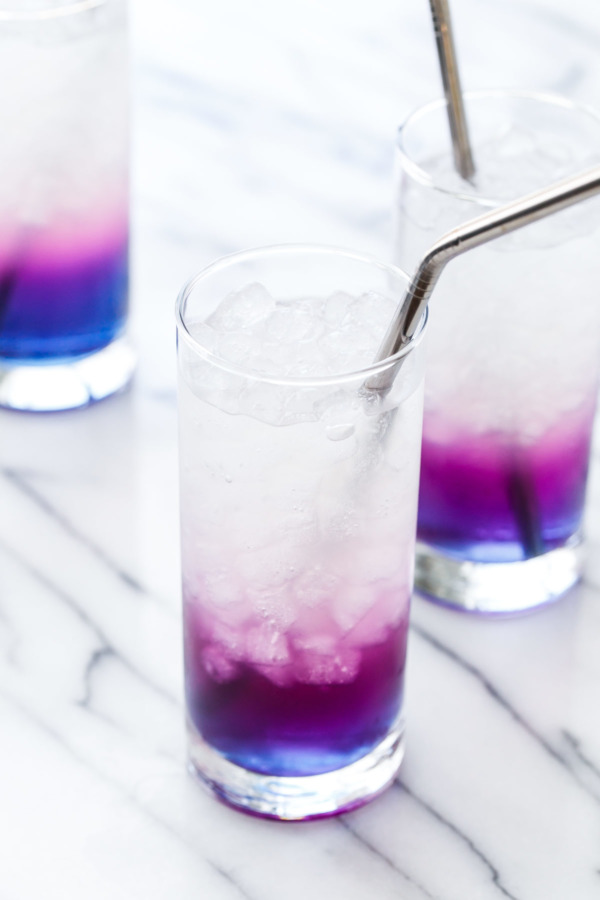 Do you believe in magic?
Like most magic tricks, this one is based resoundingly in science. That doesn't detract from the fun and amazement of it, however. Never before has lemonade been so gosh darn fun.
I call it magic butterfly lemonade or amazing color-changing lemonade, but you could also call it unicorn lemonade if you're into that sort of thing (I think Starbucks had a secret version of this on their menu along with those ghastly unicorn frappicinnos, the difference is this version is completely natural.)
You heard me: there is nothing artificial about the color of this lemonade.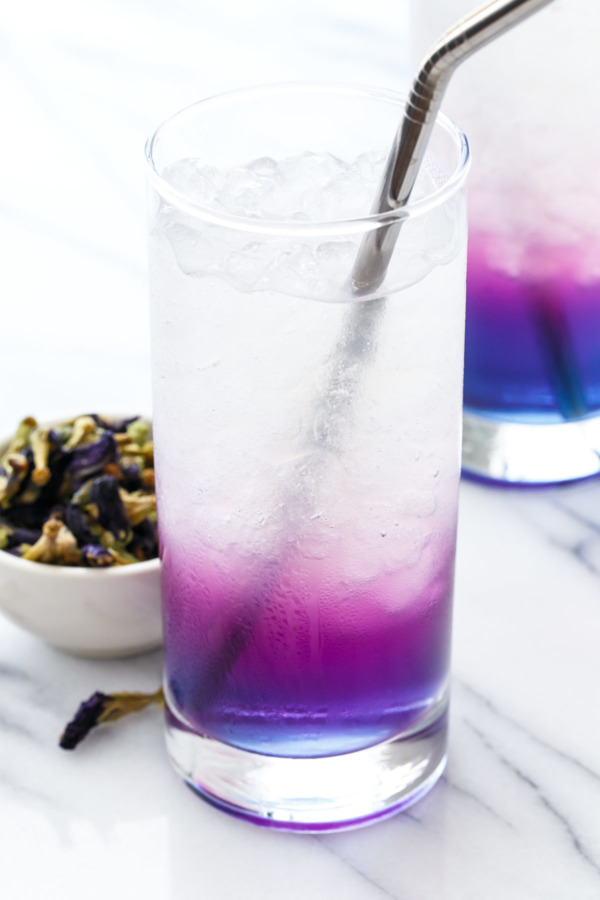 The magic in this recipe comes from a little blue flower native to Southeast Asia called the butterfly pea.
Tea made from these flowers starts out a rich, sapphire blue. Hard to believe, actually, that something that blue can come from nature (how many other truly blue foods are there? Not many.)
When the pH of the blue tea is changed, in this case with the addition of lemon juice, it transforms into a vibrant magenta.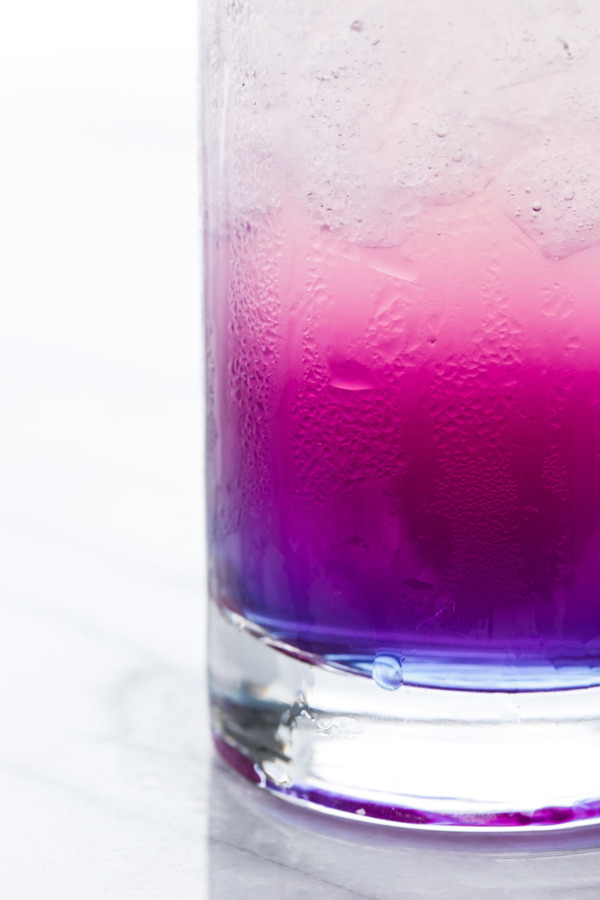 To make this magic lemonade, you'll need to get your hands on some dried butterfly pea flowers. These are steeped along with sugar and hot water to make a vibrant blue sugar syrup, which makes up half the final lemonade. The other half is simply lemon juice and water.
The magic color changing effect comes when these two components are mixed: the blue tea turns purple and eventually magenta the more acid is added.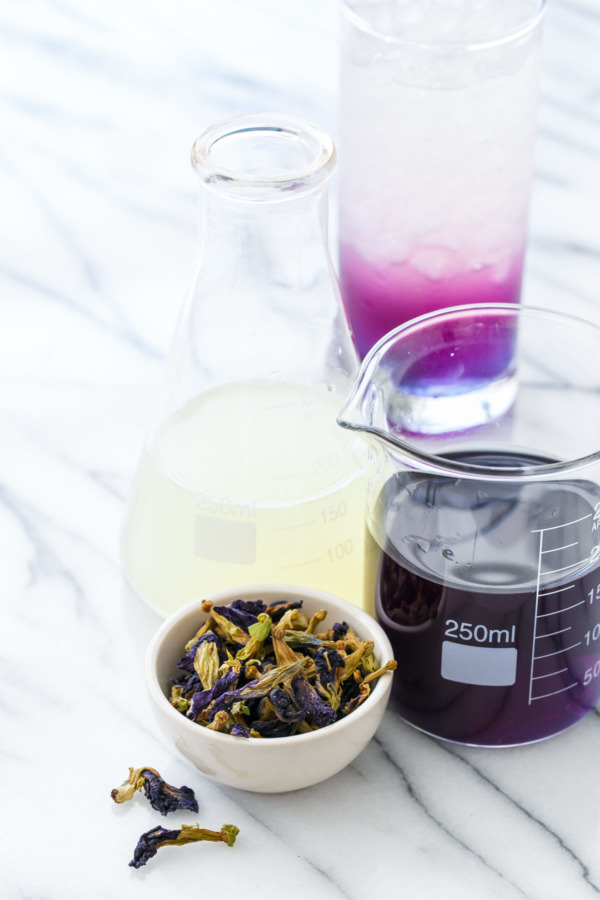 But how does it work, exactly?
(Click through to find out… plus a video so you can see the magic in action!)
Well, this little blue flower contains a high concentration of a blue-violent plant pigment called anthocyanin; the color of this pigment depends on the acidity of its environment. It starts out blue, and slowly changes to purple and then magenta the more acidic its environment. (Conversely, if you added a base liquid to the tea the color would change to green and even to yellow around pH 13/14… but that doesn't make for very good drinking). Red cabbage actually has similar compounds, and a 'tea' made from steeped red cabbage would make a similar magic lemonade. But who wants to drink red cabbage lemonade? Blech.
Butterfly pea tea, on the other hand, really doesn't taste like much, slightly earthy and woody not unlike a mild green tea. Here, however, any subtle flavors it may impart are readily masked by the tart lemon juice. We're really only using it for its color… although, apparently they're good for you too. Rich in natural antioxidants, the butterfly pea plant is said to improve blood circulation and eye health as well as nourish skin and hair, one reason why it is so prevalent in Southeast Asia in both food and beauty products.


I love the natural gradient that forms when the lemon hits the syrup, but you'll need to stir it before drinking (otherwise you'll be drinking straight up sugar syrup in the bottom of the glass followed by tart unsweetened lemonade). Just stir until the entire glass is solid magenta, then enjoy!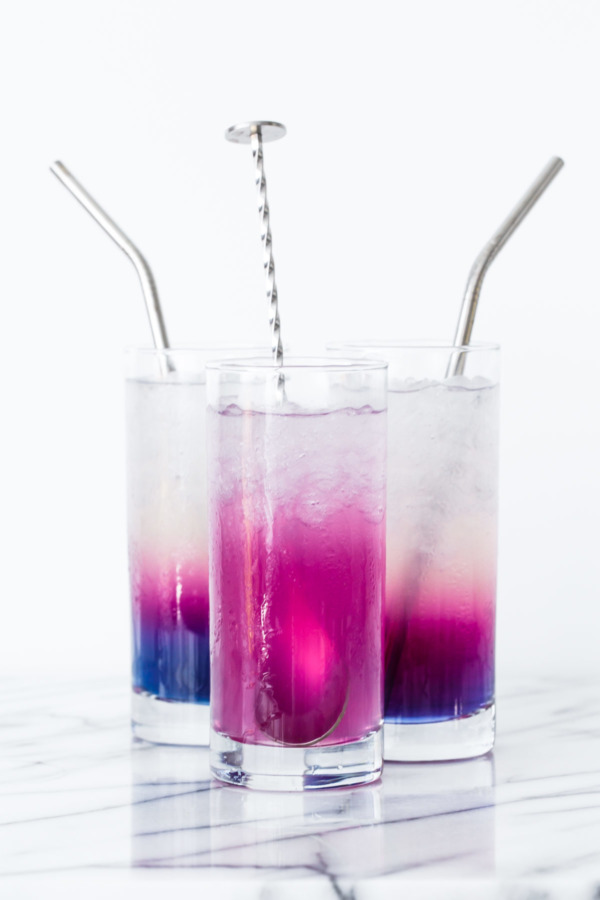 Magic aside, I'm kind of obsessed with the natural coloring possibilities. Butterfly pea flowers are also available in powdered form as well as liquid extracts, and could be added just about anything to impart a gorgeous blue hue. Sticky rice? Pasta dough? Ice cream? My mind is going a mile a minute right about now thinking of all the blue possibilities. Needless to say, you can probably expect some more blue foods around these parts in the near future.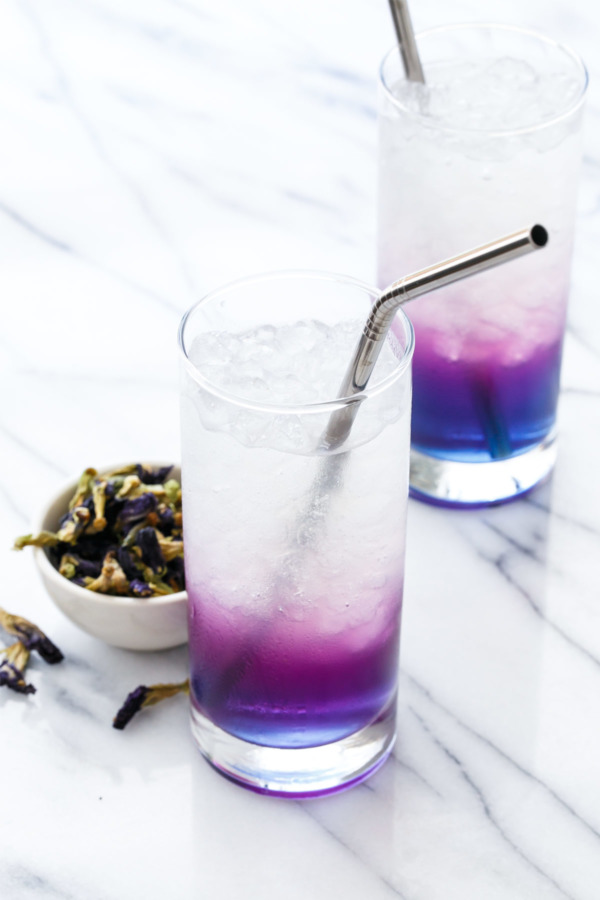 Whether you call it magic butterfly lemonade, amazing color-changing lemonade, or unicorn lemonade (if you're into that sort of thing — I think Starbucks had a secret unicorn lemonade on their menu along with those ghastly unicorn frappuccinos. The difference, of course, is that this version is completely natural) I think we can all agree this is quite possibly the prettiest (and most entertaining) lemonade ever.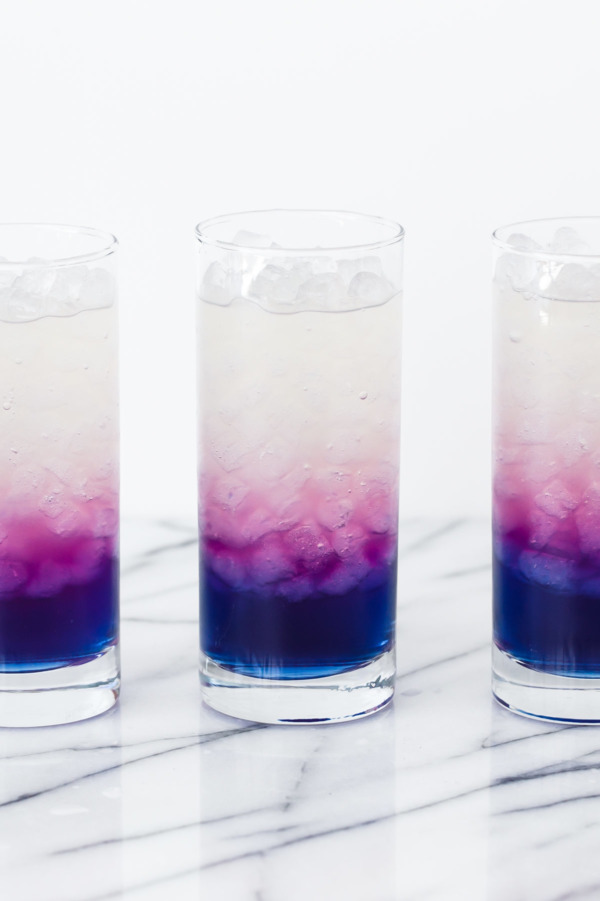 This is one of those recipes that is hard to describe in still pictures alone, so I put together a little video so you can experience the magic for yourself! Enjoy!
This recipe makes about 6 cups/48 ounces of lemonade, but can easily be scaled up or down for a crowd.
If you're making a big batch for a party, I recommend keeping the two components in separate pitchers until ready to serve, and let guests pour their own to experience the magic first hand. Because, let's face it, premixing would ruin all the fun. Adults and children alike will watch in awe as their lemonade transforms from brilliant blue to vibrant pink right before their very eyes. Abracadabra!
Butterfly Pea Lemonade
This magical color-changing lemonade gets it's natural color from the butterfly pea flower, changing from rich blue to vibrant magenta right before your very eyes!
Ingredients
5

cups

/

1200

ml

filtered water

,

divided

1

cup

/

200

g

granulated sugar

,

or to taste

½

cup

/

8

g

dried butterfly pea flowers

1

cup

/

240

g

freshly squeezed lemon juice

,

from 8-10 lemons
Instructions
In a saucepan, combine 3 cups filtered water with sugar. Stir in butterfly pea flowers. Bring to a simmer. Remove from heat, cover and let steep for 10 minutes. Strain through a fine mesh sieve, discarding solids. Set aside to cool.

In a jar or glass measuring cup, combine lemon juice and remaining 2 cups of water.

To serve, fill glasses with ice. Pour cooled butterfly pea syrup into glass, filling about half way.

Pour lemon mixture over top, and watch the magic happen! Where the lemon meets the syrup, the color will change from blue to pink. Stir to combine the two mixtures until the color is pink throughout and enjoy!
All images and text ©
for Love & Olive Oil.
Did you make this recipe?
Let us know what you think! Leave a Review below or share a photo and tag me on Instagram with the hashtag #loveandoliveoil.