Perfect for fall, this stunning take on a classic pumpkin cake roll features a lightly spiced pumpkin sponge cake and a creamy mascarpone whipped cream filling.
The striking orange and black diagonal stripe pattern is made by coloring some of the batter and piping it onto the baking pan before the cake is baked (see step by step photos below – it's easier than it looks!)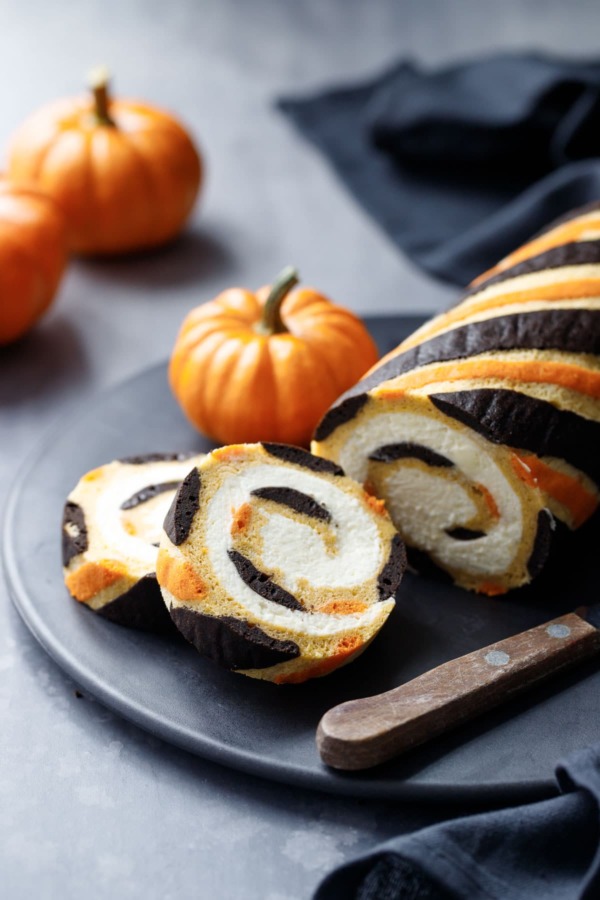 I had a hankering to make a cake roll. But pumpkin cake rolls have been done. Overdone in fact. I wanted to do something just a little bit different.
In typical indecisive fashion, I wavered back and forth, unable to decide whether to make a chocolate cake roll with a pumpkin filling or a pumpkin cake roll with a chocolate filling. Because, surprisingly, chocolate and pumpkin are a remarkably good combination.
But then I started looking online at pictures of ornate Japanese cake rolls and decided that was what I wanted to make, with orange and black Halloween-themed stripes.
My design is fairly simple and far from perfect. But the two tone stripes are pretty darn cool looking, and I also love the pop of chocolate flavor (the dark stripes are naturally colored with dark cocoa powder.)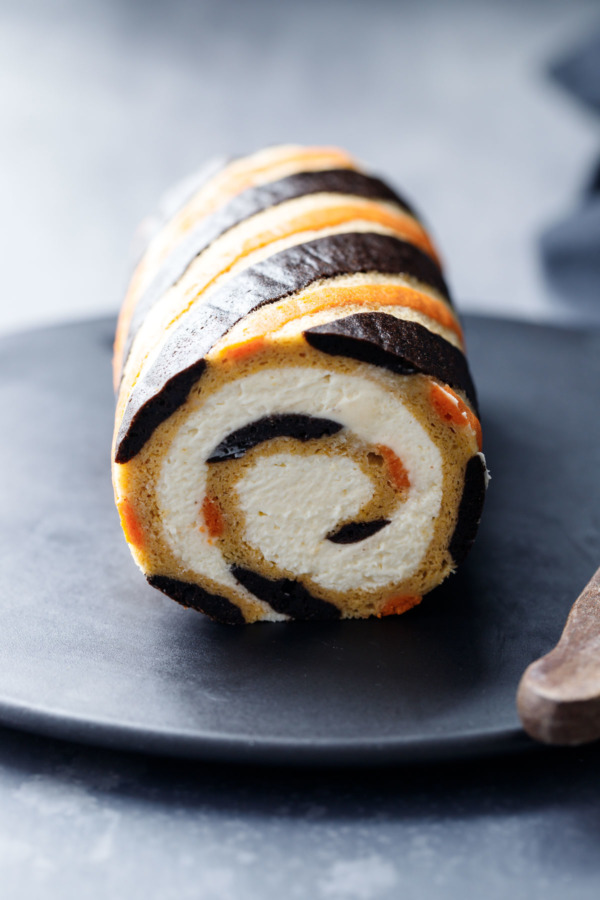 The filling is simple: a fluffy whipped cream folded into mascarpone cheese. The mascarpone has a delicate flavor, but more importantly, gives the whipped cream a structure and stability that allows it to hold its own when rolled up in the cake. This is not a buttercream. It's light and airy and not overly sweet or greasy, like a lightly sweetened cloud.
Could you use cream cheese instead? Of course. (Personally, I strongly dislike cream cheese frostings and tend to avoid them). But if you've never tried mascarpone you don't know what you're missing!
You might be surprised to hear this dessert isn't overly sweet. In fact the first time I made it Taylor said it actually needed more sugar. I upped it a bit in the second version, but it's still far less sweet than what you might expect.
The sponge cake is moist and bouncy, lightly flavored with pumpkin and spices (this isn't one of those punch-you-in-the-face pumpkin spice desserts—rather, more of a love tap of pumpkin and a whisper of spice). And the filling is beautifully simple, fluffy and cloud-like, with little more than cream, sugar, mascarpone and a pinch of salt.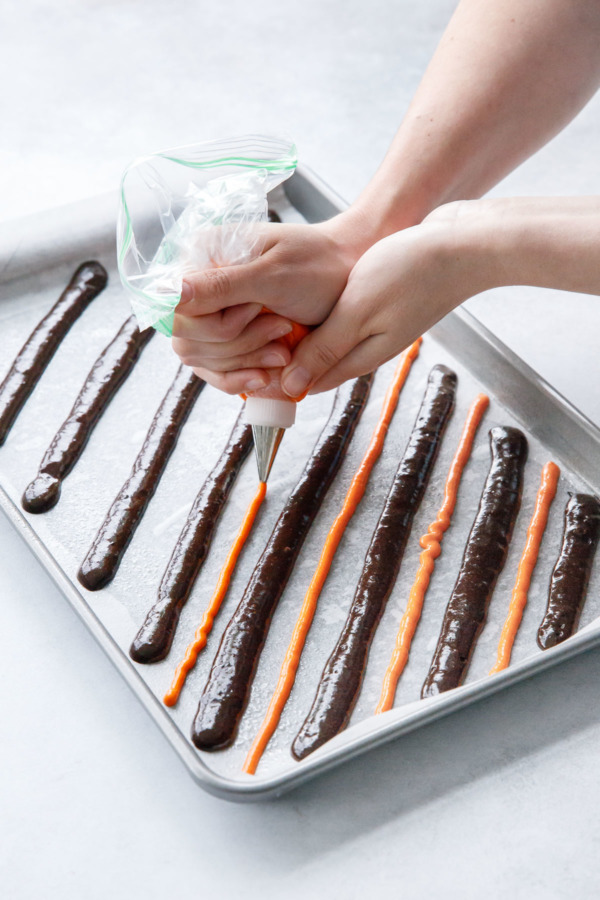 The pattern is made by dividing the batter into three bowls (PSA: this recipe uses a lot of bowls. Just accept it and make room in the dishwasher). The main bulk of the batter is naturally pumpkin colored, a light orange. One third of the batter is then colored with cocoa powder, for both a flavor and color contrast. For the thin stripes I added some orange food coloring (Americolor Orange, for reference) for a bit more contrast from the natural pumpkin. The two accent batters are then spooned into piping bags and piped into diagonal stripes on a parchment-lined jelly roll pan (a jelly roll pan is in between the size of a quarter sheet pan and a half sheet pan. It's uniquely sized just for this kind of cake).
Baking Tip: Draw your design on the back of the parchment in heavy pencil. Do this before greasing and lining the pan. This guide will help immensely when actually piping out your design.
Once you've piped your design, freeze the whole pan for about 10 minutes to set the design, then pour the remaining natural batter over the top. This batter doesn't really level out on its own, so you want to smooth the top out as much as possible (a large offset spatula is the best tool for this!)
If you prefer to keep things simple, skip the stripes and just pour the plain batter right into the pan. Your cake roll will taste just as good without the stripes. :)




Once the cake has baked, almost immediately lift it out of the pan. Flip it onto a clean piece of parchment, and peel off the other piece of parchment from the back. Then lay a clean tea towel (dusted with powdered sugar) on top, and flip it again. Remove the other piece of parchment and tightly roll up the cake in the tea towel.
Be sure the pretty side of the cake is facing DOWN, that way it will appear on the outside of the final roll (the first test cake I made I rolled up inside out and it the stripe effect was lost entirely).
Let the rolled cake cool completely, about an hour or so.
Then, when it's completely cool, gently unroll it from the towel and spread the filling into a thin even layer over the whole cake (leaving about 1/2 of empty space at the far end – the filling will squeeze out a bit as you roll it up).
Since it cooled in a roll, it should have somewhat of a 'muscle memory' and should roll up pretty easily here without cracking. Roll it fairly tight, but try not to squeeze out too much of the filling.
Wrap the cake in plastic wrap and chill it for at least 2 hours.
Baking Tip: If you want a perfectly round roll, cut a mailing tube about the diameter of your roll in half lengthwise. Gently rest your rolled and plastic wrapped cake in the semicircle of the tube; this will keep the roll from settling to a flat bottom.
Once chilled, remove the plastic wrap and slice it with a clean, sharp knife while it's still cold (it will soften as it sits at room temperature and will be harder to slice cleanly without squishing out the filling). Wipe off the knife blade between each cut for perfectly clean slices.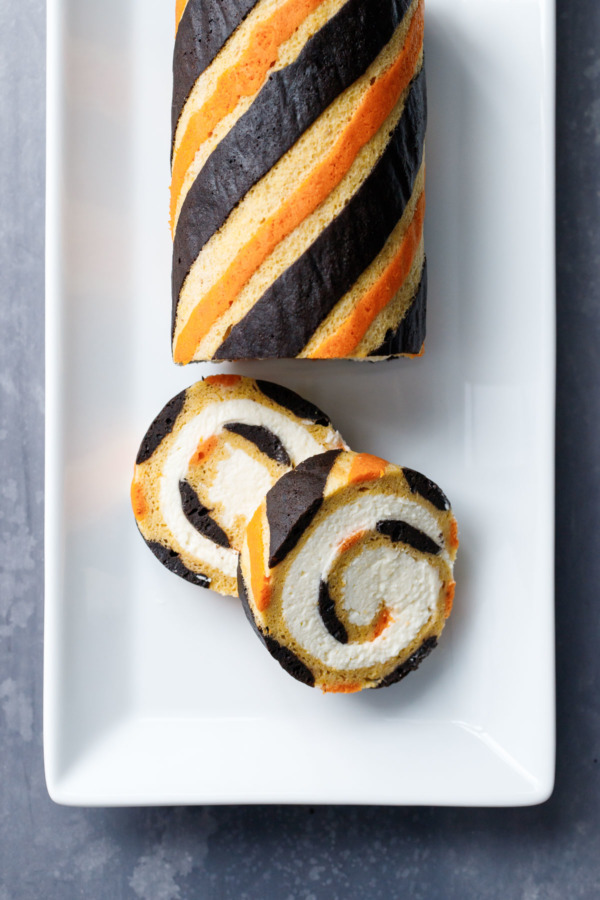 Happy fall, y'all!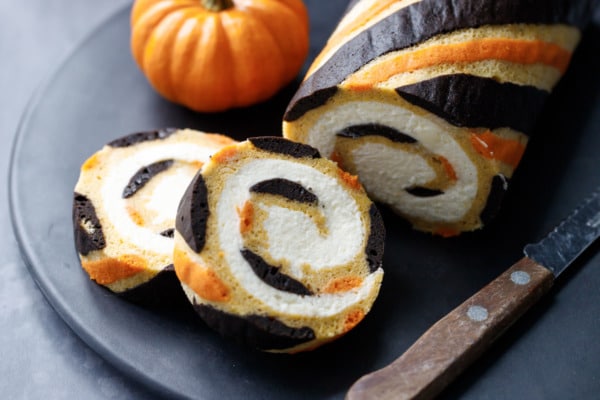 Pumpkin Cake Roll with Mascarpone Whipped Cream
A patterned twist on a classic pumpkin roll cake, with a lightly spiced pumpkin sponge cake and a cloud-like mascarpone whipped cream filling. Perfect for fall!
Ingredients:
For Cake:
3 large eggs, separated
6 tablespoons plus 2 tablespoons granulated sugar, divided
1 tablespoon vegetable oil
1/2 cup canned pumpkin puree
1 teaspoon vanilla extract
1/2 cup (60g) plus 3 tablespoons (22g) cake flour, sifted and divided
1/2 teaspoon kosher salt
1/2 teaspoon ground cinnamon
1/8 teaspoon ground nutmeg
1/8 teaspoon ground cloves
2 tablespoons whole milk
1 tablespoon dark or black cocoa powder, sifted
orange food coloring, optional
For Filling:
3/4 cup heavy whipping cream, plus an additional 1 to 2 tablespoons as needed
3/4 cup powdered sugar, sifted
4 ounces (1/2 cup) mascarpone or cream cheese, at room temperature
pinch salt
Directions:
Preheat oven to 350 degrees F. Lightly spray a 15 by 10-inch jelly roll pan with cooking spray, then line bottom with parchment paper (if you want to trace a design template, do so with thick pencil lines on the back of the parchment paper before placing it in the pan). I also recommend leaving a bit of an overhang on opposite edges of the pan: this will make it easier to lift the cake out later.
Separate eggs and set egg whites aside. Place yolks in a mixing bowl. Add 6 tablespoons sugar and whisk until sugar is dissolved and yolks are lightened in color. Drizzle in vegetable oil, whisking constantly, until incorporated. Whisk in pumpkin and vanilla.
In a bowl, whisk together 1/2 cup of cake flour, salt, and spices. Sprinkle over batter and fold until incorporated. (At this point you should have about 12 ounces, or just over 1 1/3 cups of batter). From here we will split up the batter to create the multi-colored stripes (if you don't want stripes, skip steps 4, 5, 8, and 10-14.).
Measure out 4 1/2 ounces of batter (a generous 1/2 cup) into a clean bowl. Add 2 tablespoons of sifted cake flour and 1 tablespoon of sifted cocoa powder and stir to combine.
Spoon out another 1 1/2 ounces (about 3 tablespoons worth) into another small bowl. Add 1 tablespoon of flour and a few drops of orange food coloring and mix well.
Add 2 tablespoons of whole milk to main bowl of batter and whisk until just incorporated.
In a clean mixing bowl or the bowl of a stand mixer fitted with the whisk attachment, beat egg whites until frothy. Add remaining 2 tablespoons of sugar and beat on high speed until whites hold medium peaks.
Fold a heaping tablespoonful of egg whites into bowl with orange colored batter; fold until incorporated. Fold about 3 tablespoonfuls of egg whites into bowl with chocolate batter, again folding until no streaks of white remain.
Fold half of remaining egg whites into main bowl of batter to lighten it, then add the remaining egg whites and fold until just incorporated.
Transfer orange batter to a small piping bag fitted with a #5 round tip (you can also use a zippered sandwich bag). Transfer the chocolate batter to a piping bag fitted with a 1/4 round tip (#2A).
Using the chocolate batter, pipe diagonal stripes of batter on prepared jelly roll pan. Keep your piping bag moving fairly briskly for straighter lines. I piped about 9 diagonal stripes about 1 1/2 inches apart.
Using the smaller bag of orange batter, pipe thin stripes between each chocolate stripe.
Place jelly roll pan in the freezer for 10 minutes to let the stripes set.
Pour remaining batter over top of stripes, spreading the batter into an even layer using a large offset spatula.
Bake for 12 to 14 minutes or until top is springy and edges are just barely starting to brown.
Remove from oven. Carefully lift out warm cake and invert it onto another piece of parchment paper. Peel off parchment paper backing, revealing the striped design. Liberally dust a clean tea towel with powdered sugar, then flip the cake layer onto the towel, striped side down (the outside of the cake roll should showcase the pretty stripes, just be sure that side is facing down).
Carefully roll up the warm cake in the towel. You want to roll it up fairly tightly; doing so will give the cake a 'muscle memory' and allow you to roll it up later with the filling without it cracking.
Let rolled cake cool for about 1 hour or until completely cooled. Meanwhile, get your mascarpone out and let it fully come to room temperature.
To make filling, place 3/4 cup of cold whipping cream in the bowl of a stand mixer fitted with the whisk attachment. Beat on high speed until cream falls in soft folds. Add sifted powdered sugar, then continue to beat until cream holds medium-stiff peaks (take care not to overbeat).
In another bowl, combine mascarpone with salt and a splash of cream to loosen. Add a few spoonfuls of whipped cream and mix until combined, then fold in remaining whipped cream until smooth.
Carefully unroll cake. You may need to hold it with your hand as it will try to roll back up (see, muscle memory!) Spread filling into a thin even layer over the whole cake, leaving about 1/2 inch bare at the far end. You may not need all of the filling, depending on how thick you want it.
Gently roll up the whole cake, taking care to create a tight roll but not so tight that it squeezes out the filling. Wrap tightly in plastic wrap and refrigerate for at least 2 hours or overnight, until filling is set (this will make for cleaner slices). If you happen to have a spare mailing tube handy, cut it in half lengthwise to form a half circle. Place your cake roll in the tube to keep the bottom from flattening out as it chills.
Cut into slices with a sharp knife (use one clean motion to cut, try not to 'saw' it) and serve. Cake roll will keep, tightly wrapped and refrigerated, for up to 3 days.
Did you make this recipe?
Let us know what you think!
Leave a Comment below or share a photo and tag me on Instagram with the hashtag #loveandoliveoil.