It may be based on a miniature, but this cake is certainly not small on flavor: with chocolate and cherry in multiple forms and a hint of booze, it's like a cherry cordial in cake form.
I can't imagine it gets much better than two thick layers of moist, dark chocolate cake with a chocolate cherry buttercream filling and rustic swirls of cheerful pink buttercream, all topped with ruby red maraschino cherries.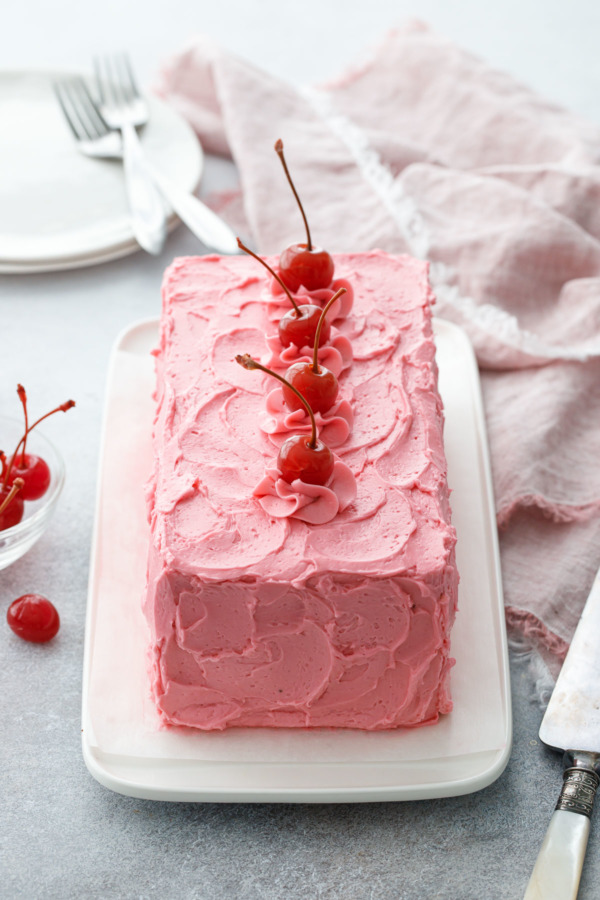 Like many young girls, I had a dollhouse, a log cabin-inspired house that I built from a kit with my dad.
But, unlike most other girls, my dollhouse didn't have any actual dolls in it.
Instead, I spent my time making miniature food with which to fill it.
I'd almost forgotten about my slightly unusual childhood hobby until recently, when my mom, while cleaning out their attic, stumbled across a tupperware filled with some of my miniature food (how she managed to keep it all together and unbroken I'll never know). She promptly popped it in the mail, figuring I'd want to have this tiny momento from my childhood.
When it finally arrived, I started picking through the pint-sized foodstuffs I'd created out of modeling clay. From shish kabobs on straight pins to bacon and eggs to an entire baked ham (we didn't even eat ham, where did that come from?!) younger me had made it all.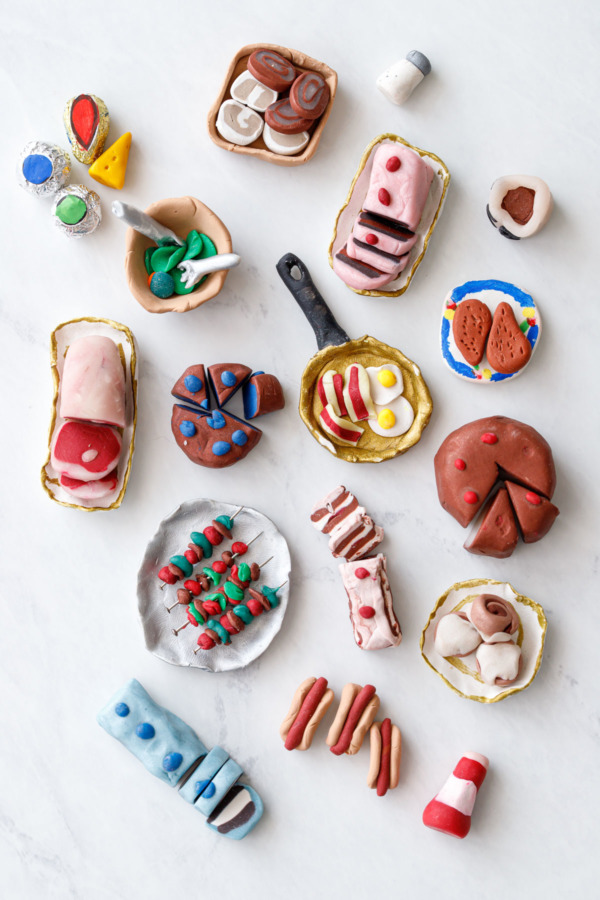 One thing was obvious: I certainly liked cake, as there were 5 of them in total, including one rectangular chocolate layer cake with pastel pink frosting and 3 little red cherries on top. Unlike the cake with the unnatural and slightly unappetizing sky blue frosting, this pink one looked like it could actually be a real cake.
So, I did what seemed only logical: I made it into a real cake. An actual, full-sized and fully-edible cake that matched the shape and colors of the miniature version I'd made decades ago.
And that there is probably the weirdest recipe inspiration story you've ever heard.
Needless to say, the actual cake tastes quite a bit better than the clay version (lol). I knew I at least needed two stout layers of dark chocolate cake with a thick layer of slightly lighter chocolate filling in between, and a light pink frosting covering the whole thing. And cherries on top (obviously). So chocolate and cherry seemed the obvious choice.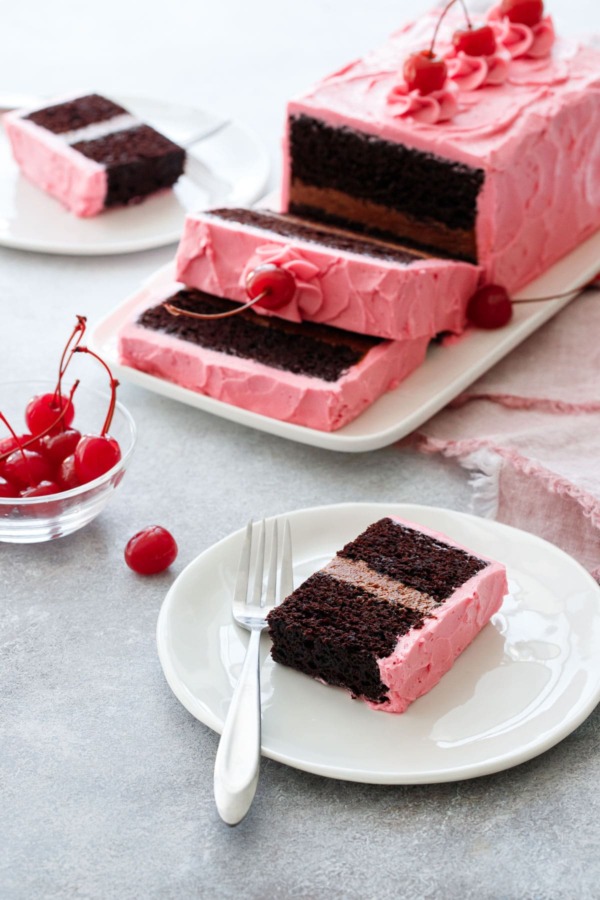 I baked up two thick layers of moist, dark chocolate cake and stacked in a rectangle with the chocolate buttercream in between. Despite appearances, I didn't actually bake it in a loaf pan, rather I used an 8-by-8 square pan and then cut the cake in half and stacked the layers. The square pan bakes quicker and more evenly, and requires less trimming than a loaf cake would, so ultimately it's easier to assemble.
The cake is then filled and frosted with a luscious Swiss meringue buttercream, made using some of the leftover maraschino syrup, along with some brandy and almond extract, so it really does taste like maraschino cherries!
Half the frosting is mixed with melted dark chocolate for the filling, and the other half is colored a pastel pink for the outside.
I initially tried a whipped ganache for the filling, which has a lovely, rich chocolate flavor; however I find that it sets up too firmly for my liking (it is really only good while it's still soft, and what good is a cake that needs to be consumed in its entirety right away?) I toyed with a chocolate cremeaux as well, but, on the opposite end of the spectrum, it simply didn't firm up enough to support the weight of the upper layer.
So, Swiss meringue buttercream it is! A decision that ultimately made this recipe about 33% easier overall, since the same batch of buttercream is used as both the filling and the frosting (split and mixed with either chocolate or food coloring), rather than two entirely different recipes.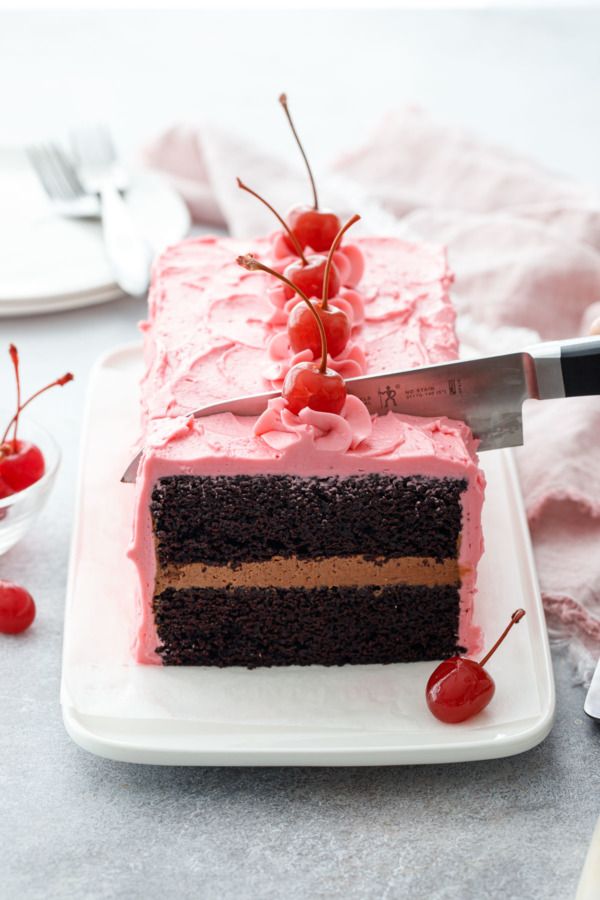 Swiss meringue buttercream differs from its American counterpart in that it is creamier, butterier, and much less sweet. It is, however, a skill that might take a bit of practice and perseverance. It's not hard, necessarily, but it can be terrifying as you watch your perfect, fluffy meringue turn to melted ice cream soup and then to cottage cheese and finally to drywall mud before finally coming together into a lusciously creamy buttercream (phew).
Anxiety aside, I much prefer this frosting to the powdered sugar stuff, which can be so sweet that it hurts your teeth. Meringue buttercreams are still sweet by nature, but aren't cloyingly like American buttercream.
I actually used some of the leftover maraschino syrup in the meringue, giving it that candy-like cherry flavor, enhanced by the addition of almond extract and some brandy in the final frosting. The color doesn't seem to carry over quite like the flavor, however; the pink maraschino syrup turns the meringue a pale lilac gray when cooked with the egg whites and sugar: an odd color that made the frosting take on the appearance of grout or drywall mud during the mixing process (strange, but that's seriously what it looked like). Nothing a little food coloring can't fix, though!
After the base buttercream is finished, you'll then separate it into two bowls: one gets the pink food coloring, and the other gets some melted dark chocolate.
My pink buttercream turned out a bit darker than the inspiration cake (buttercream tends to darken as it 'cures' which I didn't account for), but otherwise I think I nailed it.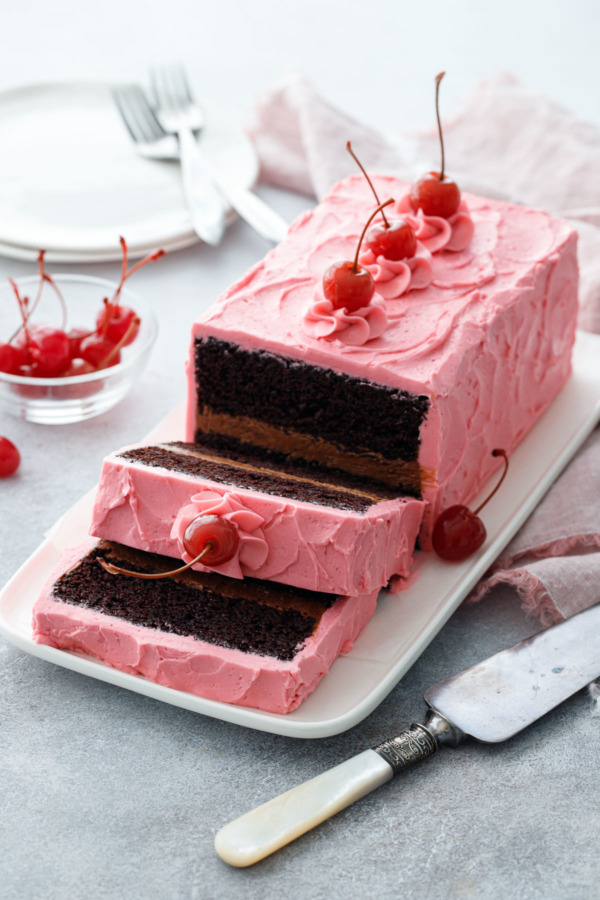 What do you think?
Maybe I need to attempt the blue one next?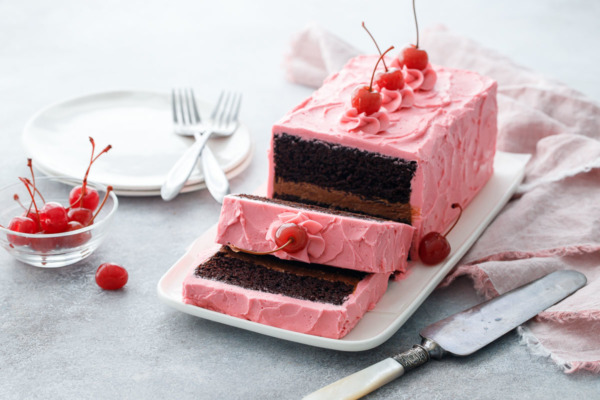 Chocolate Maraschino Layer Cake
This recipe will make one 4-by-8-inch rectangle layer cake. For an 8-inch square cake, simply double the recipe and bake in two 8-by-8-inch pans.
Ingredients:
For Chocolate Cake:
1 cup (200g) granulated sugar, divided
1 cup (125g) all purpose flour, sifted
1/2 cup (60g) Dutch-processed cocoa powder, sifted
1 teaspoon baking soda
1/2 teaspoon baking powder
1/2 teaspoon salt
1/2 teaspoon instant espresso powder
2 ounces (60g) dark chocolate, finely chopped
1/4 cup very hot water
1 tablespoon brandy (if omitted, increase vanilla to 1 tablespoon)
1 teaspoon vanilla extract
1 large egg
1 large egg yolk (save the white for the buttercream!)
1/2 cup buttermilk
1/3 cup vegetable oil
For Swiss Meringue Buttercream:
4 large egg whites (120g)
1 cup (200g) granulated sugar
1/4 cup maraschino syrup (strained from a jar of maraschino cherries)
pinch salt
1 1/2 cups (3 sticks) unsalted butter, at cool room temperature (68 degrees), cut into 1-inch pieces
1 tablespoon vanilla extract
1/2 teaspoon almond extract
1 tablespoon brandy
3 ounces (85g) dark chocolate, melted and cooled to lukewarm
Directions:
For Chocolate Cake:
Preheat oven to 350 degrees F. Line an 8-by-8-inch straight-sided baking pan with parchment paper; lightly butter parchment and set aside.
In a bowl, mix together 3/4 cup (150 grams) sugar, flour, cocoa powder, baking powder, baking soda, salt and espresso powder.
In a medium bowl, place chopped chocolate along with remaining 50 grams sugar. Heat water until almost boiling, then pour over chocolate. Let sit for 30 seconds, then whisk until smooth. Set aside and let cool to lukewarm, then whisk in vanilla and brandy.
In a large bowl, whisk egg and egg yolk until lightened and frothy. Whisk in buttermilk and vegetable oil. Add cooled chocolate mixture and whisk until smooth. Add dry ingredients and fold until just incorporated.
Pour batter into prepared baking pan, spreading into an even layer.
Bake for 28 to 32 minutes or until a toothpick inserted near the center comes out with just a few moist crumbs attached.
Remove from oven and place on a rack to cool completely. If you want, place a slightly smaller, flat-bottomed baking pan on top of the cooling cake: this will gently flatten any dome on top of the cake and save you time trimming later (lightly butter the bottom of the second pan to prevent sticking).
At this point you can freeze the cooled cake, wrapped tightly in plastic wrap, for up to 1 month.
For Swiss Meringue Buttercream:
Combine egg whites, sugar, salt and maraschino syrup in a double boiler (or use your metal stand mixer bowl set over a pot of gently simmering water–the bottom of the bowl should sit over, not touch, the water below). Whisk vigorously until frothy and warm to the touch (will read 160 degrees F on an instant-read thermometer) and sugar is completely dissolved.
Return bowl to stand mixer fitted with the whisk attachment. Beat on medium-high speed until bowl is cool to the touch (will read approximately 70 degrees F) and meringue has whipped into stiff, glossy peaks.
Switch over to the paddle attachment.
With the mixer running on medium speed, add 1 chunk of butter at a time, increasing speed and mixing until butter is completely incorporated before adding the next piece. Your buttercream will start to soften, going from stiff peaks to soft soup. If at any point it begins to curdle, stop adding butter and increase mixer speed to high, beating until it comes together again before adding the remaining butter.
Add vanilla, almond extract and brandy and beat until incorporated.
Transfer about 1 cup of buttercream (230 grams if you want to be exact) to a separate bowl, and fold in lukewarm chocolate until evenly incorporated.
Add food coloring as desired to remaining buttercream, mixing until color is evenly distributed.
At this point, finished buttercream can be refrigerated or frozen until ready to use (transfer to a zip-top bag or press a layer of plastic wrap over the surface of the buttercream so it doesn't come into contact with the air). If chilled, be sure you let your buttercream come fully to room temperature (which could take upwards of 1-2 hours) before assembling your cake.
To Assemble:
Trim cake to remove any domed top if there is one. Once it's flat, cut the cake in half to create two approximately 4-by-8-inch rectangles.
Spread the chocolate buttercream on top of one of the rectangles, then place the second cake layer on top, pressing lightly to adhere. Use an offset spatula to scrape off any chocolate buttercream that may have squeezed out the sides.
Coat the cake with a thin layer of pink buttercream, squaring off the corners as best you can (this is called a crumb coat and helps the final layer of buttercream go on cleaner and crumb-free). Refrigerate for 15 minutes until set.
Use a large offset spatula to spread on the remaining frosting (reserve a little bit for the final decoration if desired), smoothing it out or creating rustic swirls.
If you have any frosting left, transfer it to a piping bag fitted with a large star tip, and pipe into 4 or 5 rosettes on the top of the cake. Place a stem-on maraschino cherry (drained and patted dry) in the center of each rosette.
Slice and serve at room temperature. Cake can be stored, covered or wrapped as airtightly as possible, in the refrigerator for up to 5 days. Bring to room temperature prior to serving.
Did you make this recipe?
Let us know what you think!
Leave a Comment below or share a photo and tag me on Instagram with the hashtag #loveandoliveoil.