If you've been searching for the ultimate chocolate cupcake recipe… look no further. These moist chocolate cupcakes are topped with the most divine chocolate frosting you've ever had!
Chocolate on chocolate on chocolate, what could be better? These cupcakes will be your new go-to: ultra moist and topped with a cloud-like chocolate buttercream. Don't forget the chocolate sprinkles!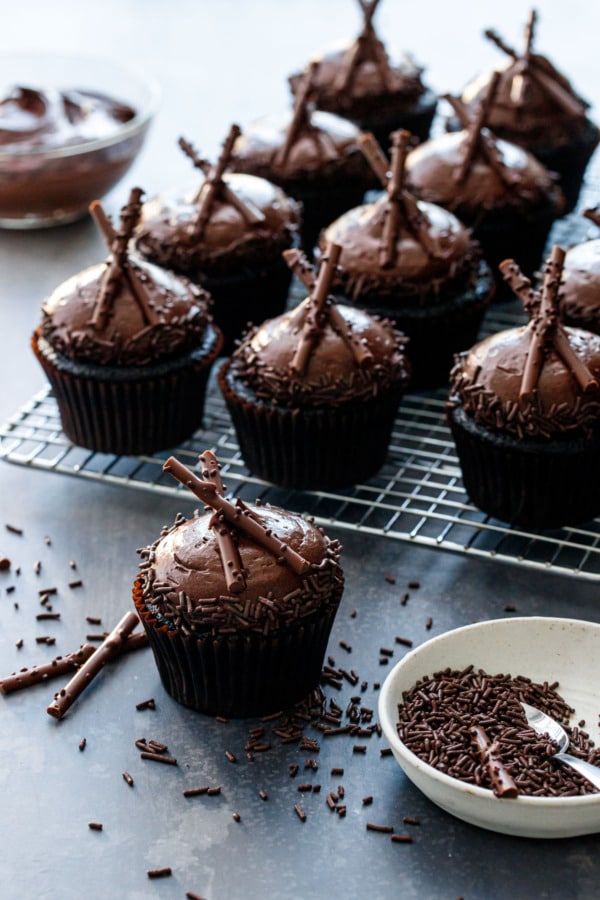 I've gotten a number of questions and comments on my ultimate chocolate cake recipe about whether it'd work for cupcakes.
Normally cake recipes can be scaled down to cupcake-size pretty easily, and this recipe is no exception. Still, they turned out so fabulous that I figured they more than deserved their own post!
The recipe isn't exactly halved, I tweaked a few proportions just to make a slightly thicker batter that'd be easier to scoop into cupcake papers (although the batter is still quite thin compared to a lot of recipes). It'll still rise beautifully in the oven, with a gentle dome that's perfect for frosting.
The only other change I made was to use hot coffee in place of the hot water (I often add a bit of espresso powder to chocolate cakes to intensify the richness of the chocolate flavor; the coffee here serves the same purpose). That said, you can certainly use water instead.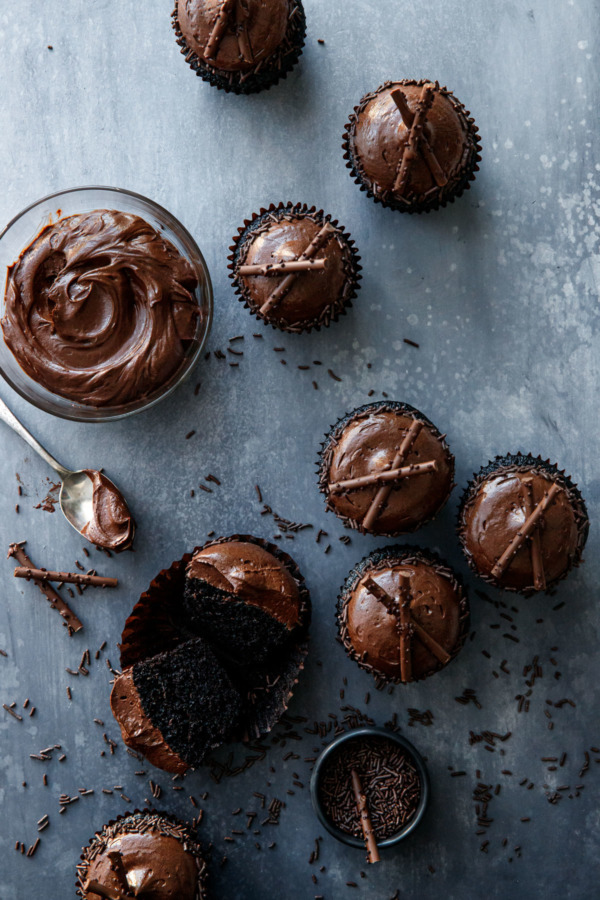 These cupcakes are nothing short of incredible, and I'll reiterate that this frosting is absolutely divine.
I called it chocolate fudge frosting in the original recipe, but chocolate cloud frosting or chocolate silk frosting are probably more appropriate monikers (it's so light and creamy it's ridiculous!)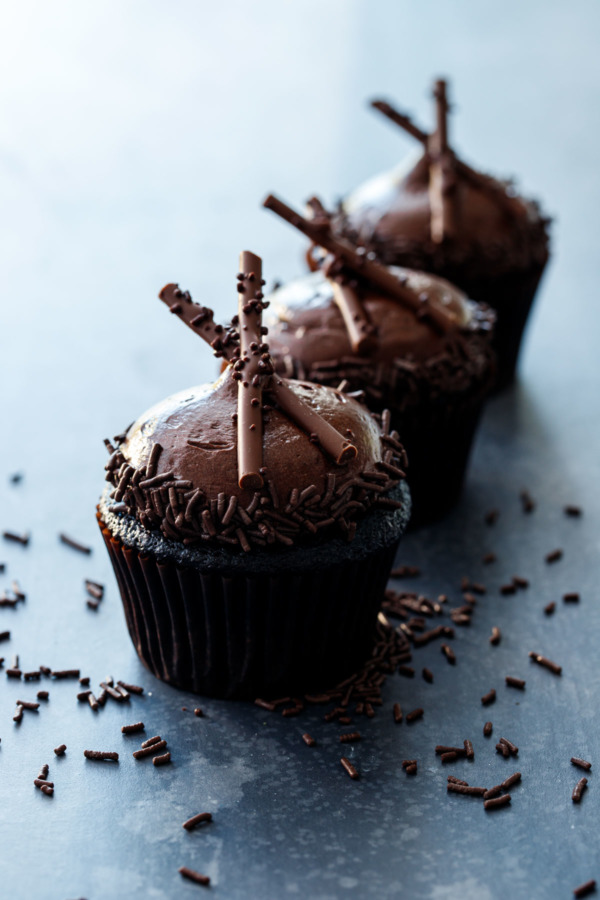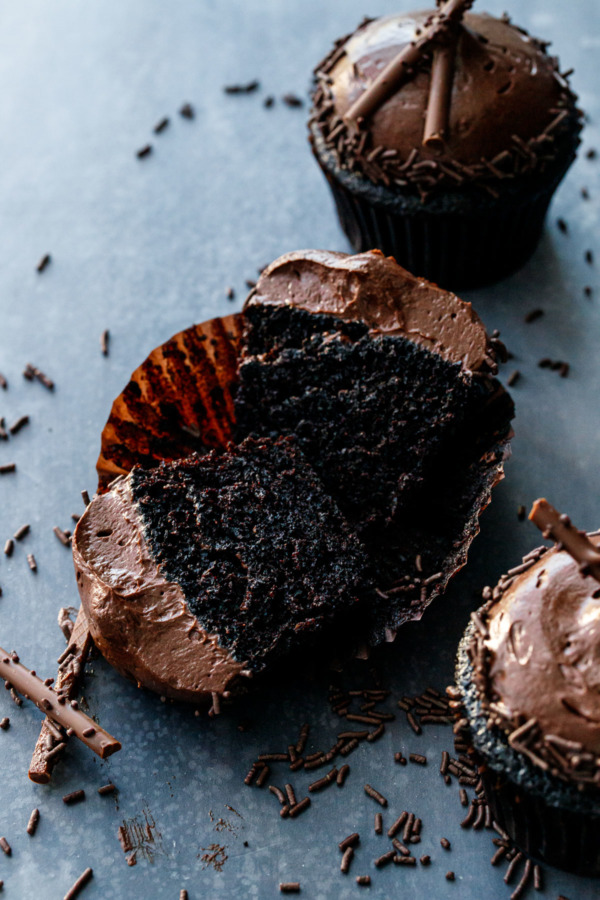 As with most chocolate recipes, the quality of your cocoa matters. For these I used my favorite Cacao Barry Extra Brute, with a tablespoon or two of Guittard black noir cocoa to darken the color and deepen the flavor (but please, do not use all black cocoa – you'll end up with a dry, bitter cake that's less than ideal).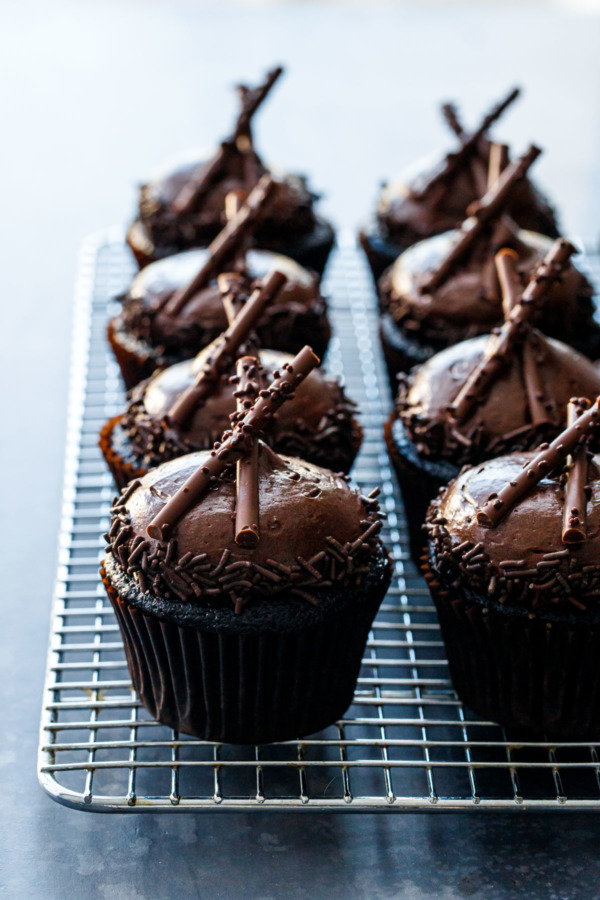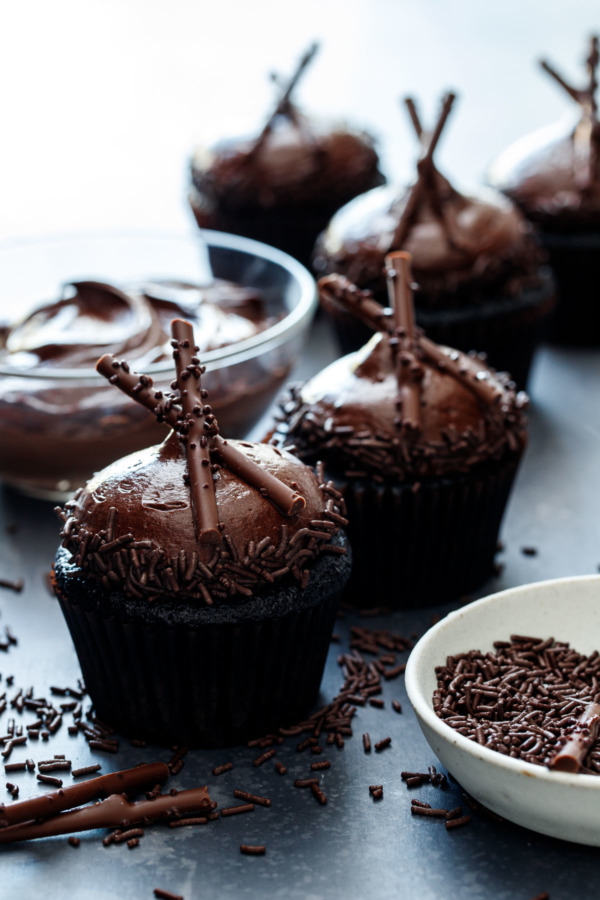 Let's talk about this frosting though. It starts out like an American buttercream, with butter, powdered sugar and cocoa powder. But then you add sour cream and, get this, hot water, followed by some melted and cooled dark chocolate. It does get a bit dicey when you add the sour cream and water, but surprisingly comes together after a minute or two of high speed mixing. Like magic, basically.
The result is an incredibly rich, yet surprisingly light and silky smooth chocolate buttercream with an amazing chocolate flavor and perfect balance of sweetness. It's quite possibly my favorite frosting I've ever made.
I have had a few comments from folks who had issues with the frosting, namely that it turned out "soupy". I've tried to replicate this issue and I cannot—every time I make it it comes together beautifully. My best guess is it's a temperature issue—it's important to use room temperature ingredients, namely the butter and the sour cream; also the melted chocolate should be cooled to under 80 degrees before you add it to the frosting (although it seems counter intuitive since you are also adding hot water, but it's very possible that room temperature ingredients make for a better 'emulsion' once the water is added, that's my theory at least).
When a recipe calls for room temperature ingredients, I'll often stick my digital thermometer right in the stick of butter (this works for sour cream, also eggs if a recipe calls for room temperature there too). Ideally you're looking for 68-72 degrees F, and a consistent temperature across all your ingredients (especially when creaming together liquid and fat ingredients). Get in the habit of taking your ingredients out of the fridge an hour or so before baking to let them fully come to room temperature before you begin.
If you find that your frosting is a bit too soft to pipe, you can first try adding a bit more (sifted!) powdered sugar to thicken it up. You can also try briefly chilling it to bring the temperature down. This frosting will firm up significantly at cool temperatures (which is why I don't recommend refrigerating the final frosted cupcakes since the frosting sets up like a ganache essentially).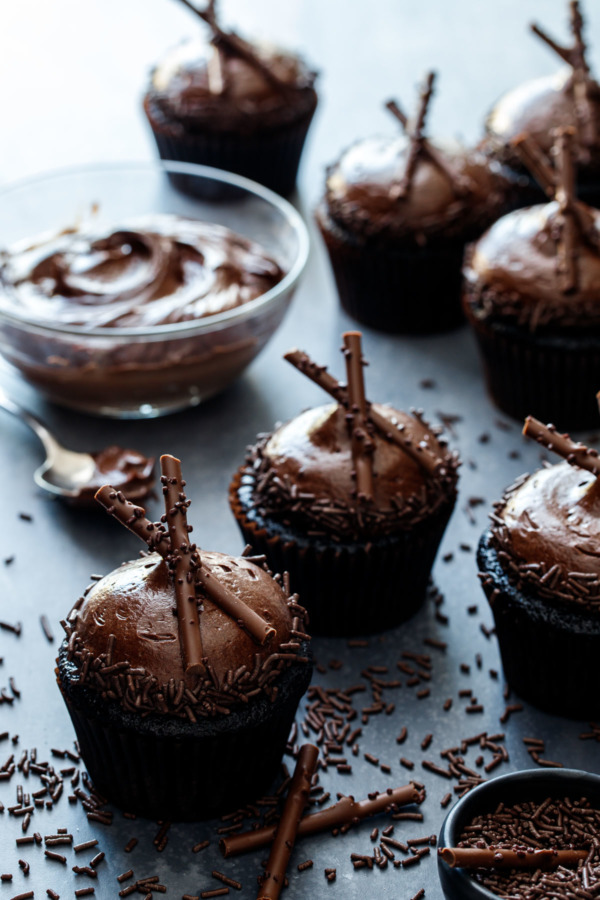 I decorated my cupcakes simply, reinforcing the already triple dose of chocolate with even more chocolate, including a border of chocolate sprinkles (hold the cupcake at an angle, and use a small spoon to gently adhere the sprinkles to the base of the piped frosting) as well as some chocolate twigs I picked up recently and have been waiting for an occasion to use!
I used a jumbo round tip to pipe the frosting onto the cupcakes. Hold the tip of the frosting low, and don't lift it too quickly as you squeeze out the frosting. Also, if you're using a round tip like this, don't swirl it, or your cupcakes might end up looking more like 💩.
The cupcakes and especially the frosting are best enjoyed at room temperature, when the frosting is divinely smooth, not unlike a dark chocolate cloud. For that reason, I don't recommend refrigerating these cupcakes unless you absolutely have to (and if you do, they'll still taste great, the frosting will just be firmer, more like a light ganache). My cupcakes kept perfectly fine at cool room temperature (stored in a cake carrier or other airtight container) for 4-5 days.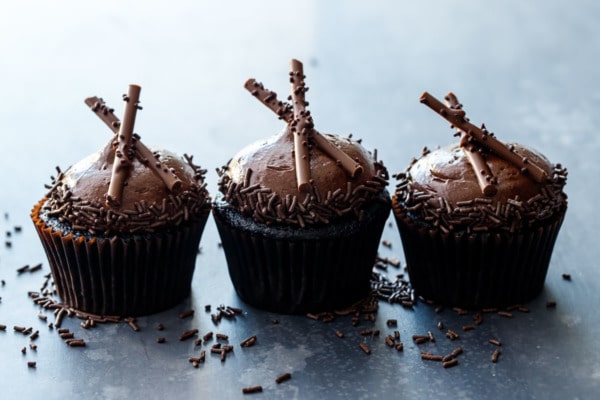 Ultimate Chocolate Cupcakes with Fudge Frosting
These ultra moist chocolate cupcakes are topped with a cloud-like chocolate buttercream that will easily become your new favorite chocolate frosting.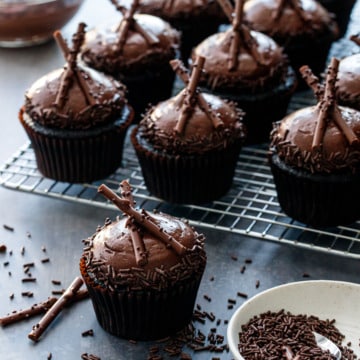 Ingredients:
For cake:
1 cup (200 grams) sugar
1 cup (125 grams) all-purpose flour
1/2 cup (60 grams) dark or dutch-processed cocoa powder (I used mostly Dutch processed, except 1 tablespoon black cocoa for color – do not use all black cocoa).
1 teaspoon baking soda
1/2 teaspoon baking powder
1/2 teaspoon kosher salt
1 large egg, at room temperature
1/2 cup buttermilk
3 tablespoons hot brewed coffee (or use plain hot water)
1/3 cup vegetable oil or light olive oil
2 teaspoons vanilla extract
For Fudge Frosting:
1 cups (2 sticks) unsalted butter, softened
1 1/4 cups (150g) powdered sugar, sifted
1/2 cup (60g) dark or Dutch processed cocoa powder (I used 2 tablespoons black cocoa and Dutch-processed for the rest), sifted
1/4 cup full fat sour cream, at room temperature
3 tablespoons hot water
1 teaspoon vanilla extract
pinch fine sea salt
5 ounces dark chocolate (60-70%), melted and cooled to lukewarm
Directions:
Preheat oven to 350ºF. Line a 12-cup capacity muffin tin with cupcake liners and set aside.
In a large mixing bowl, combine the sugar, flour, cocoa, baking soda, baking powder and salt, whisking until thoroughly combined. Add eggs, buttermilk, water, oil, and vanilla and beat with an electric mixer on medium speed until all dry ingredients are incorporated. Scoop about 3 tablespoons (a large cookie scoop is the perfect size) into each cupcake tin, filling them no more than 2/3 full.
Bake for 16 to 18 minutes or until a toothpick inserted in the center comes out with just a few moist crumbs attached. Remove from oven and place on a wire rack until completely cooled (do not try to frost still-warm cupcakes… trust me!)
To prepare frosting, in the bowl of a stand mixer fitted with the paddle attachment, beat butter on medium speed until very pale and creamy, about 5 minutes. Add sifted powdered sugar and cocoa powder and mix to combine. Add sour cream, hot water, vanilla and salt and mix on low speed until the liquid is incorporated, scraping down the sides of the bowl as needed. It may look slightly curdled at this point, but don't worry. Increase speed to medium-high and beat until smooth, another 2-3 minutes. Add lukewarm chocolate and mix until smooth and glossy.
Spread or pipe onto cooled cupcakes. Store at cool room temperature (refrigerating will cause frosting to harden).
Did you make this recipe?
Let us know what you think!
Leave a Comment below or share a photo and tag me on Instagram with the hashtag #loveandoliveoil.