Moist, flavorful banana bread studded with chunks of fresh strawberries, a hint of cardamom, and brushed with a sweet strawberry glaze.
Take your favorite banana bread recipe to new heights with fresh strawberries for a flavorful twist you'll simply adore. The sweet strawberry glaze on top is—literally—the icing on the cake!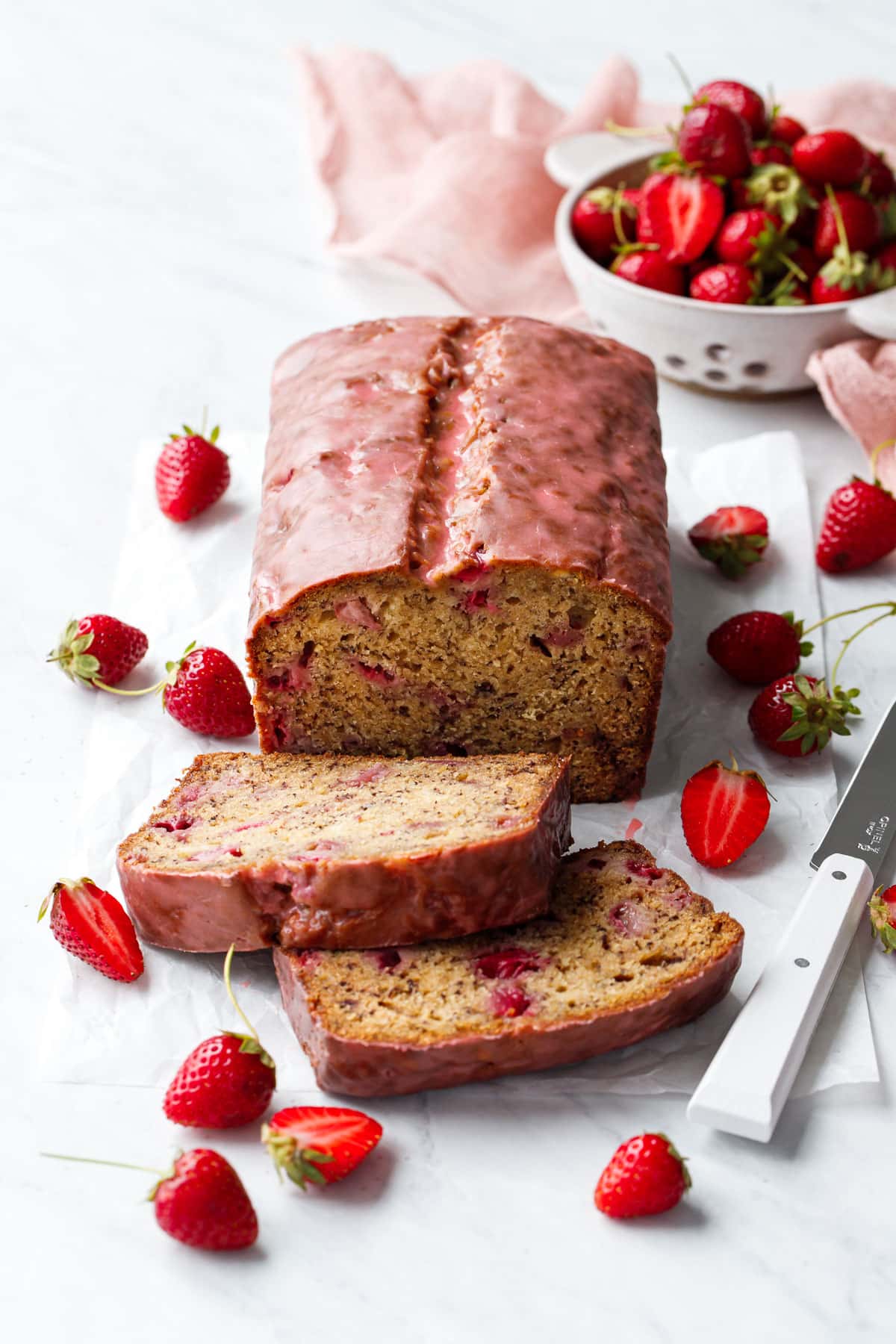 The theme of this spring's recipes is red and yellow, apparently. Strawberry + lemon, strawberry + passionfruit, and now, strawberry + banana.
I can't help it if strawberries are just so darn versatile, it's one of the reasons they are one of my favorite ingredients to bake with.
Unfortunately this recipe used the last of my spring berries, marking the official end of strawberry season here in Tennessee.
I was lucky to get in two good picking sessions this year, though all the rain we've had has made the season particularly short (the last time we went, half the fruit in the field was rotten. It was very sad, indeed.). Still, I managed to get 3 good strawberry recipes out of them, which I certainly consider a successful strawberry season!
And actually, make that 4 good recipes, I forgot I've got something chilling in the freezer that'll ultimately work with all different kinds of fruit, not just strawberries, so I'll be sharing that one later this summer.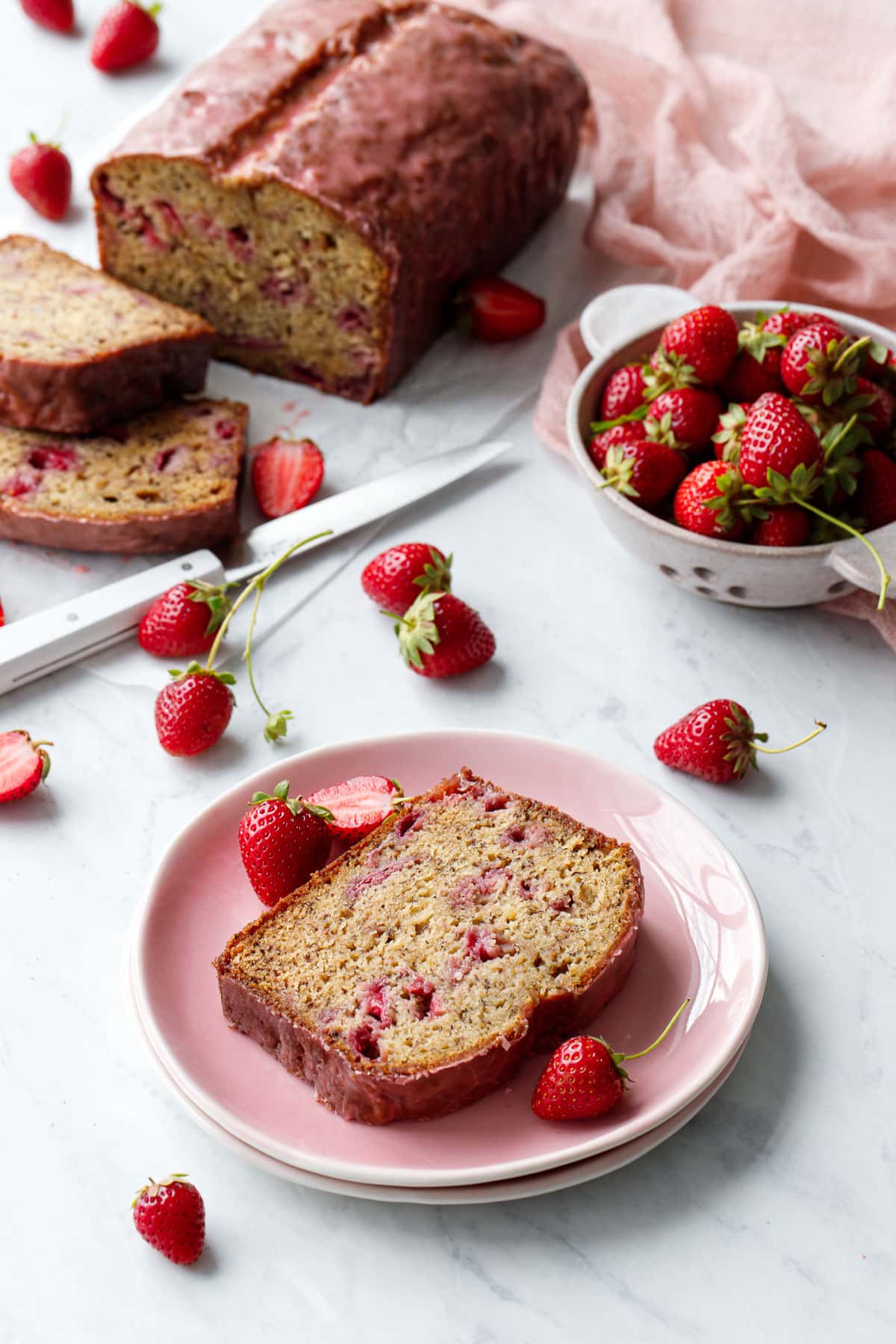 While I love baking with fresh strawberries, they are often rather tricky to bake with. Their high water content can leave cakes with an unappetizing gummy texture or soggy pockets surrounding the pieces of fruit.
In this case, however, because the banana bread is so ultra-moist already, that the sogginess is not an issue. If anything, the moisture in the berries contributes to the overall moistness of the banana bread as a whole. Dare I say it may just be the moistest banana bread you've ever had (short of underbaking it, that kind of moisture is not what we want here).
I still wanted to draw out some of the moisture in the berries before baking, so I macerated them in a bit of sugar, then dumped them into a sieve to strain out as much liquid as possible. (Macerating is a technique that softens fresh fruit; in this case tossing the strawberries with a bit of sugar helps draw out some of their natural moisture.)
The bonus of this method is you are left with a few tablespoons of extra-flavorful strawberry syrup, which then gets mixed with some powdered sugar and brushed on as a strawberry glaze on the final baked loaf. I'd argue that the bites with a bit of glaze are the best bites of all, the strawberry flavor really pops and compliments the banana perfectly.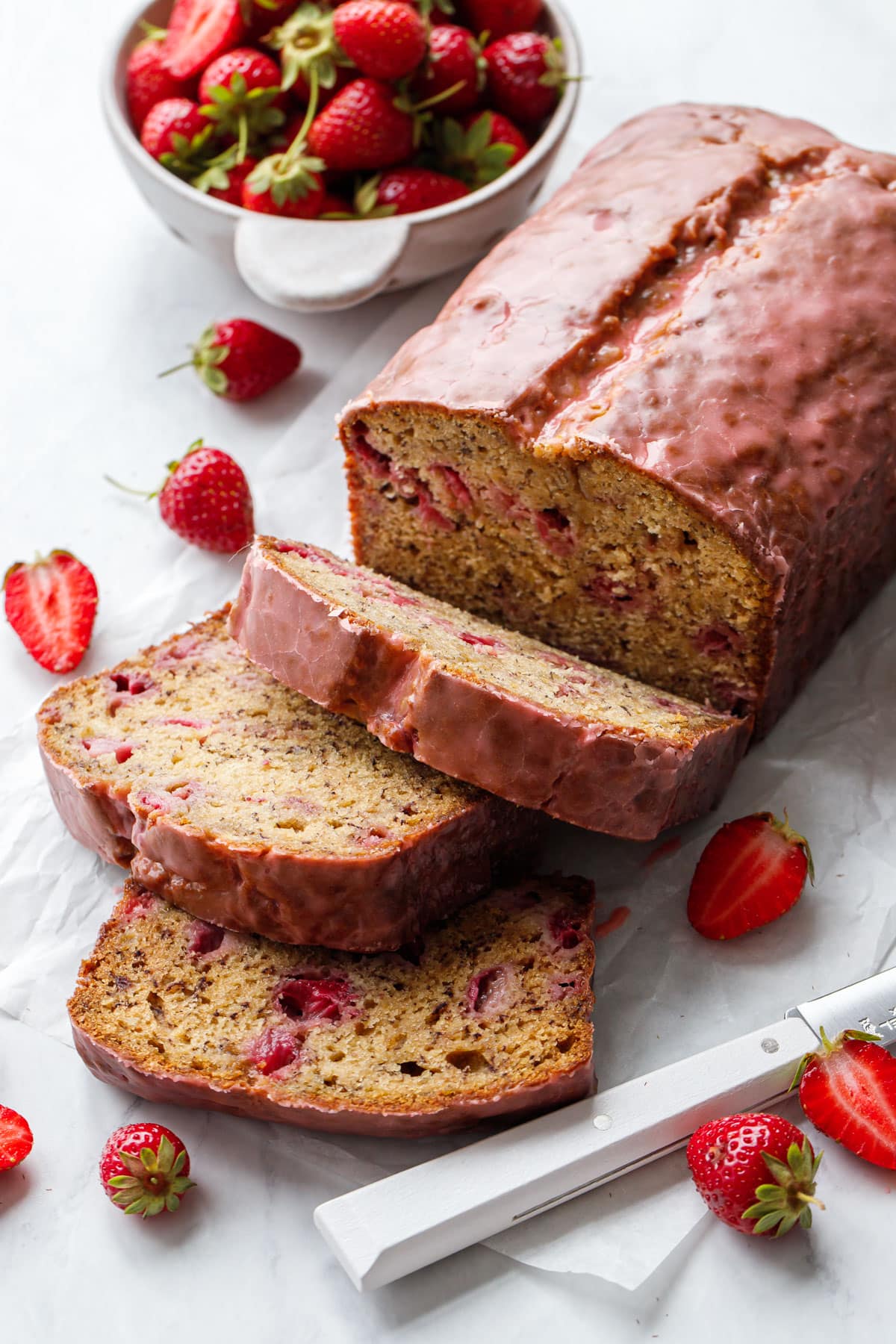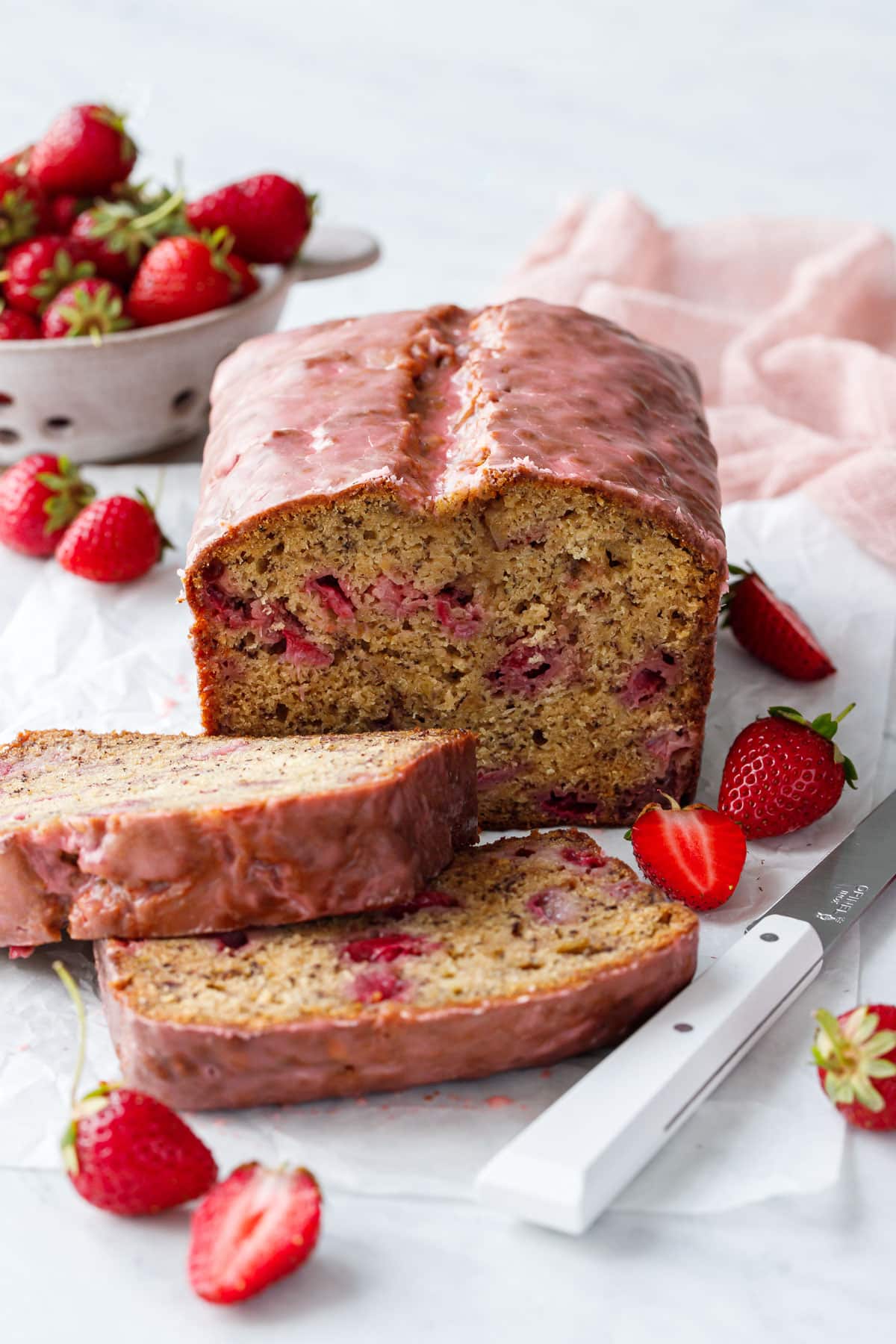 The Ripe Stuff
As always, when it comes to bananas, the riper the better. I don't mean just a few brown spots on an otherwise yellow banana peel (though that will work if absolutely necessary, just don't try to use green bananas or you'll regret it). Ultra ripe bananas should be almost fully brown, and you should be able to smell their heady fragrance across the room.
It's usually not a problem for me to have extra-ripe bananas (in reality, I only ever think to make banana bread when I misjudged the number of bananas I'd need for the week).
That said, if you are hankering for banana bread but your bananas aren't quite ripe enough, you can pop them in a paper bag (with an apple if you have one) in a warm spot to encourage them to ripen quicker. I've also heard you can roast them in the oven until the peels turn completely black, though I have not tried this myself.
On the other end of the spectrum, if you find yourself with overly ripe bananas and no time to make a batch of bread, you can freeze your bananas to make banana bread later! I recommend taking them out of the peel and mashing them like you would for banana bread (mash about a cup's worth which is what you need for this recipe), then transfer that to a zip-top bag and freeze (don't forget to label it with the date and quantity).
When it comes time to make your banana bread, simply defrost the bag of mashed banana (overnight in the fridge or at room temperature for 2 hours) and then proceed with the recipe as written. While the defrosted frozen banana might seem a bit watery, it'll still come together beautifully in banana bread, you won't be able to tell the difference.
Toss strawberries with sugar and let drain in a fine mesh sieve for 30 minutes; save the liquid that drains off (you'll use this for the glaze later!)
Spread strawberries onto a paper towel-lined plate and pat dry to remove any remaining liquid.
Sprinkle berries with flour and toss until evenly coated to prevent sticking.
Gently toss the berries until evenly coated with flour.
Add wet ingredients (banana/sugar/egg mixture as well as melted butter).
Stir until ingredients are just incorporated and no streaks of dry flour remain (the batter will still be a little bit chunky).
Add flour-coated strawberries to batter and gently fold until evenly incorporated.
Pour batter into a parchment-lined loaf pan.
To create a perfectly centered crack, brush a bench scraper with melted butter or oil and touch the top of the loaf.
The fat should make a clean line right down the center of the loaf; this will help it form an evenly centered crack as it bakes.
Picture Perfect Loaves
A trick I learned when baking loaf cakes and you want to get that perfectly defined crevasse down the center of the loaf: use a bench scraper brushed with fat (oil or melted butter) to imprint a line of fat in the batter down the very center of the pan. As it bakes, this fat will soak into the top of the loaf and produce a perfect split, and also help the loaf rise sky high. You can certainly skip this step, instead your loaf will rise freely and split where it may.
Also, I always line my loaf pans with parchment paper. You don't have to worry about the short sides (just lightly butter those), but then drape an 8.5-inch wide strip of parchment into the pan, covering the bottom and the two long sides with a slight overhang. When the loaf cools, you can then use this overhang to lift the entire loaf out of the pan in one piece.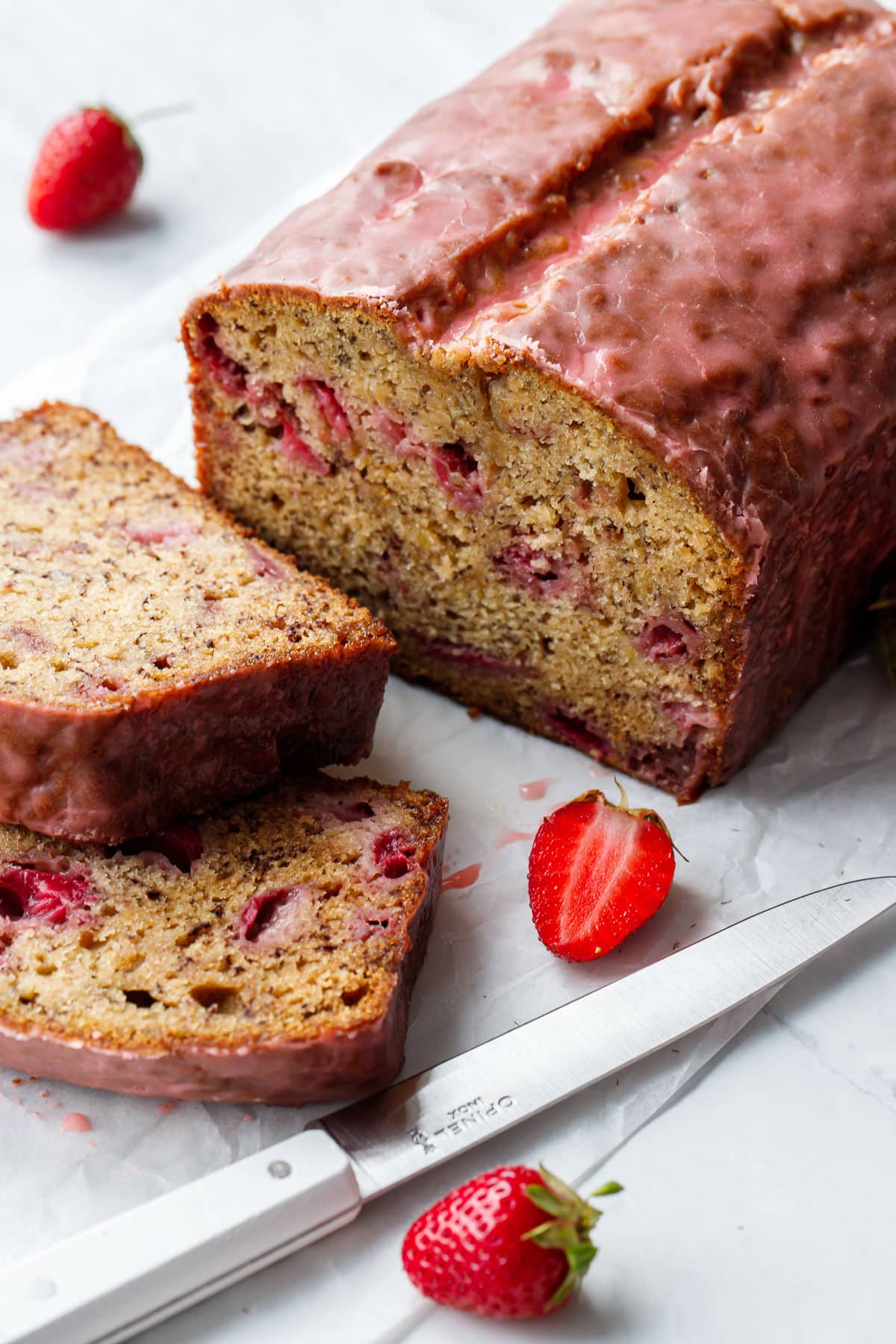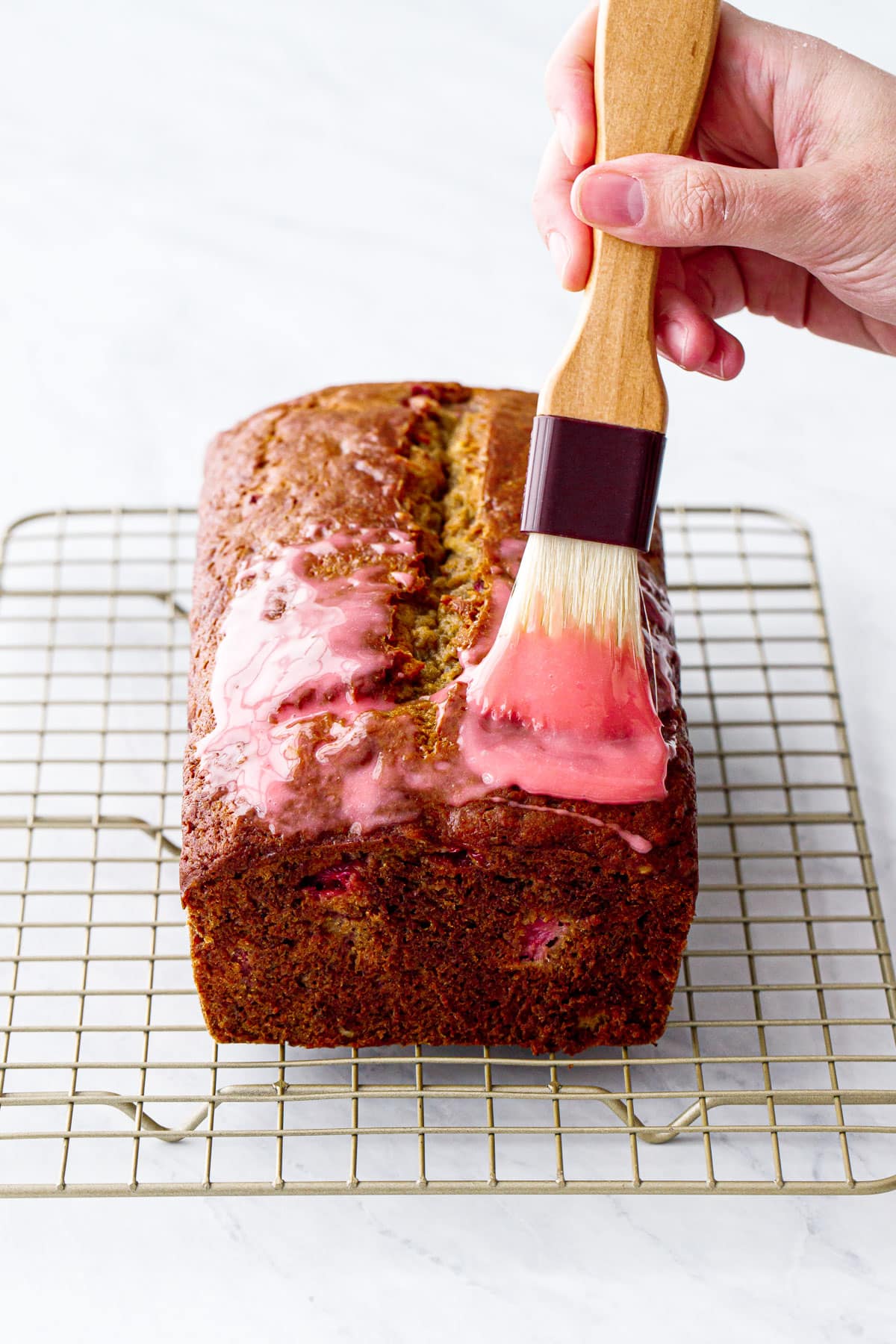 Glazed and Confused
The glaze is naturally bright pink and bursting with berry flavor.
After draining the berries you should have about 3 tablespoons of strawberry syrup. To this, add 4 to 5 tablespoons of sifted powdered sugar until it forms a brushable consistency.
You can also add more sugar for a thicker glaze that would be more suited to drizzling, but I wanted a thin layer of glaze over the entire cake (even the sides) to maximize the pop of strawberry flavor.
Brush the glaze over the cake while it is still somewhat warm and it will soak in to the cake and set up into a lovely crystalized outer glaze. If your cake has a deep crevasse in the top like mine, try not to let too much glaze pool in there otherwise it may get soggy in that spot.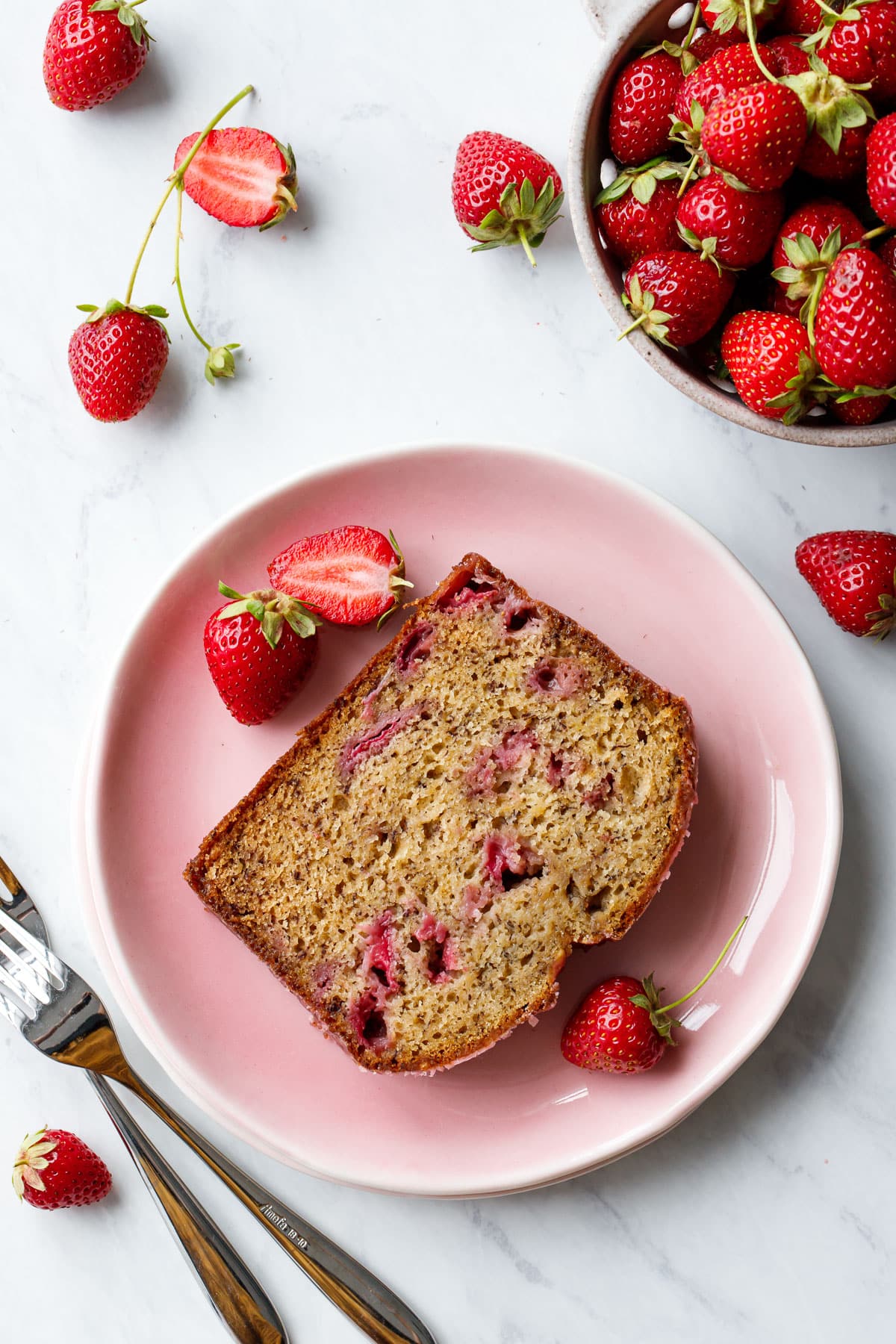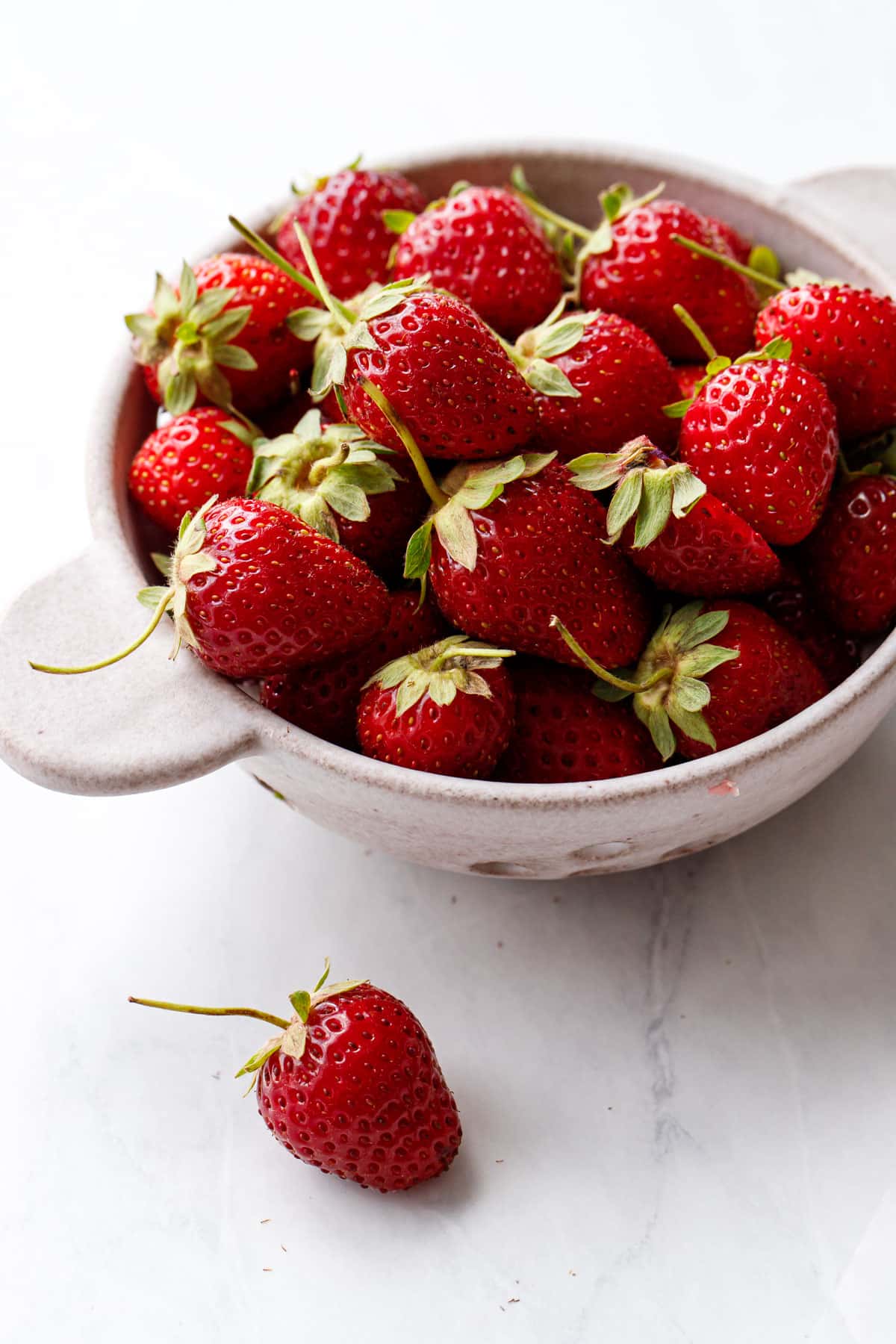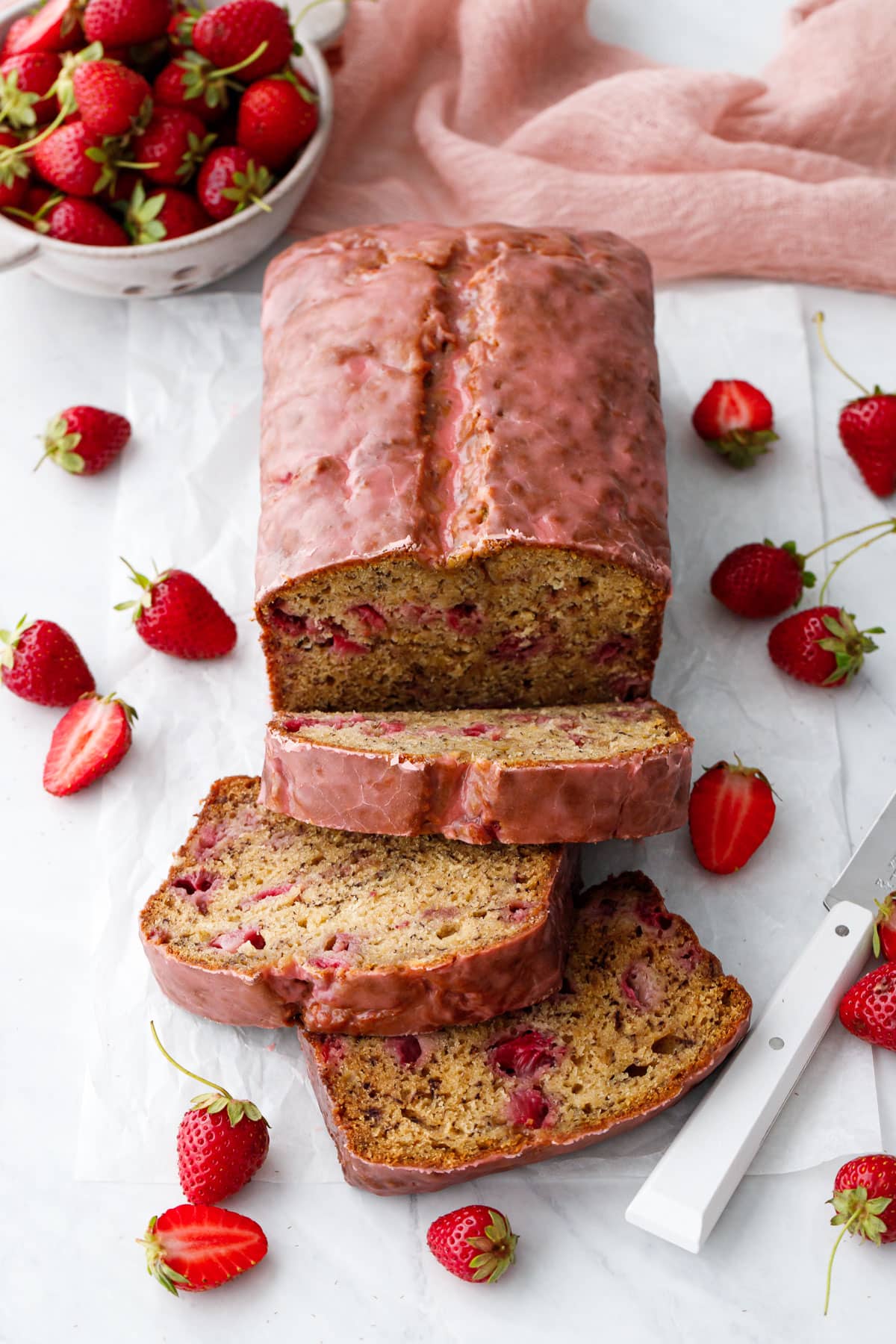 Loaf Pan Sizing
This recipe is written for a standard size loaf pan of 8.5-by-4.5-inches (sometimes advertised as a 1 pound loaf pan). The other standard size loaf pan is slightly larger, 9-by-5-inches. While you can use this larger size for this recipe, the final loaf will be wider and not quite as tall. Keep an eye on it in the oven as it'll likely be done sooner (more like 45 to 55 minutes instead).
If your loaf pan is even smaller, 8-by-4-inches, leave about a cup of batter out (bake a few muffins if you have to)… as the last thing you want is for your pan to overflow and be scraping charred batter of the bottom of your oven (oh the horror).
Choose a loaf pan with nice square corners for a perfectly shaped loaf. I recommend a light colored metal for this recipe; glass or heavy ceramic pans tends to bake slower and more unevenly, so your top/sides may be darker and the center slightly underdone (you'll also need to increase the baking time for this kind of pan).
This recipe would also work beautifully as banana bread muffins; one loaf's worth of batter should give you almost exactly 12 muffins.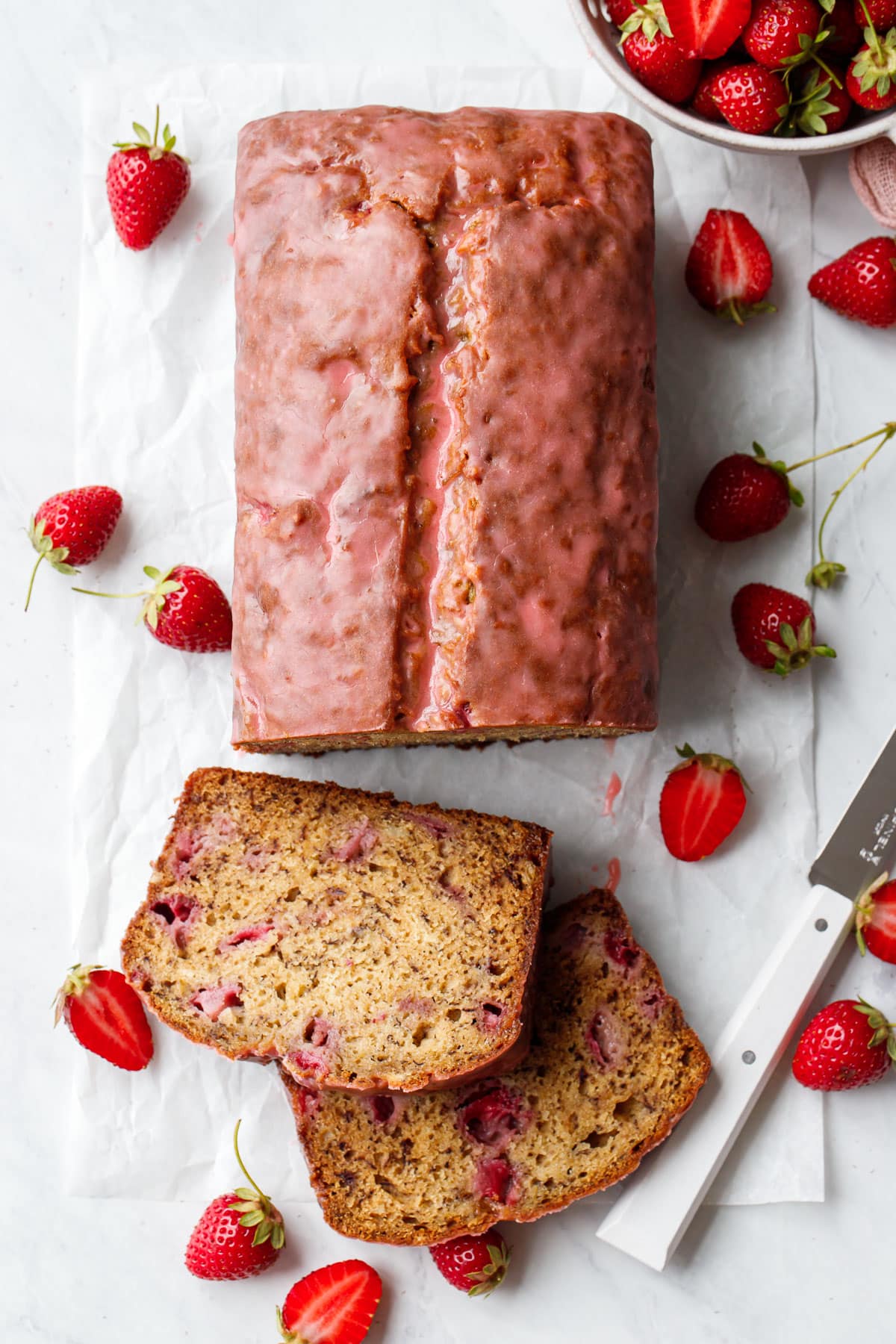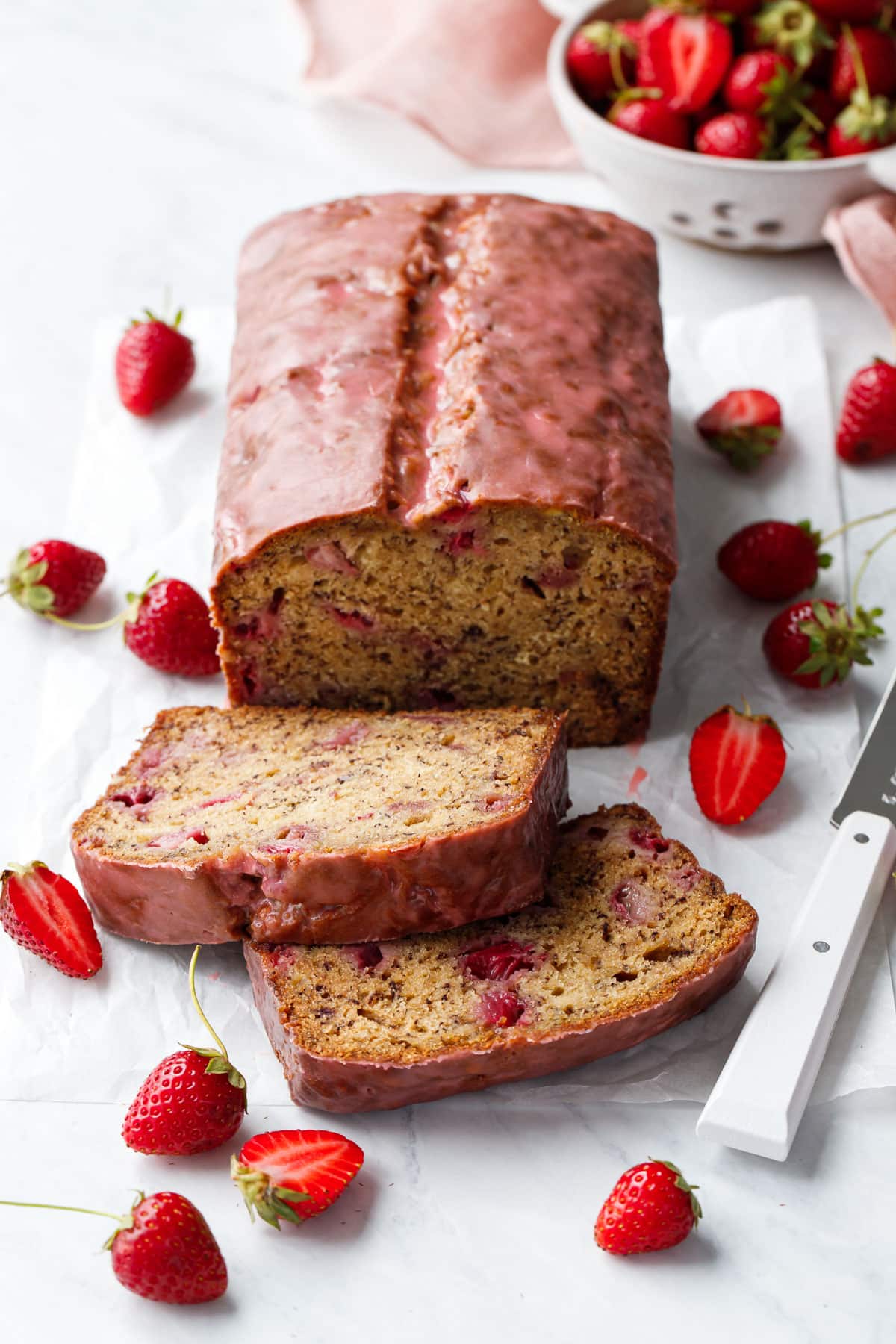 Swaps & Substitutions
Strawberries: Fresh strawberries are best, the riper and more flavorful the better! I do not recommend frozen strawberries in this recipe as they'll be far too soggy.
You could also replace the strawberries in this recipe for other fruit, for example I think peaches would work beautifully here (peeled and diced). Blueberries or raspberries would also work, just skip the whole maceration step since these berries have a much lower water content and can be used whole rather than chopped. If you still wanted the fruit glaze you'd need to puree some additional fruit or cook it down to make a syrup for your glaze.
Cardamom: Just a tiny bit of cardamom in this recipe adds depth and interest. You can certainly leave it out, or swap it out for some cinnamon or any other spice of your choice.
Butter: Use a vegan/dairy free butter substitute to make this recipe dairy free.
Flour: While I haven't tried it myself, a generic gluten-free flour blend should work in this recipe, though it may not rise as high. I don't recommend replacing all the flour with something like almond flour, which does not have enough structure to support itself.
Eggs: I do not recommend replacing the eggs in this recipe, as the bread won't have enough structure to support itself and will likely sink in the middle.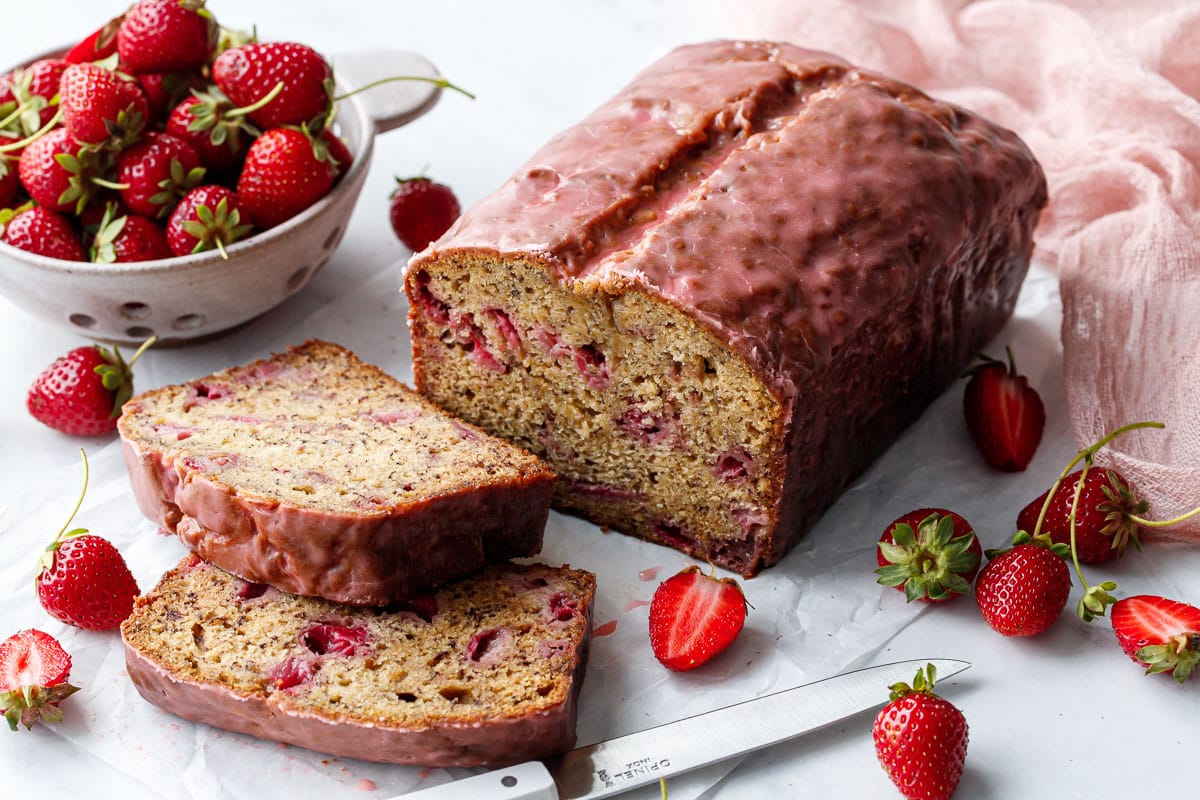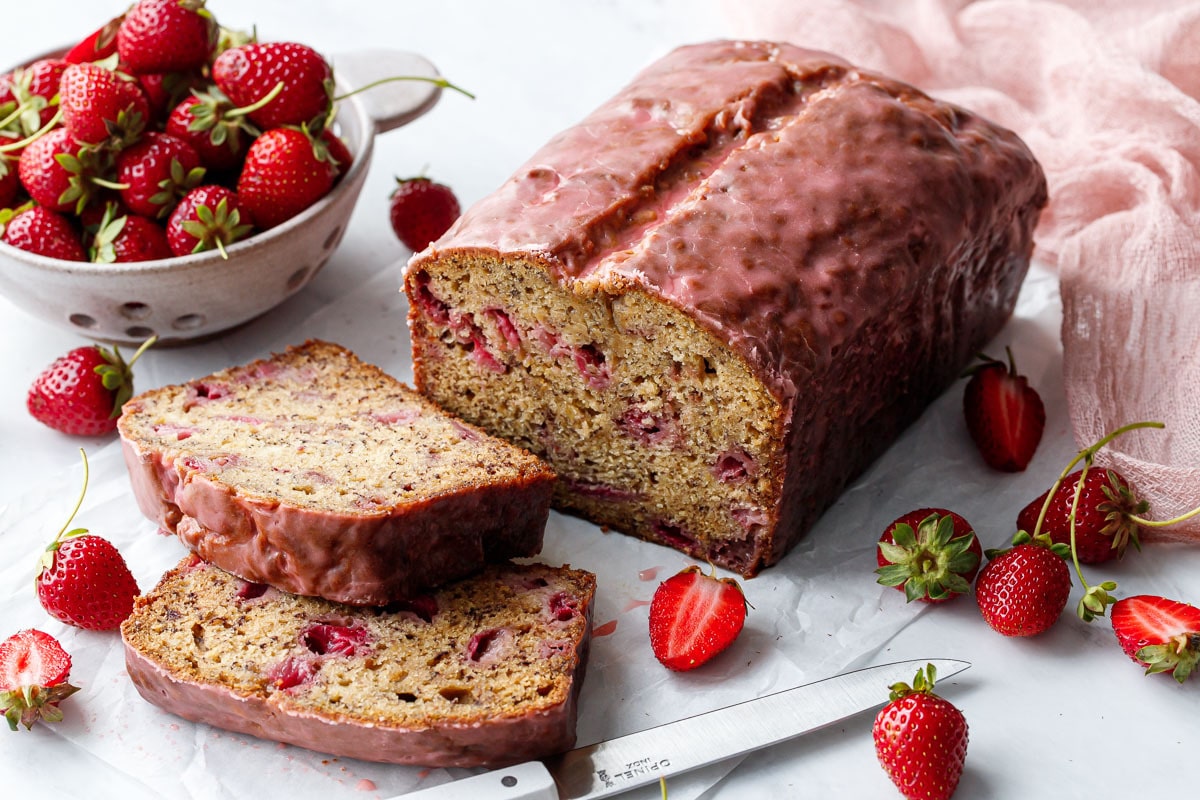 Strawberry Banana Bread
This moist and flavorful banana bread is studded with chunks of fresh strawberries, a hint of cardamom, and brushed with a sweet strawberry glaze.
Ingredients
For Macerated Strawberries & Strawberry Glaze:
7

oz

/

200

g

fresh strawberries

,

hulled and chopped into 1/2-inch pieces

2

tablespoons

/

24

g

granulated sugar

2

tablespoons

/

15

g

all-purpose flour

5

tablespoons

/

40

g

powdered sugar

,

sifted
For Banana Bread:
1¾

cups

/

218

g

all-purpose flour

1

teaspoon

baking soda

½

teaspoon

fine sea salt

¼

teaspoon

ground cardamom

3

/

290

g

small ripe bananas

,

about 1 cup smashed

½

cup

/

105

g

packed light brown sugar

¼

cup

/

100

g

granulated sugar

2

large

eggs

,

at room temperature

2

teaspoons

vanilla extract

½

cup

/

113

g

unsalted butter

,

melted and cooled slightly
Instructions
Preheat oven to 350 degrees F. Lightly butter an 8½-by-4½-inch loaf pan; press and 8½-inch wide strip of parchment paper into bottom of pan so it lines the bottom and long edges, leaving two overhangs on either side.

Toss strawberries with granulated sugar and dump into a fine mesh sieve and set it over a bowl to catch the liquid that drains out. Let sit for 30 minutes, tossing berries once or twice to redistribute the sugar.

Melt butter in the microwave or a small saucepan over low heat; set aside and let cool to lukewarm.

In a bowl, whisk together flour, baking soda, cardamom, and salt.

In another bowl, mash bananas until smooth. Whisk in sugar, brown sugar, eggs, and vanilla until evenly incorporated.

Add banana mixture and lukewarm melted butter to dry ingredients, and mix until just incorporated and no dry ingredients remain (batter will still be slightly lumpy).

By this point your strawberries should have drained off about 3 tablespoons of liquid, which you'll use it to make the glaze later (so don't throw it out!)

Spread the strained berries onto a paper towel-lined plate and gently pat dry with another paper towel. Sprinkle with 2 tablespoons of flour and toss to coat; this will keep the berries from sticking and clumping together.

Fold floured strawberries into batter until evenly incorporated, then pour batter into prepared loaf pan. If desired, butter or oil the edge of a bench scraper and use that to imprint a fine line of fat down the center of the loaf (this will help form a nice defined crack as it bakes, but no worries if you skip this step).

Bake for about 55 to 65 minutes or until a toothpick inserted in the deepest part of the bread comes out with moist crumbs but no longer any gooey batter. If using a 9-by-5-inch pan, the loaf will be shallower so the cook time will be slightly less (check after 45 minutes or so).

Remove from oven and place pan on a wire rack to allow bread to cool for 30 minutes, then use the parchment overhang as handles to gently lift the loaf out of the pan and place on a wire rack.

Sift powdered sugar into reserved sugar syrup 1 tablespoon at a time, whisking until smooth and no clumps remain. Use a pastry brush to brush an even layer over the top and sides of the entire loaf (if you have a particularly deep crack, try not to let too much of the syrup pool in there as it may get somewhat soggy).

Let glaze set and loaf cool completely before slicing and serving. Store in an airtight container for up to 1 week.
All images and text ©
for Love & Olive Oil.
Did you make this recipe?
Let us know what you think! Leave a Review below or share a photo and tag me on Instagram with the hashtag #loveandoliveoil.