Soft amaretti cookies are quite unlike their crispy cousins, so don't get the two confused. With a chewy exterior and a soft, marzipan-like middle, they're a treat for almond lovers everywhere.
Amaretti morbidi is what they're known in Italy, morbidi meaning 'soft' in Italian (not morbid, I promise these are anything but). They're naturally gluten-free, made with little more than almond flour, sugar and egg white with a splash of almond extract to amp up the almond flavor.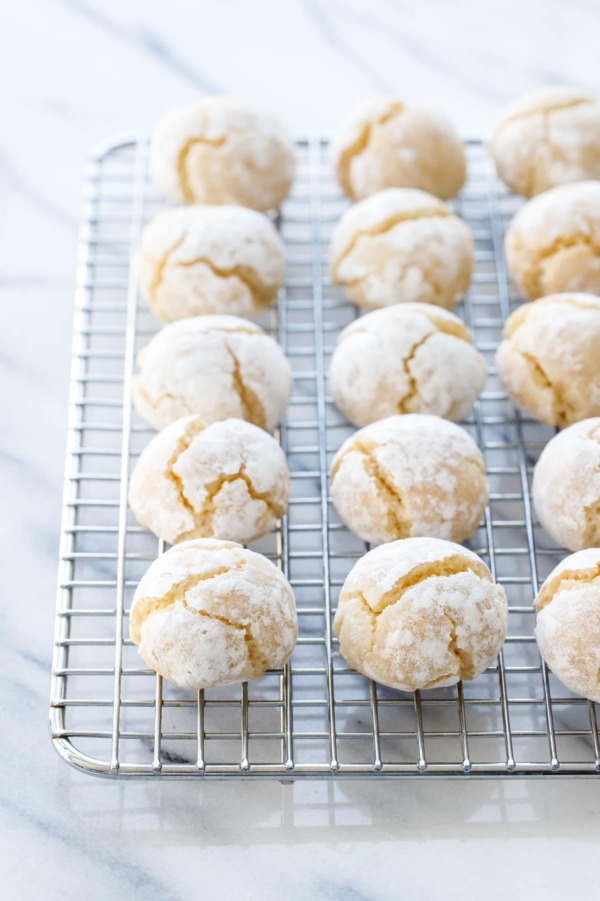 This is a recipe originally posted back in 2013, and one of my all-time favorites, based on a cookie I enjoyed during our honeymoon in Italy. Not to be confused with the crunchy amaretti croccanti you buy by the bag (might I suggest making your next pumpkin pie with those?) these soft amaretti are chewy on the outside and almost marzipan-like in the middle. In other words, simply divine.
While the old recipe always got rave reviews, I'd gotten a few comments over the years noting that the cookies spread much more than the photo, and, if you know me, you know that I am very bothered by recipes that don't behave as they should.
Being that it's one of my favorite cookie recipes I figured it was time for an update (and while most bloggers would just update the old post, I'm a sentimental sap and want to keep my old photos and words preserved for posterity. Google probably won't like the fact that I'm publishing this update as an entirely new post, but, whatever.)
So I set out to figure out the mystery of the spreading cookies.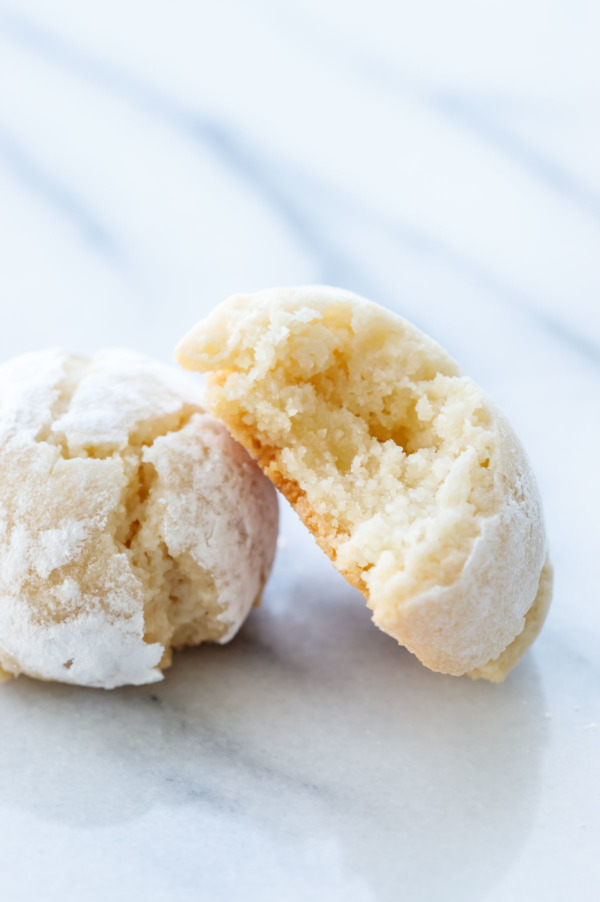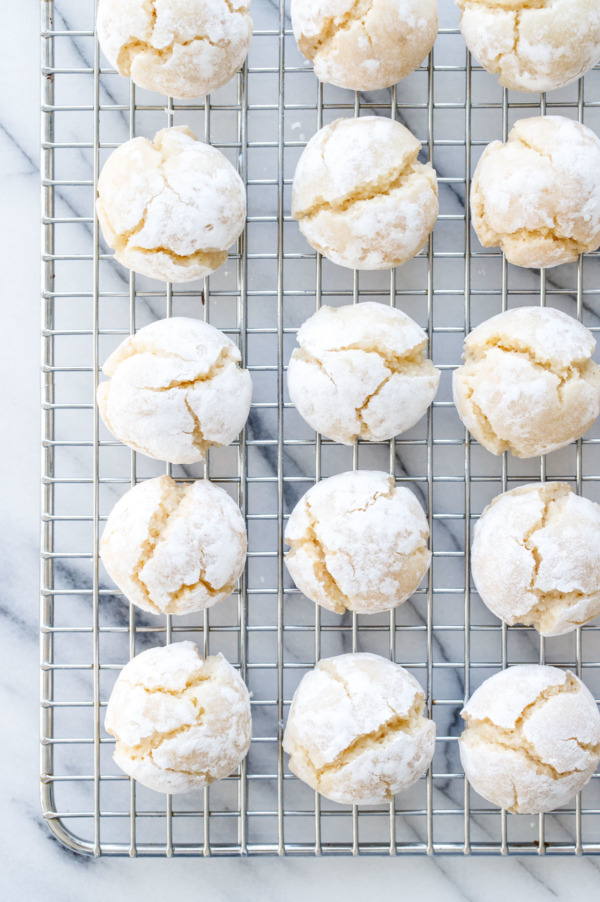 I spent an entire Saturday making batch after batch (I split the recipe into quarter size mini batches, weighing out everything precisely in grams, and noting each changed variable in my recipe notebook).
I tested beating my egg whites to soft peaks and stiff peaks and even tried egg whites than were just barely beaten to a froth. I tested cookies with and without a tiny bit of flour (spoiler: it makes no difference in the final cookie, so I ended up removing it completely from the revised recipe to make them 100% gluten free). I tested cookies baked on a single cookie sheet and stacked cookie sheets and longer bake times and shorter ones. I mostly baked from room temperature dough, but I also tried chilling and even freezing the dough first. With a few small variations (most notably the version I added a bit of baking powder just for kicks), most of my cookies ended up looking virtually identical.
I also tested increasing the quantity of egg white, which is what I suspected as the cause of spreading cookies. I whipped up batches with 60g, 64g, 68g, and 72g of egg whites (a 20% increase!) and popped them in the oven to see what would happen.
Surprisingly, the cookies with 20% more egg whites were a bit softer in the middle, but the cookies themselves weren't anymore spread out than the control group.
Which really left me baffled.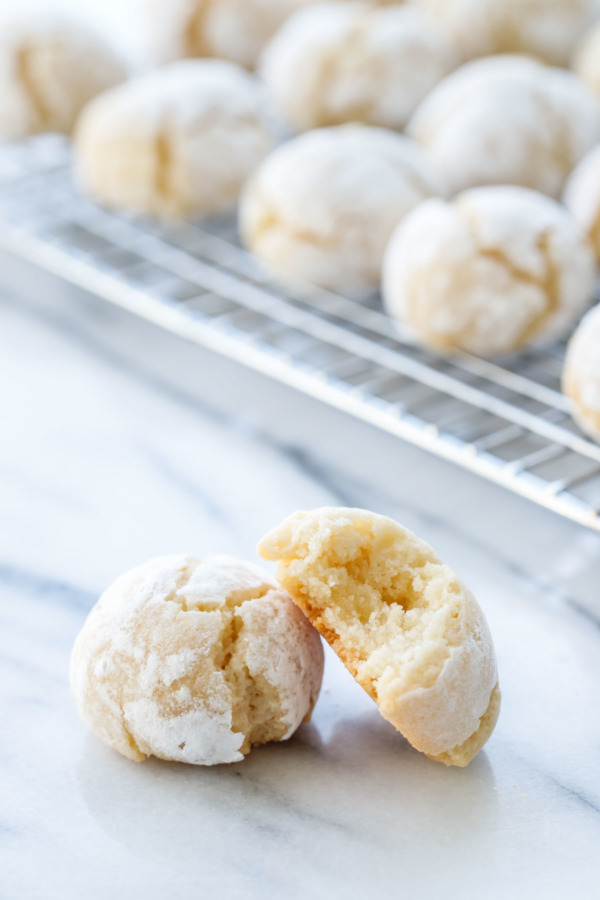 The one variable that seemed to make the biggest visual difference was actually different brands of almond flour, I assume because the moisture levels can vary so greatly from one brand to another (also how fresh the flour itself is). A cookie made with older/drier almond flour held its shape much more than a fresher flour.
Pictured below, left to right: Old almond flour from my pantry (probably from Costco or Nuts.com), Bob's Red Mill, and Simple Truth almond flour. Bob's was my favorite in the end, so the final cookies were all made with that. (Note that I didn't test making my own almond meal from finely ground almonds, which would, I'm assuming, behave quite differently, as most home food processors simply can't grind up nuts as finely.)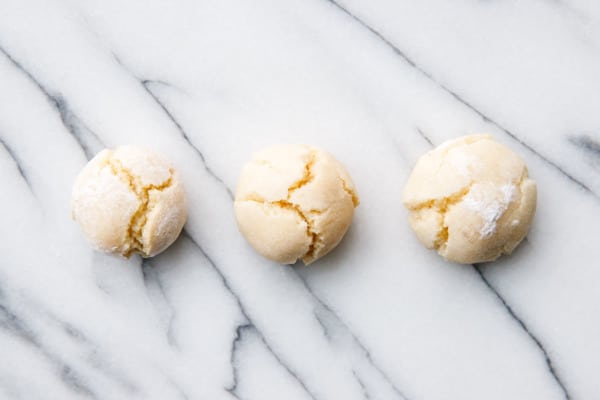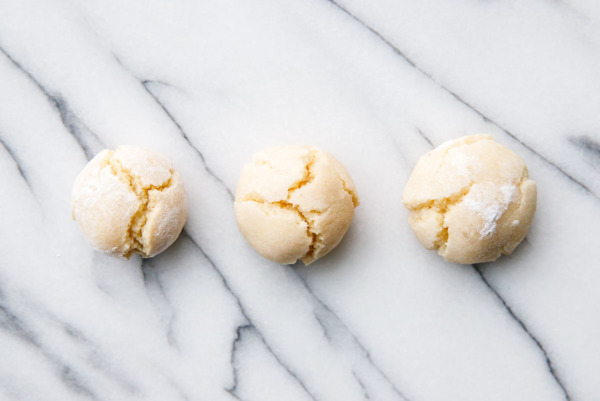 So, anyway, here I was ready to chalk up readers' mysterious spreading cookies to a particular brand or home-ground almond flour.
Then I woke up on Sunday to make a full batch of cookies using my final recipe for photos.
And what would you know, they looked completely different. Not entirely spread out, but they are noticeably flatter with larger, rougher cracks. Other than it being Sunday, the recipe was identical to what I had baked the day before. Go figure.
Pictured below, left: cookie baked on Saturday, right: cookie baked on Sunday.
In the end, I actually like the way they look better than the stiffer balls from Saturday, the cracks are more dramatic and, especially with a thicker coating of powdered sugar, really highlight the texture of the cookie. So maybe it was meant to be afterall.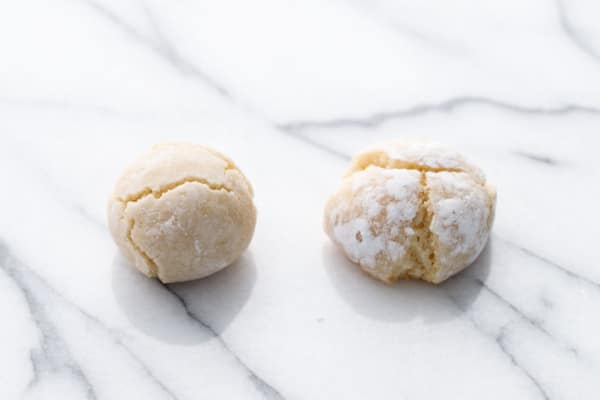 At this point I'm still not firm in my conclusions, but being that the weather on Saturday was cool and drizzly, and on Sunday it was dry and sunny (and much less humid), I suspect that humidity has a noticeable effect on these cookies. Although I would have thought the cookies baked on a humid day would have absorbed more moisture into the dough and spread more as a result, when in reality it seemed to be just the opposite.
Perhaps a drier, more air-filled meringue actually produces more defined cracks and causes more spreading? And on humid days we all know that getting really stiff peaks out of your meringue isn't an easy task; the resulting softer, wetter meringue makes for less cracks and a firmer ball shape. That's my current theory, anyway. At this point I have to wait for another humid day to test out if I'm right or not, but for now, I have updated the original recipe to include a speck of lemon juice to help the meringue whip up more stably, even on humid days.
Let me just say that while your cookies might not look identical to mine, maybe they spread more or cracked less or browned more on the bottoms, regardless of what they look like, they will still taste fabulous.
Here's how to make them: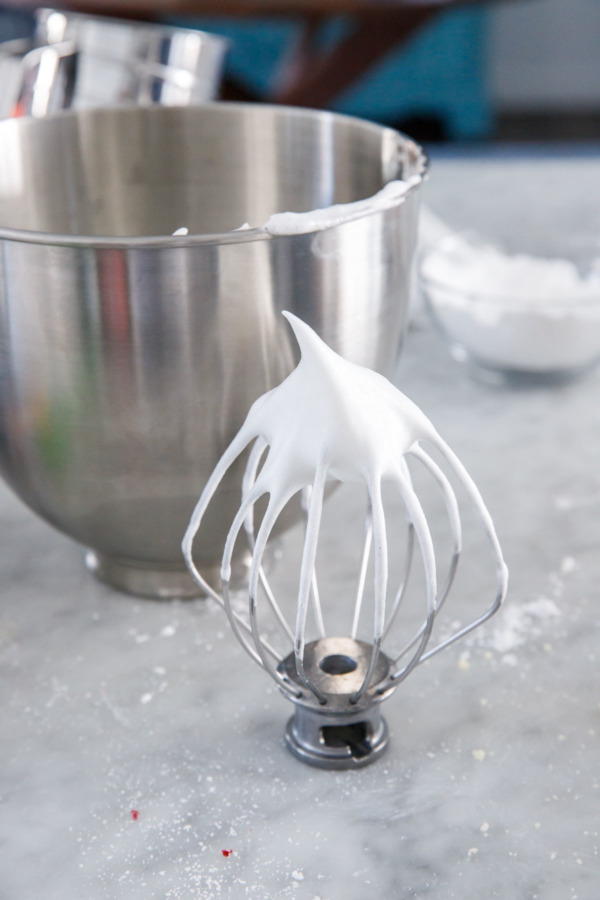 Beat your egg whites to medium-stiff peaks. The tip should lean ever so slightly, not curl or droop, and not stick straight up like an albumen alfalfa.
In my testing the egg whites that were beaten to stiffer peaks produced more defined cracks and slightly more spreading, but it was really a miniscule difference. Just try not to overbeat them (if they look like dry styrofoam or dish suds, you've probably overdone it).
A tiny bit of lemon juice brings up the acidity and helps form a more stable meringue, especially in more humid conditions (a pinch of cream of tartar would work in the same way).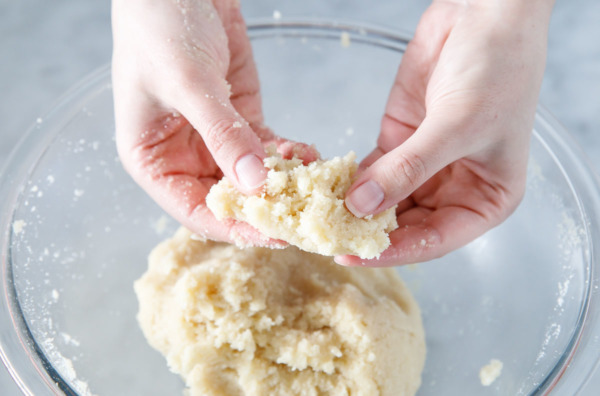 Stir the egg white into the almond flour. You could also pour the dry ingredients into the bowl with the egg white and let your stand mixer do the work for you.
Let me just say: you are not making macarons. You'll be here forever if you try to 'fold' in the egg whites. There's no need to be delicate, smush and stir and smash the heck out of it.
I also found using my hands towards the end really helped bring it all together into a smooth, sticky dough.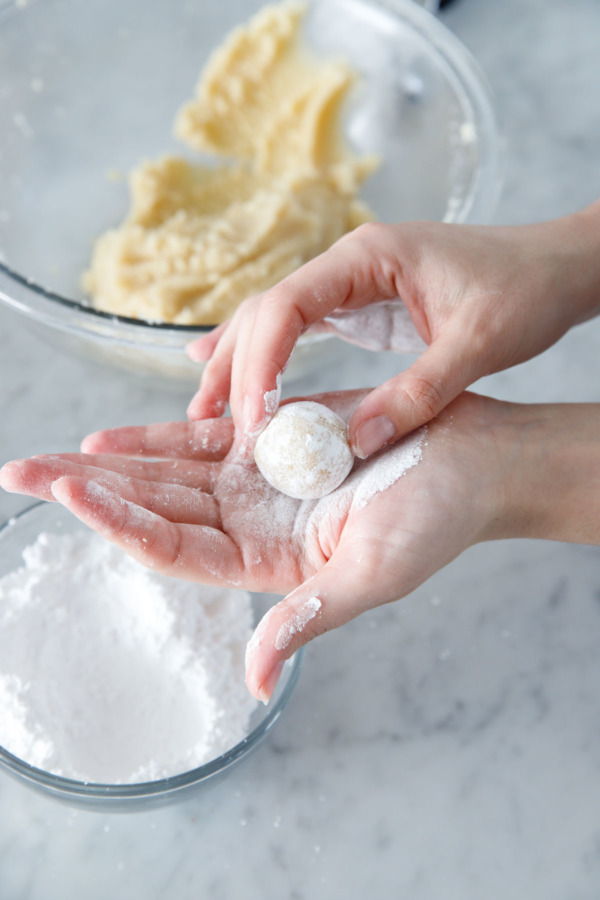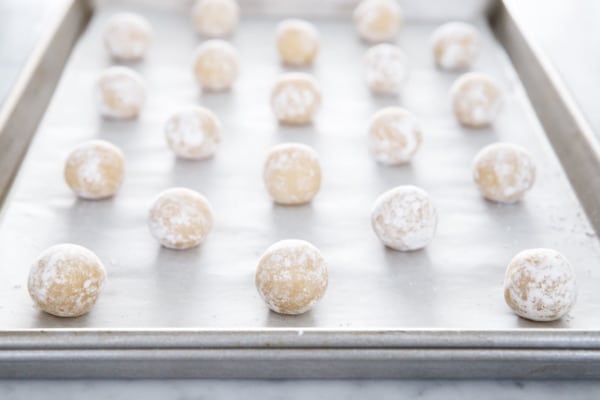 Traditional amaretti morbidi (soft amaretti) do use some bitter almond or even ground up apricot kernels (which have a similar intense almond flavor, believe it or not). Since bitter almond flour is pretty much impossible to find here in the States, I used a little almond extract instead to help amp up the almond flavor in its place. But by all means, if you have access to bitter almond flour, use it! 20g or so should do you just fine.
You can reduce the sugar in these cookies by about 25g or so (so use 175g instead of 200g) for a slightly less-sweet cookie. Reducing the sugar any more than that will result in a cookie that's not as soft and chewy and doesn't spread/crack as much, so I don't recommend it.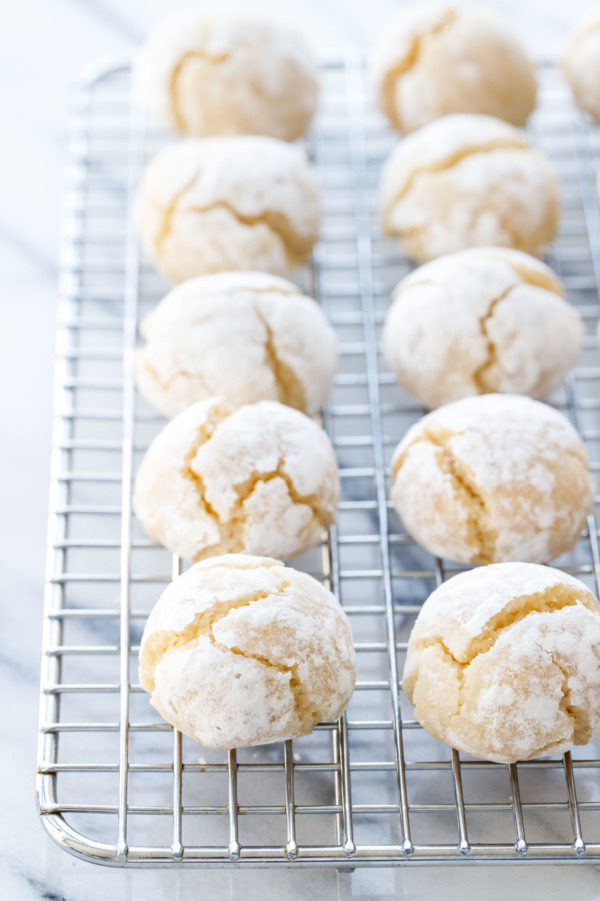 Want to see how these delightful little cookies are made (along with the chocolate, matcha and raspberry variations)? Check out the video:
With a chewy crystalized crust, crunchy browned bottoms, and a soft, marzipan-like center, these cookies are the ultimate almond cookie. Not to mention they are incredibly easy to prepare and ever so satisfying. They keep well and stay soft for days, making them perfect for make-ahead holiday parties and cookie gifts shipped across the country.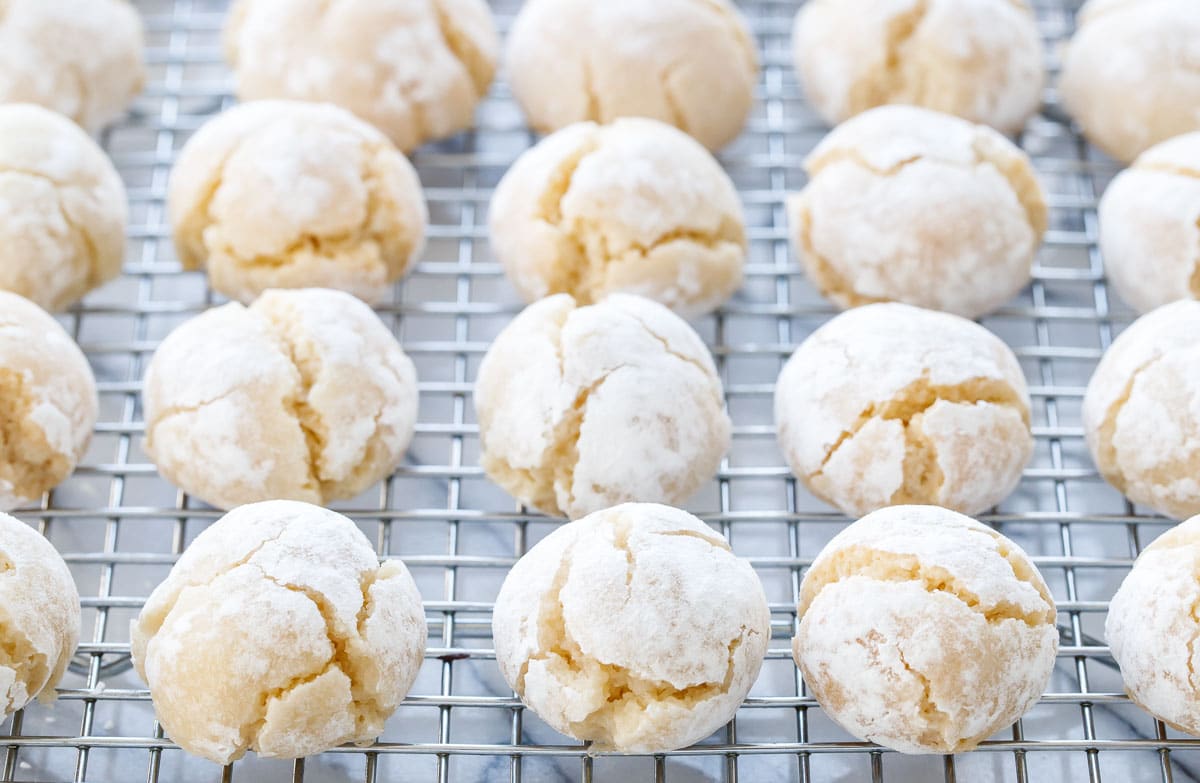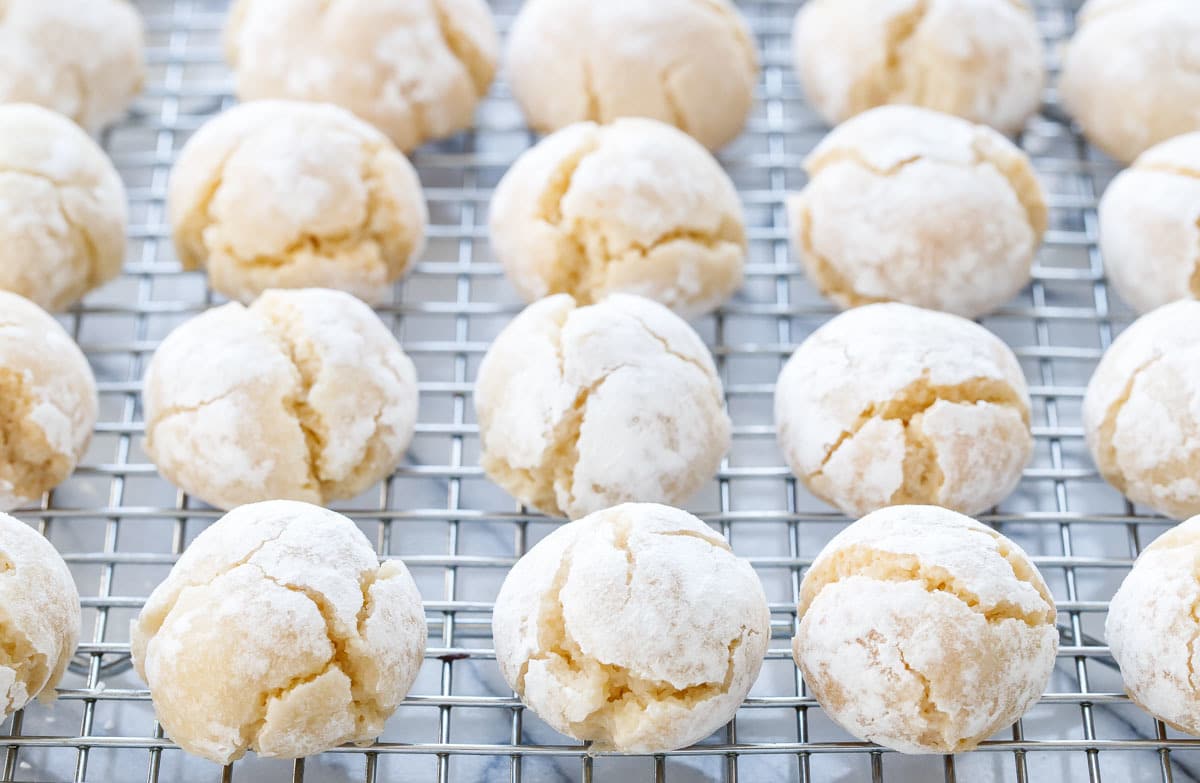 Soft Amaretti Cookies
Soft amaretti (amaretti morbidi) cookies are a treat for almond lovers everywhere, with a chewy exterior and a soft, marzipan-like middle.
Ingredients
2 ¼

cups

/

200

g

almond flour or very finely ground almonds

,

sifted

1

cup

/

200

g

granulated sugar

pinch

salt

2

large

/

60

g

egg whites

¼

teaspoon

lemon juice

½

teaspoon

almond extract

confectioners' sugar

,

as needed
Instructions
Preheat oven to 300 degrees F. Stack two matching, heavyweight, light to medium colored cookie sheets one inside the other (stacking two cookie sheets together keeps the bottoms of the cookies from getting too brown). Line with parchment paper or a silicone baking mat.

In a large bowl, whisk together almond flour, sugar and salt until evenly incorporated.

In a mixing bowl or the bowl of a stand mixer fitted with the whisk attachment, whisk egg whites and lemon juice until they hold soft peaks.

Add beaten egg whites and almond extract to dry ingredients and stir until mixture forms a soft, sticky dough, kneading with your hands if necessary. No need to be gentle here, we're not making macarons. ;)

Lightly dust your hands with powdered sugar. Use a small cookie scoop to portion dough into 1-inch balls. Roll into a smooth ball, then roll in powdered sugar. Arrange on parchment or silicon-lined baking sheets, leaving 1 inch of space between cookies.

Bake for 30 to 35 minutes until tops are cracked and bottoms are just barely golden (if you are NOT using doubled cookie sheets your cookies will brown much quicker, and will likely only need 25 minutes, so watch them closely). If you prefer crunchier cookies you can give them an extra 5 minutes or so or until the tops begin to brown too. Remove from oven; let cool a few minutes, then transfer to wire racks to cool completely.

Cookies will keep at room temperature in an airtight bag or container, for up to 5 days.
All images and text ©
for Love & Olive Oil.
Did you make this recipe?
Let us know what you think! Leave a Review below or share a photo and tag me on Instagram with the hashtag #loveandoliveoil.