The taste of springtime in one show-stopping tart: a velvety smooth Meyer lemon curd and a layer of bright strawberry jam nestled inside a lemon-scented shortbread crust, and topped with fresh strawberries and edible flowers.
Lemon and strawberry come together in a tart that's as bright in flavor as it is in color. Using Meyer lemons gives the curd filling a well-balanced sweetness with a vibrant lemon flavor, paired with fresh strawberries and a layer of strawberry jam for a perfect finish.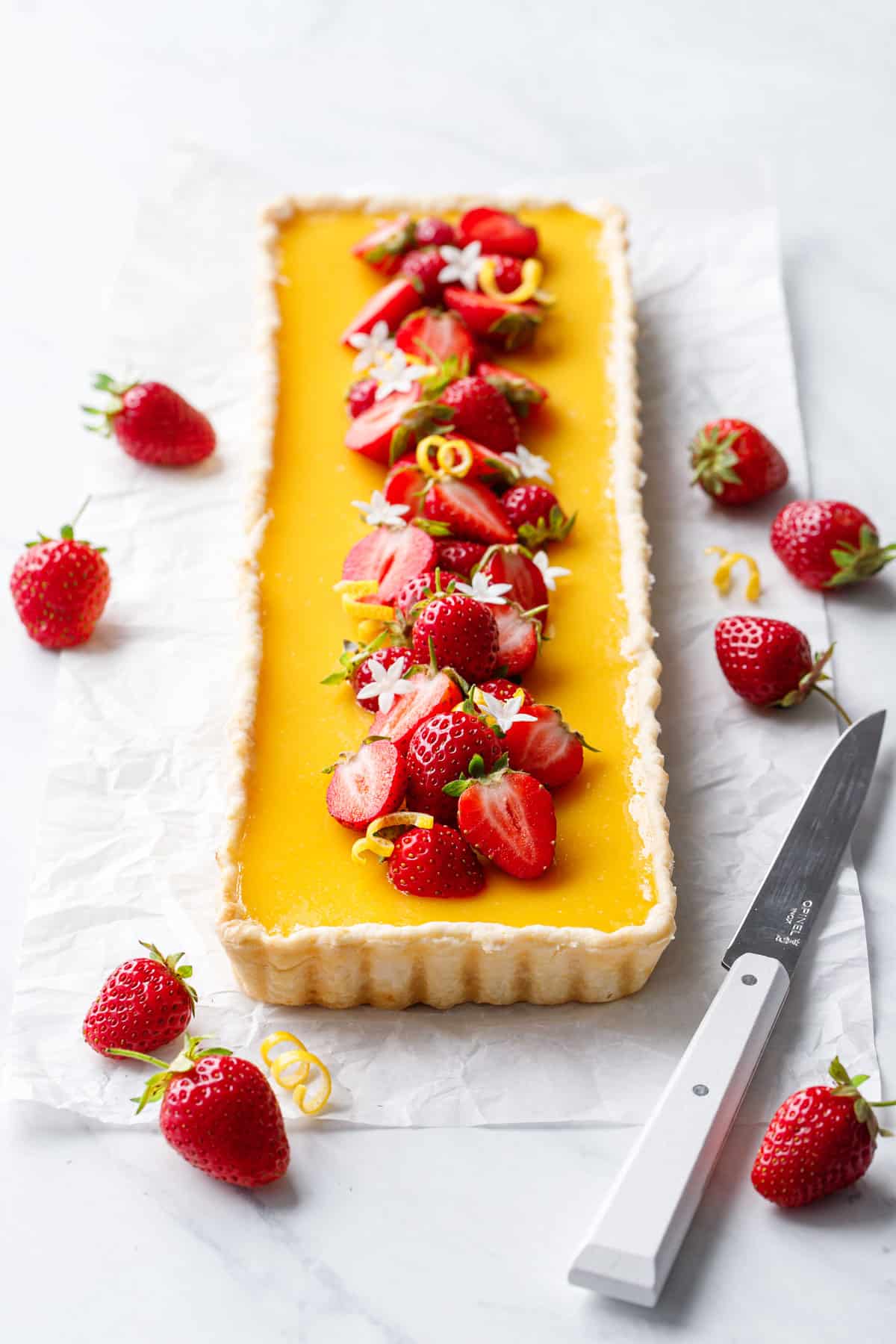 Technically lemon season is at its end, but, thanks to an over-eager tree trimmer, my aunt had a surplus of lemons that needed to be used immediately. Three days later (the postal service is an amazing thing) I found myself with yet another box full of gorgeous Meyer lemons.
After having already made a lemon loaf cake and lemon mousse cakes and a double batch of homemade limoncello, I decided to revisit an old lemon tart recipe to update and rephotograph.
Well, one thing led to another and I ended up making something entirely different (are you surprised? You shouldn't be).
Seeing that strawberry season is upon us, combining strawberries and lemons seemed like an obvious choice. While I toyed with the idea of mixing the strawberries into the lemon curd, or even adding a layer of strawberry gelée on top, I ultimately decided to keep it simple and spread a layer of fresh strawberry jam in the bottom of the crust. I was a bit worried the jam would mix with the curd or even migrate to the top in the oven, but, to my surprise, it came out as a beautifully defined layer of strawberry jam beneath a vibrant yellow lemon curd.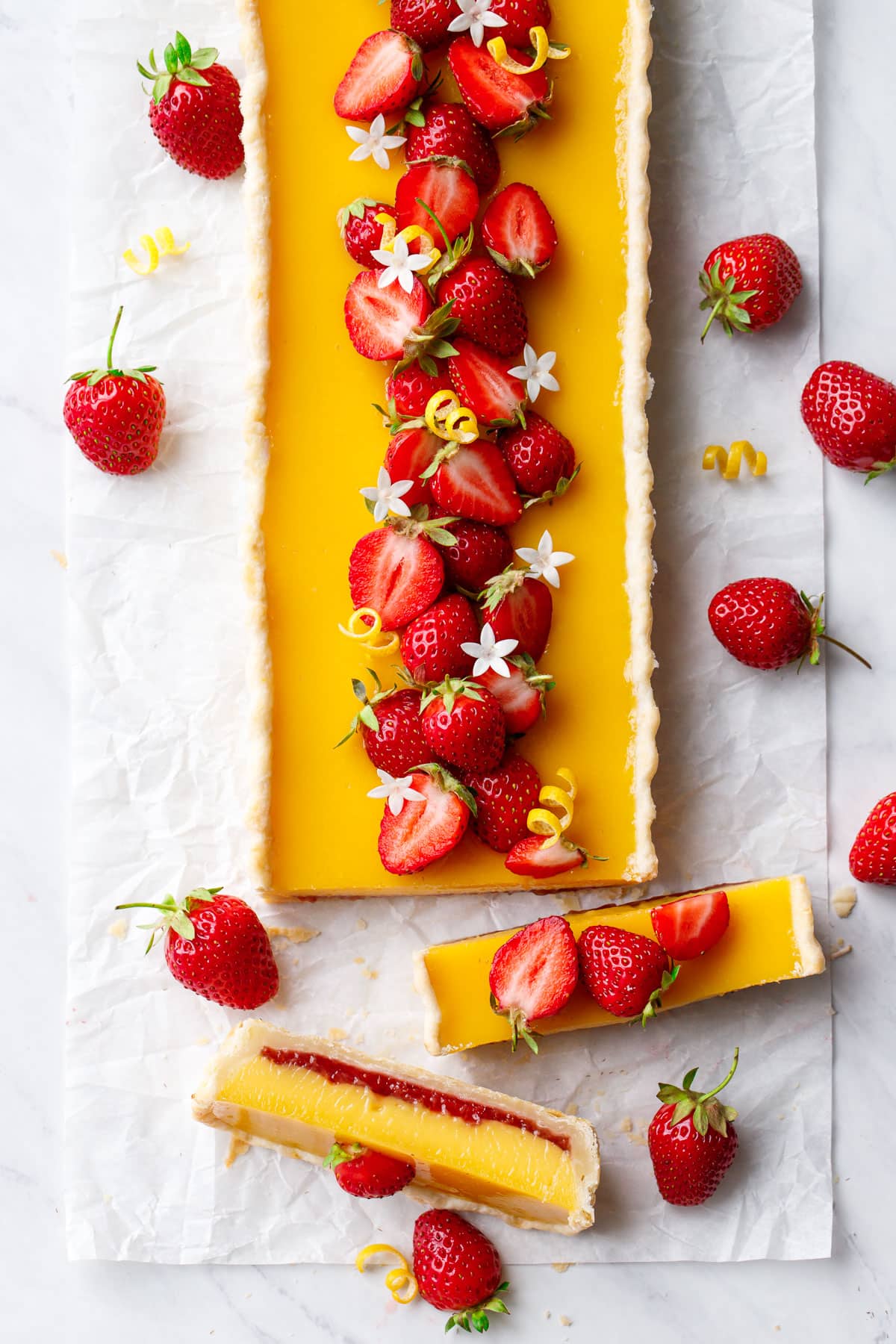 While the filling is nearly identical to the Meyer lemon and macadamia nut tart recipe, the crust is more of a shortbread than a nut-based pie crust. I also opted to add some lemon zest and lemon juice to the crust itself for even more lemon flavor.
For garnish I topped the tart with a pile of fresh strawberries, plus a few lemon curls and edible flowers to add to the springtime feel.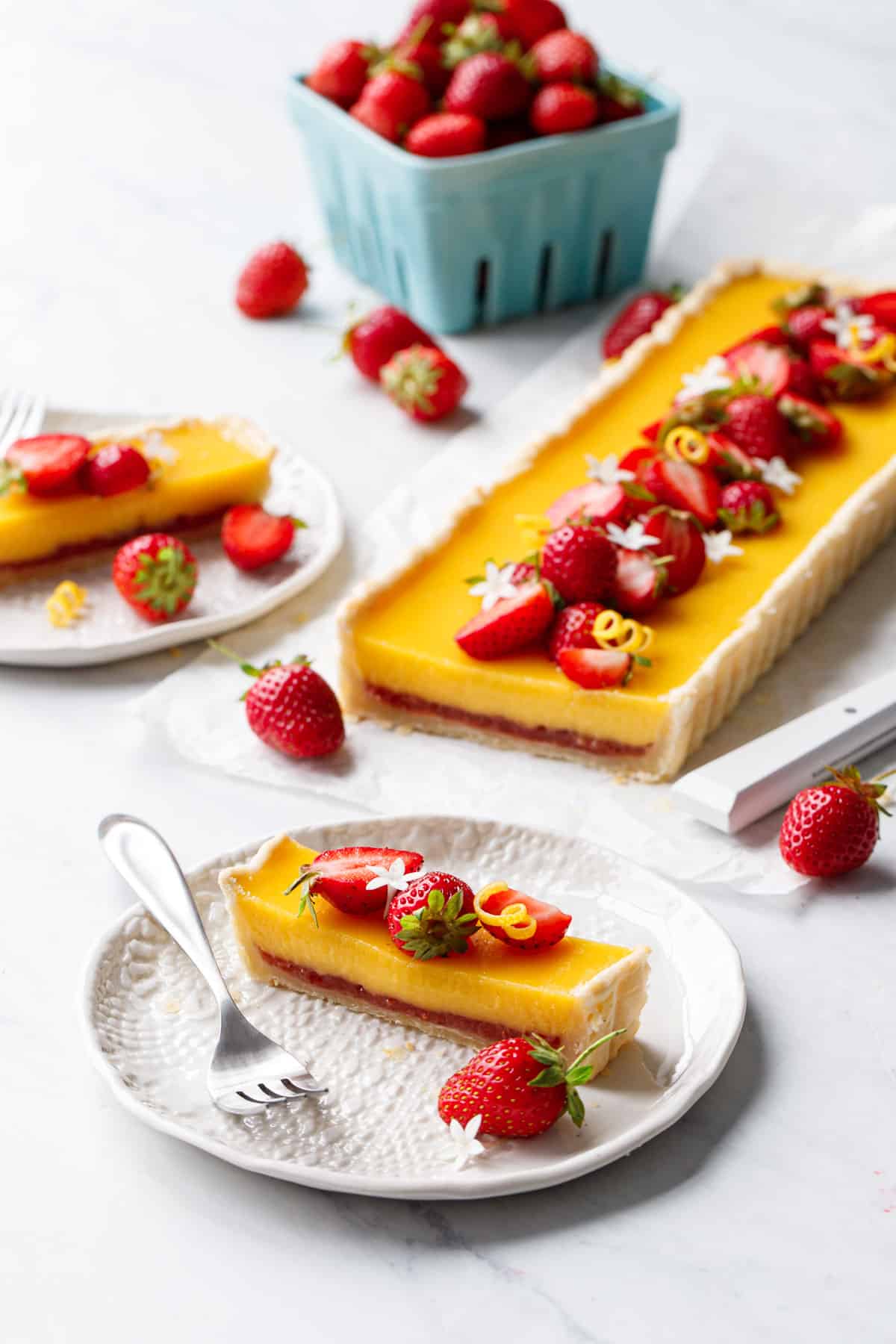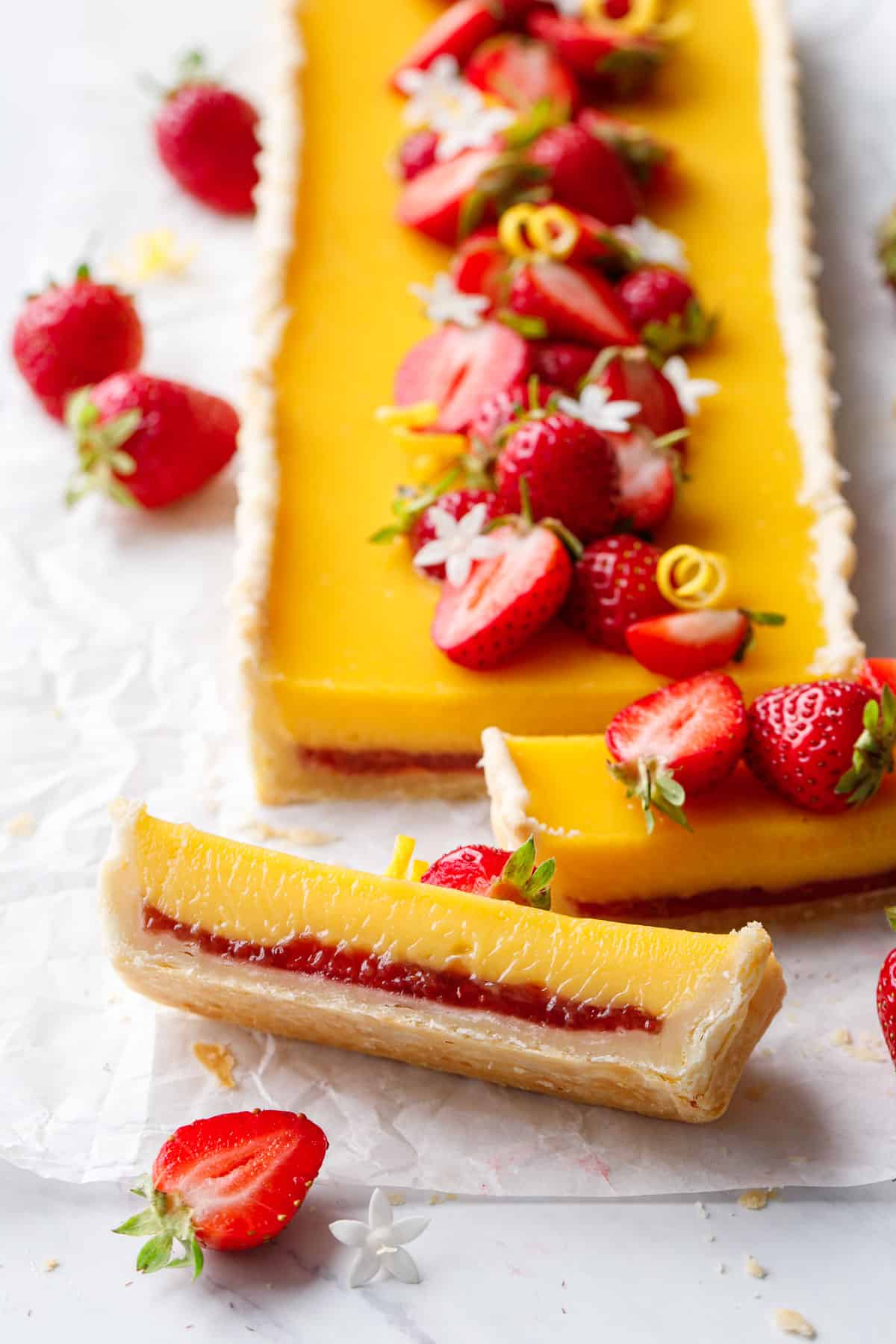 Jam it Up
In addition to fresh strawberries on top, this tart features a layer of bright strawberry jam in the bottom for a double dose of strawberry flavor.
If you're using a store-bought strawberry jam, try to choose a pectin-rich jam with a thicker consistency. For example, Bonne Maman jams, as much as I love them, are a bit too loose and will 'ooze' when sliced. A jam with more pectin, like Smuckers, will be more stable and will stay in place when sliced. Look for a jam, jelly or spread with pectin in the ingredients. I'd recommend against products labeled preserves (which are made from whole berries and often more loosely set).
If you want to go the homemade route, I've got plenty of strawberry jam recipes that'd work here. My basic strawberry jam or strawberry limoncello jam recipes are made using Pomona's pectin, which produces a firmer set with less sugar than other recipes. Either would work beautifully here (the strawberry limoncello in particular for obvious reasons). I have a few old-fashioned strawberry jam recipes that are made without pectin—I'd recommend against them in this recipe as they're much too loose.
You can also replace the strawberry jam with other flavors (blueberry or blackberry, for example, would both be lovely here!)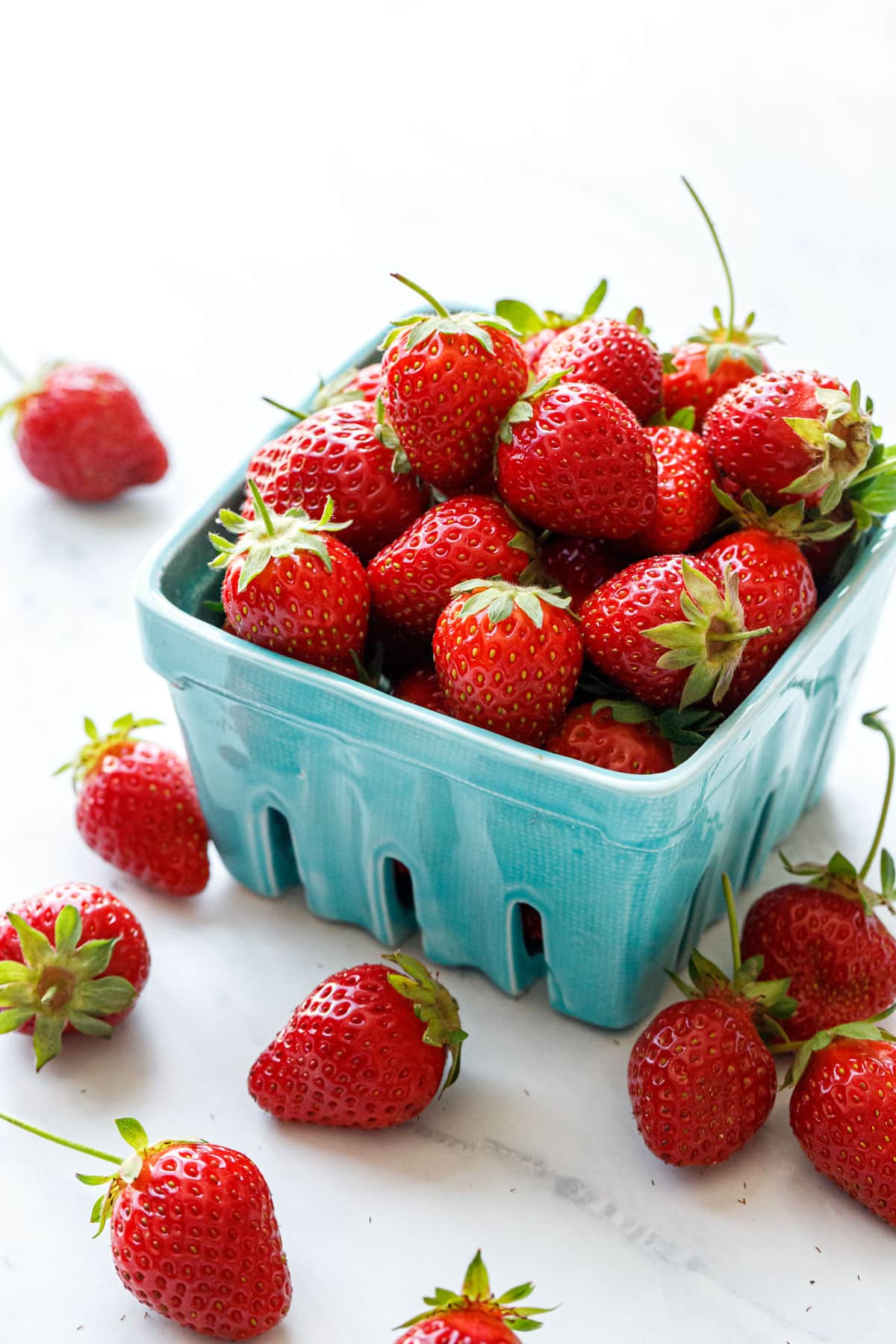 Squeeze the Day
The creamy lemon curd is made with Meyer lemons.
Meyer lemons are actually a hybrid between a citron (the progenitor of the modern day lemon) and a mandarin orange. They often have deep yellow skins and delicious, sweet juice that's less acidic and not nearly as mouth-puckering as regular lemons.
If you use regular lemons instead, your filling will be much more tart and lighter yellow in color. I'd recommend reducing the lemon juice down to 4 ounces in this case. You can also cut the lemon juice with a bit of freshly squeezed orange juice (about 4oz lemon juice to 1oz orange juice) to approximate the flavor of a Meyer lemon.
The curd is very egg-yolk heavy, which results in a lusciously rich and velvety smooth curd that still has plenty of tart lemon flavor.
Looking for something to do with those extra egg whites? I've got plenty of egg white recipes right here! (Egg whites also freeze beautifully!)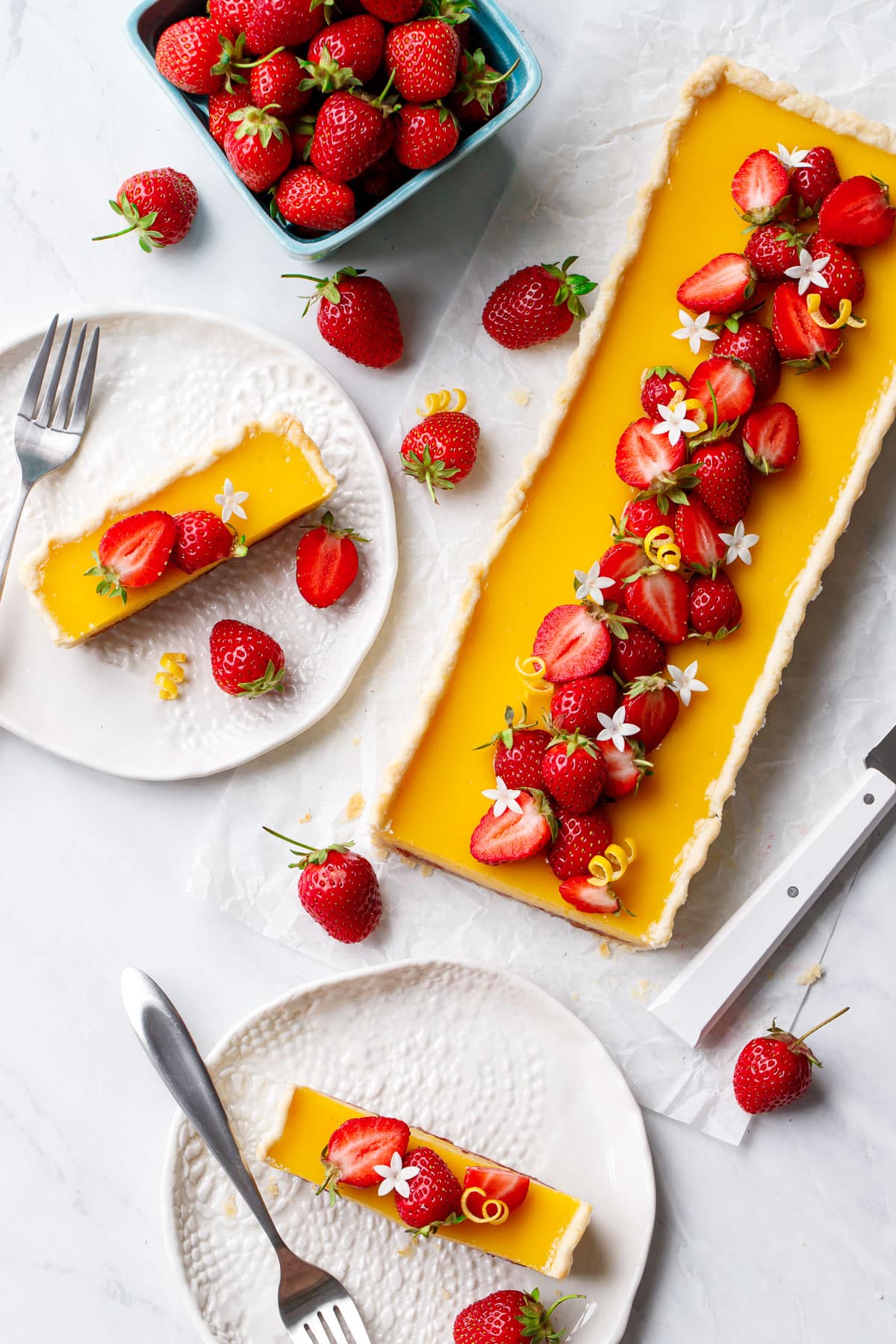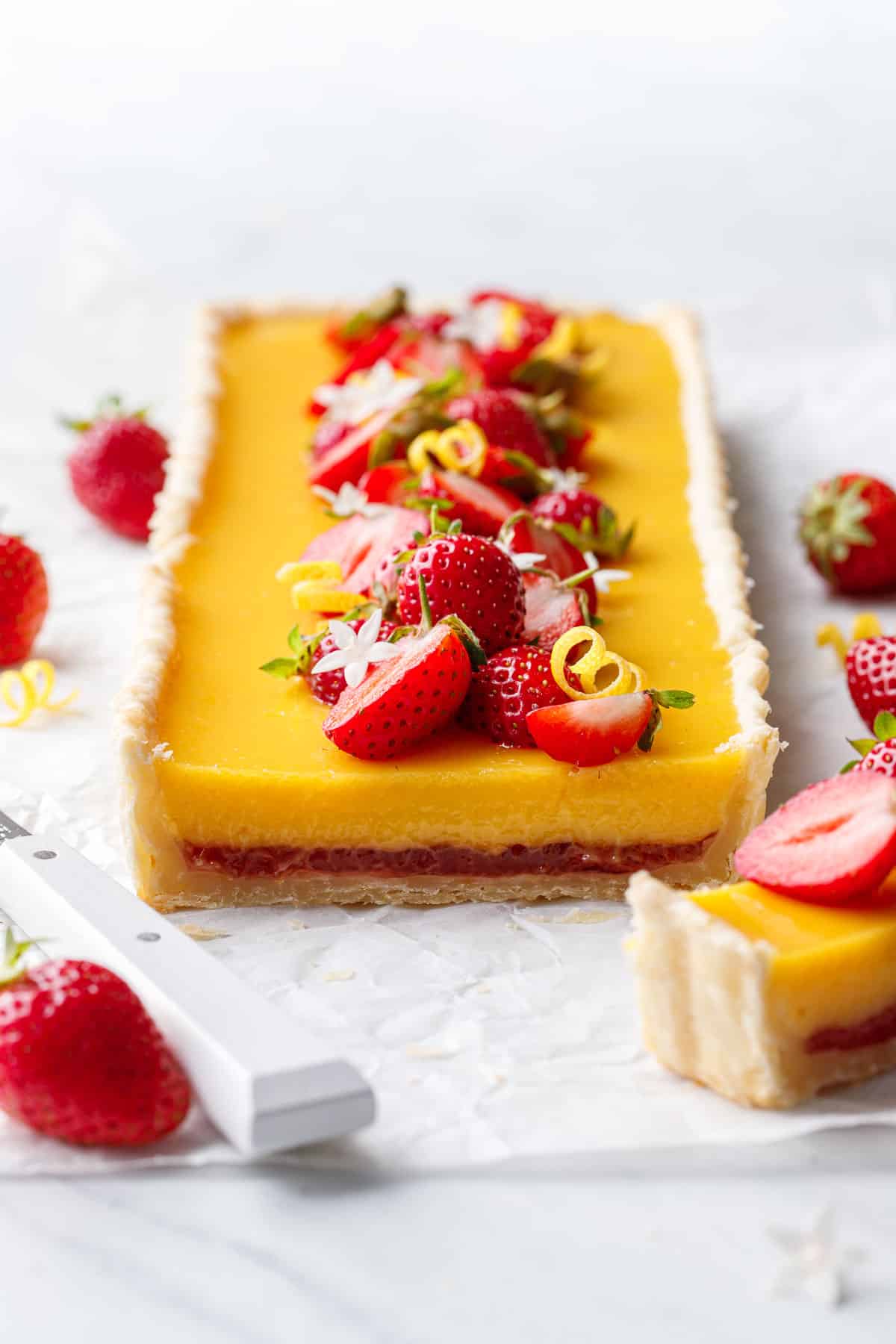 On a lightly floured surface, roll out dough into a rectangle slightly larger than your tart pan.
I find rolling the dough in a folded pastry cloth is the easiest way to get a nice rectangle without sticking.
Roll out dough to about 1/4-inch thickness.
The finished piece of dough should be about 2 to 3-inches larger than your tart pan.
Fold and gently ease the dough into the tart pan, taking care not to stretch it.
Ease the dough into the corners, pressing to adhere it to the sides.
Run a rolling pin over the top of the tart pan to trim off rough edges.
After freezing, line the crust with crinkled parchment paper.
Fill the parchment with weights; I like to use granulated sugar, but rice or beans work well too. Par-bake the crust until cooked through.
Par-baking the crust with parchment and weights will help to keep it from shrinking. I use granulated sugar as my weight, I find the fine grains get into the corners better than larger pie weights or beans. Rice would be my second choice.
You CAN reuse the sugar multiple times; I keep my 'toasted' sugar in a container just for this purpose. When it starts clumping too much you can sift it to remove the biggest pieces and continue to use the rest of it. Toasted sugar also tastes lovely used in recipes (I love using it in whipped meringues or simple syrups instead of plain sugar).
If I made this again, I'd par-bake the crust just a few minutes longer for a crispier bottom crust. You want it to be almost fully baked before adding the filling, since the filling only bakes 10-15 minutes.
Optionally, after you remove the parchment lining and weight, you can brush the inside of the crust with some lightly beaten egg white; this will help 'seal' the crust and keep it from getting soggy.
For the smoothest texture, strain the lemon curd through a fine mesh sieve.
Stir in heavy cream.
Spread strawberry jam into bottom of par-baked tart crust, then pour lemon curd filling on top.
Fill to within 1/4-inch of the top of the tart crust (it will not puff or expand much when it bakes).
Unlike most egg-based custard tarts or cheesecakes, the filling will be quite loose when you pull it out of the oven: only the edges will be fully set and the center will still jiggle quite a bit (if this were a cheesecake or pumpkin pie it'd definitely be undercooked). But have no fear, once cooled and chilled, the curd will set up into a beautifully creamy and sliceable consistency.
Over-baking the filling results in an uneven appearance (you'll probably get bubbles and/or cracks in the top) and a slightly curdled texture, though the taste is still perfectly acceptable in both cases.
Give yourself a solid 2 hours at least before serving the tart: an hour or so to let it cool fully to room temperature, then at least another hour to chill (though overnight is preferable).
If you get a bit of condensation on the top of the tart after chilling, just dab it lightly with a paper towel before you add the fresh strawberries on top.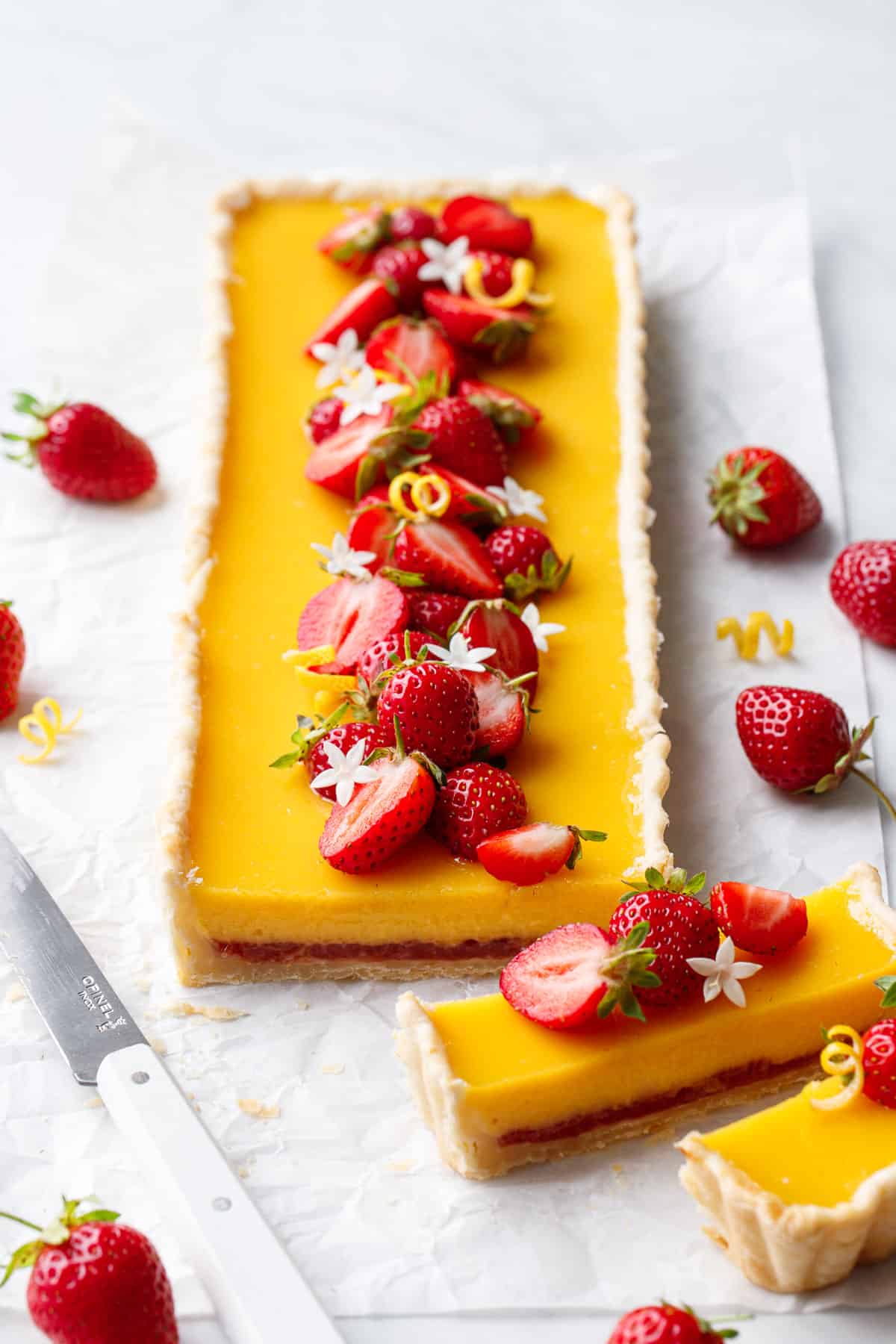 Stop and Eat the Flowers
I love edible flowers almost as much as I love microgreens, for adding that little something something to make a recipe look and feel extra special.
I wanted to use strawberry flowers as a garnish, for obvious reasons, and if I had my own strawberry patch I definitely would have. But the pick-your-own farm we went to wouldn't be happy about me culling future strawberries like that (or maybe I just projected my own guilt and they really wouldn't have cared).
Still, after our morning picking excursion, I popped into our neighborhood plant store in search of edible blooms, where I spent the better part of an hour wandering the aisles, phone in hand, googling every petite white flower to see what was edible and what wasn't.
What I ended up with are called Pentas or Egyptian stars, a flower native to tropical and Southern Africa that's traditionally used as an herbal remedy for snake bites, among other things. They don't have much flavor on their own, but I love the petite star shapes and dainty size and thought they worked perfectly on this tart. You can also find Pentas in lavender and hot pink (I got both to plant on my patio so hopefully I'll have a ready supply of edible flowers all summer long!)
Other edible flowers that would make for lovely garnishes include dianthus, lilacs, chamomile, pansies, jasmine, violet, borage, or herb flowers like mint or thyme. Some of these have stronger flavors on their own than others.
I should also note, because I'm sure I'll get a comment about the fact I left the strawberry greens on the berries. This was an aesthetic choice, certainly, but did you know the green parts of the strawberries are actually edible? There's no reason you have to hull them before eating. That said, you can obviously trim off the green bits before you garnish your tart if you prefer.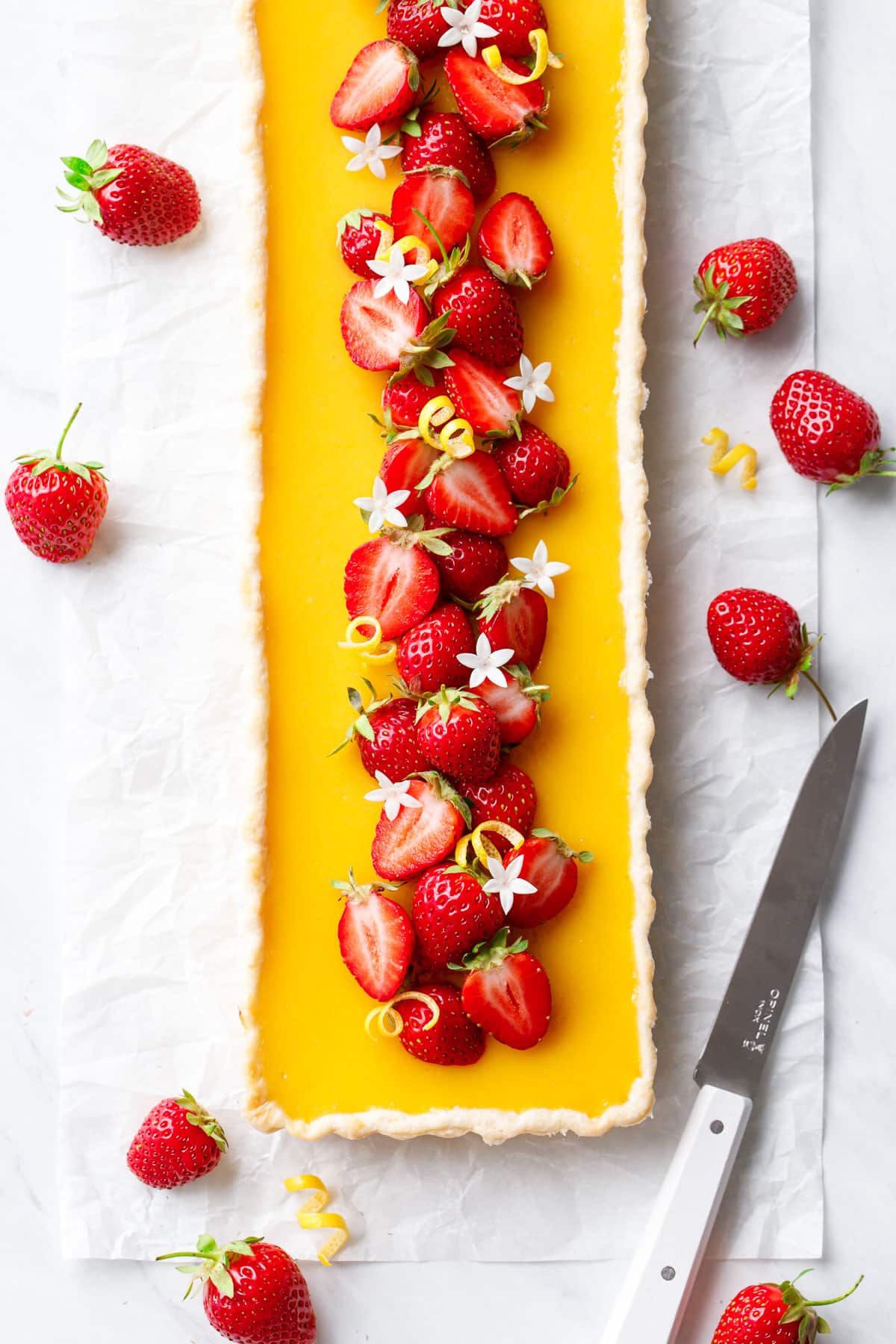 Tart Math
I used a rectangular tart pan approximately 14-by-4.5-inches in size. It is roughly equivalent to a 9-inch round tart pan; the two can be used interchangeably in most tart recipes including this one. Halve the recipe for a 6 or 7-inch tart, and double the recipe for an 11 or 12-inch round tart.
If you want to do the math, both of these tart pans will hold about 4 cups total volume (that's assuming your pan is 1-inch deep and filled to the very top of the rim). The lemon curd recipe as written makes about 2 cups. The crust generally fills about 25% of the volume of a tart (so 1 cup), plus a little more for the jam, to equal 3 1/4 to 3 1/2 ish total (since, practically, you can't fill it to the very top).
If you're unsure what size your pan is, you can always try filling it with water to see approximately how much you need.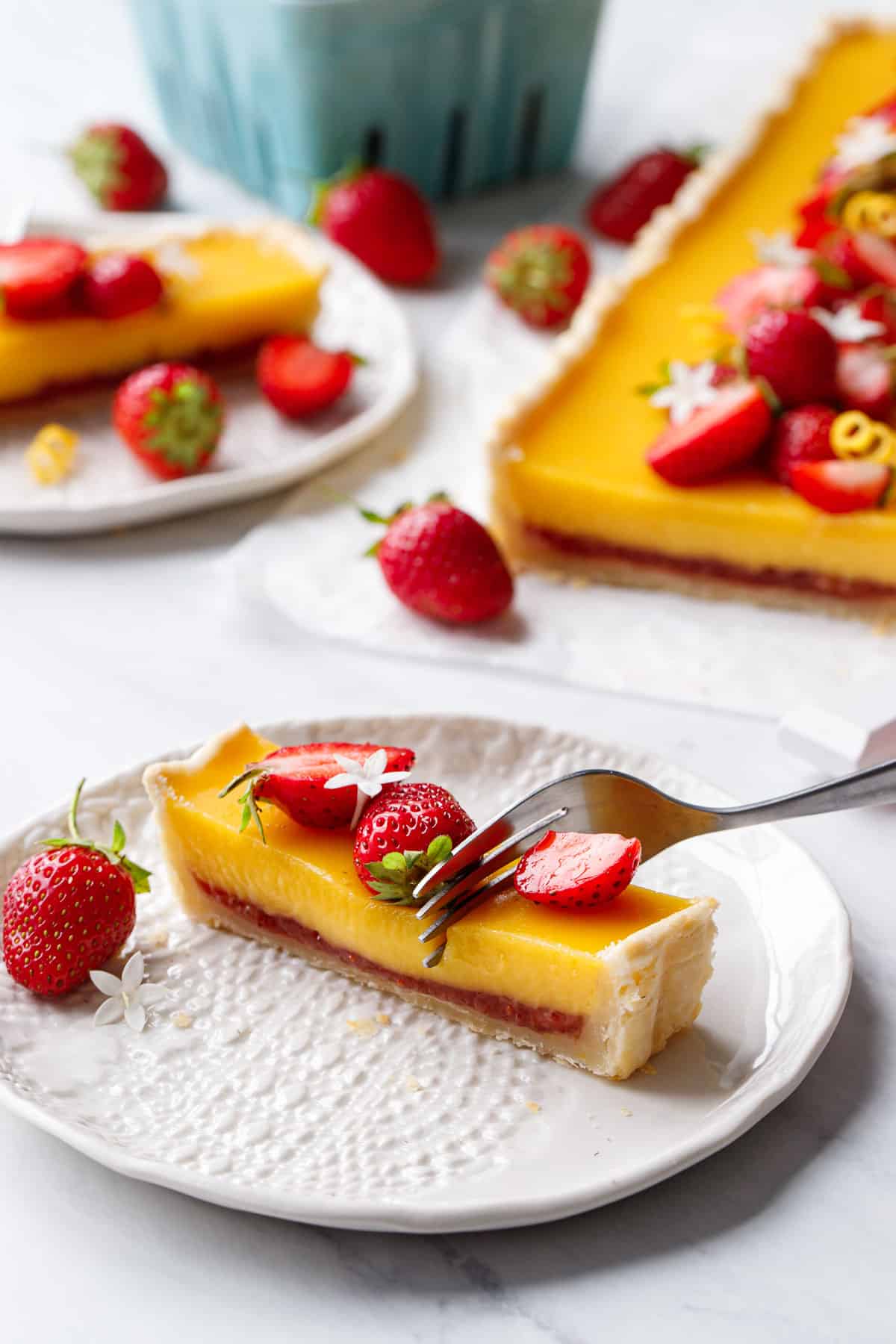 Make Ahead
The crust can be made ahead of time; the dough itself can be chilled overnight if necessary. You can also roll out and place the dough in the tart pan, and then freeze the entire thing for up to a month. If you'll be freezing longer than a day, I recommend wrapping it in plastic wrap so it doesn't absorb any weird freezer flavors. You can par-bake it straight from the freezer.
The tart filling can be made and baked in the crust a day ahead of time. It needs to cool and chill for at least 2 hours, but is totally fine, preferable even if left overnight, making this tart a perfect make-ahead recipe! Wait to add the fresh strawberries on top until just before serving (otherwise they may weep a bit).
Store any leftover tart covered or in an airtight container in the fridge. While it'll be ok for a few days when stored this way, the bottom crust does tend to lose its crispness after a day or two, especially if you used a looser, more watery jam.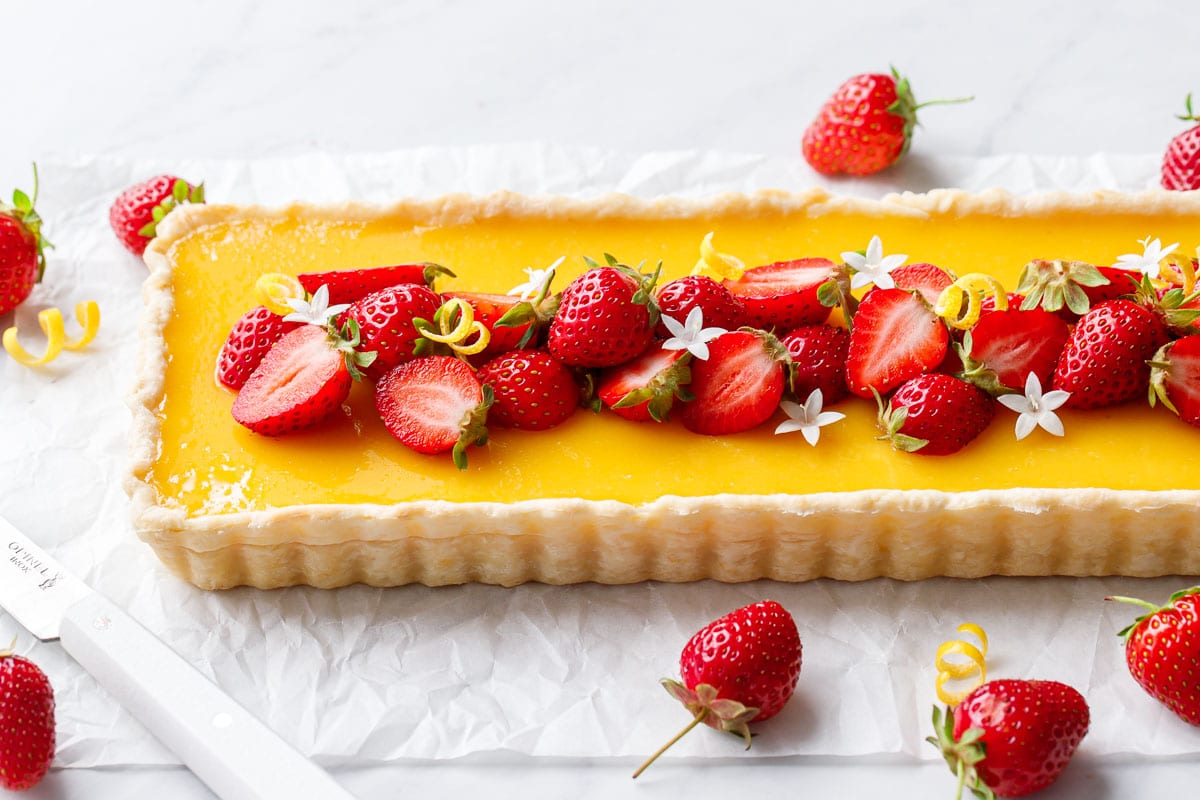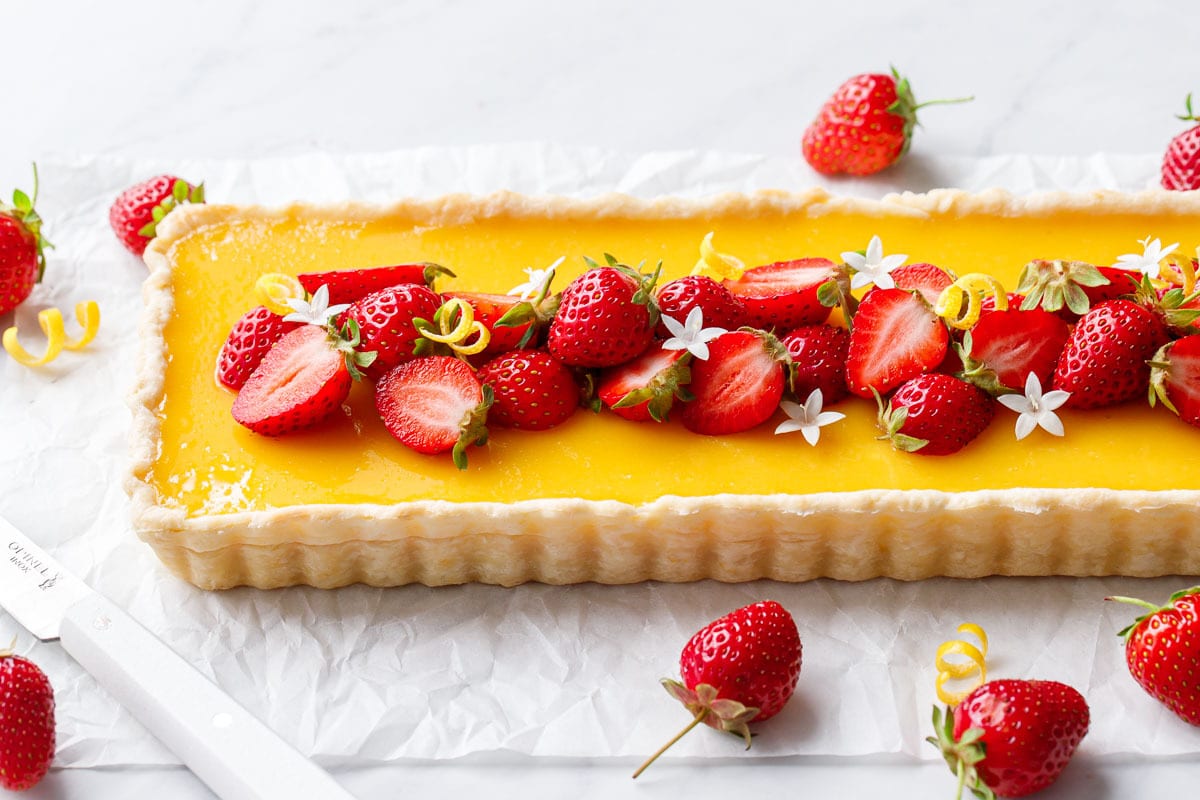 Strawberry Lemon Tart
A velvety smooth Meyer lemon curd and a layer of bright strawberry jam nestled inside a lemon-scented shortbread crust, topped with fresh strawberries and edible flowers.
Ingredients
For Crust:
1½

cups

/

188

g

all-purpose flour

3

tablespoons

/

24

g

powdered sugar

1

tablespoon

lemon zest

,

from 1 large lemon

¼

teaspoon

fine sea salt

9

tablespoons

/

113

g

unsalted butter

,

cold, cut into cubes

1

tablespoon

lemon juice

,

from 1/2 large lemon

2 to 3

tablespoons

ice water

,

as needed
For Filling:
5

tablespoons

/

100

g

strawberry jam

6

large egg yolks

2

large eggs

1

scant cup

/

190

g

granulated sugar

,

preferably organic

¼

cup

Meyer lemon zest

,

from 4 to 5 lemons

5

ounces

/

140

g

fresh squeezed Meyer lemon juice

,

from 4 to 5 lemons

¼

teaspoon

fine sea salt

4

tablespoons

/

56

g

unsalted butter

,

cut into pieces

3

tablespoons

/

45

g

heavy cream

,

chilled

fresh strawberries

,

for topping
Instructions
To prepare the crust, place flour, sugar, lemon zest, and salt in the bowl of a food processor and pulse until combined. Sprinkle cubes of butter over top. Pulse until broken up into pea-sized pieces; drizzle in lemon juice and 2 tablespoons water and pulse one or two more times or until evenly moistened; add additional water, a tablespoon at a time, as needed. Dough will still be crumbly, but should come together when pinched with your fingers. (You can also do this by hand in a mixing bowl with a pastry cutter if you prefer).

Dump dough onto a clean tea towel or piece of plastic wrap; lift up sides and twist into a bundle to press the dough together. Knead once or twice if needed to bring it together into a uniform ball (If using a rectangle tart pan, shape the dough into a rough rectangle instead of a round disk). Wrap tightly in plastic wrap and refrigerate for at least 1 hour or overnight.

On a lightly floured surface or pastry cloth, roll dough to a rectangle or circle about 2 to 3 inches larger than the size/shape of your tart pan. Gently drape the dough into the tart pan, easing it into the corners (try not to stretch it). Trim off rough edges. Place in the freezer for 15 to 30 minutes until firm.

Preheat oven to 375 degrees F. Line frozen crust with a crumpled piece of parchment paper; fill with weights (granulated sugar is my favorite pie weight, rice or beans work as well).

Place on a baking sheet (in case it leaks), and bake for about 20 minutes or until edges are puffed and appear set. Remove parchment lining and weights. Return crust to oven for 5 to 10 minutes more until edges just start to brown and bottom is no longer raw looking. Place on a wire rack to cool slightly while you prepare the filling.

To make filling, in a bowl, rub lemon zest together with sugar until fragrant and evenly distributed.

In a medium saucepan, whisk together the eggs and egg yolks. Whisk in the sugar, followed by the lemon juice and salt. Add the butter and cook over medium-low heat, stirring constantly, until the mixture thickens slightly and coats the back of a spoon (about 170 degrees on an instant-read thermometer). Pour the mixture through a fine-mesh strainer; stir in the heavy cream.

Spread strawberry jam in a thin, even layer in the bottom of cooled tart crust. Pour the lemon mixture on top, filling to within about 1/4-inch from the top of the crust (the filling won't rise or puff much, so fill it as full as you can while still being able to move it without spilling).

Bake until the edges are set but the center still jiggles when shaken, about 15 minutes. Remove from oven and allow to cool completely to room temperature, then refrigerate for at least 2 hours or overnight, until ready to slice and serve. Top with fresh strawberries before serving.
Filling adapted from America's Test Kitchen
All images and text © for Love & Olive Oil.
Did you make this recipe?
Let us know what you think! Leave a Review below or share a photo and tag me on Instagram with the hashtag #loveandoliveoil.