Sometimes you just want a plain a$$ chocolate cake.
And sometimes sometimes is actually all the time if you happen to be Taylor.
And I realized, while I've got recipes for Red Wine Chocolate Cake and Whiskey Chocolate Cake and Lemon Cake with Fudge Frosting, I'd never actually posted a recipe for a basic chocolate on chocolate, the kind Taylor requests each and every year for his birthday, and the kind I usually deny him in lieu of something 'weird' (see: aforementioned red wine chocolate cake, which, while good, is definitely not plain).
So, for once, I acquiesced and gave him exactly what he asked for.
And, since it didn't turn out quite right the first time (the cake was TOO moist—if there is such a thing—and the frosting too stiff, which made it hard to assemble—not that that stopped us from eating the whole thing), I made it again the following week to perfect the recipe.
That's TWO plain-a$$ chocolate cakes in three weeks, dear husband. Two cakes add up to a whole slew of wife points (still deciding what I should cash them in for… a kitten, perhaps? lol just kidding! 3 cats, unlike 2 cakes, is more than enough).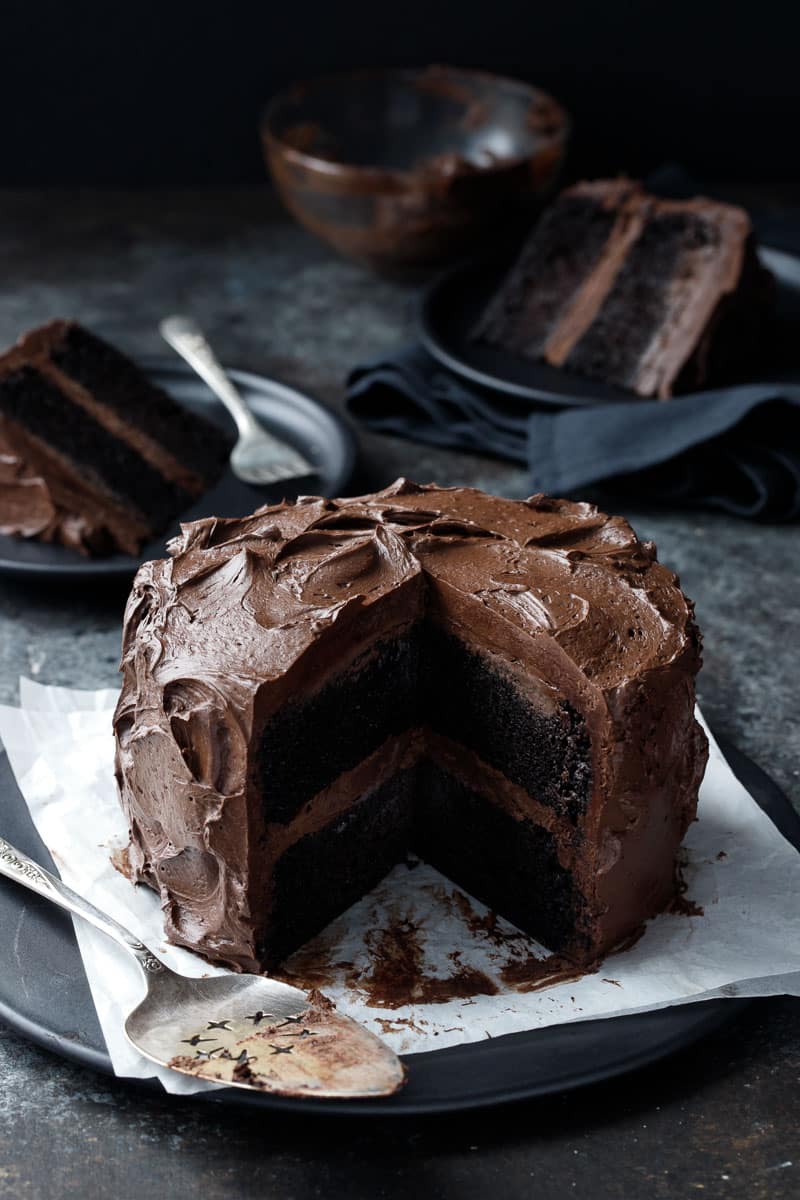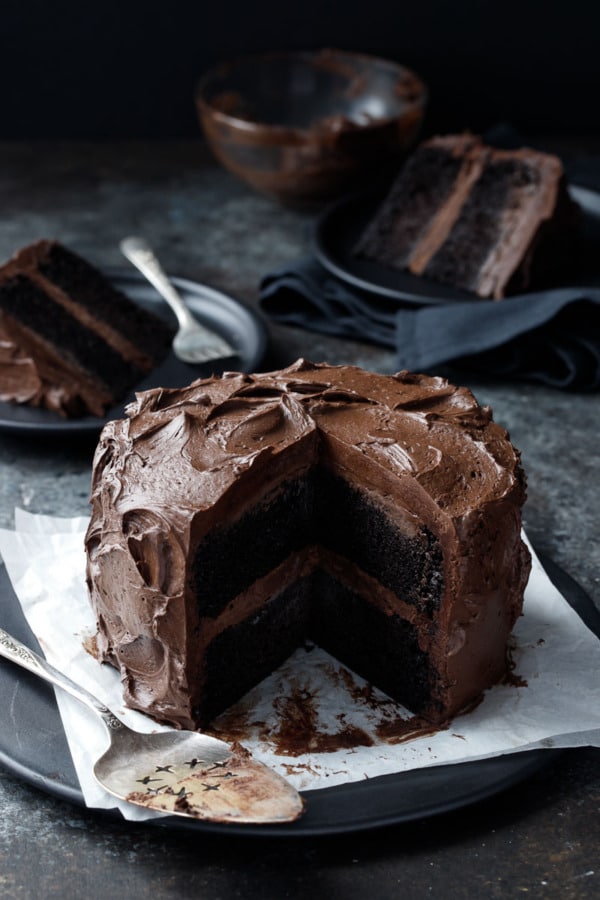 Anyway. Let's talk cake.
The base recipe is actually very similar to the Red Wine Chocolate Cake, just with plain hot water instead of red wine in this case, as well as bit more oil and a bit more salt and vanilla to amp up the chocolate flavor.
I learned my lesson with the first cake that you shouldn't mess with a good thing (I tried to add sour cream to make it even more rich and moist and it was so moist it could barely support itself let alone layers of dense fudge frosting).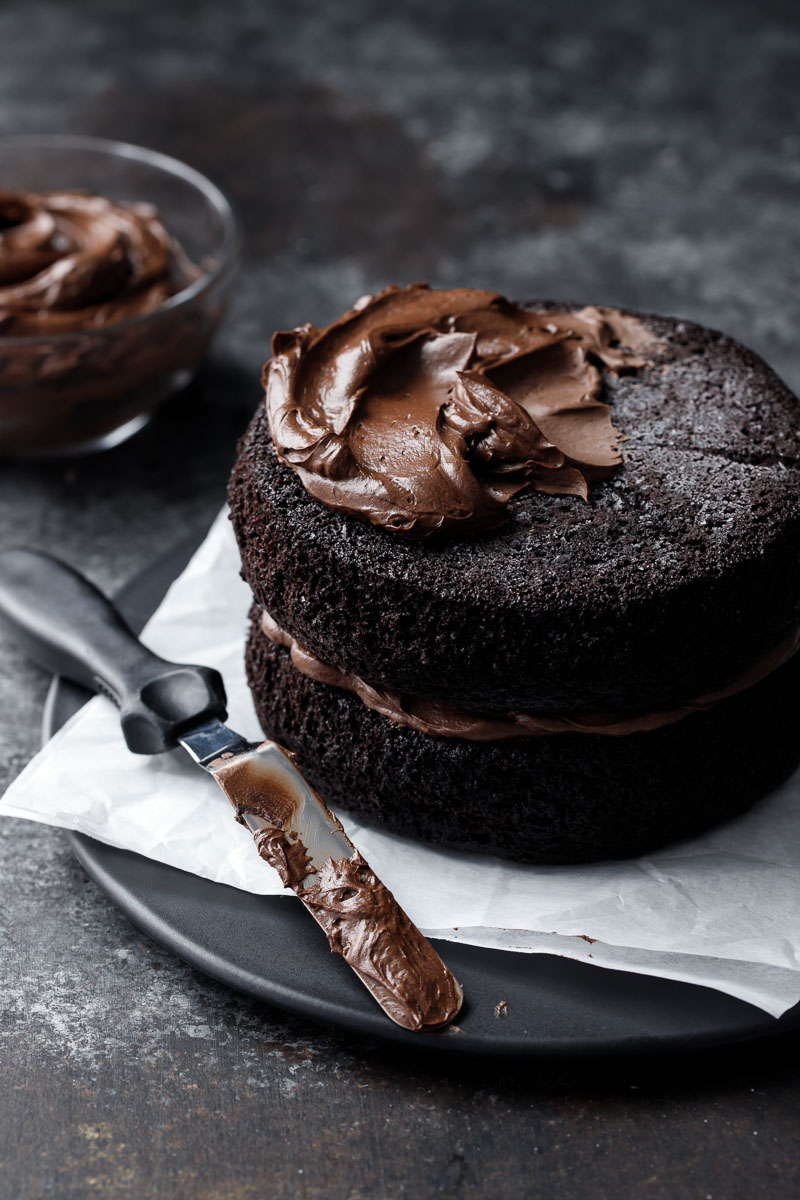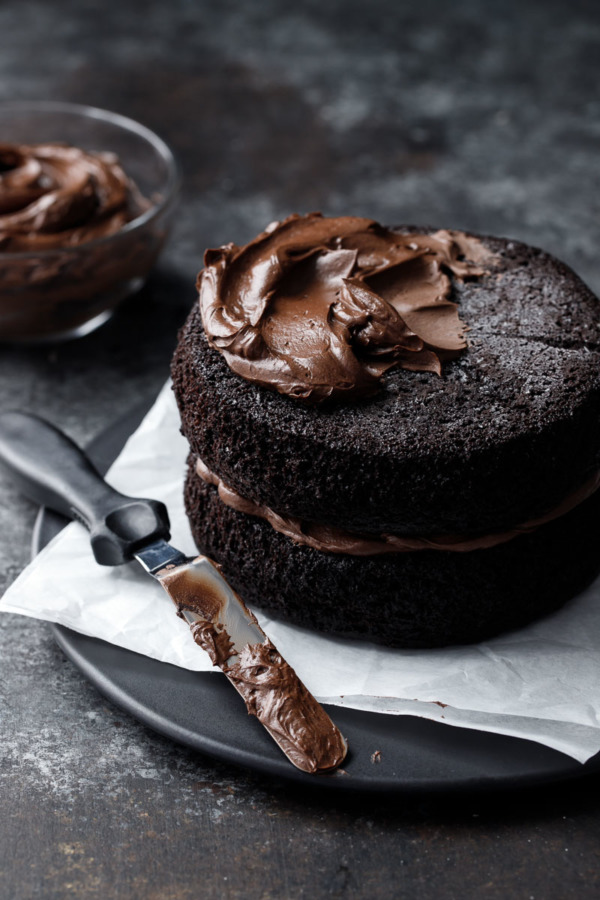 As for the frosting, it's a variation on a classic American buttercream, with cocoa and powdered sugar, but made with a bit of sour cream and hot water to cut the sweetness, and melted chocolate to make it even more fudge-like.
It's super creamy and shiny when you first mix it up (just ignore that moment when you first add the hot water… despite what it looks like, it will work!) However, like all frostings that use melted chocolate, it will set up and loose its shine as it cools, so you can't really make it ahead of time. If you freeze your cake layers like I froze mine, you do have to work pretty quickly as you frost the cake to prevent the frosting from setting up too firmly before you're done. I imagine it'd hold its shine longer in the summer.
While I was originally shooting for a super glossy dark chocolate frosting, this version was too good not to share, even if it wasn't quite what I intended (I'm going to keep working on that glossy frosting, so don't be surprised if you see another chocolate cake recipe here in the near future!)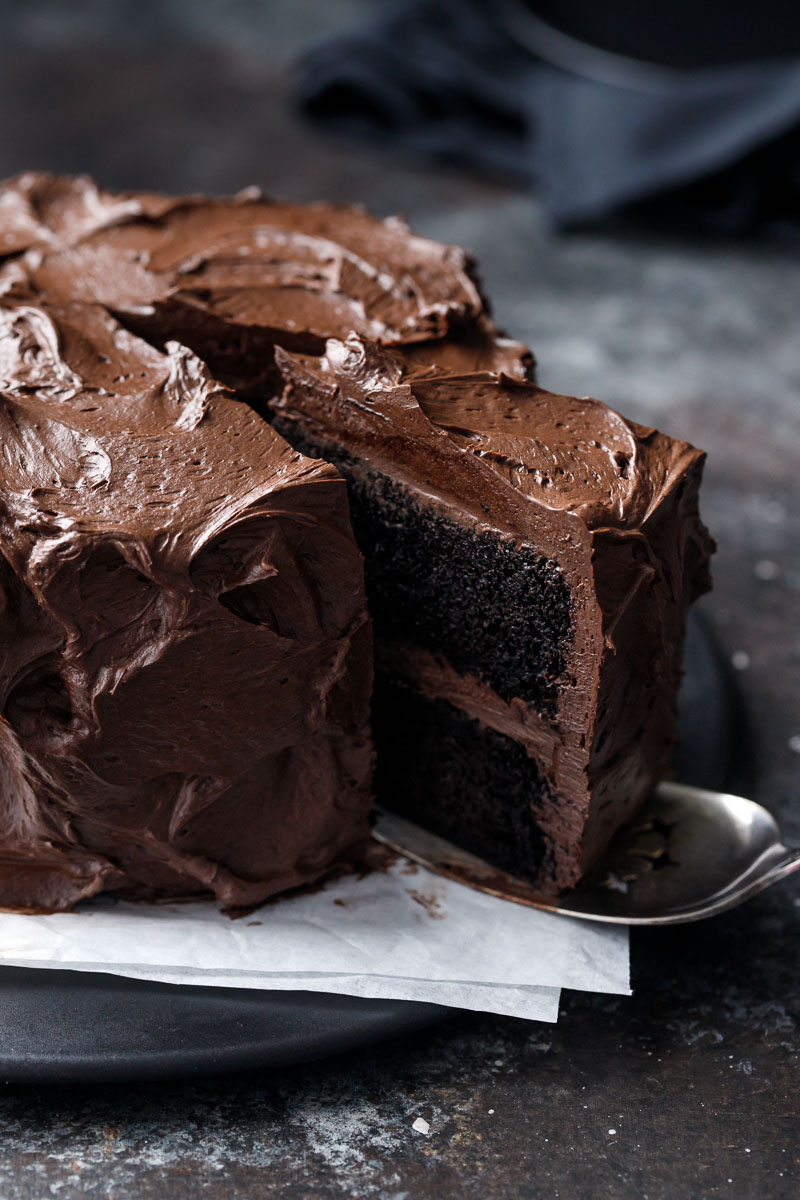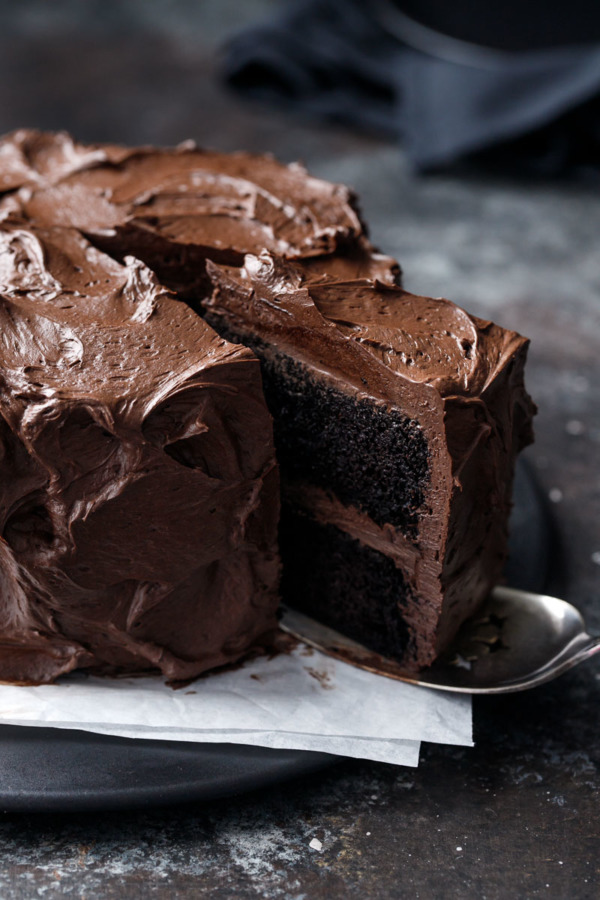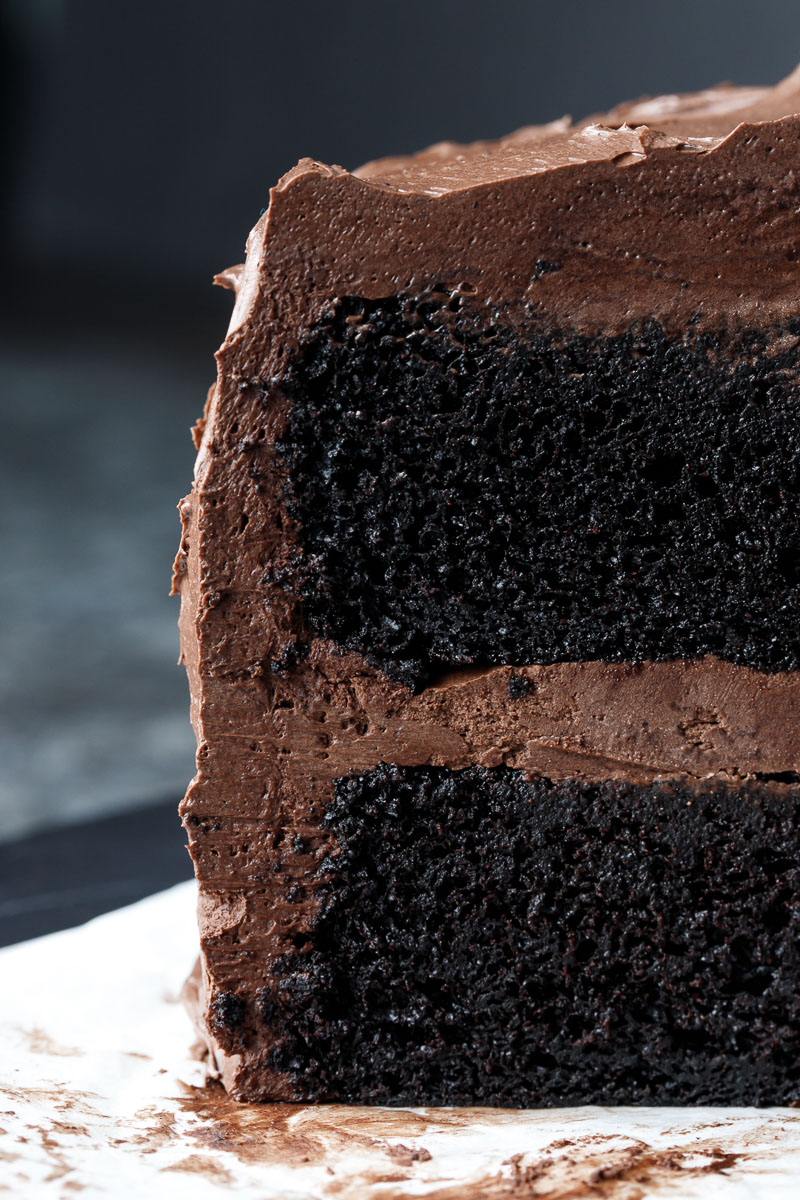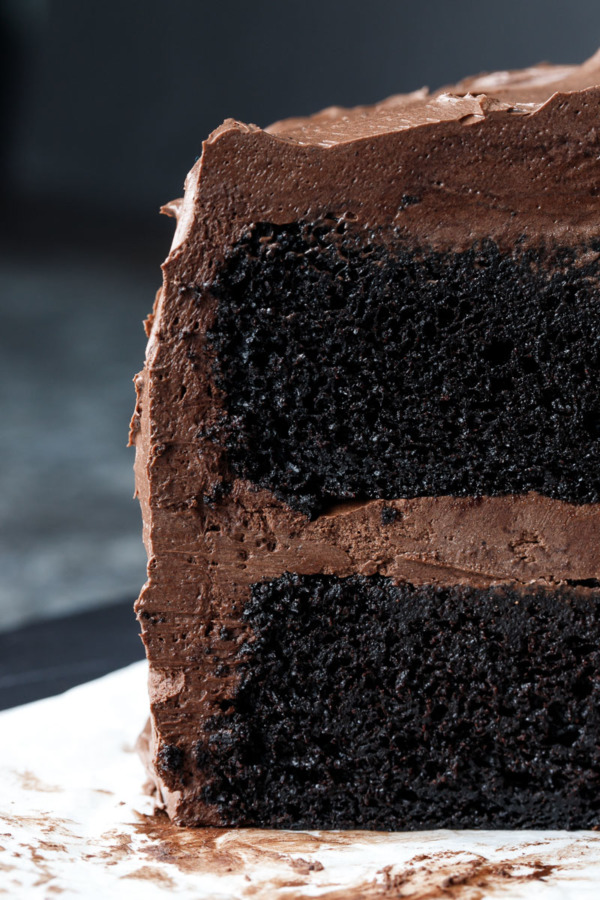 Pictured is a half size cake, made in 2 6-inch cake pans. A full recipe would give you 2 8-inch layers, or you could also divide it into 3 pans for 3 thinner layers (adjust the cook time accordingly to account for the thinner layers).
But for two people, a 6-inch cake is pretty darn perfect, and the math works out to be exactly half of an 8-inch cake.
Want to make this recipe as cupcakes? I've got you covered.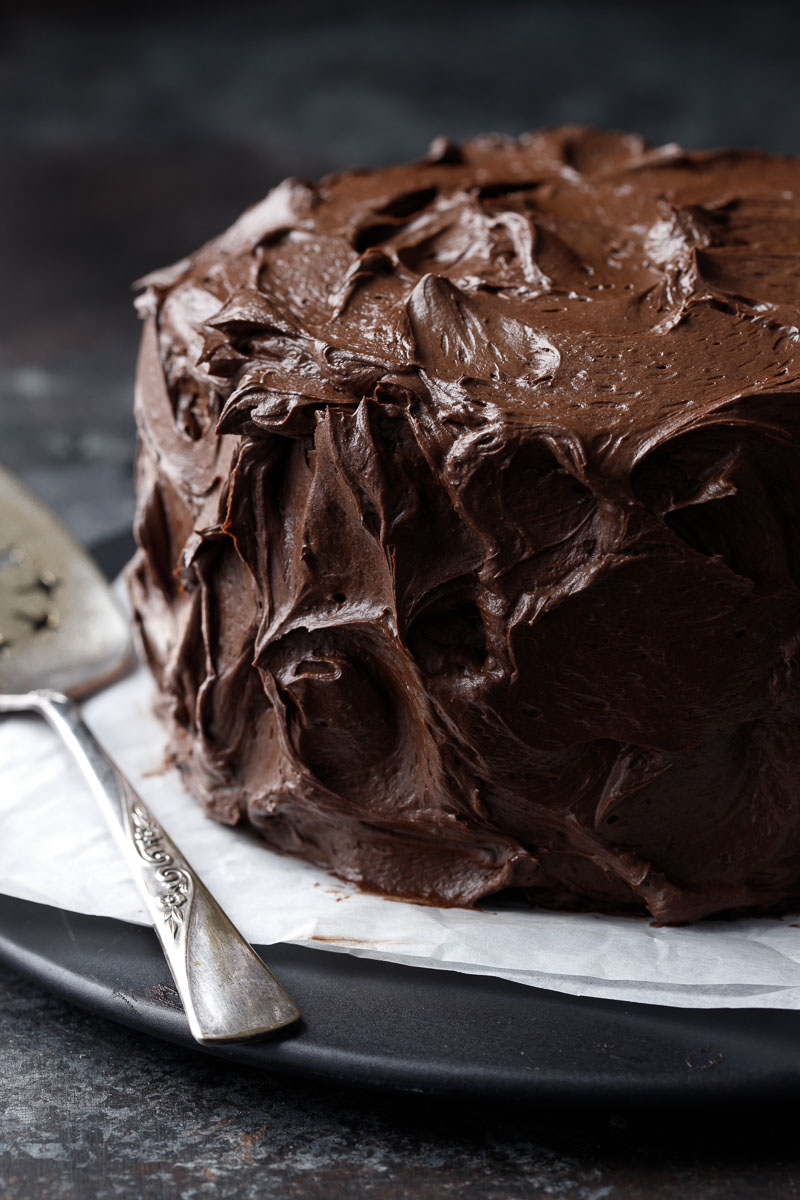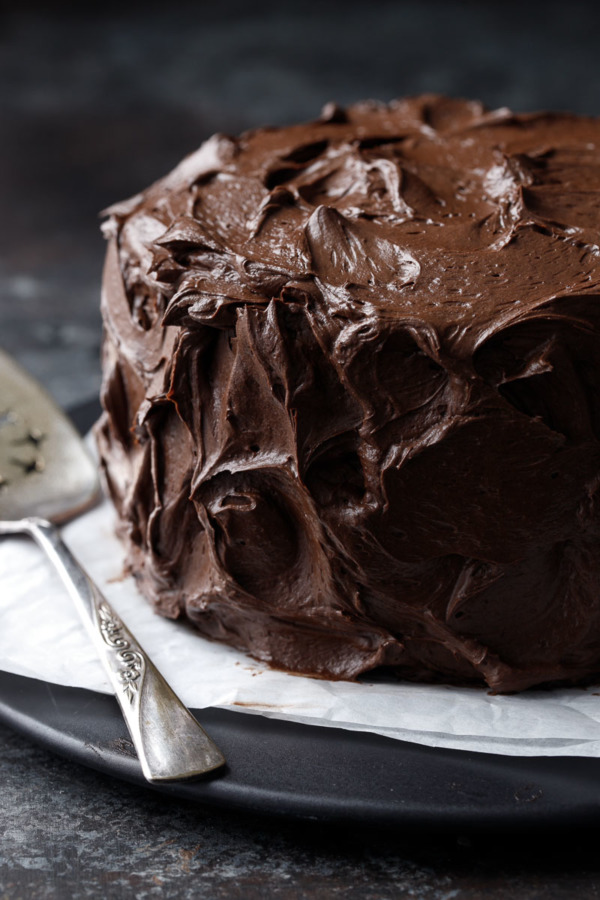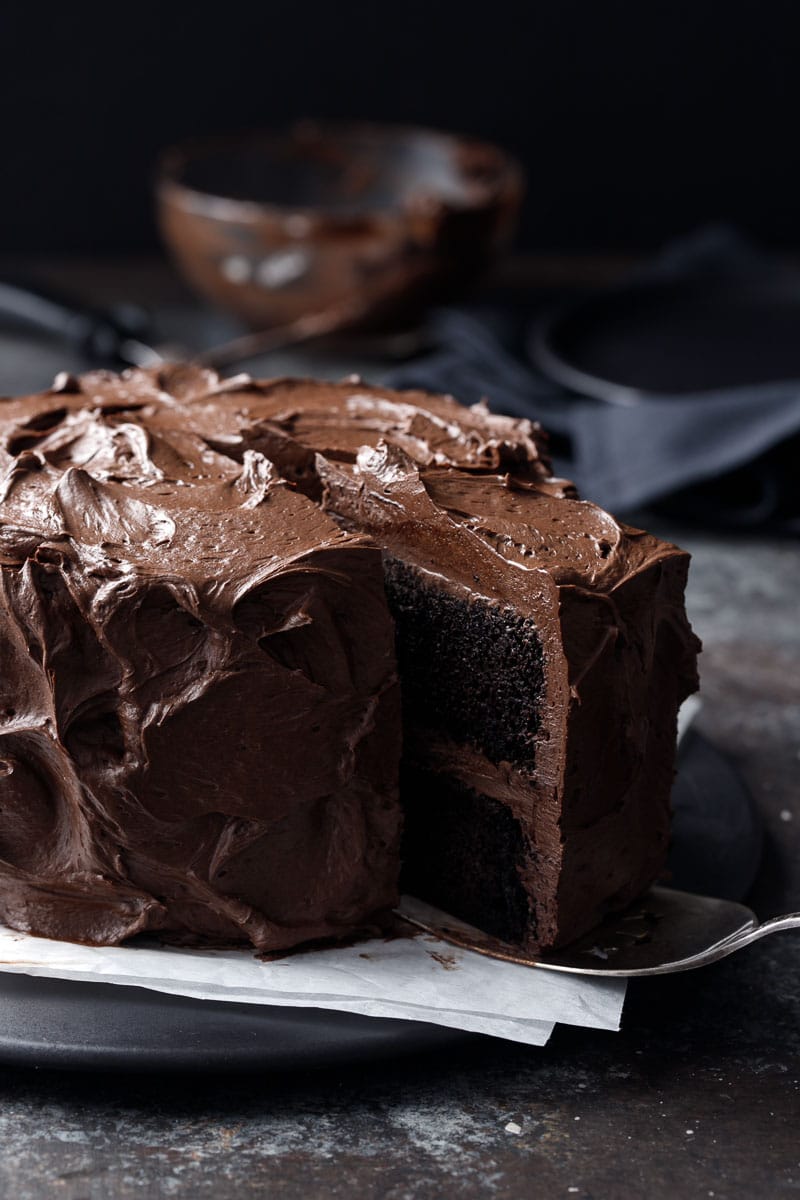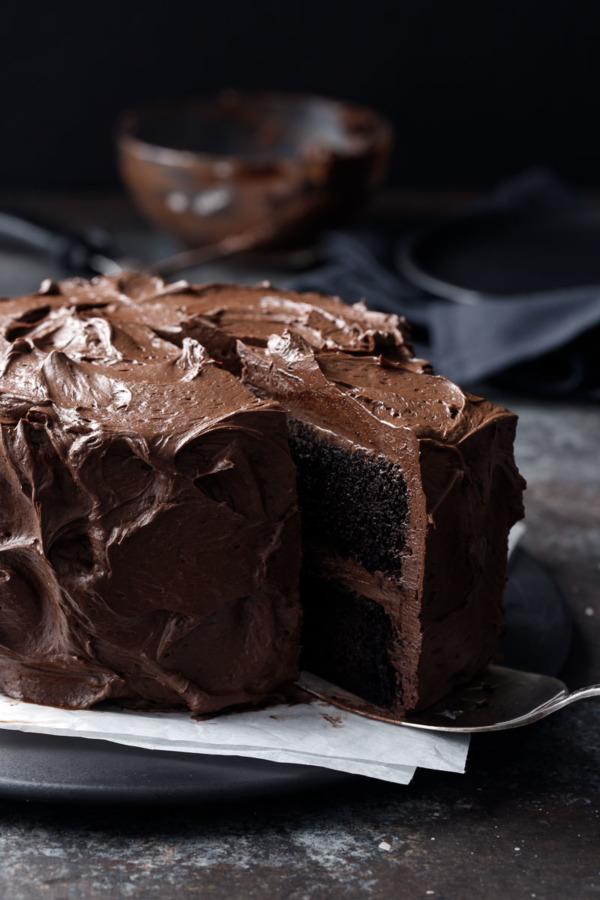 To get the ultra-dark color for the layers, I used a combination of 75% Dutch-processed cocoa powder and 25% black cocoa for color. While the ultra-Dutched black cocoa gives the cake a lovely rich chocolate color, the extra Dutching it endures means it has almost no fat and no acidity. If you used all black cocoa in this recipe you'd end up with a dry and crumbly, albeit super dark, cake. So please don't!
What about natural cocoa powder? Natural cocoa powder is more acidic than Dutch-processed cocoa, which undergoes a potassium wash that neutralizes its acidity. You should be ok using natural cocoa powder in this recipe (since it contains both baking soda and baking powder). Frostings aren't subject to the same chemical reactions as cakes, so it's not an issue to replace one for the other there either. However, Dutch-processed cocoa is really superior in terms of color and texture when it comes to chocolate cakes… I use it pretty much exclusively in all my recipes, I can't even recall the last time I bought natural cocoa powder.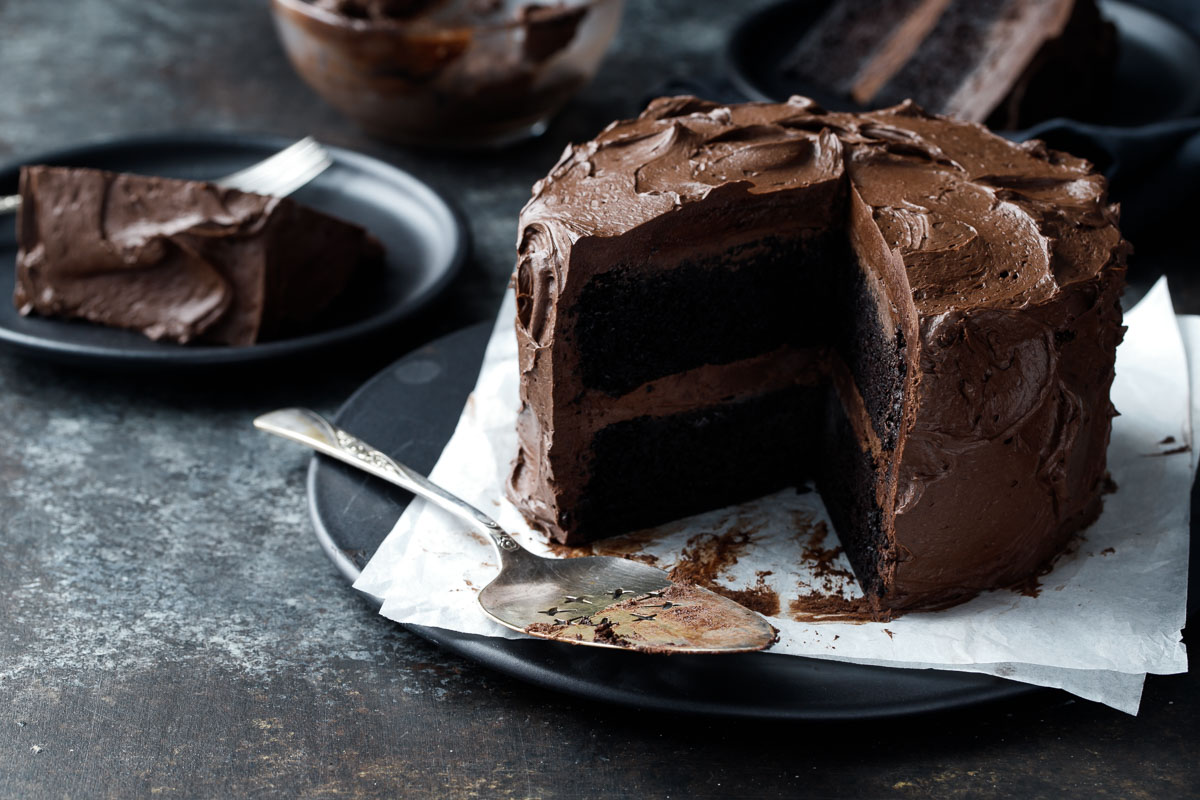 Ultimate Chocolate Cake with Fudge Frosting
Your new favorite chocolate cake recipe is here: dark, fudgy and ultra-moist chocolate cake slathered with a dark chocolate fudge frosting that's ultra rich and not too sweet. The recipe as written will make one 8-inch two-layer cake; if you want to make a smaller 6-inch cake (as pictured), halve the recipe.
Ingredients
For cake:
2

cups

/

400

g

granulated sugar

1 ¾

cups

/

220

g

all-purpose flour

1

cup

/

120

g

dark or dutch-processed cocoa powder *

2

teaspoons

baking soda

1

teaspoon

baking powder

1

teaspoon

kosher salt

2

large eggs

,

at room temperature

1

cup

/

240

g

buttermilk

1

cup

/

240

g

boiling water

¾

cup

/

160

g

vegetable oil or light olive oil

1

tablespoon

vanilla extract
For Fudge Frosting:
2

cups

/

452

g

(4 sticks) unsalted butter

,

softened

2 ½

cups

/

300

g

powdered sugar

,

sifted

1 ¼

cups

/

150

g

dark or Dutch processed cocoa powder*

,

sifted

½

cup

/

120

g

full fat sour cream

,

at room temperature

½

cup

/

120

g

hot water

2

teaspoons

vanilla extract

pinch

fine sea salt

10

ounces

/

280

g

60-70% dark chocolate

,

melted and cooled to lukewarm
Instructions
Preheat oven to 350ºF. Butter and line two 8-inch round baking pans with parchment paper. Butter parchment.

In a large mixing bowl, combine the sugar, flour, cocoa, baking soda, baking powder and salt, whisking until thoroughly combined. Add eggs, buttermilk, water, oil, and vanilla and beat with an electric mixer on medium speed until all dry ingredients are incorporated. Divide evenly among prepared pans.

Bake for 40 to 45 minutes (30 to 35 minutes for a 6-inch cake) or until a toothpick inserted in the center comes out with just a few moist crumbs attached. Remove from oven and place on a wire rack until cool enough to handle. Run a small knife around the edges of each pan, then gently invert onto wire racks. Cakes should come out cleanly. Peel off parchment and allow cake layers to cool completely. At this point, the cakes can be frozen until ready to use, up to 1 month. Simply wrap each layer individually in a double layer of plastic wrap and then store inside a large zip top bag (I find frozen cakes to be much easier to work with later, and always freeze mine even if I'm finishing the cake the next day).

To prepare frosting, in the bowl of a stand mixer fitted with the paddle attachment, beat butter on medium speed until very pale and creamy, about 5 minutes. Add sifted powdered sugar and cocoa powder and mix to combine. Add sour cream, hot water, vanilla and salt and mix on low speed until the liquid is incorporated, scraping down the sides of the bowl as needed. It may look slightly curdled at this point, but don't worry. Increase speed to medium-high and beat until smooth, another 2-3 minutes. Add lukewarm chocolate and mix until smooth and glossy. At this point you have about 30 minutes at cool room temperature (longer in the summer) to work with the frosting before it begins to harden (this frosting doesn't do particularly well when made ahead of time).

To assemble, level your cake layers first if necessary (if there is any sort of domed top, you want to trim that off with a serrated knife). Place one layer, bottom side up, on a cake stand or serving platter (on a piece of parchment if you will need to move it). Spread about 1 cup of frosting in an even layer, then place second layer on top, flat side up, pressing gently to adhere.

Cover the entire cake with a thin layer of buttercream using an offset spatula. This "crumb coat" will seal in the cake crumbs and make the final layer of frosting easier. If your cakes were frozen this should firm up pretty quickly, otherwise refrigerate for about 10 minutes to set.

Slather with remaining buttercream in a thick layer, reserving some for piping decorative details if desired.
Notes
*I replaced 25% of the cocoa powder in the cake and frosting with black cocoa for an extra dark color, but I don't recommend using more than that. DO NOT use all black cocoa or your cake will be much too dry and harshly flavored.
All images and text ©
for Love & Olive Oil.
Did you make this recipe?
Let us know what you think! Leave a Review below or share a photo and tag me on Instagram with the hashtag #loveandoliveoil.