About Us
Welcome to Love and Olive Oil, the culinary adventures of Lindsay and Taylor. We're not chefs, in fact we've had our fair share of flames and failures. But like any good relationship, cooking has its ups and downs. We're all about quick and flavorful dishes that don't hurt the wallet. We invite you to our kitchen (as tiny as it may be) and share in our love for food and desire to always find something new to eat.
We share a love of cooking, and found that it was much more enjoyable (and affordable!) for us to cook for ourselves instead of going out to eat. So much so that we cook 5-6 times a week. Not only that, but we both tend to get sick of things quite quickly (regardless of how mouth-watering they were!) and end up finding a whole new batch of recipes each week. We felt that starting a blog would let us share our delectable finds with you, and maybe inspire you to create something good in your own kitchen.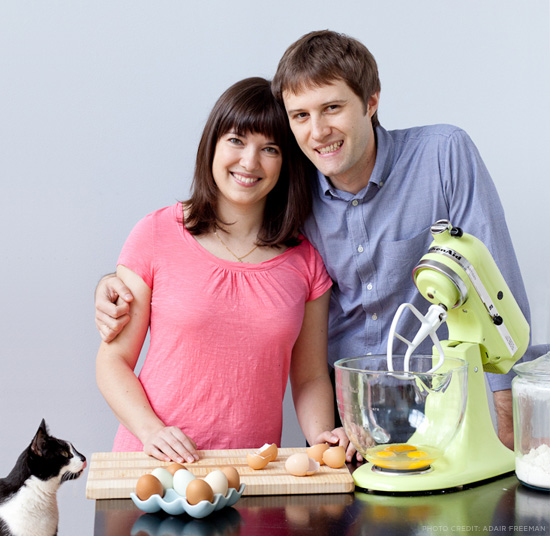 We're based in Nashville, TN, where we're learning to deal with the humidity. We've been married since June 2009 (want to see pics? check 'em out!), though we've been together for much longer than that (can you say, high school sweethearts?)
When we're not blogging, cooking, or doing dishes as a result of that cooking, we're keeping busy designing logos, websites, and other pretty things under the name Purr Design.
About Taylor (by Lindsay)
Taylor loves guitars, coffee, and Tom Petty, and hates it when I bake things (because he knows he'll be picking up my crumbs). He's a typical neat-freak and perfectionist, but when you're as disorganized as I am, it is always nice to have someone to whip you into shape. Maybe that is why we are so compatible.
About Lindsay (by Taylor)
Lindsay is what you'd call creative, you know, the type that leaves smatterings of paint and cookie crumbs everywhere she goes. She is the perfect combination of order and chaos that keeps me grounded. Her favorite color is lime green, which is obvious if you've seen the lime green mixer, towels, and dishes in the kitchen.
Crazy Cats
We have three cats, Kalypso (aka Big Kitty), Sgt. Pepper (aka Little Chew), and Desmond (aka Desmond). They're all just a little bit crazy.