Vibrant in both flavor and color, these blood orange brownies feature a layer of rich, fudgy chocolate brownie topped with a tart blood orange curd.
Chocolate and orange are a classic combination, but not one often seen in brownies (or if it is, flavored with little more than a bit of zest or orange extract). This lovely layered treat is as much about the citrus curd as it is about the brownie, resulting in a rush of flavor and luscious texture in each and every bite.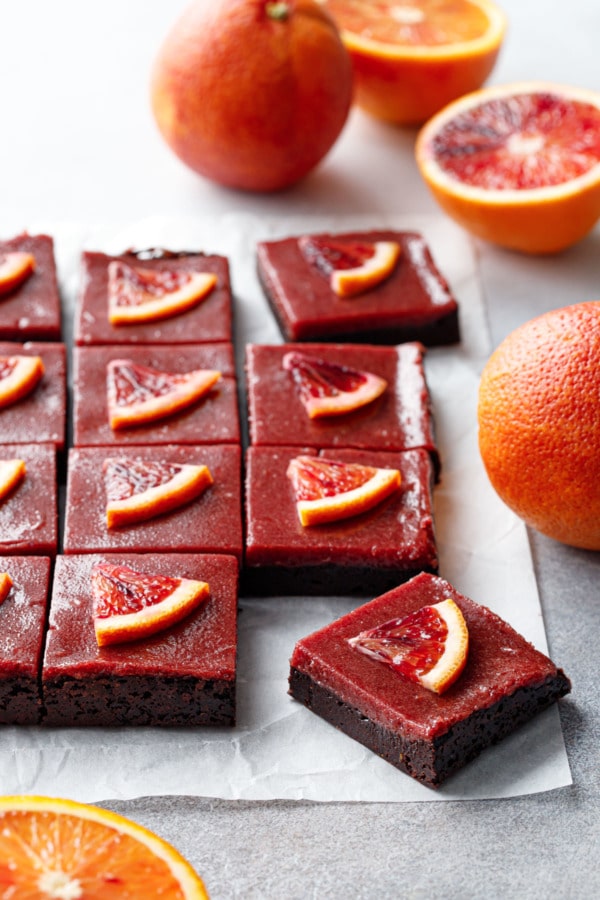 I first set out to make a lemon bar brownie, with a layer of tart lemon curd on top of a rich chocolate brownie. It was an unusual idea, for sure, but I was kind of excited about it, to be honest.
But Taylor has some sort of moral opposition to the combination of lemon and chocolate, why I cannot say, and managed to talk me into doing an orange version instead.
I actually made a half batch of each, one orange, one lemon, for research purposes, and brought both with me to ceramics class along with a paper to collect votes on which one everyone preferred. It was a close match, but ultimately the orange won by a single vote. And who am I to deny the people what they want?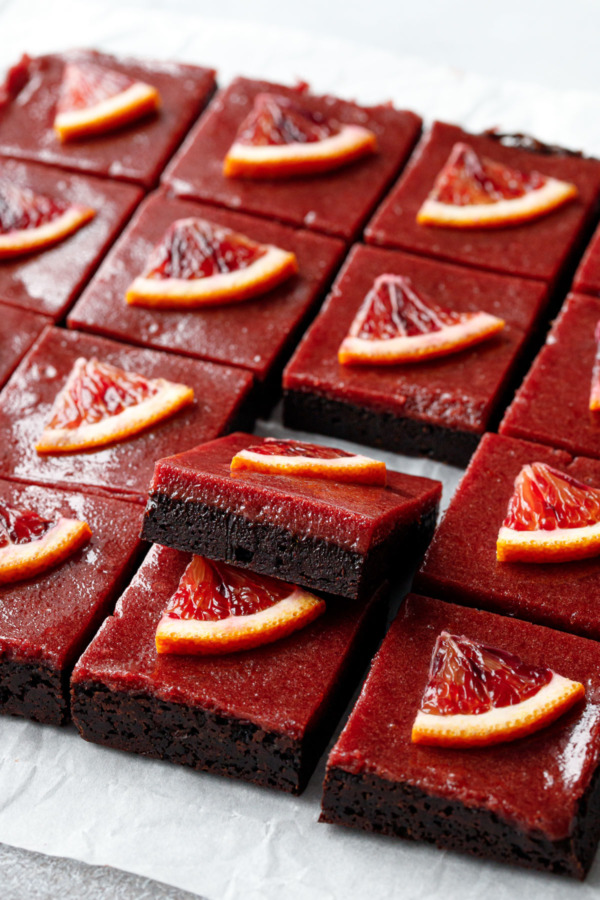 My main challenge when testing this recipe is that orange curd, unlike lemon curd, has a tendency to be somewhat bland tasting (especially when you are comparing it bite for bite to lemon curd, which is why it surprised me that the orange version won, since it was my first batch and the orange was rather dull in comparison).
While the flavor of orange and chocolate go together beautifully, the lemon definitely had a noticeably brighter, punchier flavor. I wanted to see if I could replicate that tartness in the orange version.
I tested a few methods to try and create an orange curd that was equally punchy, including adding orange extract, lots of orange zest, lemon juice, and citric acid.
In the end, I reduced the orange juice to concentrate the flavor and added a tiny bit of citric acid to amp up the acidity and tartness. The result is a bold and bright orange flavor with a tart zing comparable to the lemon version (the best of both worlds, if you ask me!)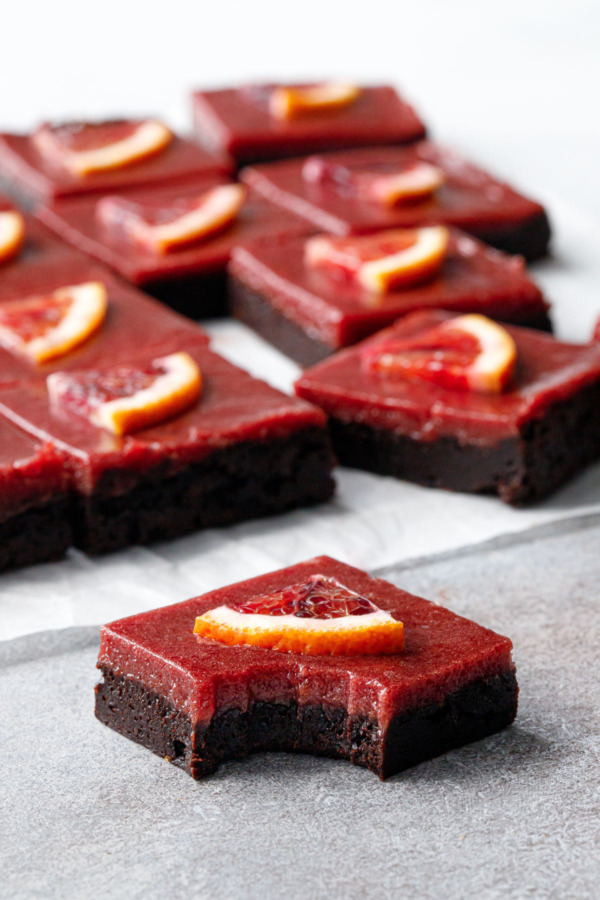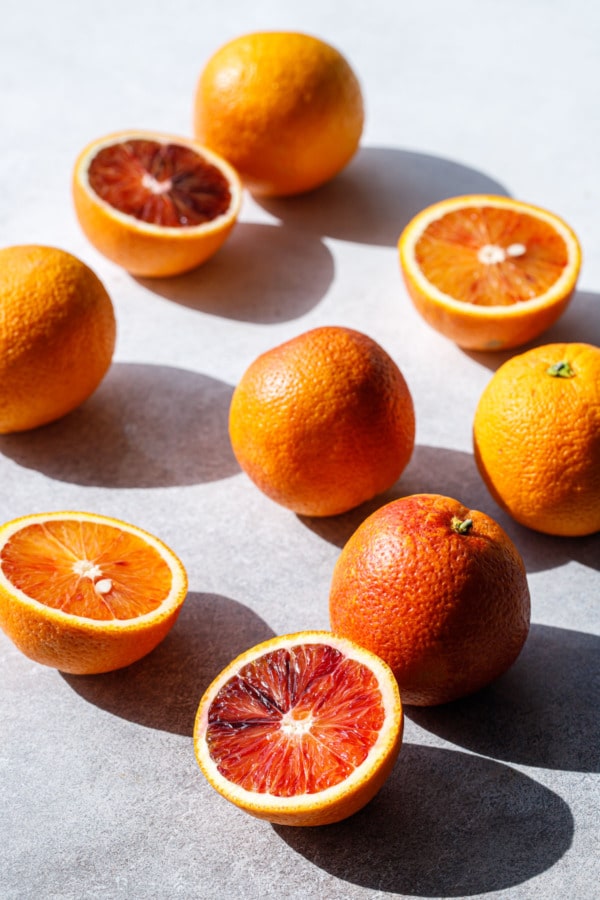 The Natural Color of Blood Oranges
When it comes to blood oranges, they can really vary quite a bit in their, er, bloodiness shall we say. Some will sport flesh the color of a rich, burgundy wine while others look a lot like regular navel oranges. And you can't always tell the color of the inside by the color of the rind.
Depending on the intensity of your blood oranges, your curd layer may be anywhere from a deep plum to a lighter mauve or even a coral orange with just a hint of pink.
If wish I had taken pictures of my first two batches of this recipe, as you'd be shocked at how different they looked; it was pure luck that the oranges I juiced for the final batch had such a deep red color—darker even than the ones I cut open for the photo above (and you can see the variation pretty obviously between the two cut oranges in that image… if all of my oranges had been like the lighter one in the back right, the final brownies would've looked quite different indeed.)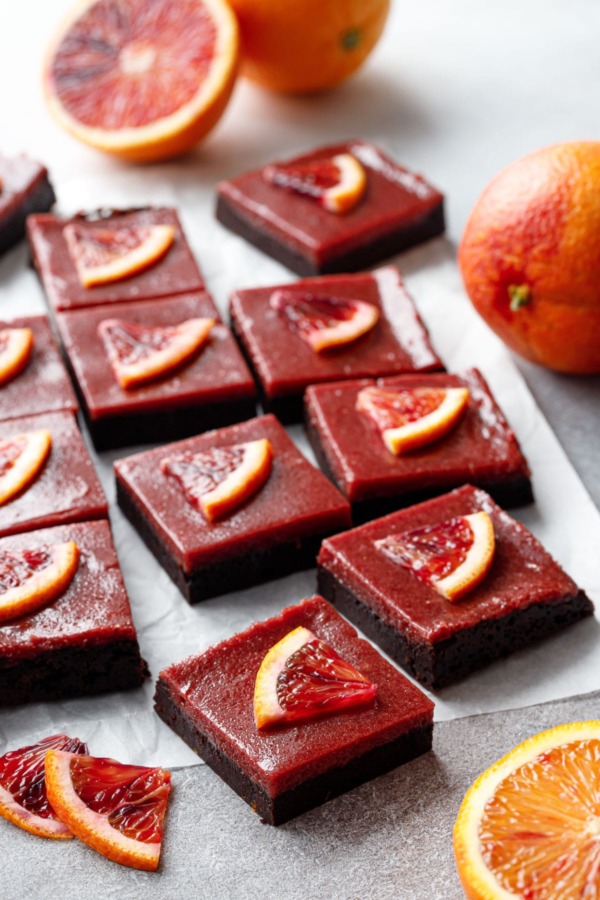 When buying blood oranges, you want to choose oranges that feel heavy for their size (this means they're nice and juicy). I usually try to get ones that have a noticeable blush on their skin, although that's not always indicative of the inside color. You'll need about 4-6 juicy oranges to yield a cup of freshly squeezed juice (this juice then gets simmered and reduced by half).
While the raspberry-like flavor of the blood oranges is a perfect compliment to the chocolate, you can also use other varieties of oranges here—I think the coral pink Cara Cara oranges would be particularly lovely.
Tip: When reducing the orange juice, dip a toothpick into the pan before you start cooking; the juice will stain the wood up to the original depth. Then as the juice reduces, you can use another toothpick to compare the depth and know when it is reduced by approximately half without having to pour it out to measure it.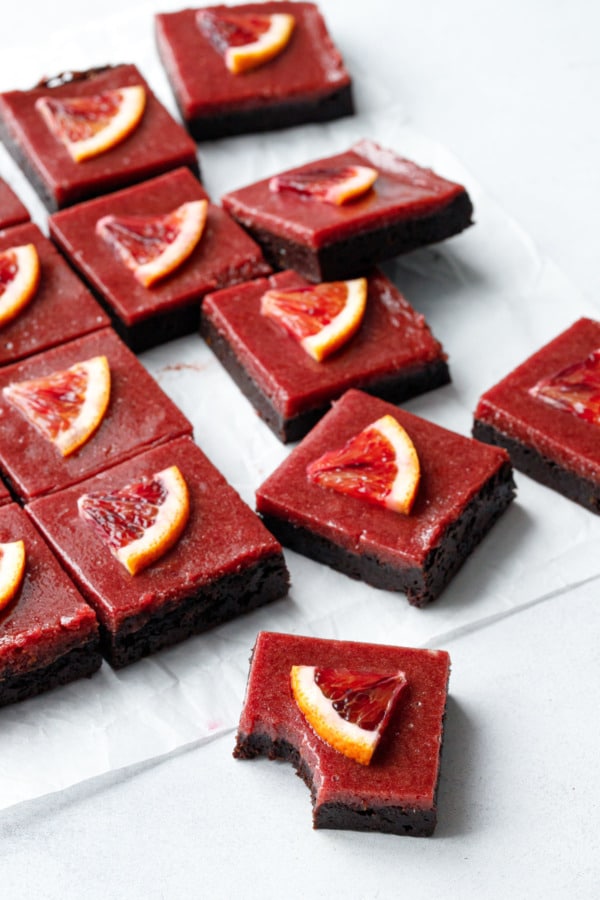 The Secret is in the Citric Acid
While you can use plain lemon juice instead of the citric acid, trust me when I say you won't regret making the extra effort to track it down. It gives the blood orange curd a sour candy-like tartness, and a bright and springy flavor that you really can't replicate with just orange juice or even with orange and lemon juice.
In a sense, citric acid is to oranges almost like salt is to tomatoes or espresso is to chocolate, in that it makes the orange taste even more, well, orangey. It doesn't have a flavor on its own, rather, the extra acid intensifies the natural flavor of the oranges.
I also have plans for another sweetly sour recipe swirling in my brain that uses citric acid, so you may as well just get some now and then you'll be set (plus it like, never goes bad so one container will last you forever).
Other uses for citric acid include:
canning and preserving (it can be used in place of lemon juice in most recipes to provide a more netural flavored acidity
candy making (hello homemade sour patch kids!)
food photography (mix with water and brush or spritz on apples or avocados to keep them from browning)
cheese making (since it has a more consistent ph than lemon juice)
Mix with salt and give your margarita rim an extra sour punch
cleaning (there are lots of recipes out there for DIY cleaners)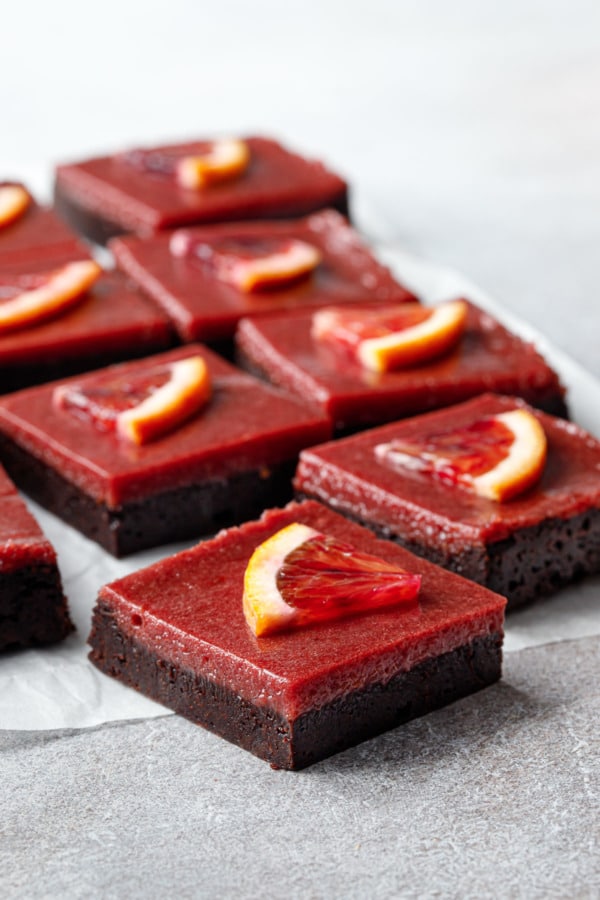 Want to make a lemon version instead?
You wouldn't think lemon and chocolate would go together, but the lemon version of this recipe is actually quite lovely, even if it was the orange that ultimately won out.
This recipe can easily be made with lemon instead of blood orange, simply use 1/2 cup of freshly squeezed Meyer lemon juice in the curd. Skip step #1 (no need to reduce the liquid since lemon juice is plenty potent as it is); you can also leave out the citric acid for the same reason.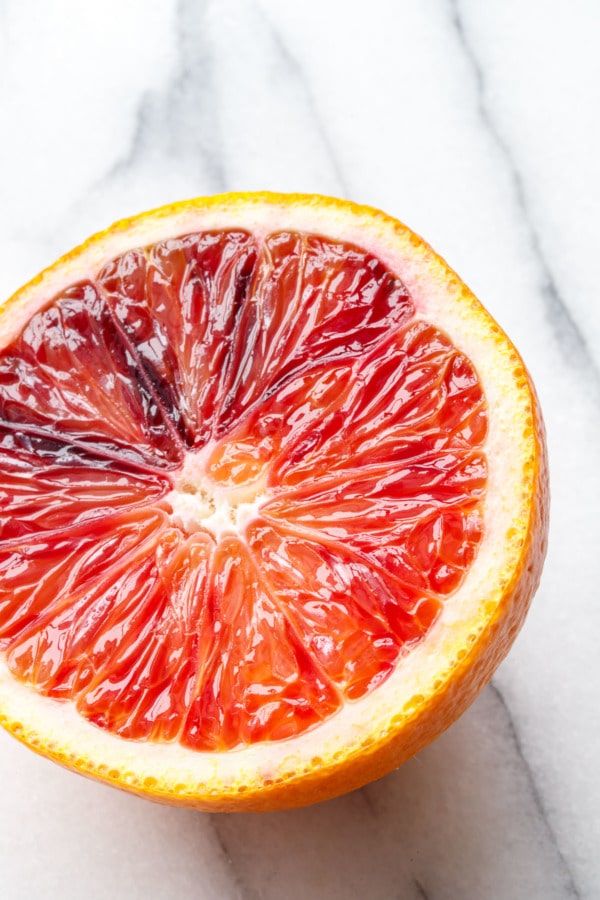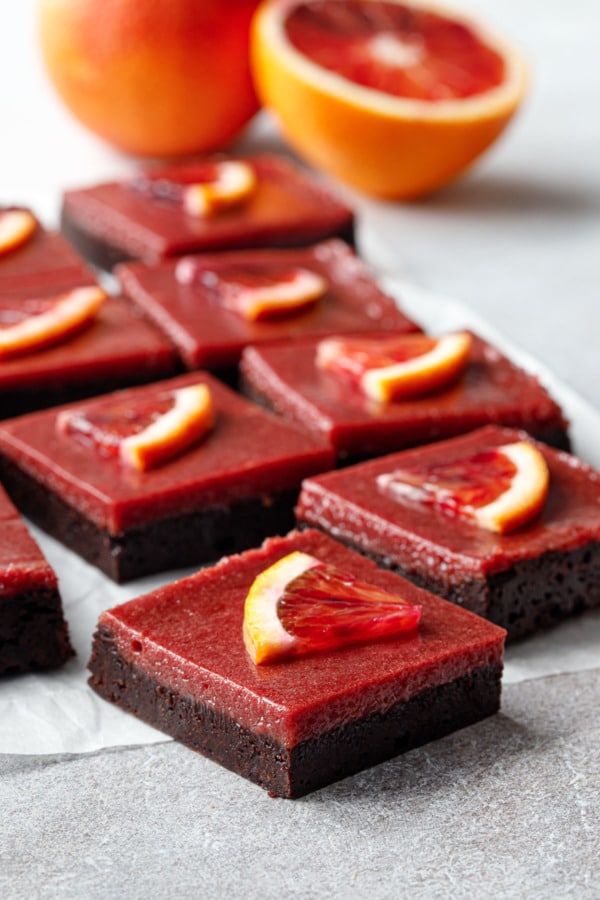 Leftover Egg Whites?
No problem. I've got a whole page of egg white recipes, just for this reason!
Between the curd and brownie layers you'll find yourself with 5 leftover egg whites. I'm not one to complain about such a hardship, however. Because, amaretti.
If you wanted you could also whip up a batch of meringue kisses like I did here, which would make a super cute topping for these bars (just don't put the meringues on top until just before serving, otherwise they'll soften and start to melt).
Tip: egg whites also freeze beautifully! Just pour into a (labeled and dated) zip-top freezer bag. If you can, lay it flat on a smooth surface in your freezer. Once frozen solid, you can stack the bags, making things extra neat and organized (like a little egg white library).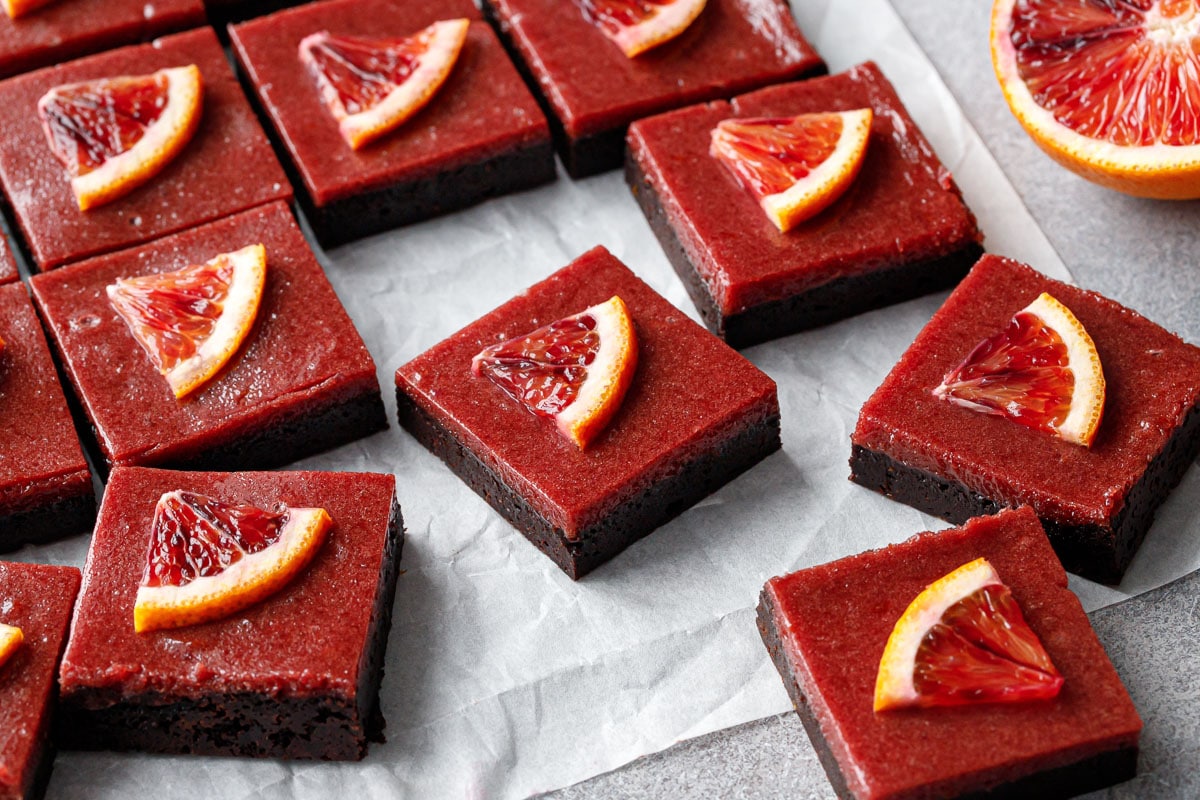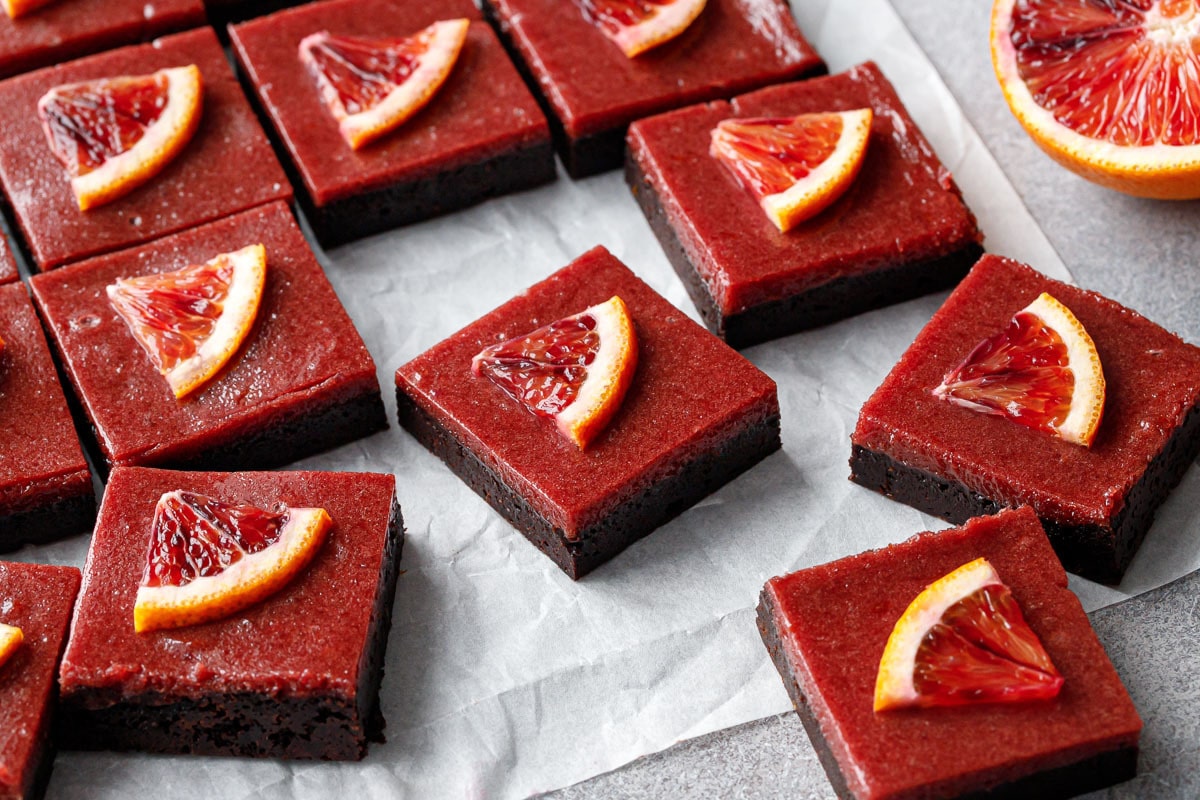 Blood Orange Curd Brownies
Bright in both flavor and color, these blood orange brownies feature a layer of rich, fudgy chocolate brownie topped with a tart blood orange curd.
Ingredients
For Blood Orange Curd:
1

cup

/

240

g

freshly squeezed blood orange juice

¼

teaspoon

citric acid

,

or 2 tablespoons lemon juice

2

large eggs

,

at room temperature

4

large egg yolks

,

at room temperature

1

teaspoon

blood orange zest

,

very finely grated/chopped

½

cup

/

100

g

granulated sugar

pinch

fine sea salt
For Brownies:
½

cup

/

113

g

(1 stick) unsalted butter

¾

cup

/

150

g

granulated sugar

1

tablespoon

/

14

g

vegetable oil

1

large egg

,

at room temperature

1

large egg yolk

,

at room temperature

1

teaspoon

vanilla extract

½

cup

/

50

g

Dutch process cocoa powder

,

sifted

⅓

cup

/

42

g

all-purpose flour

¼

teaspoon

fine sea salt
Instructions
Zest one or two of the oranges before juicing; set zest aside for later. Juice oranges, then strain through a fine mesh sieve to remove any pith bits or pieces of flesh. You'll need 1 cup of freshly squeezed juice to start.

Simmer orange juice in a medium saucepan set over medium-high heat, stirring occasionally, until reduced by half, about 10 to 15 minutes. You should have 1/2 cup of juice. Add the citric acid and stir until dissolved. (The reduced juice can be made a day ahead of time; transfer to a jar or other container and refrigerate until ready to use.)

To make the curd layer, prepare a double boiler by filling a saucepan with an inch or two of water and bring to a simmer. Set a medium heat-proof bowl (I prefer pyrex over thin stainless for this since it conducts heat more slowly and evenly). The bottom of the bowl should sit over, but not touch the water.

Whisk together eggs, egg yolks, sugar, and orange zest in the bowl. Whisk in 1/2 cup of your reduced orange juice. Continue to cook, whisking regularly and adjusting the heat as necessary so the water remains at a gentle simmer, until the curd noticeably thickens. At this point it should read approximately 165 degrees F on an instant-read thermometer. Remove from heat and set aside. If you notice some chunks in your curd (which happens if the temperature gets too hot too quickly), just press it through a fine mesh sieve to remove any stray bits of egg.

Preheat oven to 350 degrees F. Lightly butter and line an 8-by-8-inch square baking pan with parchment (the butter will keep the parchment from moving when you spread in the batter). Lightly butter parchment.

To make brownie layer, melt butter in a small saucepan set over medium heat (you can also reuse your double boiler setup too if you have a second bowl that works). When it is completely melted and starts to bubble, remove from heat. Add sugar and stir until smooth and paste-like. Whisk in oil.

Add egg and egg yolk and whisk vigorously for a full minute. Whisk in vanilla.

Add flour, cocoa powder and salt and fold in until just incorporated.

Pour into prepared baking pan. Rather than dumping it all in the middle, it'll be easier to spread the thick batter if you drop dollops of batter around the pan. Using a thin offset spatula, spread batter into an even layer.

Bake for 15 to 17 minutes until the top appears uniformly set, though a toothpick tester will still be quite gooey.

Remove from oven and pour orange curd on top, carefully spreading into an even layer (since the brownie is still somewhat undercooked, you need to be gentle here so as not to pull up the chocolate batter).

Return to oven for 5 to 7 minutes or until curd layer appears evenly set. Remove from heat and place pan on a wire rack to cool for about an hour, then refrigerate for at least an hour or overnight until fully set.

Lift brownies out of pan using parchment as handles. Cut into 16 squares. For the cleanest cuts, run a large chef's knife under hot water to warm the blade, then wipe with a tiny bit of oil or butter. Clean off blade (and re-heat/re-oil as needed) between each cut.

Brownies will keep refrigerated in an airtight container for up to 3 days.
Notes
The color of blood oranges can vary greatly, and the color of the final curd may range from a pale mauve to a deep maroon. Feel free to add a few drops of red food coloring if you'd like to enhance the natural color.
All images and text ©
for Love & Olive Oil.
Did you make this recipe?
Let us know what you think! Leave a Review below or share a photo and tag me on Instagram with the hashtag #loveandoliveoil.