Tender, flaky buttermilk biscuits infused with sharp cheddar cheese and fresh snipped chives, baked until golden brown and then brushed with melted butter. They'd be a perfect flavorful side dish for your holiday table!
I love me a good biscuit: one that's light and fluffy with towering tall layers and a tender, buttery finish. These biscuits are all that and more.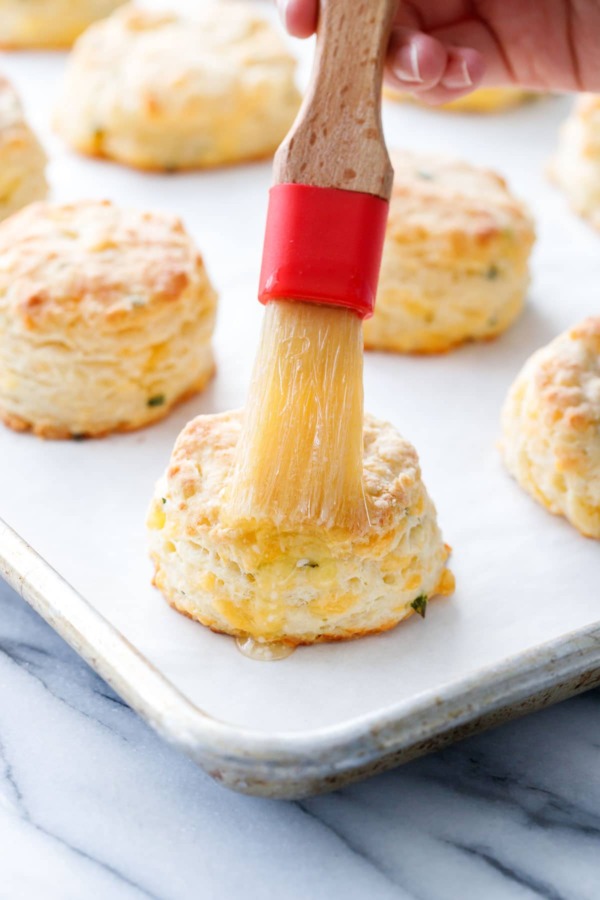 I've always been somewhat of a biscuit purist, preferring classic buttermilk biscuits to just about anything else.
But when we were tasked with creating a cheese biscuit recipe, it quickly became obvious that cheese is one of the few additions that really make a basic biscuit better.
Let's just say the cheese has won me over.
These biscuits are buttery and flaky, ultra light and perfectly cheesy. The fresh chives add a nice pop of flavor to contrast the sharp cheddar cheese.
Sure, they're perfect for breakfast alongside cheesy scrambled eggs or savory breakfast sausage, but these biscuits blur the lines between meals. But I think they'd be great with a broccoli cheddar soup for lunch, or alongside a hearty beef stew for dinner. Or, you know, thanksgiving turkey and gravy and all the fixings (Thanksgiving should ALWAYS have biscuits, if you ask me).