With a crunchy peanut butter filling and creamy chocolate ganache nestled in a sweet and salty chocolate cookie crust, it's like a giant peanut butter cup, but bigger and so much better.
Sweet and salty, creamy and crunchy, rich and nutty… this tart has a little bit of everything. While it looks downright impressive with its perfectly defined layers, it takes less than 45 minutes of active time to prepare, although you do need to allow for sufficient chill time between layers and before serving (so plan ahead!)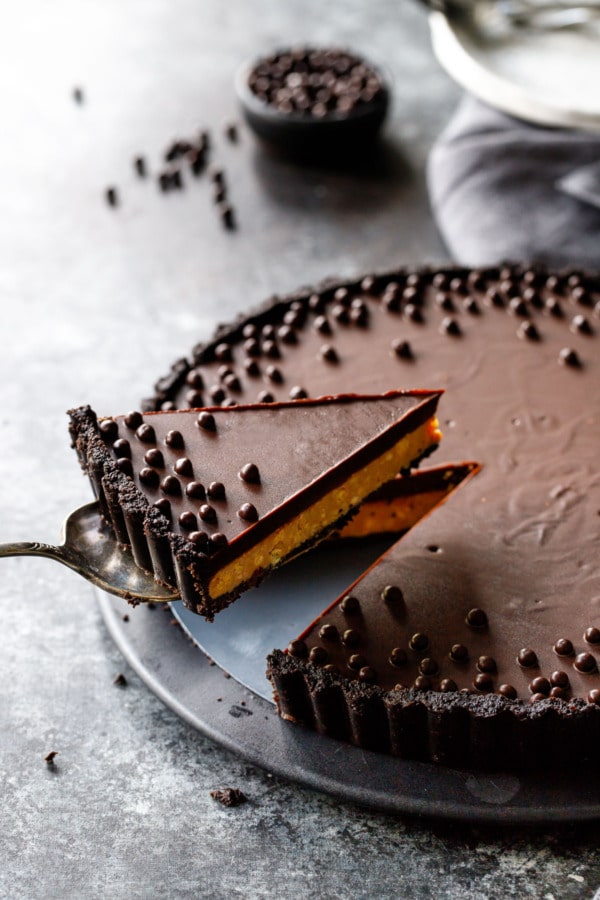 Things have certainly changed since I started blogging.
Back in 2012 or so, it wasn't uncommon for me to whip something up on the weekend, snap a few photos and have it posted by that very evening.
I don't know if my standards have changed or what, but now if something turns out perfectly the first time it's practically a miracle. It's not unusual for me to have to make something at least 2 or 3 times before it's deemed post-worthy.
Of course, the difference could be the fact that back then I wasn't doing many original recipes. It's much easier to have a first-time success when a recipe is already tried and true; when you are trying and truing it yourself it takes a wee bit more time and effort.
I had high hopes for my first attempt at this tart, which is essentially a giant peanut butter cup with a cookie crust and a delightfully crunchy filling. I made a filling along the lines of a peanut butter buttercream, with a bit of ground toffee for texture and flavor.
It seemed like it was off to a good start, so much so that I started gathering props and setting up the scene with the intention to shoot it that very day.
In my attempt to preserve the shiny ganache topping, I didn't fully chill the tart as I should have. As I sliced into it, the pointy tips of the slices started to droop, and the soft filling started to bulge out the sides under the weight of the ganache on top.
It wasn't pretty in the least.
I should really know better than to try to shoot my first attempt at any recipe: it's just a waste of my time.
In this case, it wasn't just aesthetic reasons that necessitated a do-over. The filling was also far too sweet, and other than adding more powdered sugar, I couldn't think of a way to make the filling firmer while reducing the sweetness.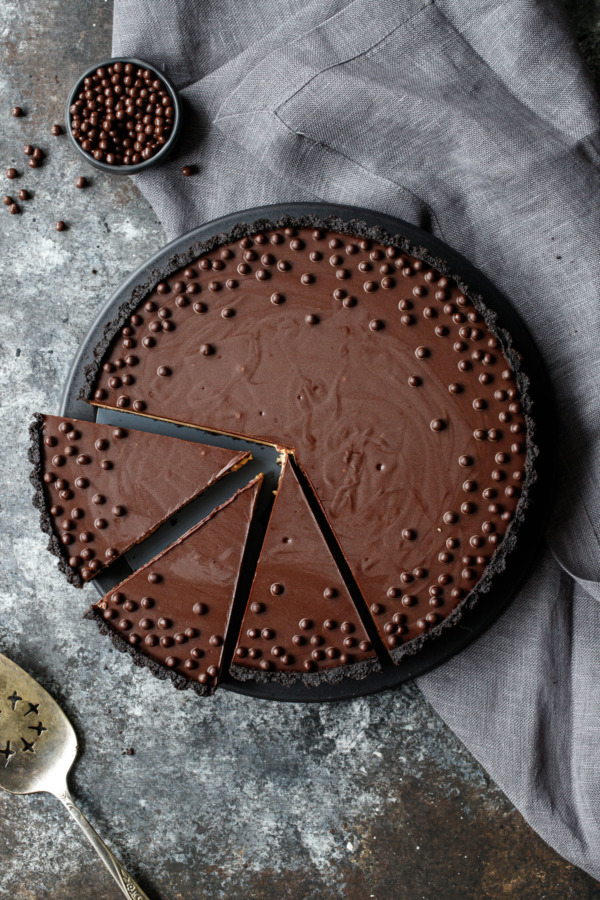 The second time around, not wanting to waste more time and ingredients, I scaled down the filling, trying a few different variations in muffin-tin-sized tarts, mainly to check for overall sweetness and consistency.
The winner was actually the one with the fewest ingredients: with little more than peanut butter and white chocolate (shh, don't tell Taylor!) and ground up peanut brittle for crunch. The filling doesn't taste like white chocolate at all, but the white chocolate sets up beautifully when chilled and has a milder, less cloying sweetness than the powdered sugar version.
It's also much easier to prepare than the buttercream version (which required a mixer) or the raw peanut version (which basically had you making fresh peanut butter from scratch).