This Strawberry Margarita jam recipe is summer in a jar: all bright fruit and tart lime and a hint of booze that can only mean good times ahead.
It's your favorite summertime cocktail-turned-jam, made with fresh ripe strawberries, tangy lime, organic agave, and a splash of silver tequila and Grand Marnier to finish it off.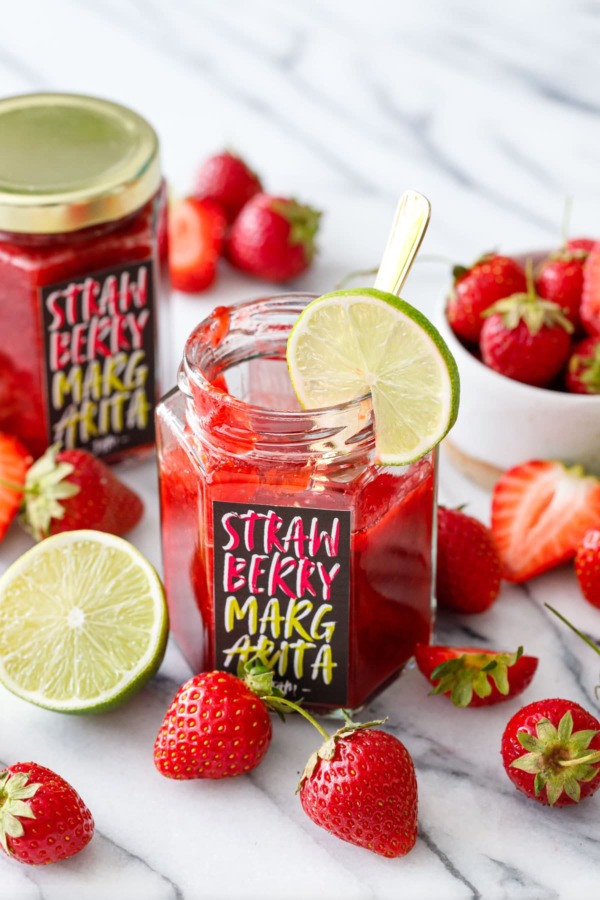 This recipe was created in partnership with Agave In The Raw®, our go-to brand for all-natural and organic sweeteners.
When Agave In The Raw® first reached out to me about working together, it should come as no surprise that my mind immediately went to jam.
I've made a number of jams in the past with honey and maple syrup, but I had never used agave nectar, so I was excited at the prospect of something a little bit different.
Agave nectar is made from the blue agave plant, the same magical succulent from which tequila is made.
Strawberry. Agave. Tequila.
You see where I'm going with this?
I've known for a while that jam makes great cocktails (I've got a recipe for a Jam Rickey in the bonus edition of my jam ebook series that's to die for).
But this recipe is further proof that cocktails also make great jam. In this case, a strawberry margarita, heavy on the strawberry with a hint of lime and liquor.
The resulting jam is not overly boozy; most of the alcohol evaporates in the cooking process, leaving behind just a hint of flavor. This is first and foremost a strawberry jam, with a pop of lime and a hint of tequila that teases at the essence of a margarita rather than forcing itself upon your palate.
(And if you like my jars, be sure to click through/scroll to the bottom to download these free printable labels for yourself!)