Bright and tangy homemade frozen yogurt swirled with a mouth-puckering tart cherry jam for a combination that is utter perfection.
Frozen yogurt is the perfect way to satisfy that ice cream craving without the guilt. But making it at home isn't as simple as throwing some yogurt in the freezer. I daresay I've cracked the code to homemade frozen yogurt that's creamy, not icy, made from whole milk yogurt, sweetened to perfection and swirled (or drizzled!) with a tart cherry jam.
This recipe was created in partnership with Delallo®, our go-to brand for authentic Italian flavor, including pastas, sauces, and specialty imports.
This recipe was inspired by a particularly memorable cup of Greek frozen yogurt we enjoyed in San Francisco that was drizzled with this amazing sour cherry sauce (the place is called Souvla, for those wondering). I devoured mine, relishing this unexpected combination, and lamenting the fact that I couldn't get anything comparable at home.
So when I heard about DeLallo's new Sour Cherry Spread, I knew I had to try to recreate the frozen yogurt at home. I realize it was meant to be paired with cheese, on a gourmet cheese board for example (it'd also be great in a grilled cheese!), but I couldn't resist the siren call of something sweet.
I have to say, sour cherry is one of life's greatest pleasures. It's tart and sweet and resoundingly fruity, all at the same time. And it makes for a FABULOUS jam. If we lived in a place where sour cherries thrived, I'd be buying them by the flat and making all manner of cherry jams and jellies, pies and pastries.
Alas, fresh sour cherries are exceedingly rare in this part of the country, so I have to satisfy my craving with store-bought. But in this case, DeLallo's sour cherry spread will more than satisfy. Dare I say it's even better than what I could make myself, with a chunky, rustic texture and a perfect sweetness that tastes homemade. This stuff is totally spoon-worthy. And paired with a tart and creamy frozen yogurt? Simply divine.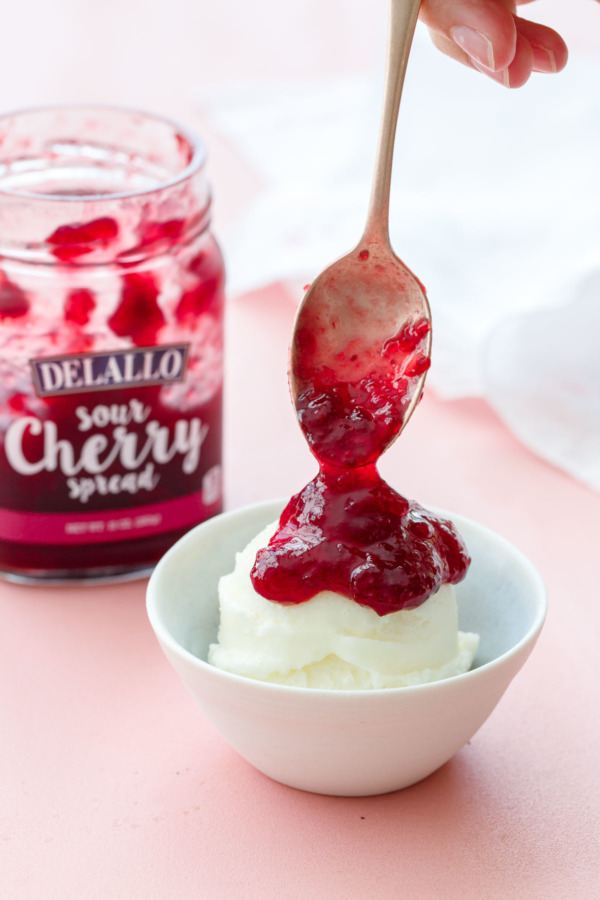 You'd think for a recipe with so few ingredients it would've been an easy one. But in reality, because of the lack of butterfat in yogurt (compared to ice cream) it's actually really hard to get a creamy smooth consistency in consumer ice cream machines. I had to test this one 4 (count em, FOUR!) times before it got to the point where I was satisfied with it.
I tested it with plain yogurt vs greek yogurt, gelatin vs guar gum, swirled cherry vs drizzled cherry. I battled summer heat and freezer frost and waning daylight. But it's all worthwhile to be able to share this recipe with you now!