Your favorite summer cocktail is now an ultra-refreshing sorbet! Made with prosecco, aperol, and freshly squeezed orange juice, spritz sorbet is bright and boozy and utterly delicious.
Just how refreshing is it? On a scale of 1 to 10, where 10 is a plunge into a crisp blue lake on a summer day, this sorbet ranks right up there. It's bright and fruity, and just boozy enough to get your tastebuds grooving. Needless to say, you need to stop wallowing in the heat and whip up a batch, stat.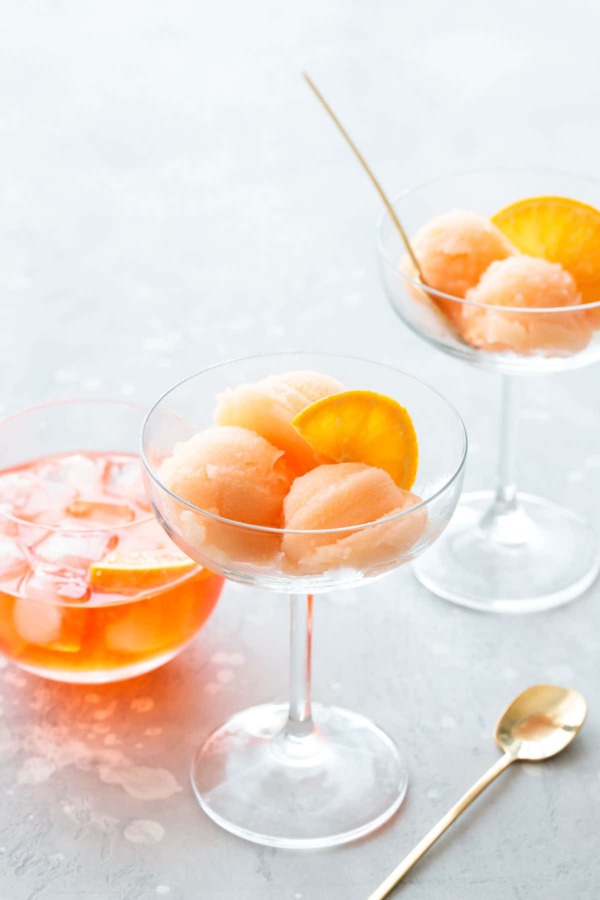 Taylor has been drinking Spritzes pretty much non-stop since we got back from Italy last summer (he's obsessed, I tell you!), but this summer the spritz has officially invaded the states. Is it just me or are they everywhere now?
Not that I'm complaining, the Spritz is perfect for these hot summer days—vibrant in color, bold in flavor, and simple in preparation—so it's no wonder people love them so much.
It's officially the summer of spritz.
Turning summer's iconic cocktail into a sorbet took a bit of strategy, as we all know that alcohol doesn't freeze completely, so I couldn't just dump a big batch of spritz into the ice cream maker and call it a day (it's never that easy, is it?)
Instead I cooked the prosecco down along with the sugar, both concentrating the flavor and cooking out the alcohol just enough so the sorbet will freeze.
But the beauty of still having some of the alcohol left is that the sorbet doesn't freeze solid; rather, it takes on the perfect consistency right at the threshold of ice and slush.