The best salads combine sweet, salty, creamy and tangy: in this case, ripe summer cantaloupe, cured prosciutto, creamy mozzarella and a flavorful (and easy!) homemade balsamic vinaigrette. Pair that with some mild bitter greens and you've hit every bullet point of taste (ok, so maybe there aren't any creamy tastebuds but I'd argue it's still an important salad component nonetheless).
Fruit and balsamic seems to be a recurring theme around here, from pizza to jam to ice cream, and this salad is no exception. Balsamic just has the power to amp up the intense flavors of ripe fruit. From peaches to berries to cantaloupe, it's probably the most flavorful and versatile vinegar out there. I've even seen people drizzle thick, aged balsamic vinegar over ice cream (which sounds downright delicious to me!)
It's so easy to get into a salad rut.
For us, that's usually a green leaf, tomato and cucumber salad with a drizzle of balsamic vinegar and olive oil. Super quick and easy, but also kind of boring.
In an effort to get ourselves out of this rut we turned to some ingredients you might not normally associate with salads: cantaloupe and prosciutto.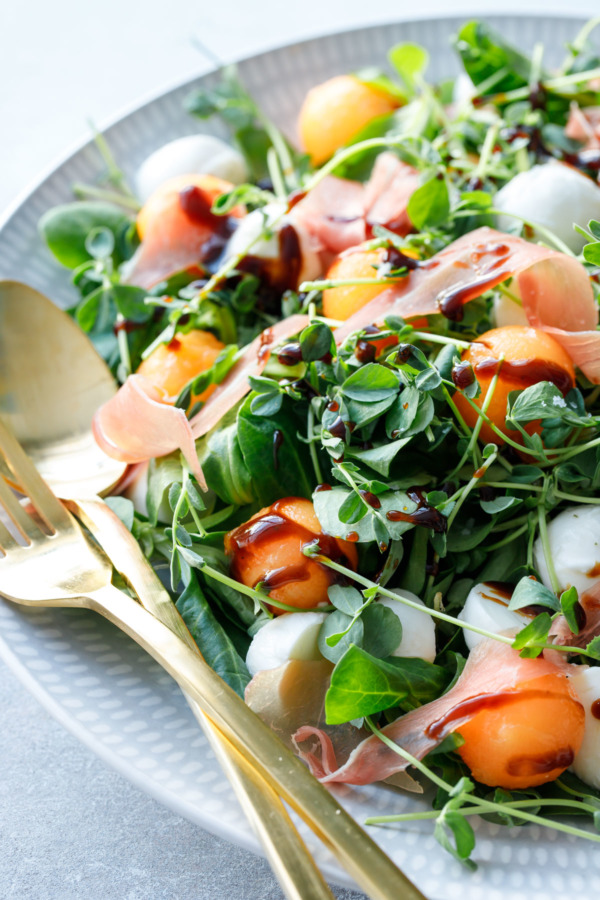 I considered calling this the Spelling Bee Salad because vinaigrette, cantaloupe, and prosciutto are three words that I rarely spell right the first time, and this salad has all three. Mozzarella is a tricky one too (is it one z or two?)