Pecan-lovers: you'll love these ultra-creamy mini cheesecakes swirled with caramelized pecan praline and topped with a white chocolate praline glaze. There's more pecans in the sweet and salty cookie crust too!
There's no denying that mini-sized is more delightful, not to mention better for holiday entertaining, which is why these muffin-sized pecan praline cheesecakes are so perfect: everyone gets their own personal cheesecake, no big knives or serving plates or even forks required.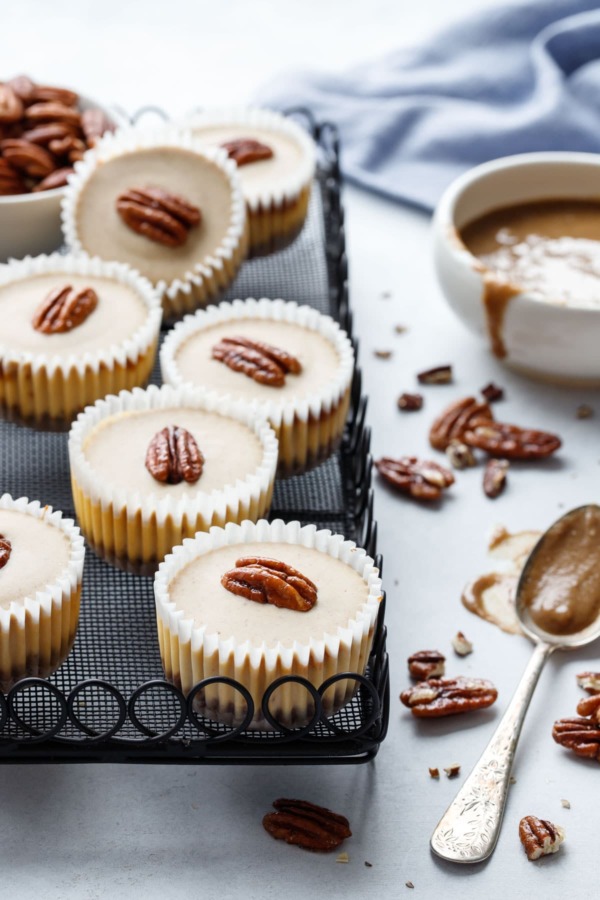 I initially set out to make a mashup between a pecan pie and a cheesecake.
Which sounds amazing in theory, but, as it turns out, those two things aren't necessarily compatible (and trust me, I tried, I really did).
But as I was trying to find a solution, bumbling around the Internet, I came across something called paté praline, or praline paste.
And YOU GUYS.
It is a revelation.
Once I discovered the magic of praline paste I knew that was going to make for a much better final product than problematic pecan pie filling.
So here we are… in a pecan lover's dream.
There's ground up pecans in the crust.
I've swirled some of the praline paste directly into the cheesecake batter.
(I considered stopping here, because the swirled cheesecakes are quite pretty all on their own. But, when it comes to this praline paste especially, if a little is good, more is better.)
So I topped it with a white chocolate pecan gianduja (melted white chocolate mixed with my homemade praline paste). The white chocolate softens the intensity of the praline and also allows it to set up into a perfectly toothsome topping not unlike a ganache. (Also, I think it would be fabulous with milk chocolate too).
Oh, and the cherry on top is a single candied pecan. If only so unsuspecting tasters know right off the bat what's inside.