Perfect for fall, this stunning take on a classic pumpkin cake roll features a lightly spiced pumpkin sponge cake and a creamy mascarpone whipped cream filling.
The striking orange and black diagonal stripe pattern is made by coloring some of the batter and piping it onto the baking pan before the cake is baked (see step by step photos below – it's easier than it looks!)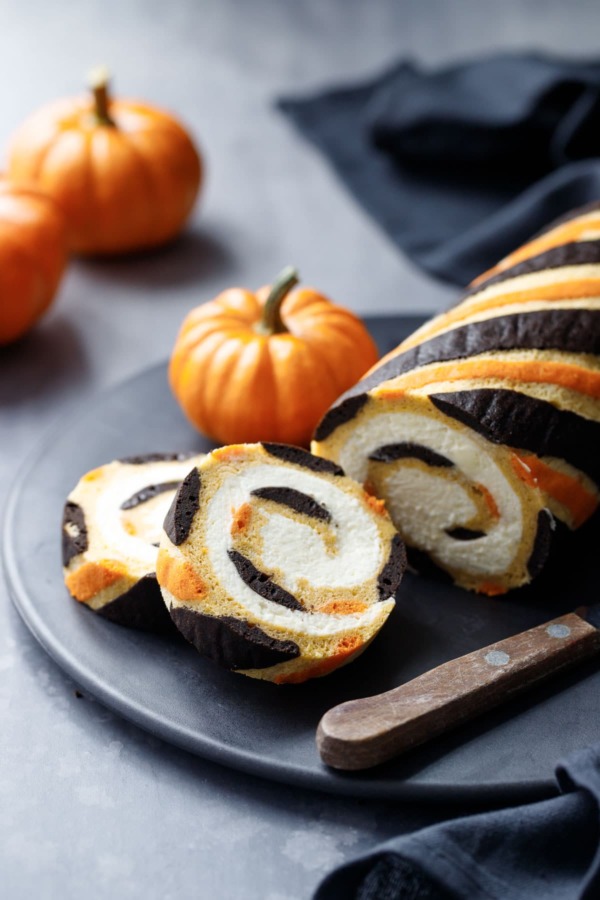 I had a hankering to make a cake roll. But pumpkin cake rolls have been done. Overdone in fact. I wanted to do something just a little bit different.
In typical indecisive fashion, I wavered back and forth, unable to decide whether to make a chocolate cake roll with a pumpkin filling or a pumpkin cake roll with a chocolate filling. Because, surprisingly, chocolate and pumpkin are a remarkably good combination.
But then I started looking online at pictures of ornate Japanese cake rolls and decided that was what I wanted to make, with orange and black Halloween-themed stripes.
My design is fairly simple and far from perfect. But the two tone stripes are pretty darn cool looking, and I also love the pop of chocolate flavor (the dark stripes are naturally colored with dark cocoa powder.)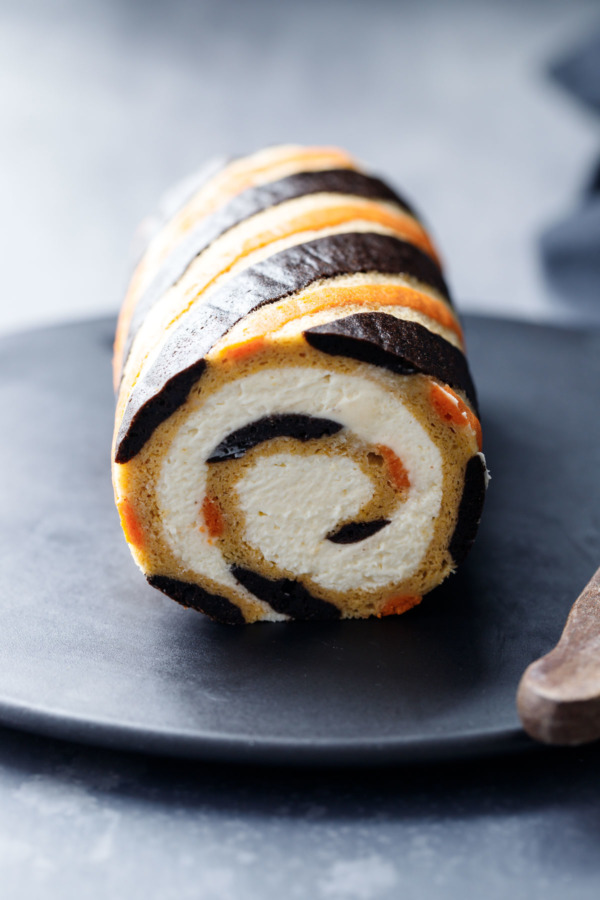 The filling is simple: a fluffy whipped cream folded into mascarpone cheese. The mascarpone has a delicate flavor, but more importantly, gives the whipped cream a structure and stability that allows it to hold its own when rolled up in the cake. This is not a buttercream. It's light and airy and not overly sweet or greasy, like a lightly sweetened cloud.
Could you use cream cheese instead? Of course. (Personally, I strongly dislike cream cheese frostings and tend to avoid them). But if you've never tried mascarpone you don't know what you're missing!