The unexpected combo of mango and raspberry results in a jam with a candy-like fruit flavor, like one of those mystery dum-dums that's impossible to pinpoint exactly which fruit you're tasting other than it is delicious.
This ultra-flavorful jam comes together surprisingly quickly and with less sugar than traditional jams, and can be water-bath canned for long-term storage or stored in the refrigerator or freezer if you don't want to deal with the hassle of canning.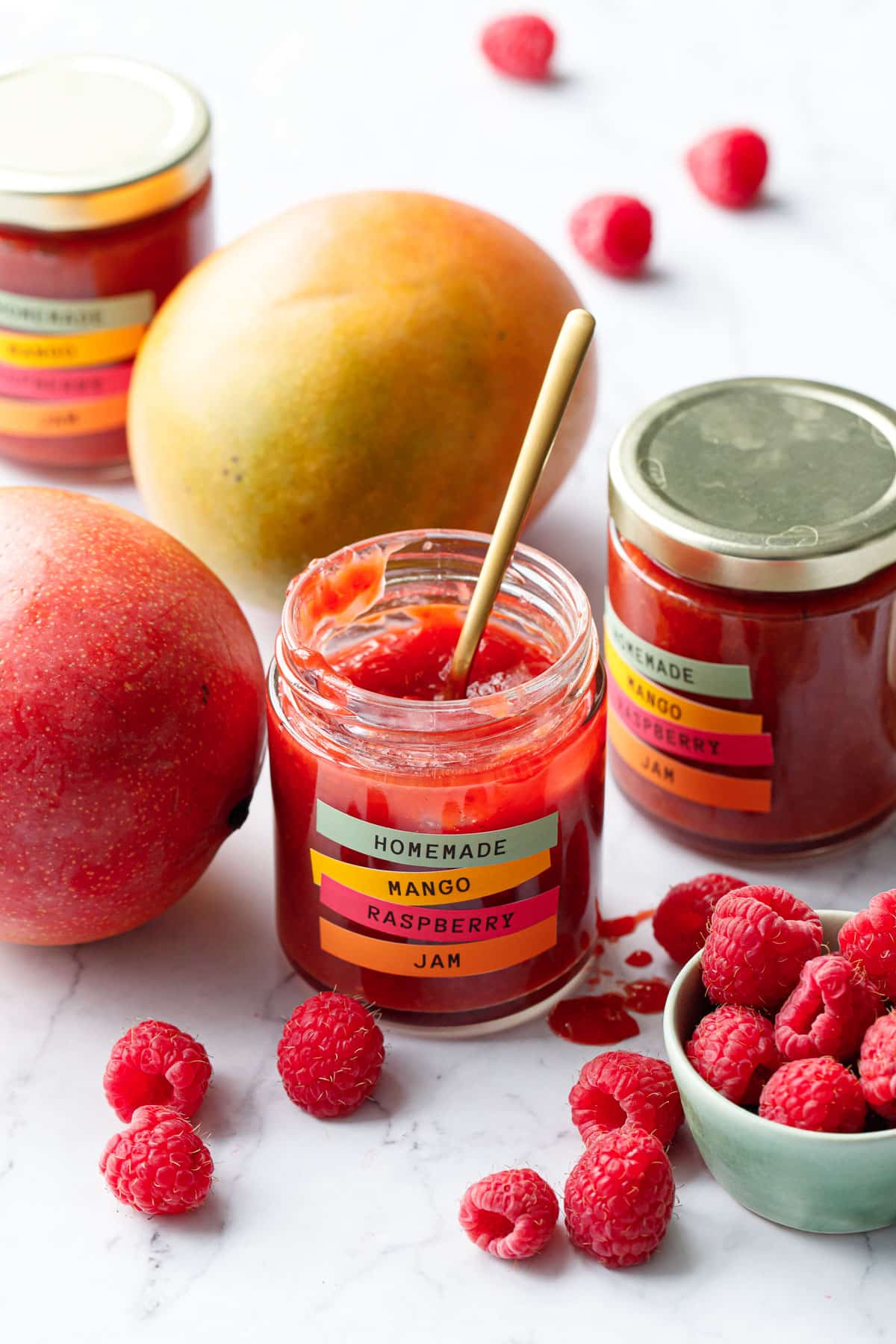 I recently found myself staring down a surfeit of mangoes and raspberries in the fridge after multiple rounds of recipe testing mango lime tarts and raspberry mousse cakes (the recipe for that one is coming very very soon – you don't want to miss it).
Needless to say I had a lot of leftover fruit, and wasted fruit is something I simply cannot abide.
This recipe didn't quite make it into That's My Jam, but not because it's not delicious (spoiler: it is quite scrumptious, actually, and one of my new favorites). Rather, the only reason it wasn't included is because the idea came to me literally two days after I'd submitted the final book files to the printer.
But if you're looking for more fun and unique jam recipes, definitely get yourself a copy of That's My Jam, now available in a gorgeous hardcover edition as well as pdf/ebook format; I've also got a few limited bundles left which include a box of Pomona's pectin which you'll need to make the majority of the recipes in the book (as well as this one).
As always, you know the rules around here: no naked jars. Be sure to scroll through to the bottom of this post for the free printable labels and the option to buy an editable version (now available in multiple formats!)