This rich and hearty turkey stew is a perfect, heart-warming winter meal. With a thick and velvety broth and chock full of shredded turkey, peas and potatoes, it'll quickly become a fast favorite.
It's officially soup season, y'all! And there's nothing I love more on a cold winter's day than a satisfyingly chunky stew; turkey in this case, with a flavorful base with a hint of tomato and tons of tender dark meat and vegetables.
The weeks and months after Thanksgiving are a special time, not because of Christmas and New Year, but rather because this when you can easily find turkey thighs and legs in the butcher's case at the grocery store. Hallelujah.
Seriously, don't try to track down turkey in July; with the exception of ground turkey or maybe the odd frozen butterball, you will not find turkey thighs or legs anywhere.
Even in the weeks leading up to Thanksgiving, chances are you'll only find whole, previously-frozen birds and breasts tied and ready to roast.
But once Thanksgiving has come and gone, they've got to do something with all the surplus turkeys, right? So the butchers break down the leftover birds and sell them off piecemeal. And it is a delicious situation, indeed.
This stew comes straight from Taylor's brain. He first made it last year, roughly jotting down the recipe in our notebook under the heading "Best #!*$-ing Turkey Soup, Ever."
We devoured it and promptly forgot about it.
Until this past fall, when we filled up said notebook and, before breaking open the fresh, new recipe notebook (is there anything better than a new notebook? I think not) we flipped back through the old recipes just in case there were any orphaned recipes that deserved a second look. And there were a handful of them, some dismal failures we ultimately abandoned (I'm looking at you, persimmon bread) but others, like this turkey stew, were recipes that really deserved to be shared.
But when we decided to refine and share it, we were faced with a surprising inability to find a single turkey thigh anywhere in this city.
So we sat on the recipe for a few more months, checking the meat counter every week just in case, maybe, this would be the week they'd have turkey thighs.
Finally, the week after Thanksgiving, our wish came true. Of course, at that point we were dead tired of turkey, so we put it off for yet another two weeks.
But finally. Here we are. Almost two years in the making. Taylor's Best #!*$-ing Turkey Soup, Ever (or, as I'm calling it in my more SEO and family-friendly post title, Taylor's Ultimate Turkey Stew).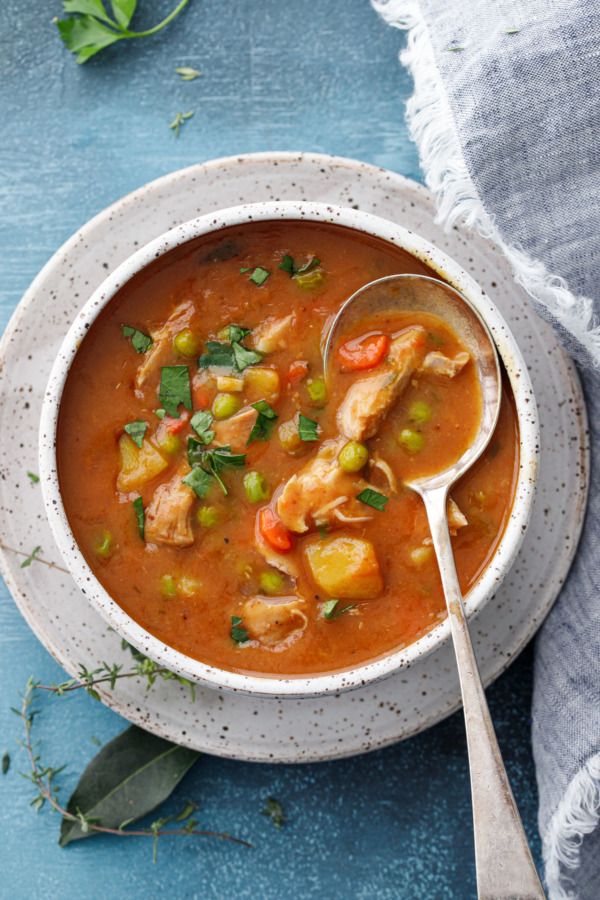 The stew base is primarily turkey broth (chicken broth works fine too), supplemented with a bit of white wine and a few tablespoons of tomato paste that give this stew its deep orange color and multifaceted richness. It's thickened with flour and butter until it's almost velvety in texture.
In addition to the turkey (which is braised until tender and then shredded), we've added cubed yukon gold potatoes and a heaping cup of English peas (fresh or frozen, either works here). You could also add sweet potato or squash, or other root vegetables like turnips.
The stew can really cook for anywhere from 30 minutes to even 2 hours if necessary (keep it covered so all the liquid doesn't evaporate), so depending on what vegetables you add you may need to cook it slightly longer. You can also par-boil particularly stubborn vegetables like turnips for 10 or 15 minutes before adding them to the stew to speed up the process even more.
While you could make a variation of this recipe with leftover Thanksgiving turkey, the stew itself won't be quite as robust, since much of the flavor from the bone-in turkey thigh gets infused into the broth as it cooks.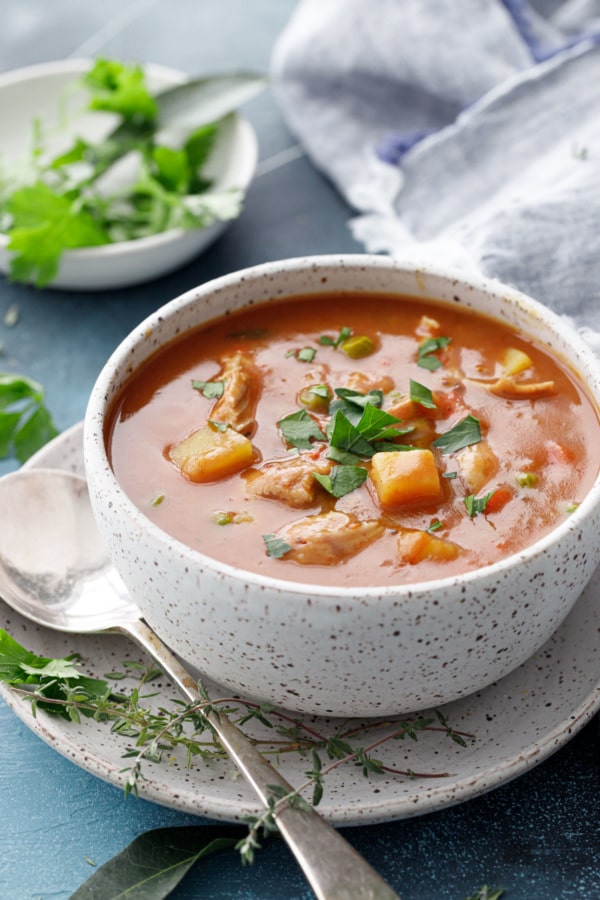 Could you make this with chicken? Certainly, and if you're craving hearty turkey stew in September you probably won't have any other choice. Just use bone-in turkey thighs and drumsticks, about 2 pounds worth, which is about the same amount of meat as one large turkey thigh.
You can also swap out the broth here for chicken or turkey, whatever you happen to have on hand.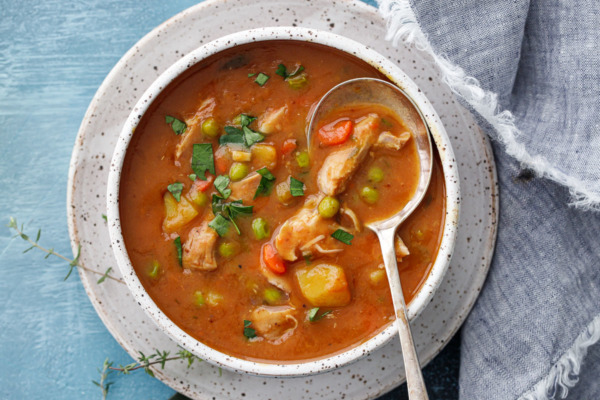 Taylor's Ultimate Turkey Stew
This rich and hearty turkey stew is a perfect, heart-warming winter meal. With a thick, rich broth and chock full of shredded turkey, peas and potatoes, it'll quickly become a fast favorite.
Ingredients:
2 tablespoons olive oil
1 bone-in turkey leg or thigh (about 2 pounds worth) – you can also use chicken legs, about 4 large or 2 pounds worth
1 medium onion, diced
3 medium carrots, diced
2 stalks celery, diced
4 large garlic cloves, minced
2 tablespoons unsalted butter
3 tablespoons tomato paste
1/2 cup white wine
2 fresh sage leaves
6 sprigs fresh thyme
4 stalks fresh parsley, plus more for topping
2 bay leaves
2 tablespoons soy sauce
4 medium (1 1/2 pounds) yukon gold potatoes, peeled and cut into 1/2-inch cubes
1 cup fresh or frozen shelled peas
6 tablespoons all-purpose flour
4 cups chicken or turkey stock
salt and black pepper, to taste
Directions:
Heat olive oil in a large Dutch oven over medium-high heat.
Sprinkle turkey thigh generously with salt and pepper. Add to dutch oven and cook about 3 minutes per side or until browned. Use tongs to transfer the thigh to a plate and set aside.
Return pan to medium-high heat. Add butter and stir until melted and frothy, scraping up any brown bits from the bottom of the pan.
Add onion, celery, carrot and garlic to Dutch oven and saute until softened and beginning to brown, about 10 minutes.
Sprinkle over flour and stir, 1 to 2 minutes until veggies are evenly coated.
Add wine and tomato paste and stir until tomato paste is evenly distributed and liquid is mostly evaporated, about 2 to 3 minutes.
Add stock, soy sauce and herbs (tie herbs together with butcher's twine to make for easy removal later) and bring to a simmer. Add turkey leg back to pan and reduce heat to medium low. Continue to gently simmer with pan partially covered for 30 minutes.
Add potatoes and peas and continue to simmer for another 30 minutes or so or until potatoes are tender.
Remove turkey leg from pan and place in a bowl or on a cutting board until cool enough to handle (keep pot covered on the lowest heat setting in the meantime). Pull the turkey meat off the bones and shred into bite-sized pieces; discard bones and bits of skin and gristle. Remove and discard herb bundle.
Add shredded turkey meat back to pot and stir until warmed through. Serve topped with a sprinkle of chopped fresh parsley and a chunk of good crusty bread.
Leftovers will keep, refrigerated in an airtight container, for up to 2 days, or frozen for up to 1 month.
Did you make this recipe?
Let us know what you think!
Leave a Comment below or share a photo and tag me on Instagram with the hashtag #loveandoliveoil.