A typically sweet breakfast favorite gets a savory makeover: with salty chorizo and shredded manchego cheese, topped with a bright and lemony lettuces.
Dutch babies are as fun to make as they are delicious to eat, puffing up in the oven to form mountainous folds of egg, flour and flavor. Whether you go sweet or savory, they are bound to make an impression.
This recipe was created in partnership with Lodge®, makers of our favorite cast-iron cookware manufactured right here in Tennessee!
I've said it before and I'll say it again: German pancakes are one of my all-time favorite brunch recipes. I could easily polish off the entire thing by myself (though I usually resign myself to share with Taylor because I'm a good wife like that).
Normally I smother mine with powdered sugar and maple syrup. But, I got to thinking… what if we took it in a more savory direction?
Going savory isn't hard to do with this versatile recipe: just remove the vanilla extract and replace it with whatever savory seasonings, mix-ins and toppings you desire.
We tried out a few flavor variations, including an everything bagel-inspired pancake topped with smoked salmon and creme friache. Tasty? Very. But this Spanish-inspired variation, with crispy bits of salty cured chorizo sausage and melty, crispy-around-the-edges Manchego cheese, ultimately won us over.
We topped our extra meaty and ultra cheesy creation with a pile of spicy baby greens, that, when tossed with a splash of olive oil and lemon juice, cuts the fatty richness of the cheese and sausage perfectly.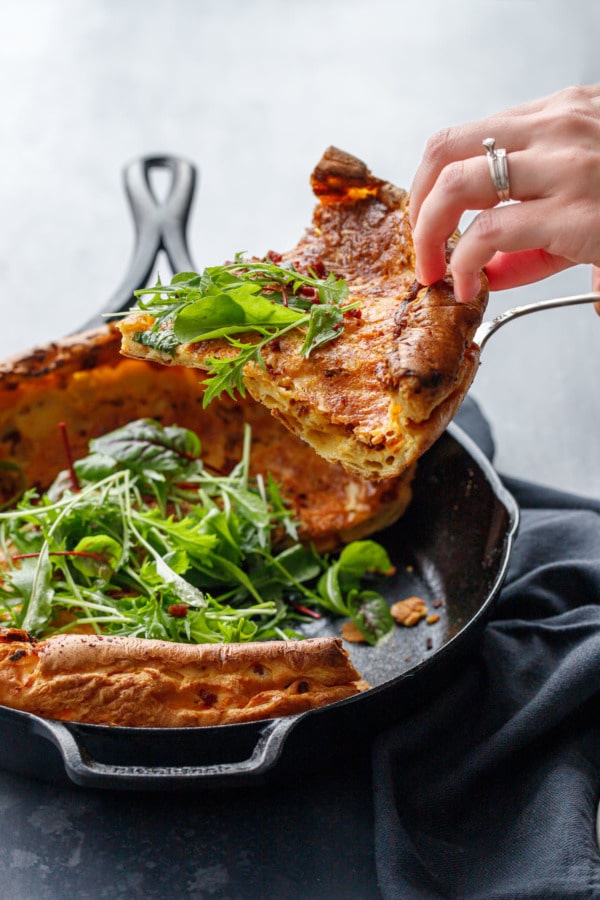 German pancake and Dutch baby are two names for the same thing, though one is usually made in a casserole dish and the other in a smaller skillet.
I've always called them German pancakes, which I attribute to some twisted telephone translation of Dutch baby (Dutch = Deutsch = German, or something along those lines.) Some attribute the origins of this to the German Pfannkuchen, which could be where it gets its name, though I can't really see the resemblance beyond the egg and flour. As it turns out, this recipe is entirely an American invention, more similar to a super-sized popover or Yorkshire pudding than anything German or Dutch. Go figure.
Whatever you call it, there's no denying these mountainous, super-sized pancakes are downright delicious.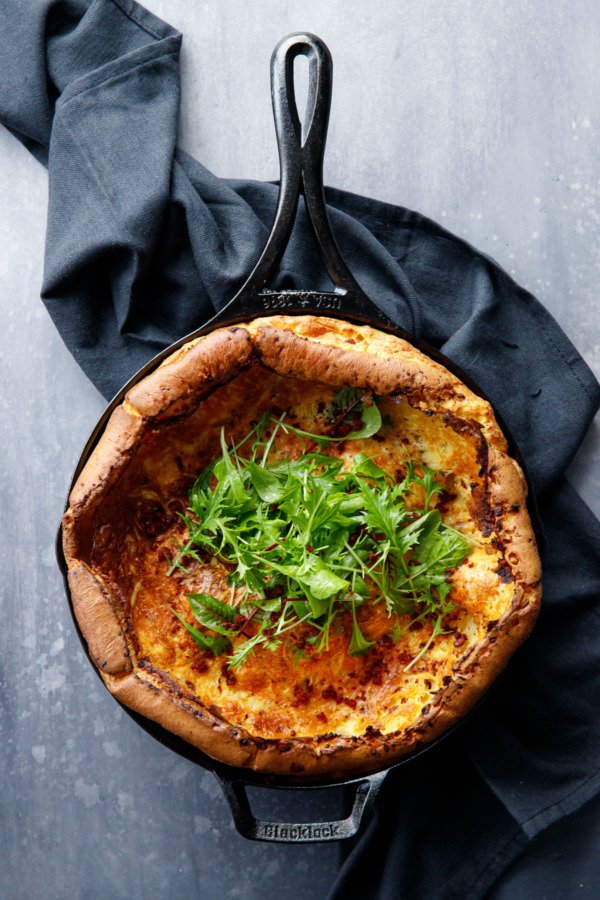 The key to getting a lofty, pillowy Dutch baby is being sure your pan is nice and hot before you add the butter and the pancake batter. And for stove-to-oven recipes like this one that require high, even heat, there's no better material than cast iron.
This was our first time cooking with Lodge's new Blacklock line of cast iron, and let me just say it's a game changer. It's by far the lightest weight cast iron skillet I've ever encountered, which makes it much more manageable than the traditional heavyweight pieces. It's also triple seasoned and easy to clean, making it so much more practical and versatile for everyday use.
The higher sides and more rounded corners also make it ideal for supporting extra tall peaks here, with crispy edges of melted manchego cheese and a soft, eggy center that'll have you swooning.
This recipe calls for a 10.25-inch skillet, which is perfect for 2 hungry people (3 if you're serving it with something else).
You could also use two smaller 7-inch skillets for individual Dutch babies instead.
If you're cooking for a crowd, this recipe can easily be doubled and baked in a 14-inch skillet or even a 13×9-inch baking pan (if not using cast iron, spray the pan lightly with cooking spray first, and let it preheat in the oven while you cook the chorizo in a skillet. When the pan is nice and hot, add the butter and shallot and proceed with the recipe as written).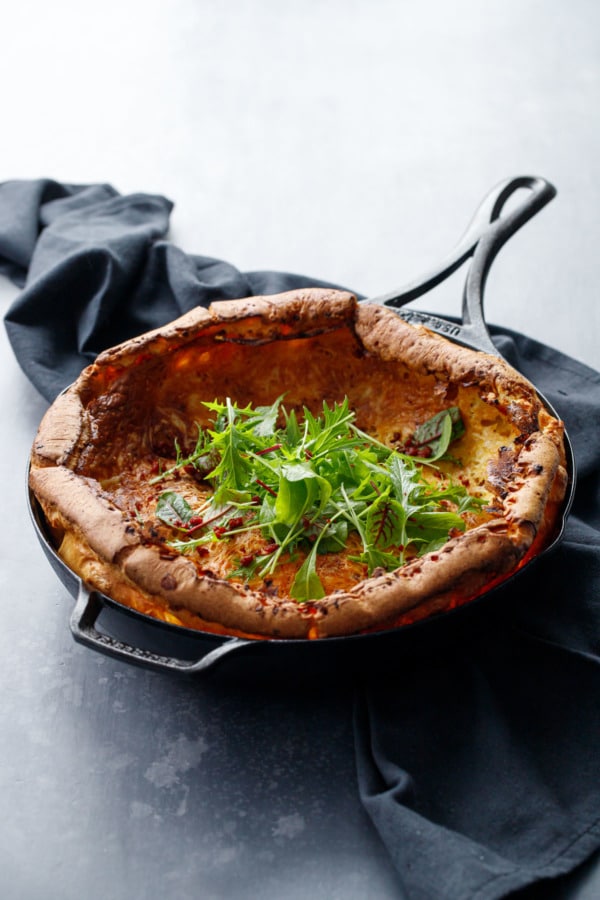 One ingredient note: we've used cured, Spanish-style chorizo here, which is basically a spicy salami in a casing. Not to be confused with the raw, Mexican-style chorizo that's more like ground meat. The flavors are quite different (Spanish chorizo is primarily smoked Paprika while the Mexican version is more chile-based), so I encourage you to seek out the right stuff.
That said, if you can't find it, you can use raw chorizo, just brown it in the skillet until crispy. You can also use a spicy salami like Sopressata, or even cubes of Pancetta, both of which will give you a very different flavor profile, but would still be delicious in this recipe.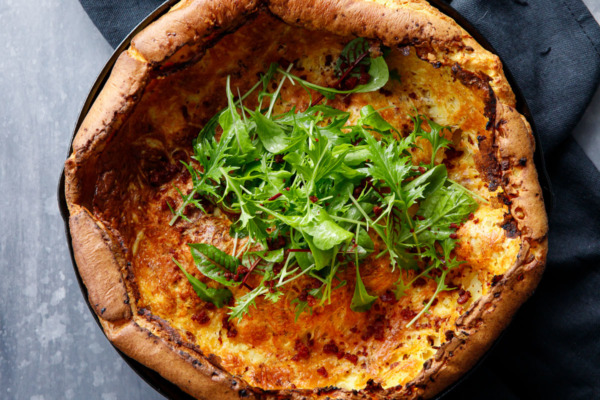 Savory Chorizo & Manchego Dutch Baby
A savory version of a breakfast favorite, with salty chorizo, shredded manchego cheese, and pile of spicy lettuce to balance out the flavors.
Ingredients:
2 ounces cured Spanish-style chorizo sausage*, casing removed and chopped into pieces
3 large eggs
2/3 cup whole milk
1/2 cup (63g) all-purpose flour
1/2 teaspoon garlic granules or garlic powder
1/2 teaspoon smoked paprika
1/4 teaspoon kosher salt
2 1/2 tablespoons unsalted butter, cut into pieces
1 large shallot, finely minced (about 2 tablespoons minced)
1/2 cup (1.5oz) shredded manchego cheese
2 handfuls spicy baby lettuces such as arugula and mizuna
2 teaspoons extra virgin olive oil
1 teaspoon freshly squeezed lemon juice
Directions:
Preheat oven to 450 degrees F.
Pulse chorizo pieces in a food processor until coarsely ground.
In a blender, combine eggs, milk flour, garlic, paprika and salt. Mix on low speed until evenly incorporated and completely smooth.
Place a 10-inch cast iron skillet over medium heat. Add ground chorizo and cook, stirring occasionally, until chorizo has rendered out much of its fat and gets slightly darker and crispy, about 5 minutes. Use a slotted spoon to transfer to a paper towel-lined plate to drain.
Return skillet to heat. Add butter, and once it is mostly melted, add shallot. Stir until fragrant.
Pour batter into skillet. Sprinkle with 3/4 of crispy chorizo and all of manchego cheese. Immediately place in preheated oven. Bake for 20 to 25 minutes or until puffed and edges are deep golden brown.
While pancake is baking, toss baby greens with olive oil and lemon juice until evenly coated.
Remove from oven and top with remaining chorizo and a generous pile of greens. Serve immediately.
*Note that this recipe calls for the cured Spanish-style chorizo, which is more like a spicy cured salami, and not the raw Mexican-style that's more like seasoned ground meat. If you can't find it, you can use another spicy salami like sopressata or even cubes of pancetta.
Did you make this recipe?
Let us know what you think!
Leave a Comment below or share a photo and tag me on Instagram with the hashtag #loveandoliveoil.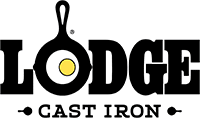 Disclosure: This post was created in partnership with Lodge. As always, all opinions written are purely our own. We're incredibly grateful for opportunities like these that allow us to continue sharing delicious recipes with you, so thank you for supporting us and the brands we love.