Soft, chewy and chocolatey, these chocolate amaretti cookies are sure to become a fast favorite!
This rich chocolate variation of my popular amaretti morbidi cookies will delight your tastebuds. A few tablespoons of cocoa powder transforms these little almond cookies into rich, brownie-like bites of heaven.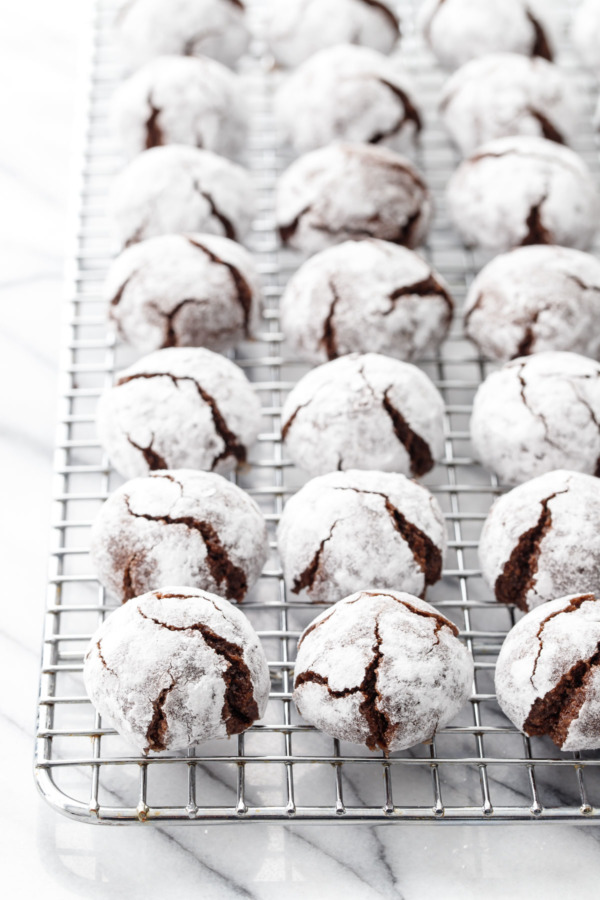 The infamous amaretti strike again.
This time in the form of dark chocolate.
The result is soft and chewy and richly chocolate (surprisingly so for just a few tablespoons of cocoa powder), reminiscent of an almond-scented brownie.
I mean, amazing is what they are (dare I say this is my favorite variation yet? Of course, I said that about the last batch too… but then again, I'm totally a sucker for anything chocolate).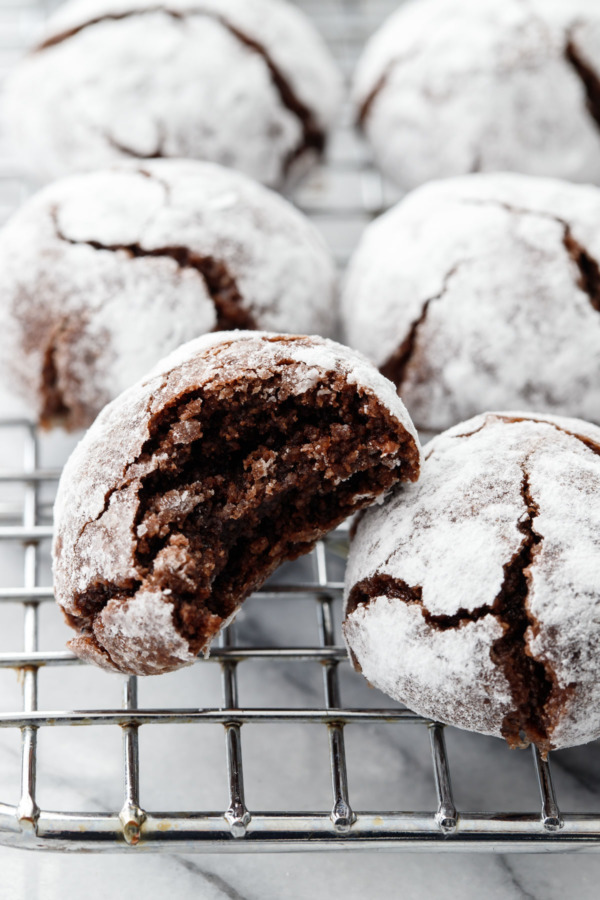 Much like the other variations, the chocolate amaretti use the same base recipe with the addition of one single flavoring ingredient, in this case, Dutch-processed cocoa powder. Everything else about the recipe is virtually identical.
It's amazing how the addition of one ingredient can make for such a wildly different cookie!
(Be sure to click through/scroll down to see the recipe video!)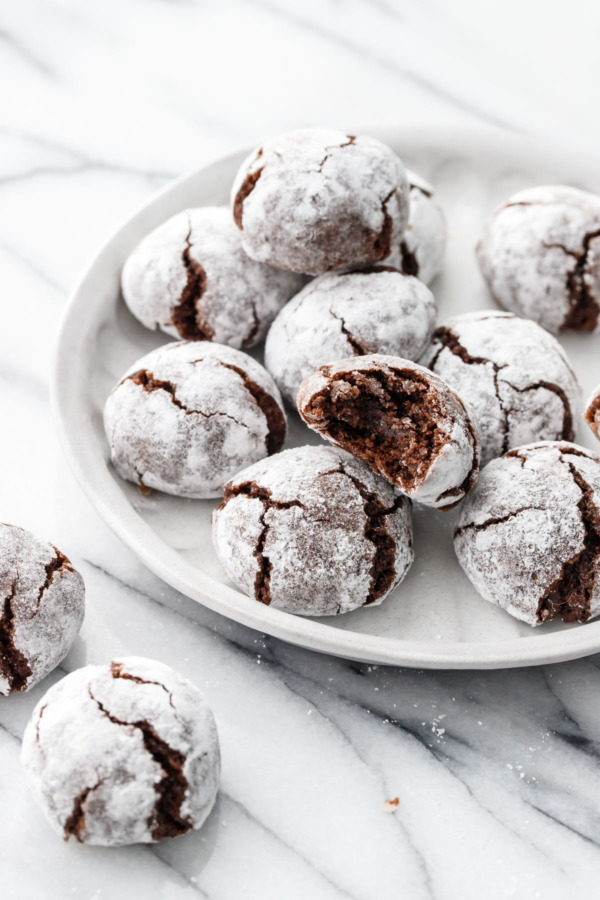 I've realized, the more times that I make these cookies (and the darker in color the flavor variations get) that they look better with more powdered sugar.
When I first made the original amaretti cookies, I barely dusted them with sugar (it was more to keep the dough from sticking to your hands as you rolled it). But when I made the raspberry cookies next, my favorite ones were the more thickly-dusted cookies that really made the color of the cracks pop. Even more so with the matcha, and now the chocolate.
While they might look like your classic sugar-dusted chocolate crinkle cookie, they most certainly aren't, with a strong almond flavor and a marzipan-like chewy texture these cookies are much. much better. (In my opinion at least.)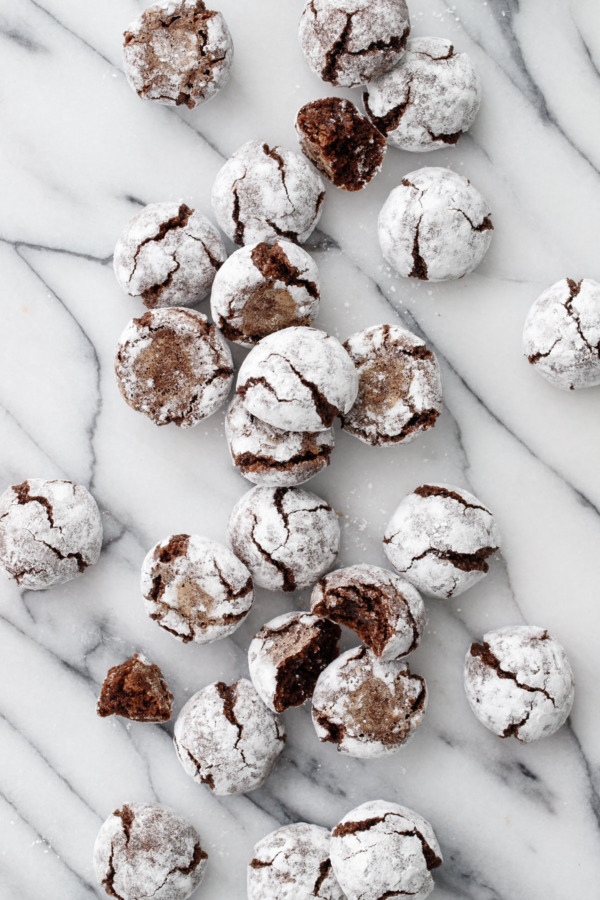 A few tips for perfect amaretti:
– Double up your baking sheets. This insulates the bottoms of the cookies and lets you bake them slightly longer without burning the bottoms, resulting in a chewier exterior. If you only use one baking sheet, you'll probably want to take them out after 25 minutes or so.
– Whip your egg whites to medium-soft peaks. The tip of the egg white should slump over and look something like an eagle's beak. Over-beating your egg whites might cause the cookies to spread out more.
– Always sift your almond flour! I have found these cookies vary quite a bit depending on what brand of almond flour you use (I like Bob's) but sifting will ensure that only the finest grains are used.
– Use a small cookie scoop (#60 size, which holds about 15 grams or 2 teaspoons of dough) to portion out your balls of dough, ensuring all your cookies are the exact same size.
– Dust your palms with powdered sugar before you start rolling; then the cookie dough won't stick! Dust with sugar, roll dough into a ball, roll ball in powdered sugar, then lightly roll it between your palms again (this last step will remove the excess sugar and get your hands dusted and ready for the next one).
– Store your cookies in an airtight container to keep them from drying out. They're still nice and chewy after 5 days, although they're so good that I highly doubt they'll last that long.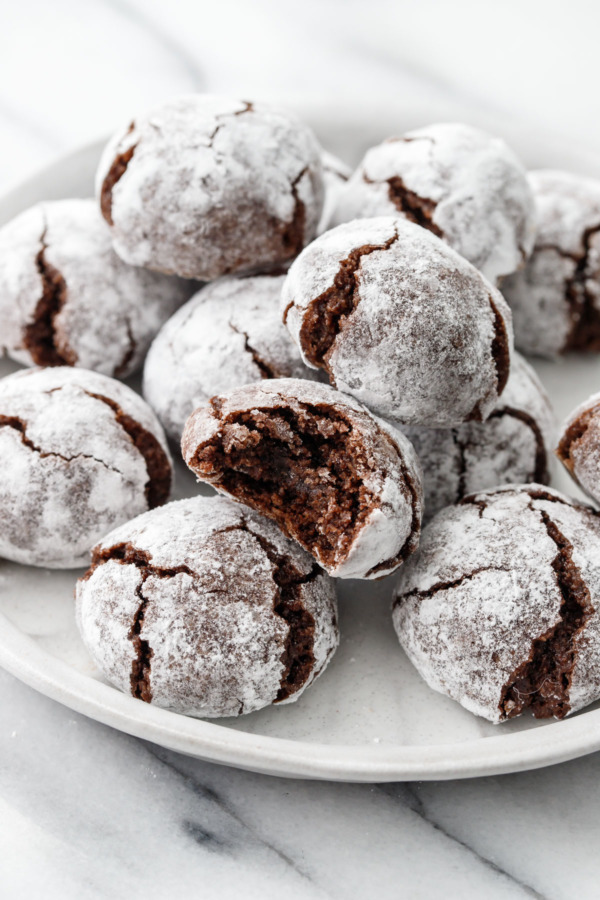 Want to see how these little beauties are made (along with the original, matcha and raspberry variations?) Check out the video:
Now I ask, is 4 variations enough? Or should we keep up the amaretti momentum with even more flavors?
Maybe a citrus variation, like lemon or blood orange, or even something more floral, infused with lavender or rose water? Espresso? Or, how about we go boozy (you know I love my boozy baking!) with a splash of amaretto or maraschino liqueur?
Seriously y'all, I might be posting Amaretti morbidi for years to come. Now that I've got amaretti on the brain I don't think I can stop.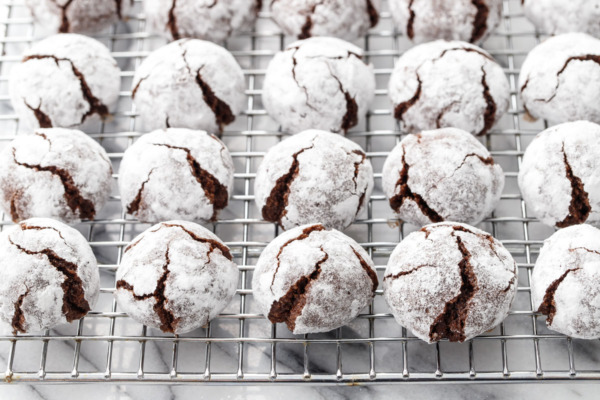 Chocolate Amaretti Cookies
Soft and chewy almond cookies with dark chocolate cocoa powder make for a rich and almost brownie-like cookie.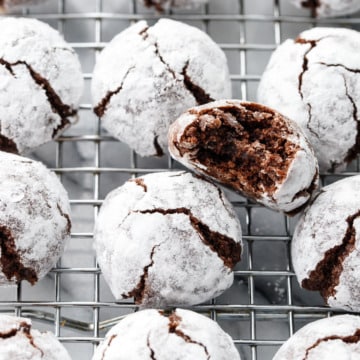 Ingredients:
2 cups (180g) almond flour or very finely ground almonds, sifted
1 cup (200g) granulated sugar
3 tablespoon (15g) Dutch-process cocoa powder powder
pinch salt
2 large egg whites (about 60 grams)
1/4 teaspoon lemon juice
1/2 teaspoon almond extract
confectioners' sugar, as needed
Directions:
Preheat oven to 300 degrees F. Stack two matching, heavyweight, light to medium colored cookie sheets one inside the other (stacking two cookie sheets together keeps the bottoms of the cookies from getting too brown). Line with parchment paper or a silicone baking mat.
In a large bowl, whisk together almond flour, sugar, cocoa and salt until evenly incorporated.
In a mixing bowl or the bowl of a stand mixer fitted with the whisk attachment, whisk egg whites and lemon juice until they hold soft peaks.
Add beaten egg whites and almond extract to dry ingredients and stir until mixture forms a soft, sticky dough, kneading with your hands if necessary. No need to be gentle here, we're not making macarons. ;)
Lightly dust your hands with powdered sugar. Use a small cookie scoop to portion dough into 1-inch balls. Roll into a smooth ball, then roll in powdered sugar. Arrange on parchment or silicon-lined baking sheets, leaving 1 inch of space between cookies.
Bake for 30 to 35 minutes until tops are cracked and bottoms are just starting to darken (if you are NOT using doubled cookie sheets your cookies will brown much quicker, and will likely only need 25 minutes, so watch them closely). Remove from oven; let cool a few minutes, then transfer to wire racks to cool completely.
Cookies will keep at room temperature in an airtight bag or container for up to 5 days.
Did you make this recipe?
Let us know what you think!
Leave a Comment below or share a photo and tag me on Instagram with the hashtag #loveandoliveoil.