In what's become an annual tradition, I narrow down a year's worth of recipes into a few favorites. This is by no means a complete list (technically, every recipe I post is a favorite in one way or another), but I did my best to pick and choose my absolute favorites, the recipes I remember long after they are done and gone. I tell you, this gets harder and harder every year.
What can I say about 2014? I'm sad to see it go. We saw so many wonderful places and ate so many amazing things this year… it's hard to narrow it all down into a few sentences. That said, as nice as it is reminiscing about the year that was, I find myself even more excited for the year to come.
2015… I have a feeling you're going to be a good one!
So, without further adieu, I bring you the best recipes of 2014 (be sure to click through to see all of them, including your favorites, my favorites, and some pretty tasty eye candy!)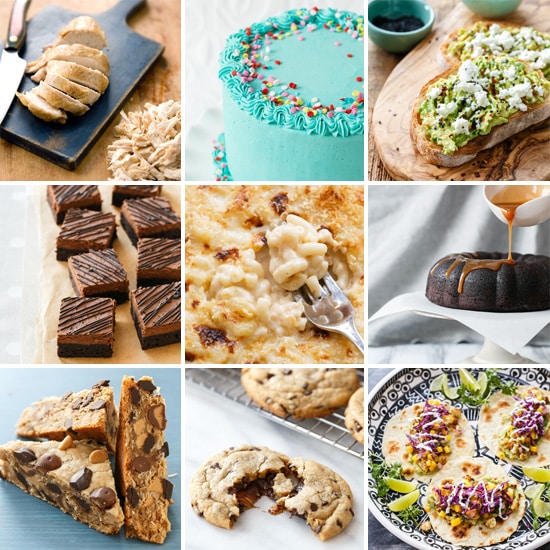 Your Favorites (the most popular posts from 2014, by views) 1. Kitchen Basics: Oven-Roasted Chicken Breasts / 2. Frosted Funfetti Layer Cake / 3. Goat Cheese & Avocado Toast / 4. Chocolate Mousse Brownies / 5. Five Cheese Skillet Mac and Cheese / 6. Chocolate Whiskey Bundt Cake with Whiskey Caramel Sauce / 7. Oatmeal Peanut Butter Cookie Bars / 8. Stuffed Peanut Butter Chocolate Chip Cookies / 9. Crispy Cauliflower Tacos with Mango Salsa
My Favorites (in addition to the ones above, of course!) 1. Tart Cherry Pie / 2. Peach Passion Jam / 3. Tart Cherry Glazed Brussels Sprouts / 4. Bourbon Salted Caramel Milkshakes / 5. Chocolate Covered Potato Chip Macarons / 6. Fresh Blueberry Pie / 7. Mini Marzipan Cheesecakes / 8. Amaretti Pumpkin Pie / 9. Loaded Junk Food Brownies
Eye Candy (my favorite images of the year) 1. Raspberry Sea Salt Brownies / 2. "The Michelangelo" Marzipan Milkshakes / 3. White Chocolate Funfetti Blondies / 4. The Antioxidant (Aperol & Tangerine Cocktail) / 5. Homemade Cookie Dough Oreos / 6. Homemade Potato Chips with Blue Cheese Dipping Sauce / 7. Raspberry Papaya Smoothies / 8. Pastrami on Rye Sandwiches / 9. Chocolate Covered Strawberry Eclairs
Happy New Year to you and yours!