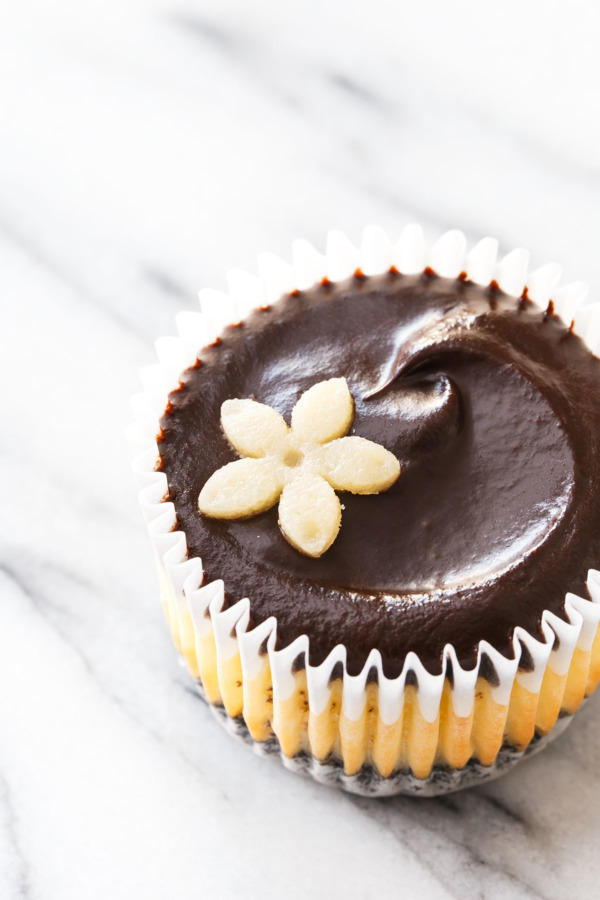 One of my favorite family recipes of all time is for a chocolate swirl cheesecake. And unlike other cheesecakes I've posted, this one is not an heirloom, passed down through the generations. Rather, it came in a pile of junk mail. It was a promotion for one of those monthly 'recipe club' type subscriptions, where you pay up front and get the snazzy binder, and then every month get a stack of new recipe cards that you are then responsible for sorting yourself into the various divided sections.
The recipe in question was tucked in a stack of sample recipes, meant to coerce you into dropping some mad cash on the whole set. We never purchased the whole set, but that cheesecake recipe was too enticing to ignore. I think my mom and I made well over a dozen of those cheesecakes during my middle and high-school years. The recipe was lost for a brief time, but thanks to my "I'm going to compile my own cookbook" phase in high school (the lure, I think, in designing my own recipe cards and assembling my own snazzy binder more than anything — once a designer, always a designer, I say) I had a copy of the recipe buried deep in the prehistoric folders of my hard drive, the ones that have been mindlessly moved from one computer to the next without a thought as to what vintage treasures they might contain (hello, high school salutatorian speech! Now there's a memory I don't care to relive). But there it was, our trusty recipe, re-typed and re-formatted by my 16-year-old self. Resurrected for us to enjoy once again.
While I've never posted that exact recipe on the blog, I often find myself thinking about that cheesecake, even though it's been years since I've made it. Visions of chocolate and vanilla swirls swirled around in my head, and it was these thoughts that ultimately inspired today's recipe.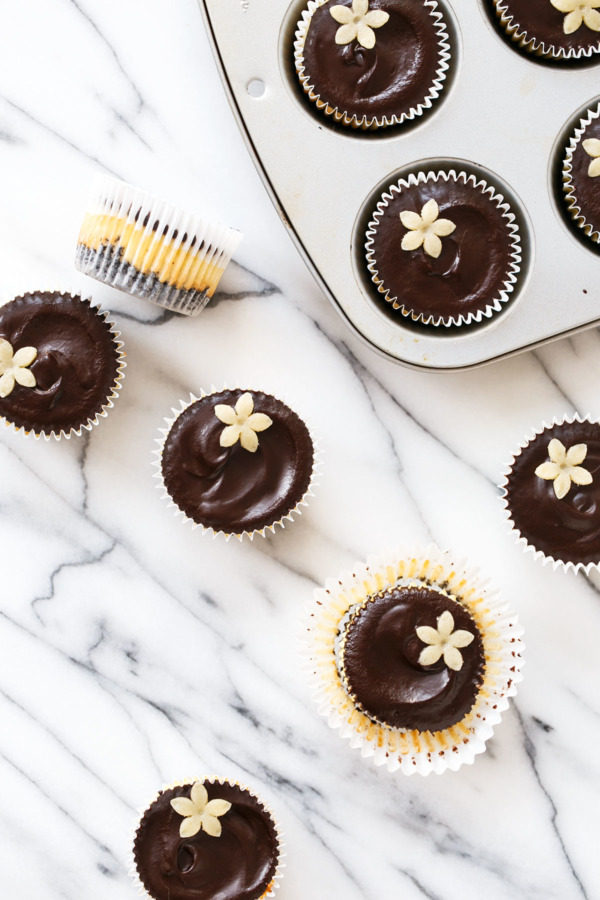 After extensive research, I have undeniable proof of the following facts (henceforth known is Lindsay's Laws of All Things Sweet):
1. Everything is better in miniature.
2. Everything is better with marzipan.
3. When in doubt, top it with chocolate.
These guiding principles led me to these: Marzipan Mini Cheesecakes. The batter is infused with a generous chunk of high quality, European marzipan (the good stuff), but you can use almond paste as well. Stay away from the dry, crumbly stuff that calls itself marzipan (imposter!) It's more sugar than almond and won't do much for the flavor of these cheesecakes.
I topped each cheesecake with a marzipan flower for good measure.
How precious.
Now, should you disagree with me about baking principle #1 (everything is better in miniature), you could make this recipe as-is in a 7-inch springform pan. Or double it for a 9-inch pan. Just monitor your baking time, which will be more like 45 minutes to an hour instead of the 20 minutes needed for the minis.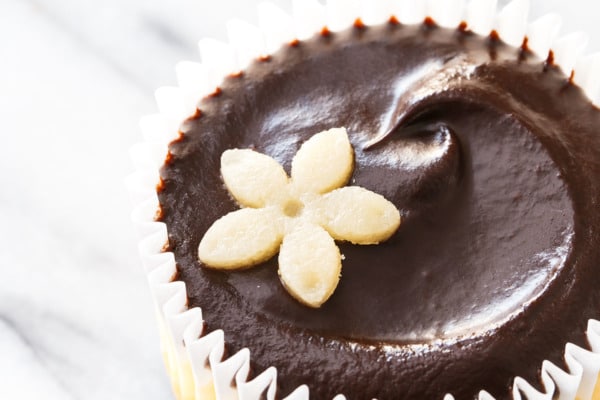 Marzipan Mini Cheesecakes
Small on size, big on flavor: these individual-sized mini marzipan cheesecakes are baked in muffin cups and topped with a rich chocolate ganache.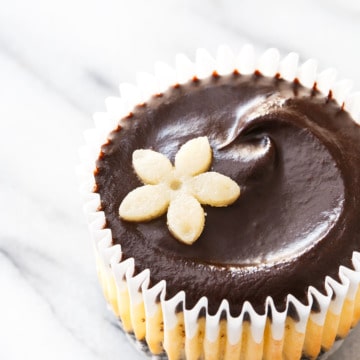 Ingredients:
For Crust:
1 cup chocolate wafer cookie crumbs (5 ounces or about 18 cookies)
2 tablespoons almond meal or finely ground almonds
3 tablespoons unsalted butter, melted
For Filling:
4 ounces marzipan or almond paste
1/2 cup granulated sugar
12 ounces (1 1/2 blocks) regular cream cheese, room temperature
2 large eggs
pinch salt
1/2 teaspoon vanilla extract
1/4 teaspoon almond extract
For Glaze:
6 ounces dark chocolate, finely chopped
1/2 cup heavy cream
Directions:
Preheat oven to 350 degrees F. Line a muffin tin with paper liners.
Mix together cookie crumbs, almond meal, and melted butter until evenly moistened. Spoon 1 tablespoon of crumb mixture into each cup, then press firmly using the bottom of a small glass (such as a shot glass). Set aside.
Combine marzipan and sugar in the bowl of a food processor; pulse until combined and evenly broken up. Add cream cheese and pulse until smooth. Add eggs, one at a time, followed by salt, vanilla, and almond extract, pulsing and scraping down the sides of the container as needed to ensure even mixing.
Divide filling mixture among muffin cups, filling them each about 3/4 full. Bake for 18 to 22 minutes or until tops are beginning to crack and centers are just set. Remove from oven and let cool to room temperature, then refrigerate for at least 2 hours or overnight.
To prepare the glaze, place chopped chocolate in a heat-proof bowl. Heat cream in a small saucepan until it just begins to steam; pour over chopped chocolate and let stir for 30 seconds, then whisk until smooth. Spoon on top of chilled cheesecakes, filling the remaining empty space in the cupcake wrapper with glaze. Refrigerate for another 30 minutes or until set. Serve cold or at room temperature. Cheesecakes can also be frozen and enjoyed for up to 2 months.
Did you make this recipe?
Let us know what you think!
Leave a Comment below or share a photo and tag me on Instagram with the hashtag #loveandoliveoil.