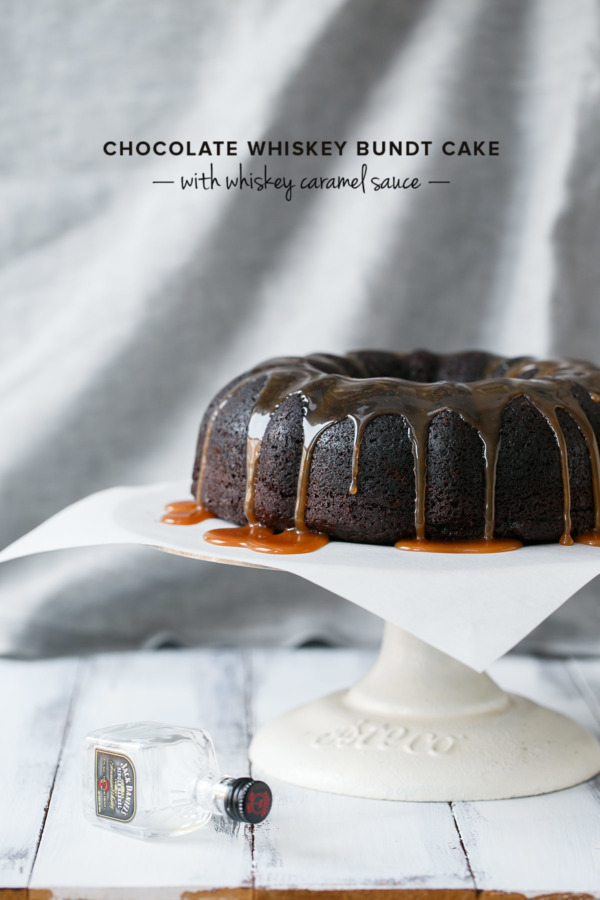 Last week was Taylor's birthday. I had the day all planned out, an afternoon screening of Anchorman 2 and a nice dinner afterwords, but considering we are together all day every day, finding time to bake a birthday cake without him knowing is no easy task.
Luckily, I had a two hour block of time earlier in the day, while he was out running errands and getting his hair cut, in which to prepare his cake. So as soon as he walked out the door, I got to work. I had a brilliant idea for a cake recipe, and just enough time to execute it.
As I balanced on a kitchen stool perusing our liquor stash, the whiskey I had planned to use in this recipe was long gone, but luckily Taylor is not one to be out of whiskey (ever), so I had other options. There was a nice bottle of bourbon, but I wanted a more robust whiskey flavor for this cake. I cracked open a small bottle of Jack Daniels Single Barrel whiskey, inhaled the sweet vanilla aroma, and decided it would be perfect. I knew it was the good stuff, more expensive than I'd usually use in baking, but I figured I'd just buy him another bottle and he'd forgive me (especially once he tasted the cake). So I dumped the entire thing into the bowl and kept on baking.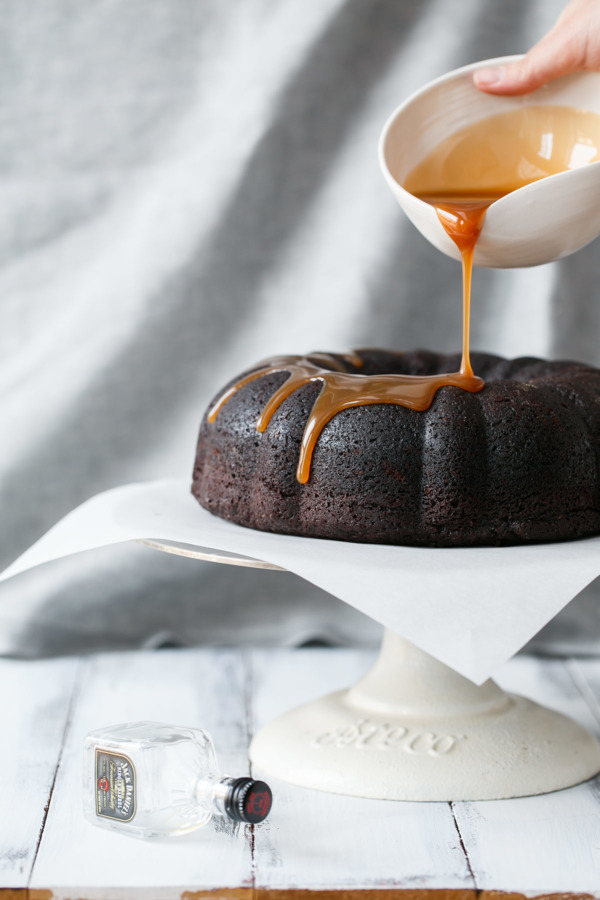 Fast forward two hours later. Taylor walks in the door and promptly declares that "it smells like cake in here." Well, duh, what'd you expect me to do while you were gone? Work? I showed him the chocolate cake on the cooling rack, and the seemingly innocent caramel sauce that was cooling in the fridge.
Then I braced myself to tell him the news. "Don't be mad," I said, "but I used your Single Barrel. I'll buy you another, I promise!"
He looked at the empty bottle, and then at me, and then chuckled and proceeded to tell me how he had been saving that bottle from our wedding.
FROM OUR WEDDING.
It was a 'day of' gift from his step father, a joke mostly to help calm his nerves. But instead of drinking it he had set it aside, and was planning to open it down the road on our 10th anniversary or some other momentous occasion.
I stood with my mouth agape, stunned, first of all that he'd kept this little bottle for 4 1/2 years, but also kind of pissed that he had left it in plain sight. If it was so special wouldn't you stash it upstairs or somewhere where your lovely, well-intentioned wife wouldn't accidentally use it in a cake? I mean, really husband. What'd you expect?
Still, the thought was sweet. And I couldn't help but smile.
And luckily, this cake was so freaking amazing that he promptly forgave me for any and all wrongdoings.
In fact, he enthusiastically (with his mouth full) declared it the best birthday cake he had ever had.
Which is some feat, considering every year, when I ask Taylor what he wants for his birthday cake, he requests a chocolate cake.
"But what kind of chocolate cake?" I ask.
"Just chocolate. Plain chocolate. Don't do anything weird to it." He replies.
But I'm a food blogger. Doesn't he realize that? Weird is what I do.
I sigh, and begin to brainstorm how I can make something more interesting than just a chocolate cake that he won't see as "weird". I've realized that booze is usually an acceptable addition, and decided to run with that idea this year and make him a cake that combined his 'plain chocolate' with another favorite of his, whiskey. And not just a little whiskey, either. Enough whiskey that you might think twice about driving afterwords (ok, not really, but I wanted to be able to taste the booze in the final cake).
After one bite of his "Single Barrel Bundt" he looked up and told me that THIS was what he meant by chocolate cake. Moist, flavorful, deeply chocolate, and not weighed down by a sugary frosting that he'd have to scrape off anyway. The caramel, in all its boozy glory, took the cake over the top.
I kind of want to put that caramel on everything now.
The cake itself is a very similar base to the Red Wine Chocolate Cake I made for his birthday two years ago. It's still one of my favorite chocolate cake recipes, and the liquid can easily be replaced with water or coffee or beer or, as I now know, whiskey. And the yield is just as perfect for a 12-cup bundt pan as it is an 8-inch layer cake. The oil-based cake is tender and flavorful on its own, but with the whiskey caramel drizzled on top, well, like Taylor said, it's pretty much the best birthday cake ever.
I have a feeling I'll be making this one on an annual basis, as I highly doubt I'll be able to do anything to top it.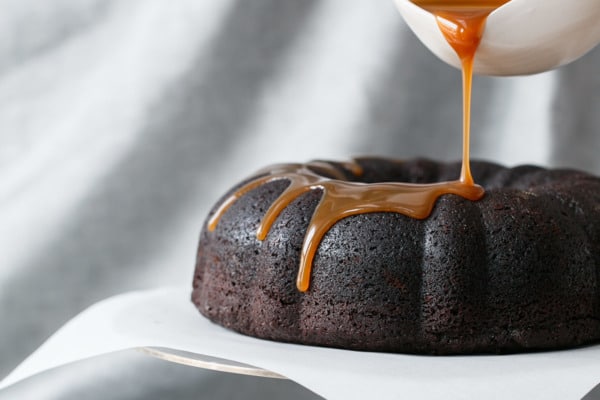 Chocolate Whiskey Bundt Cake with Whiskey Caramel Sauce
One of our favorite cake recipes of all time, this rich and moist chocolate bundt cake recipe is infused with plenty of whiskey, and topped with a homemade whiskey caramel sauce for even more boozy goodness.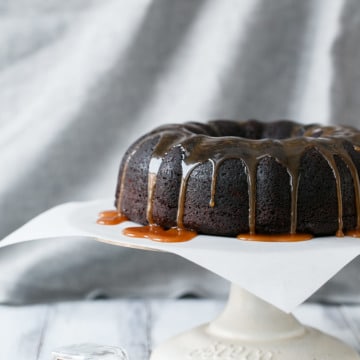 Ingredients:
For Cake:
2 cups granulated sugar
2 cups all-purpose flour
3/4 cup dark or dutch-processed cocoa powder, sifted
2 teaspoons baking soda
1 teaspoon baking powder
1 teaspoon kosher salt
1 cup whole buttermilk
2 large eggs
1/2 cup vegetable oil
2 teaspoons vanilla
3/4 cup warm water
1/4 cup decent quality Tennessee whiskey or bourbon
For Caramel:
1 cup granulated sugar
pinch cream of tartar
1/4 cup water
2/3 cup heavy cream
1 tablespoon unsalted butter
1 1/2 tablespoons whiskey or bourbon
Directions:
Preheat oven to 350ºF. Generously butter a standard (12-cup) bundt pan. Dust with 1 tablespoon each flour and cocoa powder, and tap and turn until pan is completely coated. Dump out excess.
In a large mixing bowl, combine the sugar, flour, cocoa, baking soda, baking powder, and salt, whisking until thoroughly combined. Add eggs, buttermilk, oil, and vanilla and mix with an electric mixer on medium-low speed until dry ingredients are almost incorporated, scraping down the sides of the bowl as needed. Add warm water and whiskey and mix until just combined and no dry ingredients remain (do not overmix). Pour into prepared pan.
Bake for 50 to 55 minutes or until a toothpick inserted in the deepest part of the pan comes out clean. Remove from oven and place on a wire rack until cool enough to handle, then gently invert onto a wire rack. Allow to cool completely.
To prepare caramel, place sugar and cream of tartar in a medium, high-sided saucepan set over medium-high heat. Pour water around edges. Bring to a boil, then cover and cook for 2 minutes (the steam buildup will help dissolve any stray sugar crystals on the sides). Remove cover and continue to boil, without stirring, until sugar caramelizes to a light amber color, about 5 to 7 minutes. Watch it carefully, as it can go from golden brown to burnt in no time if left unattended.
Remove from heat and quickly whisk in cream and butter (mixture will bubble vigorously), then return to low heat and whisk until completely smooth. It may seem like it is seizing, but keep whisking and all the hard caramel chunks should dissolve. Remove from heat and let cool for about 2 minutes, then stir in whiskey. Transfer to a heat-proof container and let cool to room temperature, about 1 hour, or until thickened yet still pourable.
Pour about half of the caramel over the top of cake, letting it drip down the edges and pool at the base. Slice and serve and drizzle with additional caramel as desired. Cake will keep, stored in an airtight container, for up to 5 days.
Did you make this recipe?
Let us know what you think!
Leave a Comment below or share a photo and tag me on Instagram with the hashtag #loveandoliveoil.