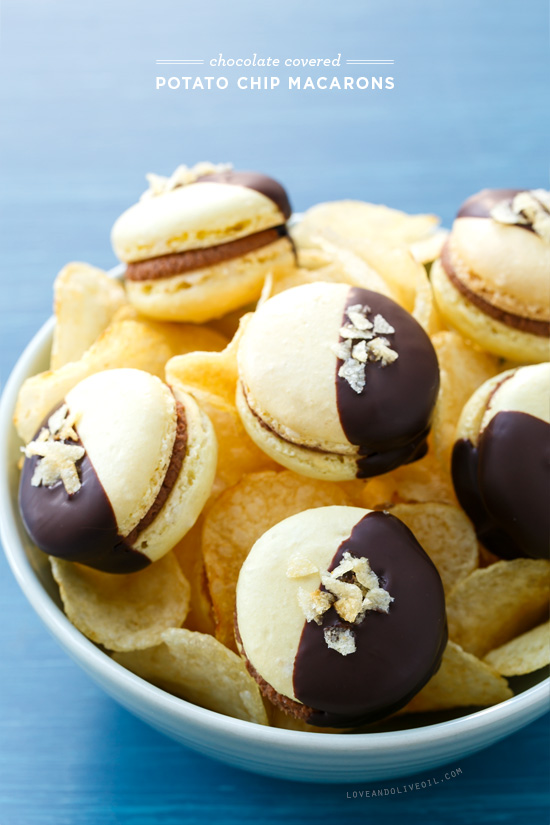 I was convinced these would fail.
It was a wild idea – mixing actual crushed up potato chips into an already finicky macaron batter. I envisioned melting puddles and greasy shells and Lindsay sobbing in the corner and Taylor washing mounds of dishes and wondering why on earth I'd try such an absurd thing.
But you know what?
They worked. Beautifully in fact. On the first try.
(I'm sure Taylor is relieved).
And because chocolate covered potato chips are a thing (a wonderful, addictive, evil thing) I decided that my potato chip macarons would be chocolate covered too. With a whipped milk chocolate ganache filling. And more crumbled potato chips on top.
My work here is done.
I should just stop now. Throw in the towel, give up, because I'm not sure if I'll ever be able to top these. Although, my mind has already begun the what-else-can-I-crush-and-put-into-macarons slippery slope of obsession. So I know I won't be able to stop. Won't be able to keep these wild ideas from invading my mind, forcing me to try them no matter how absurd or how ripe for failure they may be.
I'll keep putting myself in sticky situations if means that something like THIS comes out of it every once in a while.
Now, if you'll excuse me, I just so happen to be craving cookies, chocolate, and potato chips right now. And lucky for me there are still a few of these babies left. The ultimate junk food satisfaction, wrapped up in one sweet sandwich cookie.
Chocolate Covered Potato Chip Macarons with Whipped Milk Chocolate Ganache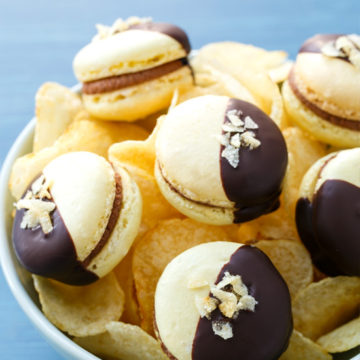 Ingredients:
For Macarons:
85 grams almond flour or finely ground almonds
150 grams powdered sugar
20 grams potato chips
90 grams egg whites (from about 3 large eggs), room temperature
50 grams superfine or granulated sugar
3 drops yellow gel food coloring (optional)
For Whipped Milk Chocolate Ganache:
4 ounces milk chocolate, very finely chopped
1/2 cup heavy cream
For Dipping (optional):
4 ounces chocolate candy coating
crushed potato chips, for garnish
Directions:
In a food processor, combine almond flour and powdered sugar; pulse for 20 to 30 seconds until evenly distributed. Sift at least once through a fine mesh sieve, discarding any larger particles. Pulse potato chips until finely ground. Depending on how fine your food processor goes you may need to crush them further if you want a smoother textured cookie, or accept the rough texture with larger pieces. Stir into almond flour.
Place egg whites in a clean metal mixing bowl or the bowl of a stand mixer. Mix on medium speed until frothy, then slowly add superfine sugar, a little bit at a time with the mixer on medium speed, scraping down the side of the bowl periodically. When all the sugar has been added, increase speed to medium high and whip until meringue is firm and glossy and forms medium-stiff peaks.
Pour half of the almond flour mixture into the meringue and stir, folding and scraping a few times until no dry flour remains. Add food coloring (if desired) and the remaining flour and mix, folding and spreading the batter against the sides of the bowl about 15 to 20 times or just until the meringue and flour are incorporated and the batter falls off the spatula in thick ribbons. Do not overmix.
Transfer the batter to a large piping bag fitted with a 1/2-inch-round tip, twisting the end of the bag to prevent the batter from leaking. Pipe small circles onto a parchment or silicone-mat-lined baking sheet, leaving about 1-inch of space between them.
Rap the baking sheet firmly on the counter, then smack the bottom of the baking sheet multiple times with your hand to remove any remaining air bubbles. If any pointy 'tips' still remain, you can gently press them down with a lightly moistened fingertip. Set aside to dry for about 15 minutes.
Preheat oven to 350 degrees F. When macarons are dry (you should be able to just barely touch the surface of the cookies with a dry finger without them sticking), stack the baking sheet on top of another empty baking sheet (this will help them bake more evenly). Bake for about 15 minutes minutes, keeping an eye on them to make sure they do not brown. Remove from oven and let cool completely on a wire rack, then remove from baking sheets.
For ganache filling, place chocolate in a heat-proof bowl and set aside. Heat cream in a small saucepan over medium heat until it starts to steam. Remove from heat and pour over chopped chocolate; let sit for 30 seconds, then whisk until chocolate is melted and smooth.
Let cool to room temperature, stirring occasionally, then refrigerate until slightly thickened, about 30 minutes. If it is thick enough to be pipeable you can use it as is, or beat with an electric mixer on medium high speed for about 1 minute or until thick like buttercream.
Transfer ganache to a piping bag fitted with a round tip. Pipe dollops of ganache onto half of cookies, then top with remaining cookies and press to adhere.
To dip, gently melt candy coating in the microwave (according to package directions) or in a double boiler set over a pot of gently simmering water. With candy coating, as with chocolate, you don't want to overheat it or it will thicken and seize. Once melted and smooth, dip macarons as desired. Arrange on a parchment-lined baking sheet. While coating is still wet, sprinkle with a pinch of crumbled potato chips. Coating should harden in a matter of minutes, or you can refrigerate the cookies briefly to expedite the process.
Macarons will keep in an airtight container for up to a 3 days. The unfilled/undipped shells can also be frozen for up to 1 month.
Did you make this recipe?
Let us know what you think!
Leave a Comment below or share a photo and tag me on Instagram with the hashtag #loveandoliveoil.