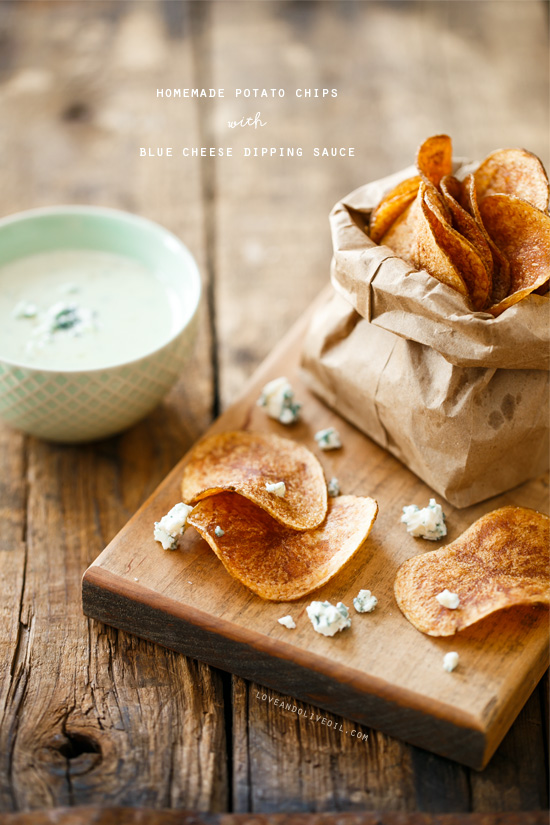 It's surprising, really, that I've never made homemade potato chips before. Sure, I've tried lame baked ones (spoiler alert: they are not the same) but never truly fried potato chips at home before now. Perhaps the hassle of heating (practically) an entire bottle of oil to skin-searing temperatures and stinking up the entire house with the smell of greasy carnival fare has deterred me in the past. Shocking, really, almost as shocking as the fact that it is already May. Wait, what? What happened to March and April?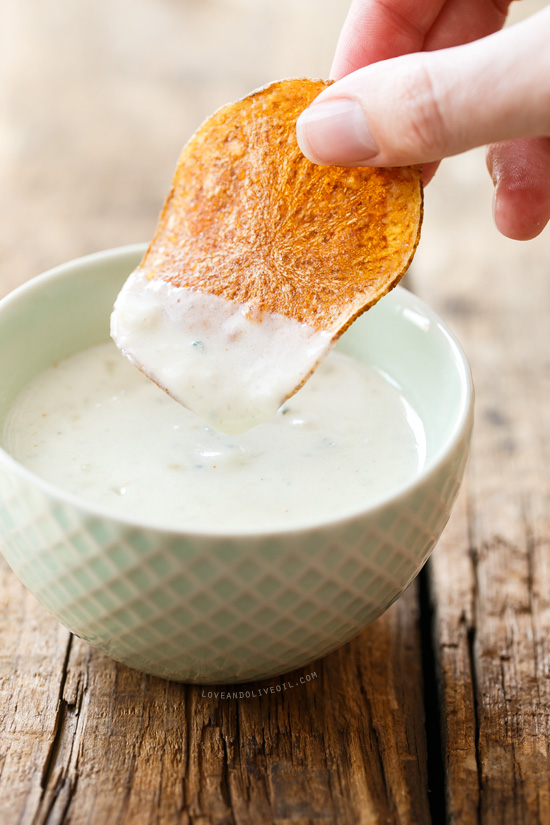 Maybe it was the blue cheese dipping sauce that got me to set aside my deep-fried reservations this time, but I had no qualms about frying up this batch of crispy potato chips. Do beware, two potatoes may not seem like much, but when they've been sliced paper thin and you're standing in front of a pot of hot oil frying batches of 6 or 7 chips at a time, it'll feel like you're frying the entire state of Idaho. But stick with it, as what seems like a ton of chips now will disappear in a blink of an eye and a smack of the lips.
You want to slice the potatoes as thin as possible, which is very hard to do even with the most ninja-like knife skills. A mandoline is a necessity if you want to make chips of any kind. Once sliced, soak the potatoes in ice water to remove excess starch (it'll result in crispier chips), and then dry completely between layers of paper towels. If you rush this and don't let your potatoes dry completely they will spit at you like an angry llama. An angry, oil-spitting llama.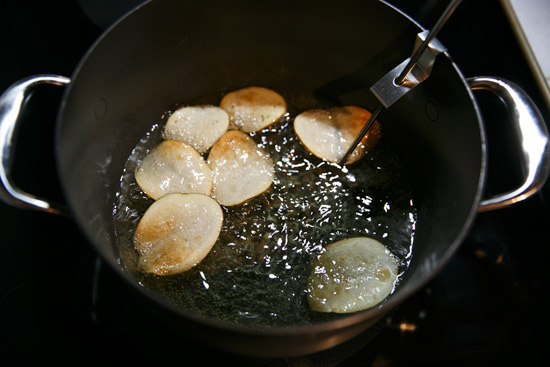 The chips you see above are not quite done, they need probably 35 more seconds. Fry them until the entire chip is golden brown, and then transfer to paper towels. But be sure to watch them closely, as the difference between perfectly golden and burnt to a crisp is separated by a matter of seconds. This is not the time to wander off to water the cats or feed the plants… stay focused on the task at hand and your chips will come out perfectly.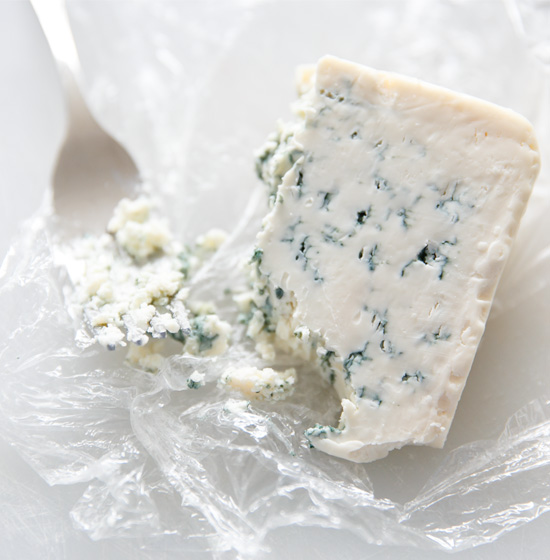 The blue cheese sauce is thinner than say, a sour cream dip. It's more like a blue cheese fondue. Use a nice, creamy blue cheese (Gorgonzola, Roquefort, or just generic blue), the potency of the final sauce dependent on the cheese you use. Some older blue cheeses are stubborn and reluctant to melt; if that's the case, just whir the whole mixture in a blender or food processor for a few seconds to emulsify any remaining chunks.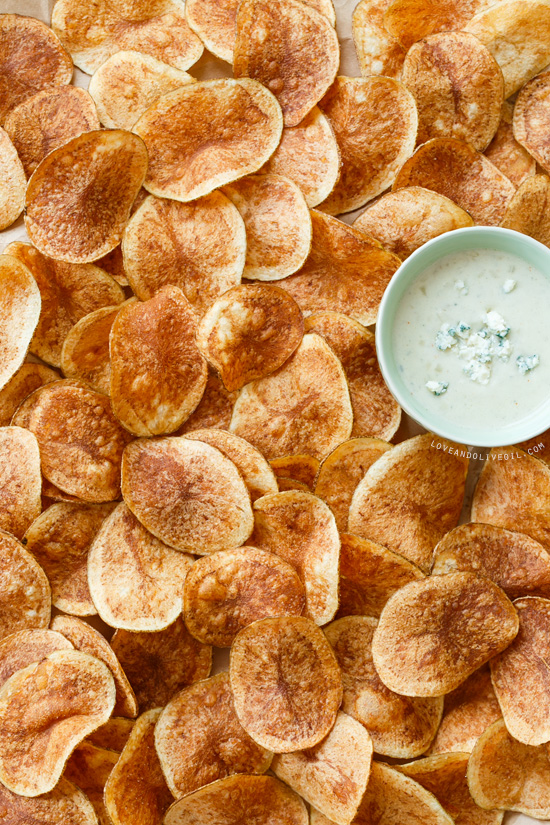 So no, I probably won't be frying potato chips on a regular basis (for the reasons mentioned above, stinky carnival and yada yada), but this one time I sure did enjoy the results. The thick and salty, melt in your mouth crunch of just-fried potato chips really can't be beat by anything in a bag.
Potato Chips with Blue Cheese Dipping Sauce
Ingredients:
For Chips:
2 medium russet potatoes
Sunflower or vegetable oil, for frying
Fine sea salt
For Dipping Sauce:
1 tablespoons unsalted butter
1 small onion, finely chopped (about 1/2 cup)
2 tablespoons all-purpose flour
1 cup whole milk
4 ounces blue cheese, crumbled (about 1 cup crumbled)
1/8 teaspoon cayenne pepper
Directions:
Using a mandoline slicer set to the thinnest setting, sliced unpeeled potatoes. Place potato slices in a bowl of ice water to soak for 15 to 20 minutes, then drain and arrange in a single layer between sheets of paper towels or clean tea towels to dry completely.
Fill a large, heavy saucepan with 2 to 3 inches of oil. Set over medium heat and monitor until it reaches 350 degrees F. Carefully drop in a few potato slices at a time, taking care not to overcrowd the pan. Fry for about 2 minutes, flipping once or twice, until chips are evenly golden in color. Transfer to a paper-towel lined baking tray to cool; sprinkle liberally with fine sea salt. Let oil come back to temperature before repeating with another batch of potato slices.
To prepare sauce, melt the butter in a saucepan over medium heat. Add the onion and cook until softened, about 7 minutes. Whisk in the flour and cook for 1 minute. Slowly whisk in the milk. Continue to cook, whisking regularly, until thickened, about 5 minutes. Remove from head and whisk in blue cheese until melted. Season to taste with cayenne and salt. Serve warm.
Did you make this recipe?
Let us know what you think!
Leave a Comment below or share a photo and tag me on Instagram with the hashtag #loveandoliveoil.