Hello there, my new favorite taco. Also known as vegetarian fish tacos, if you'd rather. The crispy, white fleshed-cauliflower is a perfect replacement for the fish, when you can't find fresh fish or don't want to stink up your apartment or just don't feel like seafood. Cauliflower takes surprisingly well to the same toppings that you'd normally find on a fish taco, namely, bright and tangy mango salsa, freshly shredded red cabbage, creamy avocado, and a drizzle of Mexican crema (or, if you can't find crema, simply whisk a few tablespoons of milk into regular sour cream to thin it out. Think drizzle, not dollop).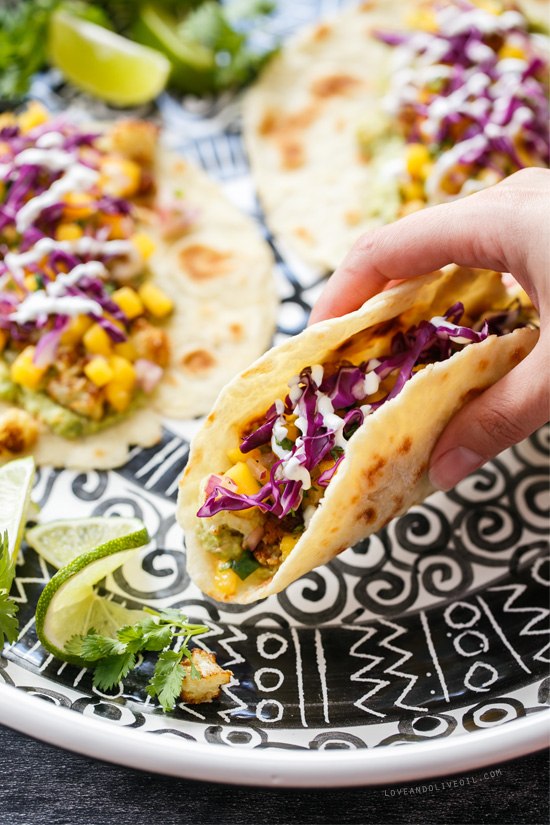 We made these a few times until we settled on the final method. We tried baked and fried and buttered and oiled, but ultimately found that a quick pan-fry in some olive oil gave the nicest flavor and crunch to the cauliflower. Still, a handful of panko breadcrumbs thrown in for good measure doens't hurt. It's the perfect amount of savory crunch for a taco (because, let's face it, a taco without some crunch is like an ice cream sundae without sprinkles, just not as exciting). You won't even notice the lack of fish.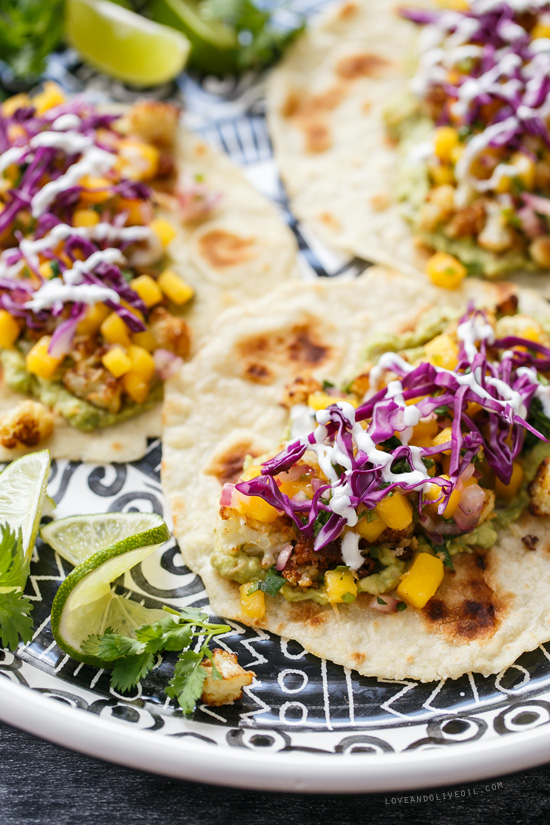 But, I'll admit, what took these tacos over the top was the homemade tortillas. We've started making our own recently, both corn and flour, and it's amazing how much flavor a good tortilla brings to the final dish versus what you can buy in the store. I'll be posting the recipe for homemade flour tortillas soon, and believe me, it's worth the (minimal) extra effort!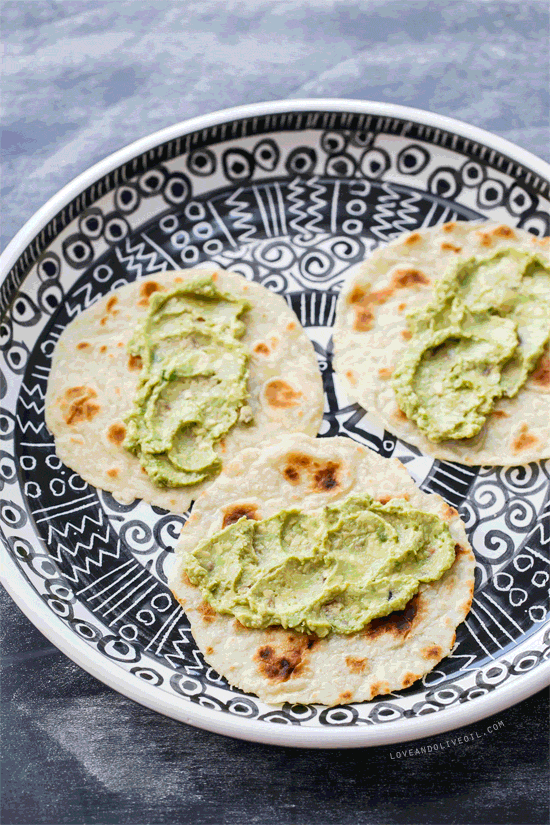 Crispy Cauliflower Tacos with Mango Salsa
Ingredients:
For Mango Salsa:
1 large mango, peeled, cored, and chopped into 1/2-inch cubes
1/2 small red onion, finely diced (about 1/4 cup diced)
1 jalapeño pepper, seeded and finely diced
2 garlic cloves, minced
1/2 tablespoon lime juice (from 1/2 lime)
1/2 cup packed fresh cilantro, coarsely chopped
salt and pepper, to taste
For Crispy Cauliflower:
1/3 cup olive oil, divided
1 head cauliflower, cut into small florets (about 6 cups)
6 tablespoons panko breadcrumbs, divided
salt and pepper, to taste
For Tacos:
8-10 small flour tortillas (homemade if possible)
1 avocado, pitted
1/2 tablespoon lime juice
1 cup finely shredded red cabbage (from about 1/4 medium head)
1/2 cup mexican crema (or 1/2 cup sour cream mixed with 2 tablespoons milk)
Directions:
To prepare salsa, combine mango, red onion, jalapeño, garlic in a medium bowl. Toss with lime juice and fold in cilantro. Season to taste with salt and pepper and set aside.
For cauliflower, heat half of olive oil in a large skillet over medium-high heat. Add half of cauliflower, stirring occasionally, until golden brown, about 7 minutes. Toss with half of panko and continue to cook until breadcrumbs are golden brown, about 3 minutes more. Season to taste with salt and pepper. Transfer cauliflower to a bowl or platter to keep warm, and repeat with second half of cauliflower (cooking the cauliflower in two batches allows the cauliflower to get more brown and crispy).
To assemble tacos, coarsely mash avocado with a generous splash of lime juice. Spread a dollop of mashed avocado down the center of each tortilla. Top with a 1/4 cup of crispy cauliflower, a spoonful of mango salsa, a handful of shredded cabbage, and a drizzle of sour cream sauce. Serve warm.
Did you make this recipe?
Let us know what you think!
Leave a Comment below or share a photo and tag me on Instagram with the hashtag #loveandoliveoil.