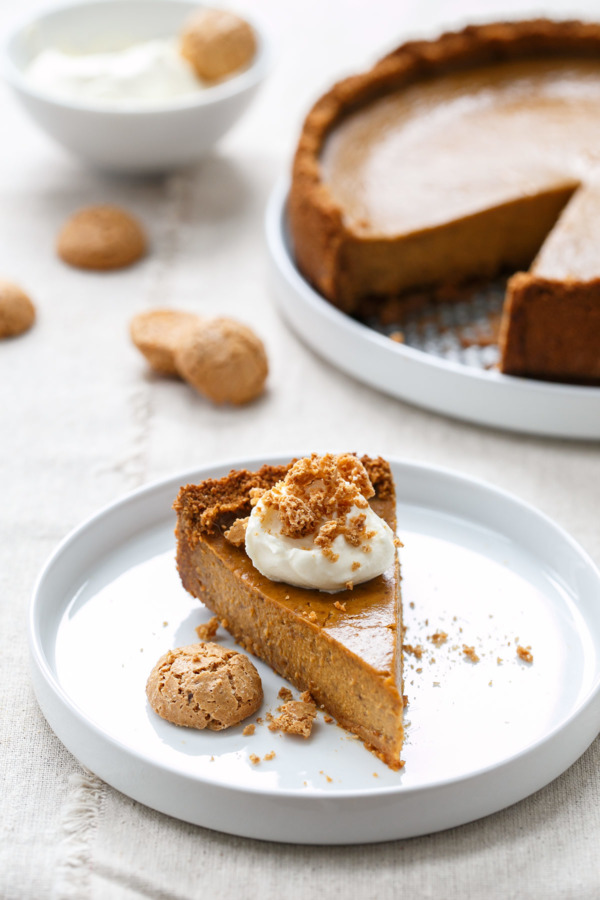 This is one of those, "why has no one has ever thought of this before?" moments. You'd think replacing graham crackers in typical a pumpkin pie crust with amaretti cookies would be common practice. I mean seriously, why isn't this a thing?
Well, it is now.
This unique combo was inspired by one of Jeni's seasonal ice cream flavors. One bite of her Butternut Pumpkin with Amaretti Cookies (a brilliant combination, I might add) and I knew I had this year's pumpkin pie in the bag.
Sure, it took me a few tries to get it right (turns out amaretti cookies cannot be substituted directly for graham crackers) but the result is one damn fine pie. Not to be confused with plain ass pie (Taylor's typical request). I have, however, finally figured out a way around his requests for plain pumpkin pie every Thanksgiving: just make two pans of pumpkin bars and three pumpkin pies in the weeks leading up to Thanksgiving. By the time the actual day arrives he'll be so tired of pumpkin pie he'll let you make WHATEVER you what.
My brain gears are working overtime trying to think of what unusual pie I'm going to make for dessert on Thursday. Suggestions welcome, what non-traditional pie do you like to serve on Thanksgiving?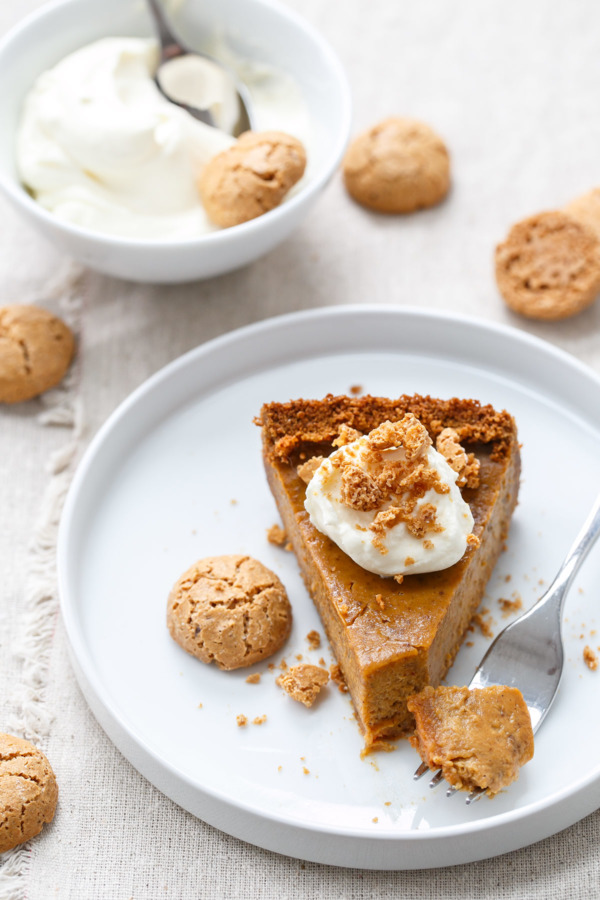 If you've never had an amaretti cookie before, it's a light and crispy cookie with a punch of almond flavor. If you love marzipan, you'll love these cookies. I got mine locally at Lazzroli, but you can easily find them online, or even make your own. Just be sure they are the crispy kind, as there are also soft amaretti cookies (amaretti morbidi) that, while delicious, are not very suitable for crispy pie crusts. The only downside is their cost, especially when compared to graham crackers: one bag costing upwards of anywhere from $5 to $8 depending on where you buy them. The extra cost is worth it though, there's just no comparison.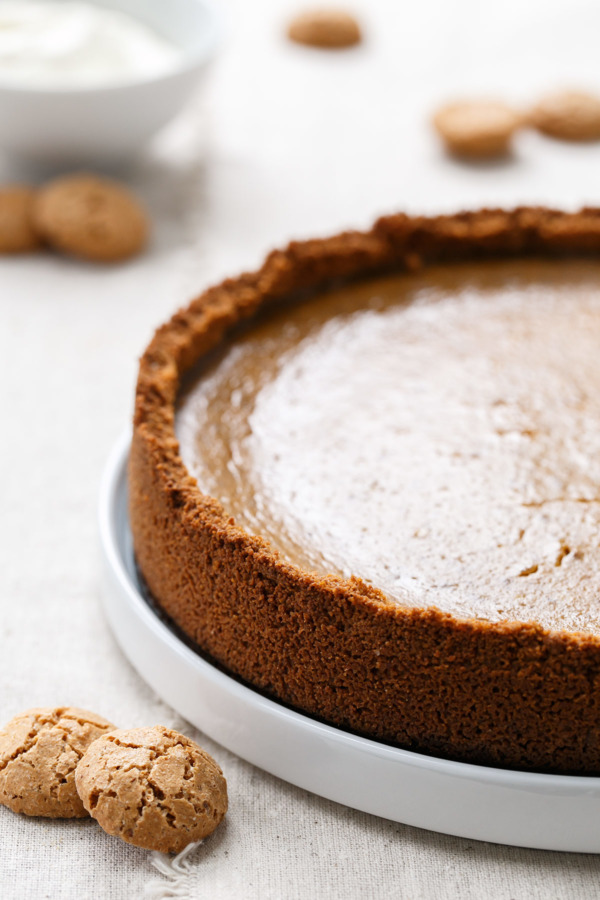 The pie itself is a pretty classic custard, with a splash of almond extract to tie in the flavor of the crust. Almonds and amaretti cookies in the crust, almond extract in the filling… and might I recommend spiking your homemade whipped cream with a little amaretto?
I die.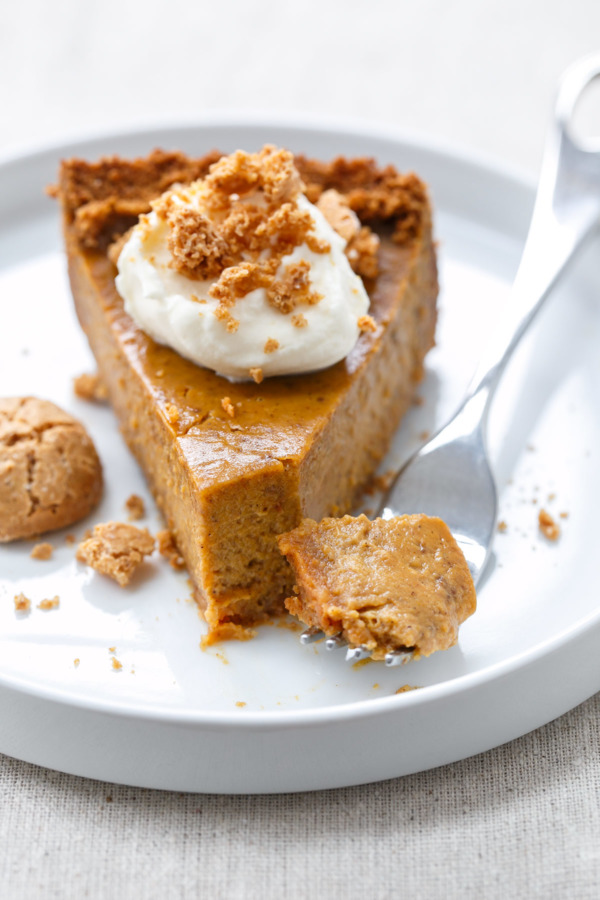 Unlike plain ass pumpkin pies, I baked this one in a cheesecake pan to accommodate more filling. Deep-dish pumpkin pie, if you will. Sure, you can bake it in a normal pie pan if that's all you have, but you're going to waste quite a bit of that wonderful filling as a result. Or if you have a mini pie pan you can bake a regular pie for all your guests and a mini one on the side just for yourself. Chef's treat. :)
I'm going to be taking a few days off this week for the holiday, and will not be posting another recipe like I normally do. However, if you're in need of some last-minute Thanksgiving inspiration, be sure to check out the Thanksgiving category: it's full of all the recipes we've made on Thanksgiving for the past 7 years. And I'll be back this weekend with a wrapup of all the things we made this year as well.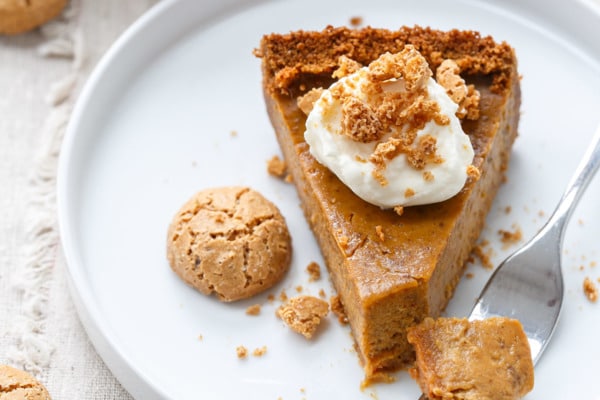 Amaretti Pumpkin Pie
The perfect pumpkin pie with a hint of almond and an amazing Amaretti cookie crust. Add a dollop of amaretto whipped cream for an extra special touch.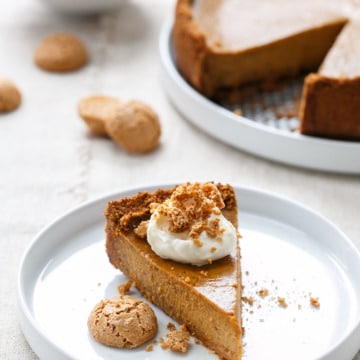 Ingredients:
For Crust:
1 7 oz. bag amaretti cookies, divided
1/4 cup sliced almonds
1/2 cup all purpose flour
2 tablespoons light brown sugar
pinch salt
6 tablespoons unsalted butter, melted
For Filling:
1 3/4 cup (1 15 oz. can) pumpkin puree (not pumpkin pie filling)
1/2 cup packed light brown sugar
1/3 cup granulated sugar
2 teaspoons of cinnamon
1 teaspoon ground ginger
1/4 teaspoon ground nutmeg
1/4 teaspoon ground cloves
1/2 teaspoon salt
2 eggs plus 1 egg yolk
1 teaspoon vanilla extract
1/2 teaspoon almond extract
1 12 oz. can of evaporated milk
1 tablespoon amaretto liqueur (optional)
fresh whipped cream spiked with amaretto (optional) and crumbled amaretti cookies, for topping
Directions:
Preheat oven to 350 degrees F.
Measure out 6 ounces of amaretti cookies (that's about 35 small cookie snaps) and place in the bowl of a food processor along with almonds. Reserve remaining cookies for later. Pulse until finely ground. Add flour, sugar, and salt and pulse until combined. Drizzle in melted butter and pulse until evenly moistened and mixture begins to clump. You should be able to press a bit of the crust mixture between your fingers and have it stick together.
Lightly butter a 9-inch-diameter cheesecake pan with removable sides. Alternatively you can use a deep-dish pie pan if you have one; a regular 9-inch pie pan is too shallow and will not hold all of the filling. Dump the crust mixutre into prepared pan and press into bottom and about 1 1/2-inches up the sides of the pan. Tip: use a flat-bottomed measuring cup or drinking glass to help press the crust into the pan.
Place pan on a baking sheet (to catch any butter that may seep out) and bake for 8 to 10 minutes or until just starting to darken. Remove from oven and let cool completely.
For filling, in a bowl whisk together pumpkin, both sugars, and spices until smooth. Whisk in eggs and egg yolks, along with vanilla and almond extracts. Add evaporated milk and stir until incorporated. Pour into cooled crust.
Gently place pie in oven (keep it on the baking sheet for easier movement) and bake for 60 to 70 minutes or until edges are set and center is just barely jiggly. Remove from oven and place pan on a wire rack; let cool to room temperature, about 2 hours. At this point you can slice and serve the pie, or lightly cover and refrigerate overnight or until ready to serve. Top with freshly whipped cream and the remaining amaretti cookies, lightly crushed and sprinkled over top.
Did you make this recipe?
Let us know what you think!
Leave a Comment below or share a photo and tag me on Instagram with the hashtag #loveandoliveoil.