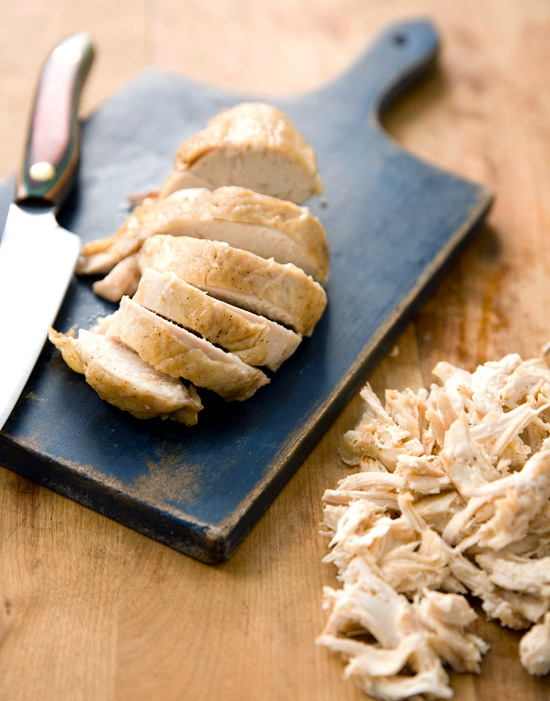 Oven roasted chicken is a staple in our kitchen. Maybe because it is so easy, or maybe because roasted chicken is basically the Swiss Army Knife of proteins. It is so juicy it can be eaten right off of the bone, shredded for use in soups, tacos, or sandwiches, or the meat can be removed from the bone in one piece and sliced into medallions. The options are endless.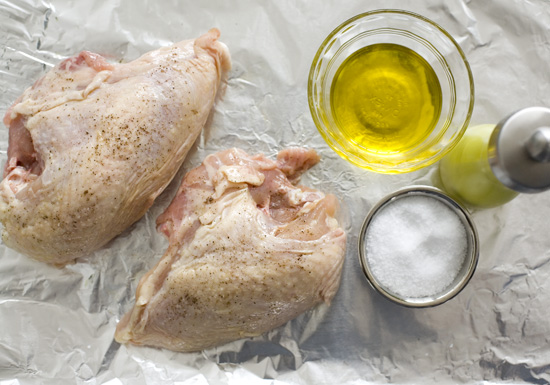 There are a few tricks Lindsay and I have discovered for the perfect oven-roasted chicken breasts. The first trick is to keep things simple. We use olive oil, salt, and pepper to season the chicken. That's it. More often than not, we are using the chicken as an ingredient in another dish (these tacos, for example) and additional seasoning at the roasting stage is unnecessary.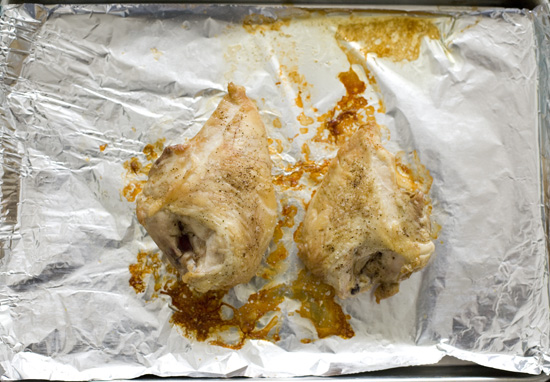 The second trick is to buy bone-in, skin-on chicken breasts. Dealing with bones might be scary if you're not used to it, but the extra effort is completely worth it (trust me). The meat turns out juicier and more flavorful than boneless. Plus, as an added bonus, bone-in, skin-on is much cheaper per pound.
Lastly, don't overcook the chicken! Our recipe is just a guideline, since meat comes in different weights and thicknesses and ovens vary wildly from kitchen to kitchen. Get a meat thermometer (if you don't have one) and use it. It will tell you whether or not the chicken is cooked through. We bake ours to 165 degrees Fahrenheit (FDA recommends 170 degrees, use your own judgement). When the chicken reaches your desired temperature, let it rest for ten minutes or so in loosely tented foil. From here it is ready to be sliced, shredded, or eaten right off of the bone with your favorite side dishes.
Oven-Roasted Chicken Breasts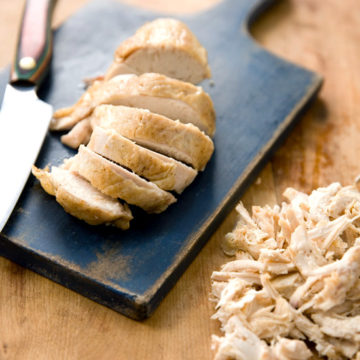 Ingredients:
2 bone-in, skin-on chicken breasts
2 teaspoons olive oil
pinch of kosher salt
fresh black pepper
Directions:
Pre-heat oven to 375 degrees F. Line a baking sheet with aluminum foil.
Rub both sides of chicken breasts with olive oil and sprinkle with salt and pepper. Place breasts skin side up on prepared baking sheet.
Bake for about 45 minutes (more or less depending on size and weight of chicken breasts) or until internal temperature reaches 165 degrees F. Remove from oven and loosely cover with foil; allow meat to rest 10 minutes before slicing or shredding.
Did you make this recipe?
Let us know what you think!
Leave a Comment below or share a photo and tag me on Instagram with the hashtag #loveandoliveoil.