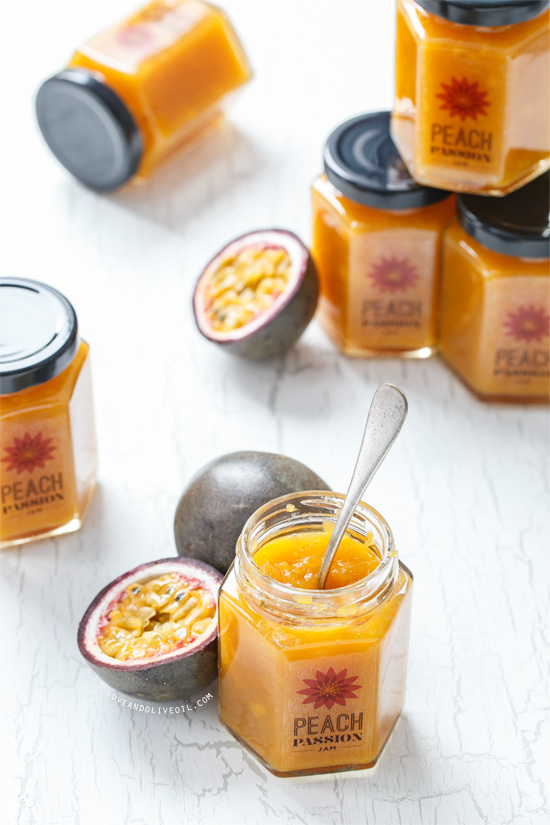 It all started with a doughnut.
A milk-chocolate and passionfruit doughnut, to be exact.
I'd had passionfruit before, but it never really crossed my mind. Maybe I knew it would be so hard to find and unconsciously avoided it.
But after one bite of that doughnut, I was madly, obsessively, in love.
The infatuation held steady at a tolerable level of interest. It crossed my mind, I would casually look around in the frozen fruit and Latino foods aisles in the grocery stores, hoping I might get lucky and find some passionfruit puree or nectar. I saw plenty of mango and guava and even some dragonfruit, but never any passionfruit.
But as the months went on and I had yet to find any, the obsession grew to, well, full on stalker status. It didn't help that the passionfruit seemed to be the new 'it' fruit, making its way into macarons and cocktails and sorbet. Whenever I saw passionfruit anything, I got it. And my obsession grew.
Finally it got to be unbearable. Poor little me in this passionfruit-dessert that is Nashville. So I went to my trusted source for hard-to-find food stuffs, and sure enough, he was able to procure me one container of precious frozen passionfruit concentrate.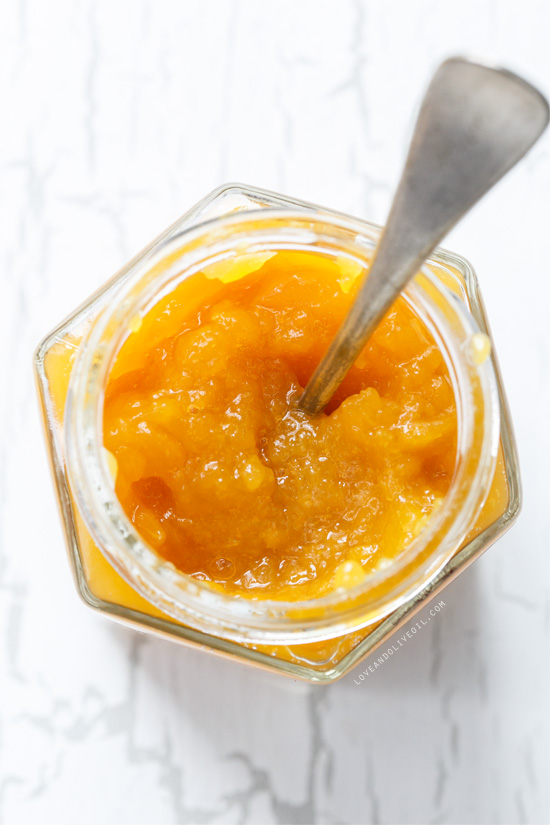 With my tub of passionfruit safely in the freezer, I could finally start to play with the ingredient that had haunted me for so long.
I also happened to have one bag of peaches leftover from our picking surplus, and decided that peach and passionfruit, despite their vastly different origins, would make a perfect combination.
This jam.
Let me tell you, it's like a peach took a vacation to a tropical island.
It's bright and fruity and peachy, but so peachy that it's surprising. Like my blueberry peach jam, I still wanted it to be first and foremost a peach jam, with just enough passionfruit to make you take notice (that and I also didn't want to use my whole stash of passionfruit on one recipe… call me stingy, but whatever).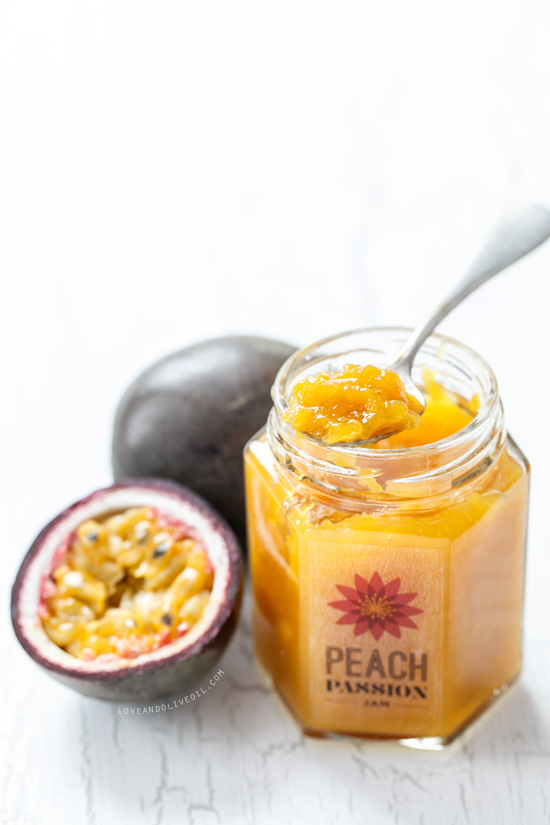 Of course, as soon as I made the jam with my concentrate, I actually saw, for the first time EVER, fresh passionfruit at Whole Foods. I cringed a little bit at the $3.99 a PIECE price tag, but splurged on two or the deep purple orbs for these photos. If you can find fresh passionfruit, great (color me jealous), although you'll want to strain out those pesky seeds first (have fun with that).
Otherwise, go out of your way to find yourself some passionfruit. I ended up with a large tub of passionfruit concentrate from Perfect Puree. You can buy it online, but brace yourself for the shipping charges. Or, if you have a friend in the food industry like I do, they might be able to order some for you.
I've also heard that you can find frozen puree in Mexican grocers or sometimes the frozen foods aisle of major grocery stores. I never found it, but lucky you if you do.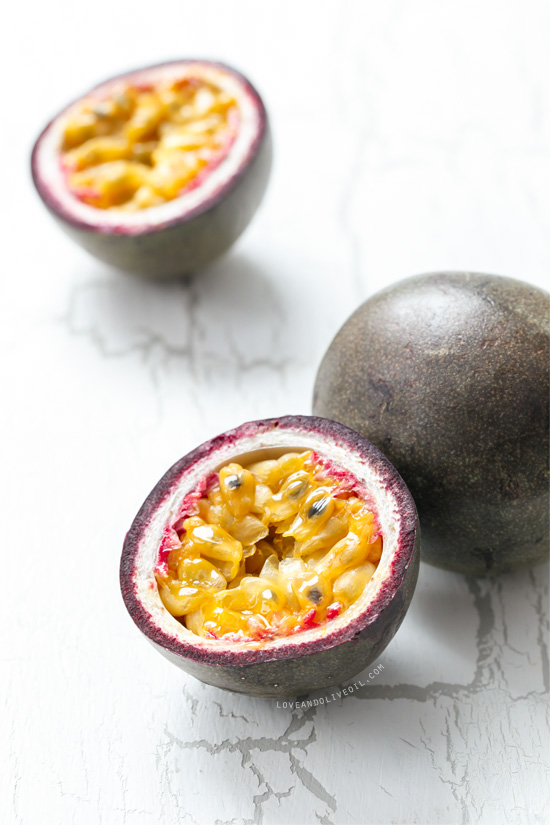 This might just be one of my favorite jams yet.
Peach Passion Jam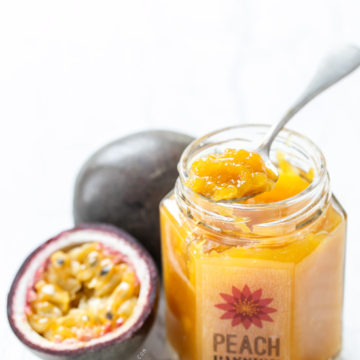 Ingredients:
2 1/2 pounds (8-10 medium) peaches, peeled and pitted
1/2 cup passionfruit concentrate or purée
2 tablespoons lemon juice
2 tablespoons lime juice
1 1/2 cups granulated sugar
3 teaspoons Pomona's Universal Pectin
4 teaspoons calcium water (included with the pectin)
Directions:
Prepare canner and wash/sterilize 5 half-pint mason (or equivalent) jars. Keep jars in hot (not boiling) water until ready to use. Warm lids in hot (not boiling) water to sterilize and soften seal.
In a food processor, pulse peaches until coarsely chopped; do not liquefy as you still want chunks of fruit in your final jam. You should have approximately 4 cups of chopped fruit.
Pour fruit into a large, heavy saucepan along with passionfruit concentrate, lemon juice, lime juice, and calcium water. Bring to a full rolling boil, stirring occasionally.
Whisk together pectin and sugar until evenly incorporated. Whisk in to fruit, stirring vigorously until completely dissolved. Continue to stir until mixture returns to a full rolling boil. Remove from heat and let sit for 5 minutes, skimming off any foam that may have formed.
Ladle jam into jars, leaving 1/4-inch of headspace. Wipe jar rims and threads. Screw on lids and rings. Process in a boiling water bath for 10 minutes. Remove from water and let cool completely, 12 to 24 hours. Check seals. Any unsealed jars should be refrigerated and used within 3 weeks.
Did you make this recipe?
Let us know what you think!
Leave a Comment below or share a photo and tag me on Instagram with the hashtag #loveandoliveoil.
Bonus Printable Labels
Is there anything better than free stuff? This jam perhaps, but since I can't exactly share it with all of you, you're going to have to make your own. And if you do, I've got pretty pretty labels for you! Because the jam isn't really done until it's sealed and labeled.
The downloadable PDF file includes two dozen 1.25-by-2.25-inch rectangle labels, designed to perfectly fit my 6oz hex jars, but would also fit nicely on the side of just about any smooth-sided jar. I used some awesome new clear gloss labels (inkjet friendly!) for these, since the light color of the jam would contrast beautifully against the black lettering (where a darker jam would render it all but invisible). But you could certainly print them on white labels as well.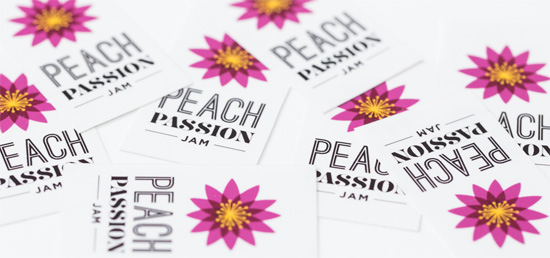 To use, simply download the printable file by completing the form below. Print your labels onto full-sheet sticker paper, cut out, and apply directly to the the finished jars.