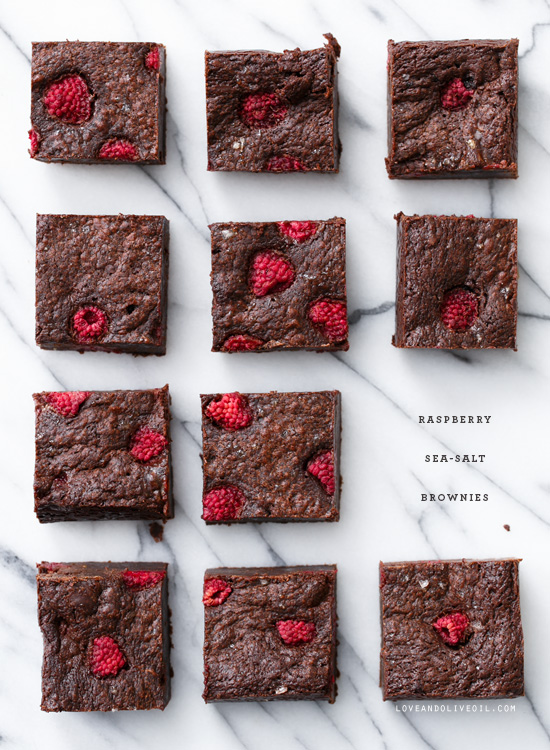 There are some things you expect in a good brownie. A rich, chocolate flavor. A chewy, fudgy texture. A crispy, crinkly top. With that in mind, these brownies are both expected and unexpected, both sweet and sour, overly decadent with a surprising brightness and salty finish.
I expected the raspberries to mellow out in the oven, but the baked raspberries are surprisingly tangy, almost alarmingly so, cutting through the rich chocolate brownie with a puckering punch. You'd be surprised how fruity chocolate can taste when paired with red ripe raspberries.
The brownies themselves are about twice as thick as normal brownies, laden with three kinds of chocolate. You could use a 9-by-9-inch or 11-by-7-inch baking pan for slightly thinner brownies (adjust cooking time accordingly), but the substantial thickness makes these brownies a sight to behold and a joy to devour. Granted, such brownie depths require a bit of patience, needing well over an hour to fully bake and a mandatory overnight chill (trust me, it's worth the wait.)
In my never-ending quest for the brownie to end all brownies, I suppose I'll never settle on just one. I've produced plenty of possible candidates, each different and delicious in its own right. And yet I am always wary of declaring any one of them "the best." That is such a final statement, and I fear if I ever do make such a claim I'd be reluctant to keep experimenting. And experimentation, the enduring sugary curiosity, is what keeps this blog running, after all. I won't call these the best just like I won't call any of the numerous other brownies I've made the best (and believe me, I've made a lot).
So while these brownies may have everything you'd ever want in a brownie (and more), the sweet, sour, and salty, a trinity of tastes that will do nothing short of delight, I shall only allow myself to call them pretty freaking awesome. Never the best. Because I wholeheartedly believe the best is yet to come.
Raspberry Sea Salt Brownies
Ingredients:
7 ounces dark chocolate, coarsely chopped
3.5 ounces milk chocolate, coarsely chopped
1 cup (2 sticks) unsalted butter
2 cups packed light brown sugar
3 large eggs
1 cup all-purpose flour
1/2 teaspoon fine sea salt
1/2 cup dark or dutch-processed cocoa powder
6 ounces (1 pint) fresh raspberries
1/2 teaspoon large flake sea salt (such as Maldon), for finishing
Directions:
Preheat oven to 350 degrees F. Line an 8-by-8-inch baking pan with parchment paper.
Combine dark and milk chocolates, butter, and sugar in microwave safe bowl. Microwave in at half power for about 2 minutes, stirring every 20 to 30 seconds, until chocoalte and butter are melted and mixture forms a grainy paste. Let cool slightly.
Whisk in the eggs, one at a time, whisking well after each addition. Sift the flour and cocoa on top and fold with a large rubber spatula until no dry ingredients remain.
Fold in half of the raspberries and pour into prepared tray, smoothing out the top. Scatter remaining raspberries over top and sprinkle with sea salt.
Bake on the middle shelf for 65 to 75 minutes or until a toothpick inserted near the center comes out with just a few moist crumbs attached. Let cool to room temperature, then cover and refrigerate for at least 2 hours or overnight before slicing and serving. Brownies will keep, covered in an airtight container, for up to 3 days.
Did you make this recipe?
Let us know what you think!
Leave a Comment below or share a photo and tag me on Instagram with the hashtag #loveandoliveoil.