This unique chocolate loaf cake is made with olive oil for a distinctive flavor and perfectly moist crumb. Not to mention it comes together in mere minutes, no mixer required!
This moist and tender cake is made with olive oil for a unique flavor and moist and tender texture. The drizzle of olive oil chocolate glaze on top is just, well, the icing on the cake (literally and figuratively, in this case).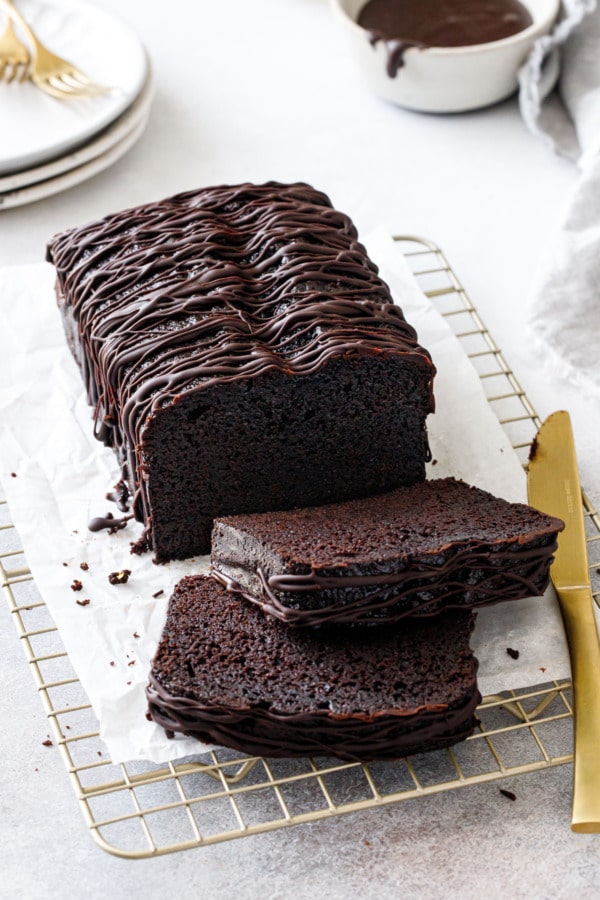 You gotta love a loaf cake; they're second only to bundts in my mind in terms of ease of preparation and presentation. Too often I think we relegate loafs to quick breakfast breads. Nothing against banana bread or anything, but I think dessert loaves are seriously underrated, especially when it's a loaf as impressive and delicious as this one!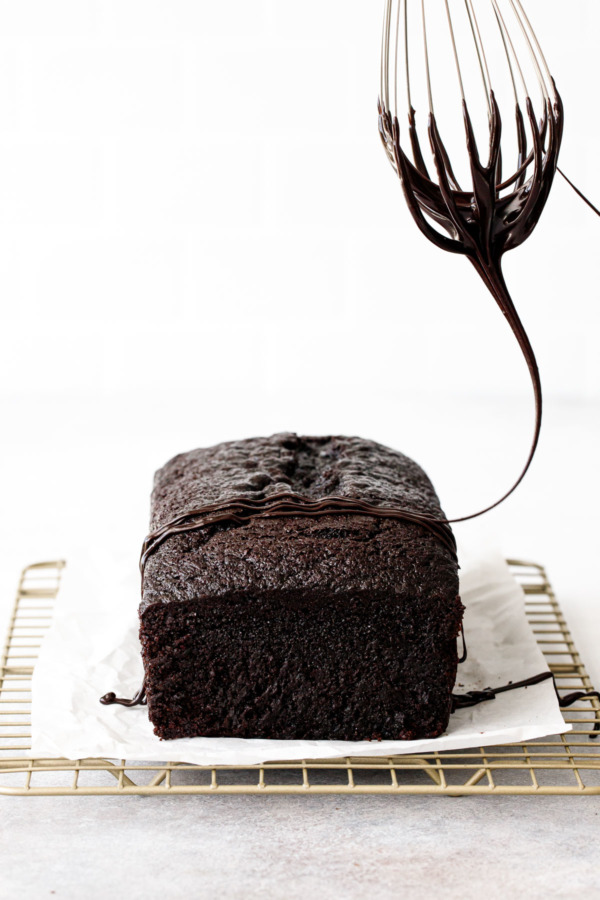 I know, I know… I literally just posted another chocolate cake, not to mention my ultimate chocolate cake from a few years back that is still my go-to recipe for a classic chocolate layer cake. (Don't forget about my red wine chocolate cake or the whiskey chocolate bundt cake either!)
Can you ever have too many chocolate cake recipes, though? I'd argue that, while similar, they all serve different purposes and thus are all three completely necessary to include in your recipe repertoire.
While the ultimate chocolate cake is a perfect option when you need a multi-layered showstopper, and the sour cream chocolate cake is ideal for when you're craving something ridiculously decadent but can't bear to wait a minute longer than necessary… if you're looking for a simple and impressive chocolate loaf cake, this one fits the bill perfectly.
It's not overly dense or heavy, with a moist and tender texture. The fruity, nutty flavor of the olive oil compliments the dark cocoa perfectly, and a pinch of espresso powder acts like a chocolate-amplifier, making chocolate taste even chocolatey-er.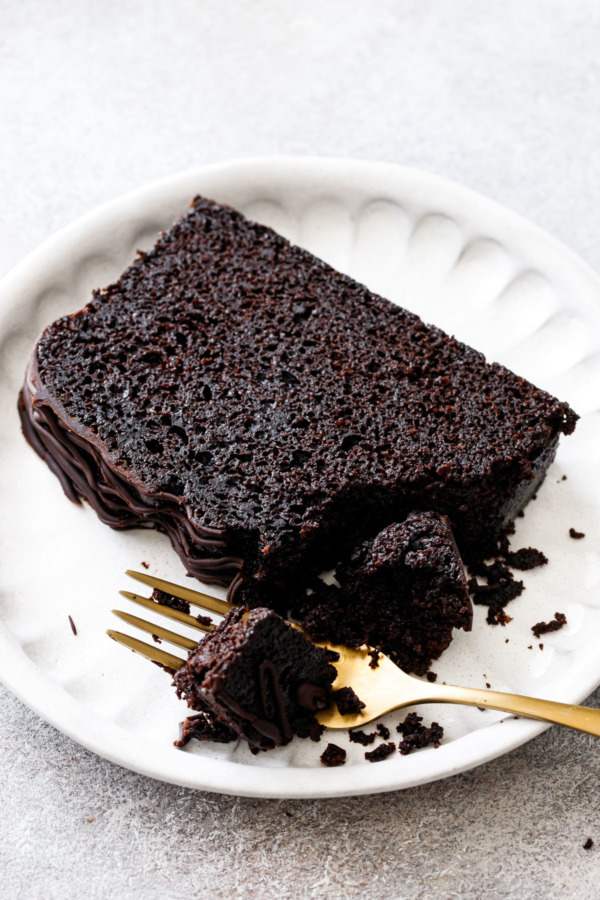 In Hot Water
This cake falls into the class of cakes I call hot water chocolate cakes, which are almost always oil-based. Interestingly enough, I've never seen a hot water yellow cake. As far as I can tell, the hot water essentially blooms the cocoa powder, bringing out more robust chocolate flavor. The hot water also serves to raise the batter temperature and better emulsify the other ingredients, resulting in an extra soft and smooth texture throughout.
Since there is no creaming or whipping of eggs involved, this style of cake gets all its lift from chemical leaveners (in this case both baking powder and soda since there is no additional acid in the batter by way of buttermilk or sour cream).
This style of oil-based cake also has the advantage of keeping much longer; unlike butter-based cakes which have a tendency to dry out, this cake stays moist and tender for days (though I highly doubt it'll last that long). In fact, I'd argue that this cake is even better on day 2 than it is freshly baked.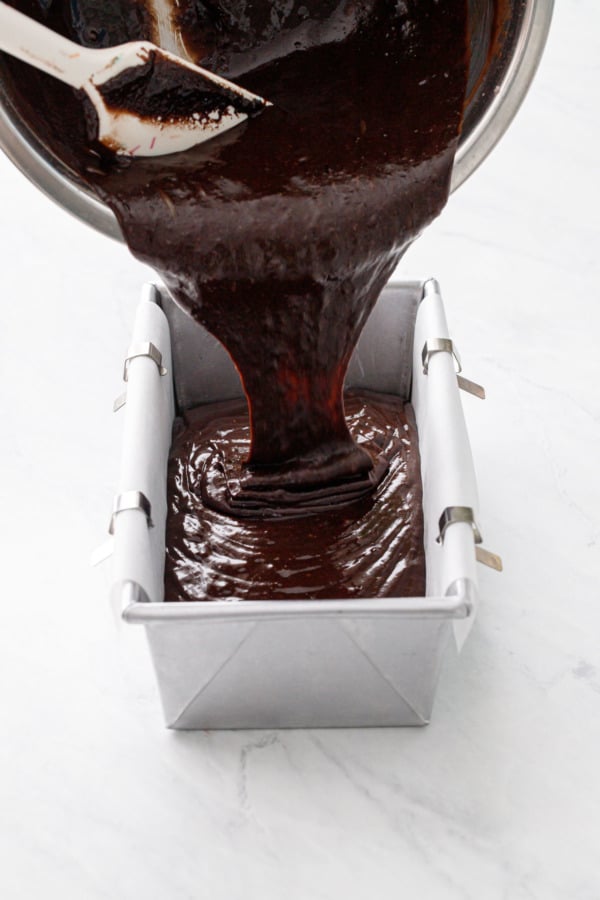 I wasn't completely convinced that the hot water had any structural effect on the cake, and in fact, my second test cake had a reduced level of water (I was trying to achieve a more prominent peak, and thought that a higher proportion of egg and flour, and less water, would give the cake more structure and allow for a higher rise.)
In actuality, however, it was entirely the opposite, and that second test cake with less water in the batter actually sunk in the middle, which we obviously can't have.
Adding more water (almost double!) made for a very thin batter, but produced a perfectly domed top. The extra water also resulted in a better chocolate flavor and a moister consistency as well, which leads me to assume the boiling water does more than just bloom the cocoa.
Sometimes I wish I were friends with a food scientist who could explain to me how things works on a molecular level. Because, especially with cake recipes, it's hard to know what to tweak or change to get the results I'm looking for. Why did the cake sink? Was the oven temperature too low? Too high? Too much leavening? Or too little? Should it be all baking soda instead? Maybe it needed some additional egg or extra acid to help it rise properly.
I still can't quite explain the sorcery of the hot water (how or why it works remains an intriguing mystery), I can say that a cake made with less water, or cooler water, doesn't have quite the same sublime taste or texture. So while it seemed entirely counter-intuitive to add more water to the batter, that's what ultimately produced a lovely domed top and moist, pillowy texture. It really is magic.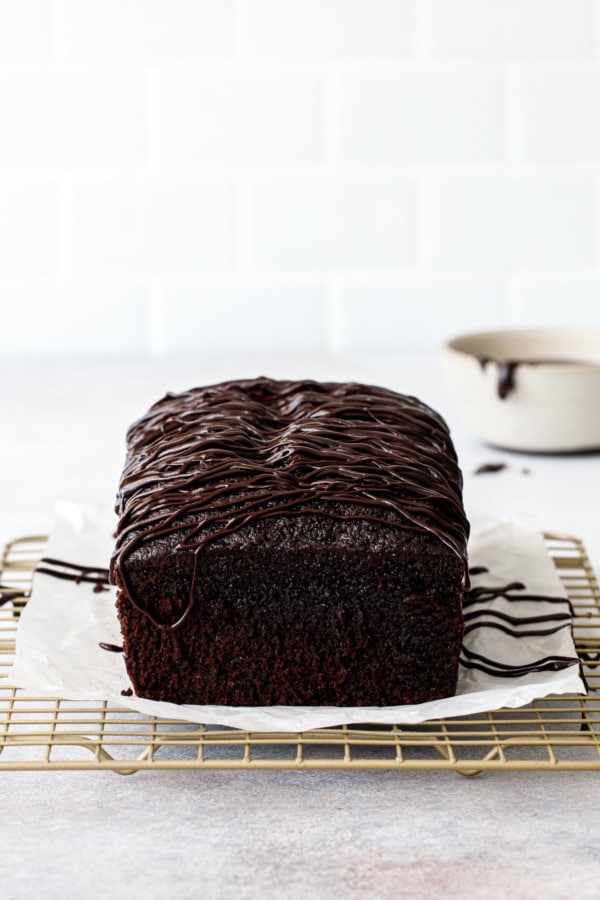 All About the EVOO
I've been trying for years to develop a good non-chocolate olive oil cake, but for whatever reason it is much, much harder. Something about the combo of oil and chocolate is just much easier to make a flavorful cake (yellow cakes always seem a bit lackluster without the butter).
Can you actually taste the olive oil, you ask? Yes, you can, and it goes surprisingly well with the deep cocoa flavor of this cake.
The glaze has a bit of olive oil in it too, just for good measure. While I did an artful drizzle of glaze, you can also pour it on thick for a richer final product.
I'd recommend using a middle-shelf olive oil with a bright, nutty flavor with fruity undertones, but nothing too spicy. Since you do taste the olive oil in the final baked cake, if it's not an oil you'd enjoy dipped with bread or in a salad dressing, it's not going to be very good here either. Mainly this means fresh, not rancid olive oil (if you store your oil in a clear glass bottle exposed to the sun for instance, it's probably not good). Store your oil in a dark or opaque container, and/or in a dark pantry or closet rather than sitting by your stove or in your kitchen window. Once opened, good olive oil typically lasts about 6-12 months.
And before you ask, yes, you can use pretty much any oil here. If you want a solid plain-ass chocolate loaf cake, for example, just use a neutral flavored vegetable or light olive oil.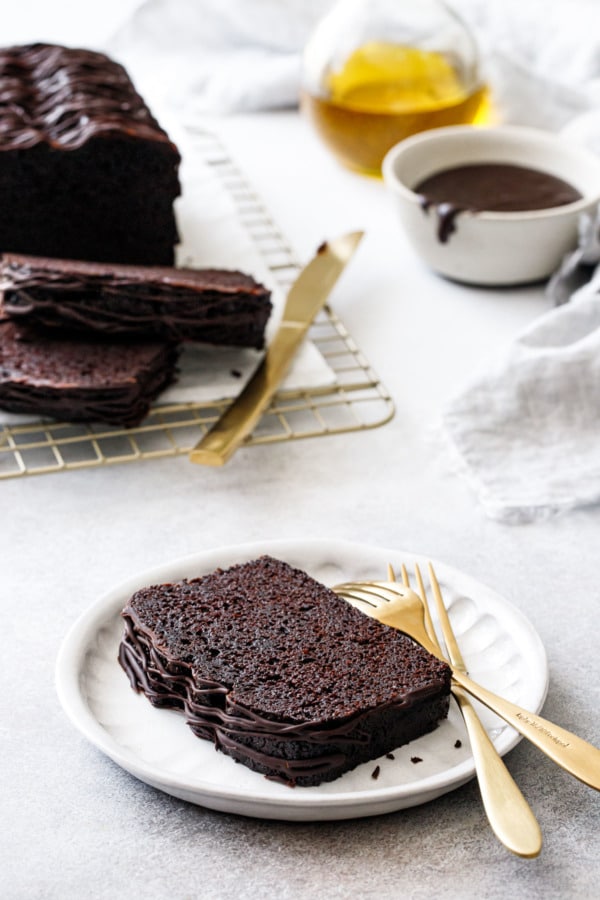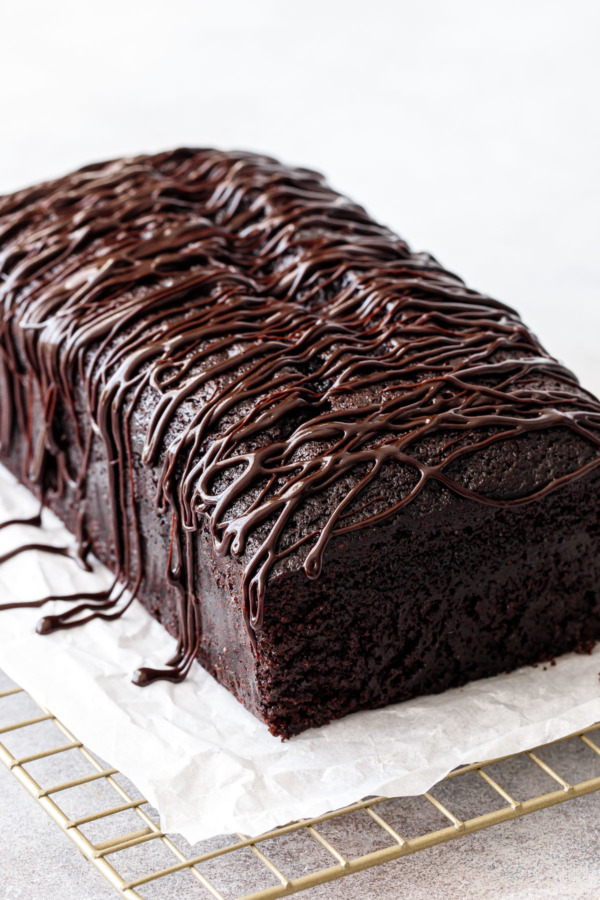 Let's talk cocoa.
For a cake like this one, where the chocolate flavor shines, you really want a good cocoa. This recipe calls for Dutch-processed cocoa, which is a method of alkalizing cocoa powder to deepen the flavor and darken the color. I also like to use a small amount of black cocoa (2 tablespoons or so) to make for an ultra-dark color, just don't use all black cocoa in this recipe or the results will be dry and bitter. Nor do I recommend using natural cocoa powder for this recipe; since there's a whopping 3/4 cup of cocoa in this cake, changing cocoas will make a big difference in the color, flavor, and rise of the cake (natural cocoa being much higher acidity than Dutch-processed cocoa which has been alkalized.
My personal favorite cocoa powders are Valrhona (when I really want to indulge), and Cacao Barry (this is my go-to everyday Dutch). The black cocoa is Guittard Cocoa Noir, which I bought a 5-pound bucket a few years back but now seems to be available in more reasonable quantities.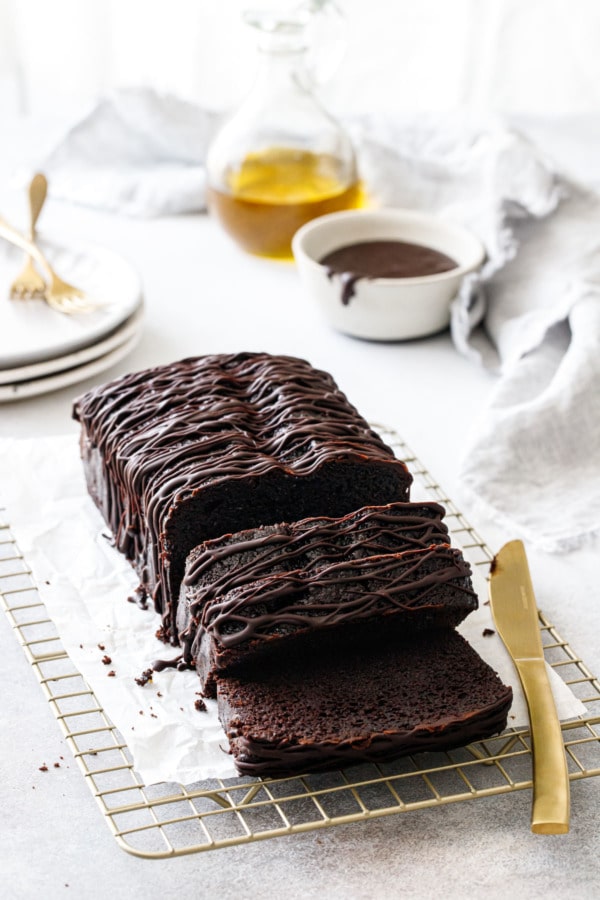 Swaps & Subs
This cake can easily be made dairy free, just use a non-dairy milk in the glaze. There is no milk or butter in the cake itself.
In lieu of the hot water and espresso powder you can also use hot brewed coffee instead.
The extra virgin olive oil can be replaced with any neutral-flavored oil, including grapeseed, avocado, or sunflower.
Sugar is part of a cake's chemistry; if you reduce the sugar your cake will most certainly be noticeably less moist and fluffy, and will dry out faster, so I do not recommend this.
This recipe is written for a 4.5-by-8.5-inch loaf pan. If you have a slightly larger 9-by-5-inch loaf pan, reduce the baking time by about 10 minutes or so (your cake will also be a slightly different shape, shorter and squatter than mine).
I also think this recipe would be lovely with a blood orange or strawberry hibiscus glaze, or even just a dusting of powdered sugar.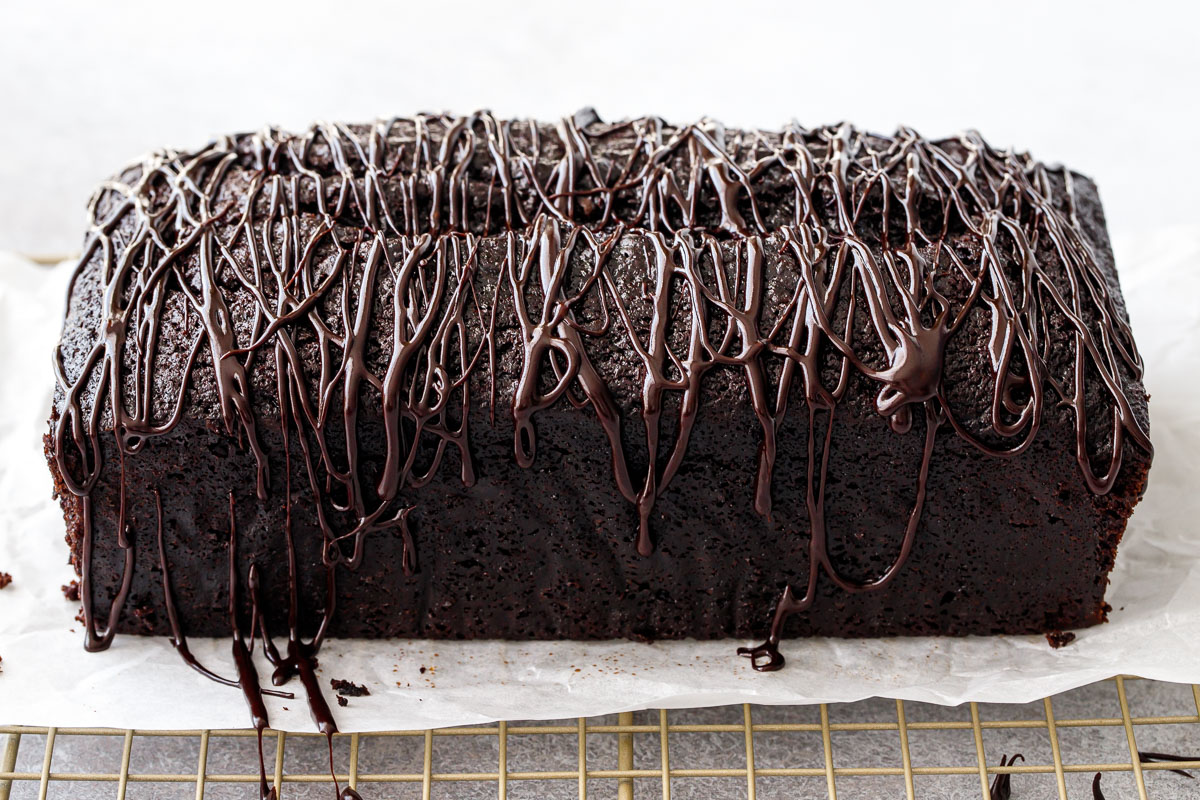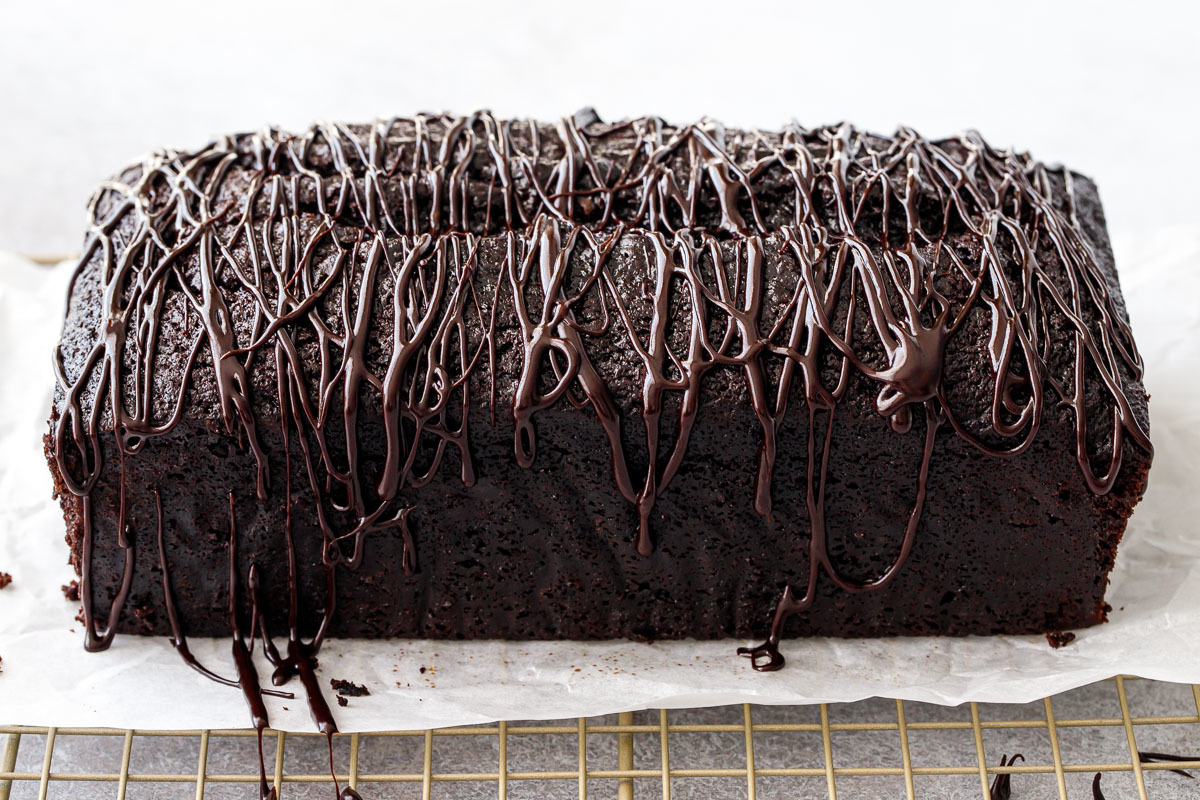 Chocolate Olive Oil Loaf Cake
This unique chocolate cake is made with olive oil for a unique flavor and perfectly moist crumb. Not to mention it comes together in mere minutes, no mixer required!
Ingredients
For cake:
1 ¼

cups

/

156

g

all-purpose flour

¾

cup

/

68

g

Dutch-processed cocoa powder*

,

sifted

1

cup

/

200

g

granulated sugar

½

cup

/

110

g

packed light brown sugar

1 ½

teaspoons

baking powder

½

teaspoons

baking soda

½

teaspoon

kosher salt

¼

teaspoon

instant espresso powder

,

optional

2

large eggs

,

at room temperature

½

cup

/

112

g

extra virgin olive oil

1

tablespoon

vanilla extract

1

cup

boiling water
For Glaze:
1

cup

/

120

g

powdered sugar

,

sifted

2

tablespoons

/

30

g

milk or non-dairy milk

pinch

fine sea salt

¼

cup

/

25

g

dark or Dutch processed cocoa powder

,

sifted

1

tablespoon

/

14

g

extra virgin olive oil
Instructions
Preheat oven to 350ºF. Lightly grease one 4.5-by-8.5-inch loaf pan; line with a strip of parchment paper (short ends will be unlined). Lightly butter parchment.

In a large mixing bowl, combine the flour, cocoa, sugar, baking powder, baking soda, salt and espresso powder and whisk until evenly mixed.

In a second bowl or 2-cup glass measuring cup, whisk together eggs, olive oil, and vanilla. Add to dry ingredients and mix until incorporated and no streaks of dry flour remain (batter may still be a bit lumpy).

Pour in about a third of boiling water, and mix with a large wire whisk until batter is loosened; add remaining water and mix until incorporated. Pour into prepared pan.

Bake for 60 to 65 minutes (50 to 55 minutes if you are using a larger, 9-by-5-inch loaf pan) or until a toothpick inserted in the center comes out with just a few moist crumbs attached. Remove from oven and place on a wire rack until cool enough to handle. Run a small knife along the short sides of the pan, then lift out the cake using the parchment paper overhangs as a handle. Let cool completely on a wire rack. You can also wrap in plastic wrap and bag in an airtight zip-top bag and freeze for up to 1 month; let thaw overnight in the fridge before glazing.

To prepare glaze, sift powdered sugar into a small saucepan set over medium-high heat. Add milk and salt and whisk until smooth. Add cocoa powder and olive oil and continue to whisk until glaze is smooth and shiny and warmed through. Add additional milk, a teaspoon at a time, if necessary to achieve a drizzle-able consistency.

While glaze is still warm, drizzle or pour over top of cooled cake. If the glaze has cooled and set up, just rewarm it gently over low heat, adding a tiny bit more milk if necessary to thin it out.

Let glaze set up for 15 or 30 minutes before slicing and serving. Leftover cake will keep in an airtight container in the refrigerator for up to 5 days; let come to room temperature before serving.
Notes
*You can replace up to 2 tablespoons (about 20g) of the total cocoa powder with black cocoa for color; just do not use all black cocoa or your cake will be dry and bitter.
All images and text ©
for Love & Olive Oil.
Did you make this recipe?
Let us know what you think! Leave a Review below or share a photo and tag me on Instagram with the hashtag #loveandoliveoil.