This ultra dark chocolate cake is made with sour cream for extra moisture, plus a combination of Dutch process and black cocoa powder for a deep chocolate color and hauntingly rich flavor.
The glossy chocolate frosting is a revelation: deep and rich without being overly sweet. It's the perfect finish for this stunningly simple, single layer chocolate cake that's as impressive as it is easy (no mixer required!)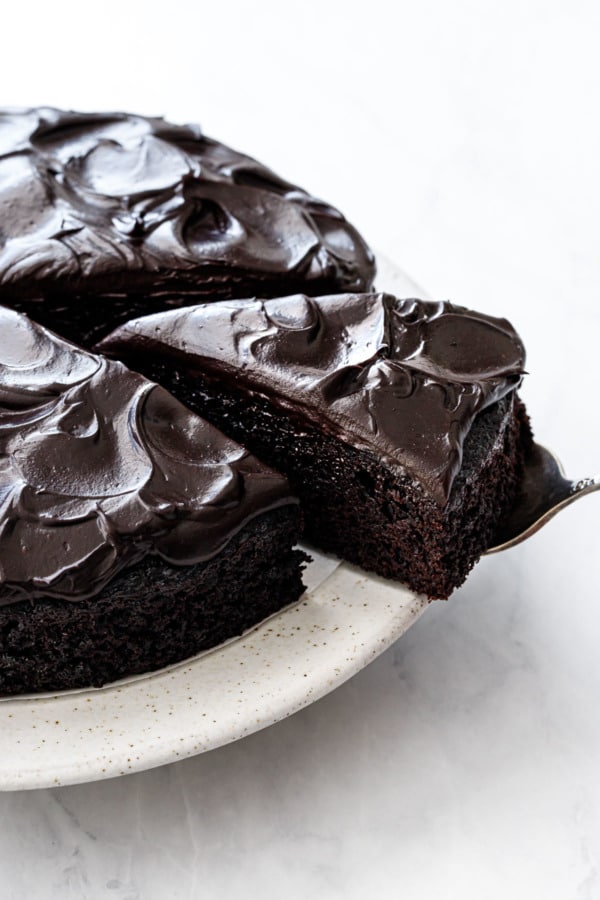 Around here, it's a standing rule that your birthday lasts as long as the cake does.
This year Taylor had a longer birthday than most, thrice as long in fact, since that's how many tries it took me to get this cake right.
Let's just say he's been enjoying every single bite of it.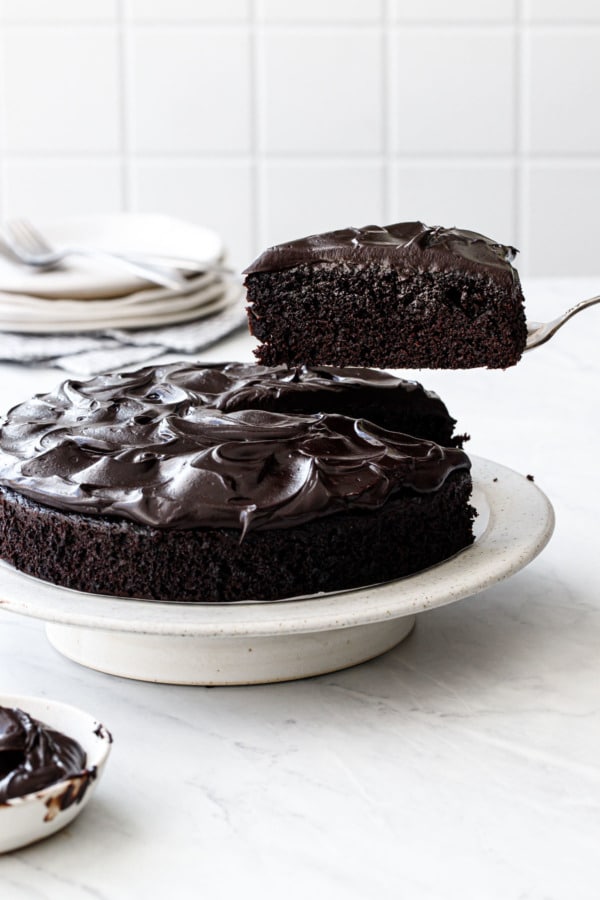 There's no shortage of chocolate cake recipes on this site, but this one just might be the darkest and the moistest one yet, thanks to the addition of sour cream and a portion of black cocoa powder for an extra-dark color and flavor.
Not to mention it's ridiculously simple: a single layer sensation that requires only one bowl (and a glass measuring cup) for the cake, and one small saucepan for the frosting. Seriously, no electric mixer necessary!
I really didn't think I could ever top the ultimate chocolate cake… but here we are.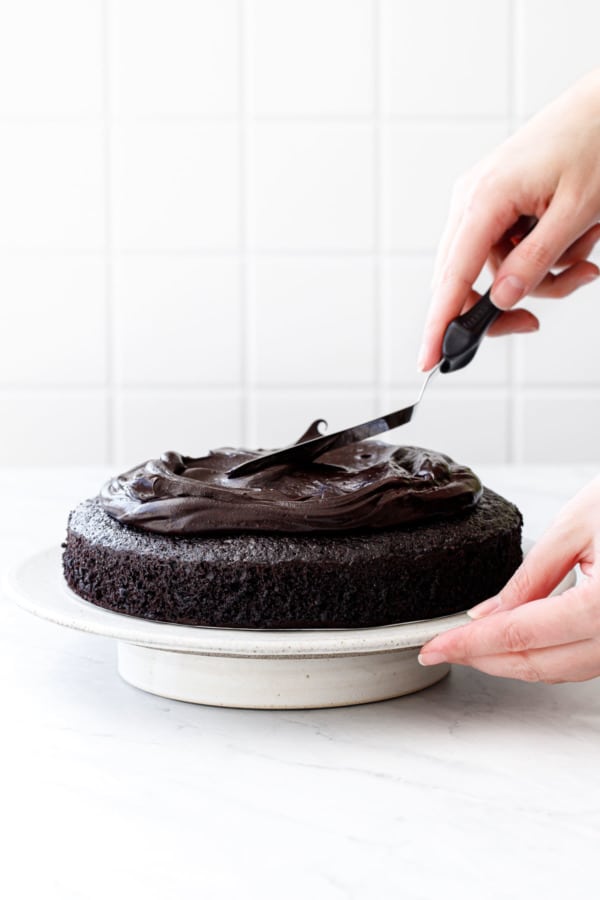 Why mess with a good thing, you ask?
Well, I received a comment on my ultimate chocolate cake looking for a claggy chocolate cake (I had mentioned that one of my early tests had included sour cream and came out "so moist it could barely support itself let alone layers of dense fudge frosting"… this person was looking for just such a cake.)
And I'll be darned if that word—claggy—didn't stick in my head (apt considering the word literally means "stickily clinging, as mud"). The idea of a cake that's so moist it's practically pudding… well, I simply couldn't get it out of my head.
The first version of this new, claggier chocolate cake was undoubtedly delicious and oh-so-moist, but it sunk a bit in the middle and the frosting ended up more like a glaze, oozing over the sides and pooling on the plate (which thank god had a raised edge). It was truly a hot mess, albeit a tasty one.
It took me two more tries to get a cake with a gently domed top—every baker's dream. I had to dial back the clagginess just a tad, by reducing the liquid and adding a bit more structure so the cake wouldn't come out concave. But despite those changes it still retained its utterly decadent taste and texture. I dare say this is the moistest chocolate cake I've ever had.
While there is no denying this cake is Intense (with a capital I), it's not overly sweet, and the sour cream cuts the richness of the chocolate beautifully and keeps the cake moist for days (not that it'll last that long, but still).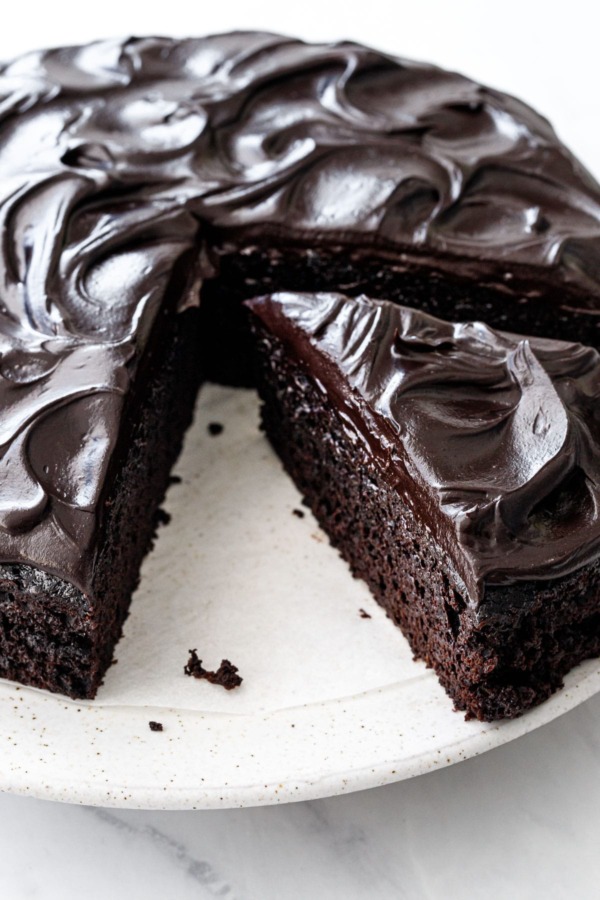 I also used a few tablespoons of black cocoa powder in addition to the already dark Dutch process cocoa, in both the cake and frosting, to make the cake even darker and more dramatic. If you want to replicate exactly what I did, use 15g black and 30g Dutch in the cake, and a similar ratio in the frosting.
You can certainly use all Dutch process cocoa, or a blended cocoa like Hershey's Special Dark or King Arthur's triple cocoa blend, just don't use all black cocoa as it is lacking in fat and thus won't be as moist in the end, even if the color is straight out of Dracula's bake shop.
My favorite black cocoa is Guittard Cocoa Noir (I find it has a better flavor than King Arthur's). For Dutch-processed cocoas I like Cacao Barry Extra Brute or, when I want to splurge, Valhrona pure.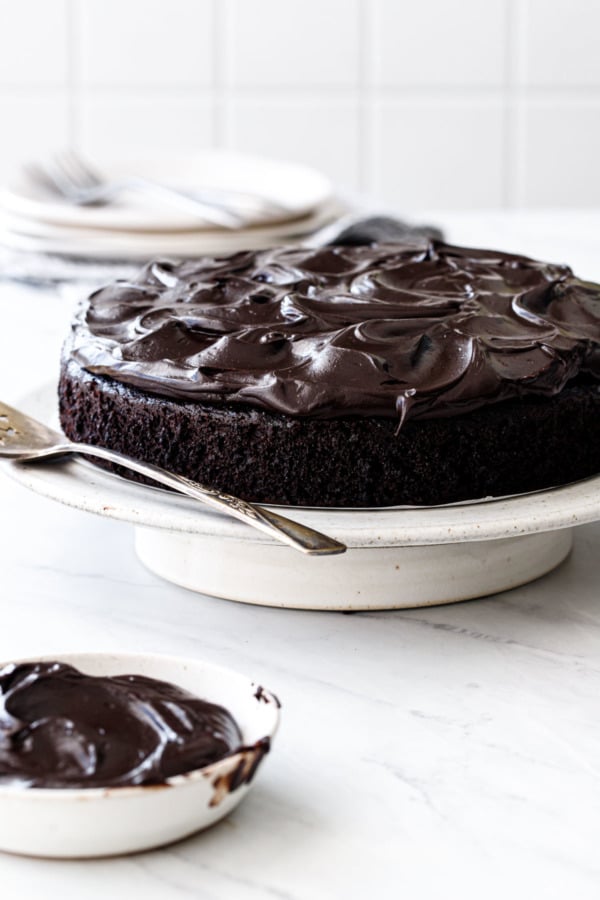 As for the frosting? Well, you could certainly whip up a batch of my chocolate cloud frosting (a half batch should be plenty), which is lighter and fluffier, but just as rich and satisfying. But, for the sake of variety, I wanted something a bit different here, if only to avoid printing nearly the same recipe three times.
There's an entire class of glazer recipes out there masquerading as frostings, for it's a real stretch to call it such. A combination of melted butter, cream, sugar and cocoa, plus a bit of sour cream… and somehow it's supposed to firm up enough to be spreadable? I call B.S. Mine never set up into anything even remotely spreadable, even after a few hours in the icebox and the addition of a cup or two of powdered sugar. Plus, I found the cocoa-based flavor a bit too hot cocoa-y for me.
So I thought I'd try combining some of the elements of this glaze with a classic chocolate ganache, so there is both chocolate and cocoa powder in there for a beautifully well rounded chocolate flavor. The chocolate also helps the frosting (yes, this one is most definitely a frosting!) set up into a beautifully glossy, spreadable wonder.
The result is… well it's not really what I expected, that's for sure. I hesitate to call it a mistake, more like a happy accident—what I thought was going to be a complete failure of a frosting somehow, magically, came together in the end. I'm not joking about the magic part. What I had in my pot was a gritty, grainy, greasy mess of seemingly separated chocolate and undissolved sugar. It was not pretty, nor was it tasty. Assuming I'd be throwing it out anyway, I put it back on the stove and added a generous splash of cold cream just for kicks. Pretty much the opposite of everything you ever learn to do when it comes to chocolate.
But somehow, the frosting transformed into something gloriously glossy.
I had to make it again just to be sure it wasn't a complete fluke.
I reworked the process a tiny bit (turns out it works the same way if you warm the cream first with the butter, which is a much more logical sequence), but the result is just as delicious, deeply chocolate and gloriously glossy.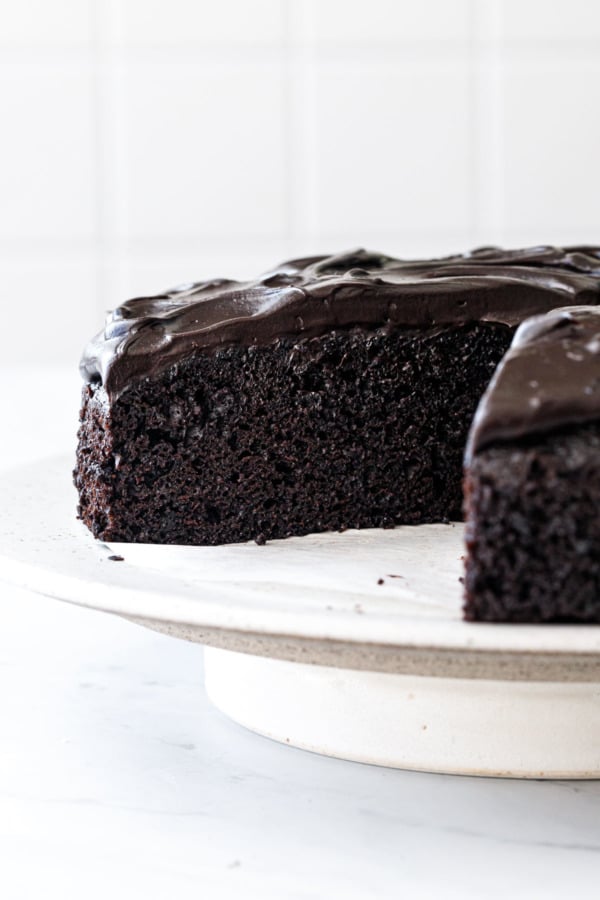 I wanted a very simple, single layer cake, unfussy enough to enjoy on a weekday, but impressive enough to be served on a special occasion too.
Could you turn this into a layer cake? I think so, though it's not quite as sturdy as the sourcream-less version, and the shiny frosting may cause the layers slip and slide a bit.
In terms of scaling, the recipe as written makes one 8-inch layer or two 6-inch layers. If you only have 8-inch square or 9-inch round pans, the recipe as written will probably be a bit too thin, and the math to scale it up would be a bit tricky since it'd involve partial eggs, so I don't recommend this substitution.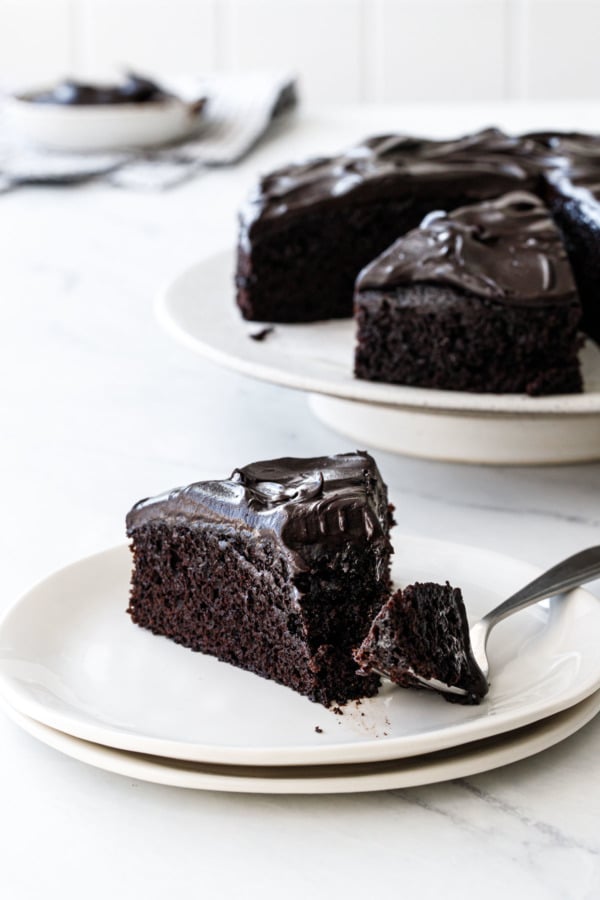 Make Ahead Tips
The cake can be made ahead of time and frozen for up to 1 month. Just wrap it tightly in a few layers of plastic wrap, and place that inside a zip top bag to prevent freezer burn. Let it thaw in the fridge overnight or at room temperature for a few hours before frosting and serving.
The frosting should be used immediately, as it's hard to spread if fully cooled and doesn't reheat particularly well. Once you make the frosting, it'll need about 15 to 30 minutes to cool (depending on the temperature of your kitchen)—it should be thick and spreadable but still shiny. Something like a peanut butter consistency is a good place to shoot for.
The frosted cake keeps beautifully moist for days (refrigerated in an airtight container), but the frosting will take on more of an eggshell-like sheen when refrigerated. It still stays much softer than an actual ganache or even a buttercream, which I consider a definite check in the win column (that's often my biggest gripes with most frostings, is how firm they get when chilled).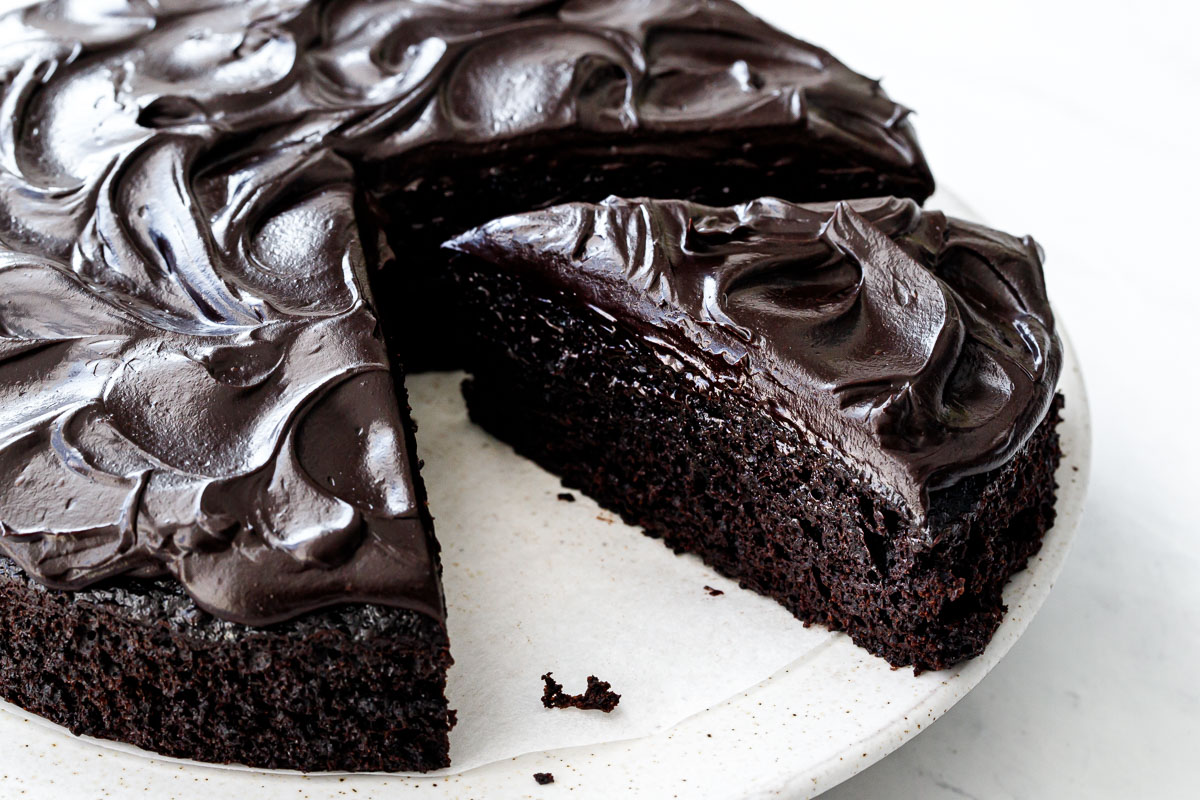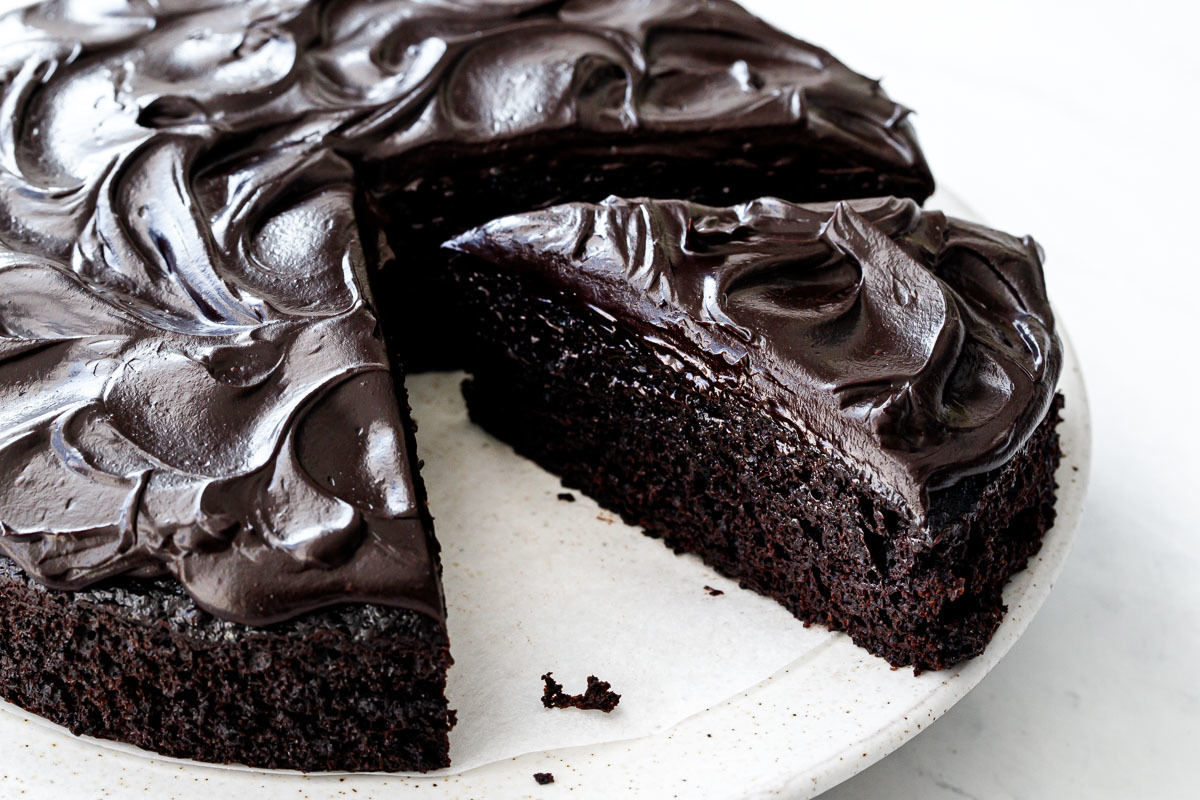 Sour Cream Chocolate Cake
This drool-worthy sour cream chocolate cake is extra dark and ultra moist, with a gorgeous glossy frosting. No mixer required! Use 2-3 tablespoons black cocoa in both the cake and frosting for the deepest color and flavor.
Ingredients
For Cake:
⅞

cup

/

110

g

all-purpose flour

⅞

cups

/

175

g

granulated sugar

½

cup

/

45

g

Dutch-process cocoa powder

,

sifted*

1

teaspoon

baking powder

¼

teaspoon

baking soda

¼

teaspoon

fine sea salt

⅓

cup

/

80

g

full fat sour cream

¼

cup

/

56

g

vegetable oil

1

large egg

,

at room temperature

2

teaspoons

vanilla extract

scant ½ cup

/

100

g

hot brewed coffee or hot water
For Frosting:
⅓

cup

/

80

g

heavy cream

¼

cup

/

56

g

unsalted butter

,

cut into chunks

2

oz

/

56

g

good quality dark chocolate (60-70%)

,

finely chopped

⅓

cup

/

67

g

granulated sugar

⅓

cup

/

30

g

Dutch-process cocoa powder

,

sifted*

⅓

cup

/

80

g

full fat sour cream

,

at room temperature

1

teaspoon

vanilla extract

pinch

fine sea salt
Instructions
For Chocolate Cake:
Preheat oven to 325 degrees F. Lightly butter or grease the bottom and sides of an 8-inch round baking pan; line the bottom with a round of parchment paper.

In a bowl, whisk together flour, sugar, cocoa powder, baking soda, baking powder and salt.

In another bowl or 2-cup glass measuring cup, whisk together sour cream, oil, egg, and vanilla until evenly incorporated. Make a well in the center of the dry ingredients and pour in sour cream mixture. Stir until nearly combined and just a few streaks of dry ingredients remain.

Pour in hot coffee or water and stir until smooth (it will start off very sloppy, but will incorporate eventually. Use a whisk if you're having trouble.)

Pour batter into prepared pan, spreading the batter into an even layer.

Bake for 35 to 40 minutes or until center is springy and a toothpick inserted near the center comes out with just a few moist crumbs attached (no gooey batter). Remove from oven and let cool on a wire rack until pan is cool enough to touch, then invert on a wire rack to cool completely.
For Frosting & Assembly:
Combine cream and butter in a small saucepan. Stir gently over medium heat until butter is melted.

Remove from heat and stir in chopped chocolate. Gently stir until completely melted (if the residual heat isn't quite enough to melt the chocolate, return to a low burner for 30 seconds, then remove from heat and continue stirring).

Add sugar, cocoa powder, and salt and whisk until incorporated; it will look like a slightly grainy brownie batter at this point.

Add sour cream and vanilla and whisk until smooth and shiny. Set aside and let cool until slightly thickened and spreadable, about 15 to 30 minutes depending on the temperature of your kitchen, stirring occasionally to ensure even cooling.

Generously spread frosting onto cooled cake, swirling with the back of a spoon or an offset spatula.

Slice, serve, and enjoy! Cake will hold at cool room temperature for a few hours, otherwise refrigerate until ready to serve. Store leftovers in an airtight container in the refrigerator for up to 5 days.
Notes
*For an ultra dark chocolate cake, substitute 2 to 3 tablespoons (about 15 grams) of black cocoa powder. Don't use all black cocoa, however, as it is significantly lower in fat and will result in a drier cake.
All images and text ©
for Love & Olive Oil.
Did you make this recipe?
Let us know what you think! Leave a Review below or share a photo and tag me on Instagram with the hashtag #loveandoliveoil.