Yes, it's after Christmas. Yes, I'm posting a holiday gift idea when gift giving is probably the last thing you want to be thinking about. In my defense, I had to wait, otherwise it would have ruined the surprise for our parents, who each received a set of these for Christmas. For what it's worth, this is not a last minute gift. I let mine steep for about 6 months. So you should be thanking me for giving you such a fabulous gift idea you can get started on so far in advance. You're welcome.
Homemade vanilla extract. It sounds so… complicated. So involved. Something akin to distilling your own whiskey or something. But you'd be surprised how simple it is. As easy as pouring some booze into a bottle with a few vanilla beans, and then forgetting about it for 6 months. I think we're all capable of that.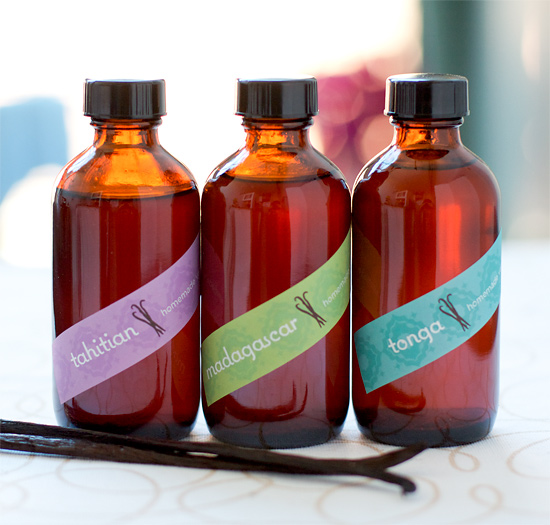 For this particular batch I purchased three different varieties of vanilla beans: Madagascar, Tahitian, and Tonga. I just love the idea of comparing the subtleties present in each variety (obviously, because I've done it before with eggplant, summer squash, figs, and garlic) and the three-extract sampler made the gift that much more special. The final product was packaged in 4oz amber bottles and stickered with a lovely designed label indicating the variety. I knew our parents would appreciate them so much more than a store-bought present.
Hooray for planning ahead.
Homemade Vanilla Extract
Ingredients:
6-10 fresh vanilla beans (more beans will yield a stronger extract in shorter amount of time)
16 oz. (2 cups) vodka or other liquor
Directions:
Split vanilla beans and scrape out seeds. Cut pods into 1″ pieces. Put both seeds and pod pieces into a glass jar or bottle. Fill with vodka and seal.
Store jars in a cool dark place, gently shaking the mixture several times a week. For best results, allow to brew for at least two months, if not longer. The extract will get better with age.
Strain out solids prior to using.
You can also refill the bottle with more vodka as it is used. Occasionally you may also want to strain out the old vanilla beans and replace them with fresh beans. This is also a great use for old beans or beans used for other purposes (once you've scraped out the seeds for your other recipe, simply cut up the empty pod and add it to your extract.)
Did you make this recipe?
Let us know what you think!
Leave a Comment below or share a photo and tag me on Instagram with the hashtag #loveandoliveoil.
Free Printable Vanilla Labels
As for the rest of you, I'm not leaving you empty handed. You all seemed to love the labels I designed, so I figured, why not give those away, to everyone?
The .pdf file includes labels for 5 different varieties of homemade vanilla extract, including Tonga, Madagascar, and Tahitian (pictured above) as well as the addition of Bourbon and Mexican varieties. Simply print onto white sticker paper (available at office supply stores or online), cut out, and adhere to bottles. Please note these labels are for personal use only. Enjoy!