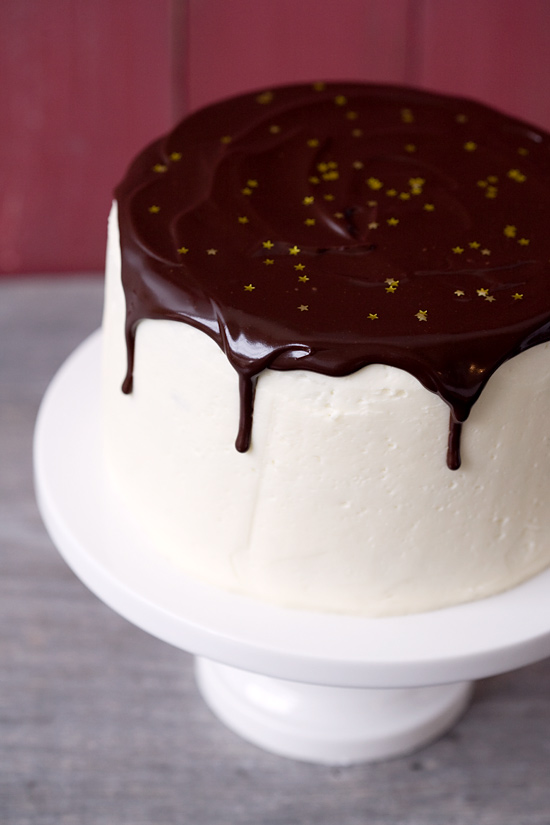 My name is Lindsay and I have a problem.
Apparently I only bake alcoholic cakes.
For the last year at least, every cake I've made has been tipsy. Kirsch and beer and bourbon, oh my! It was only a matter of time before I started hitting the red wine.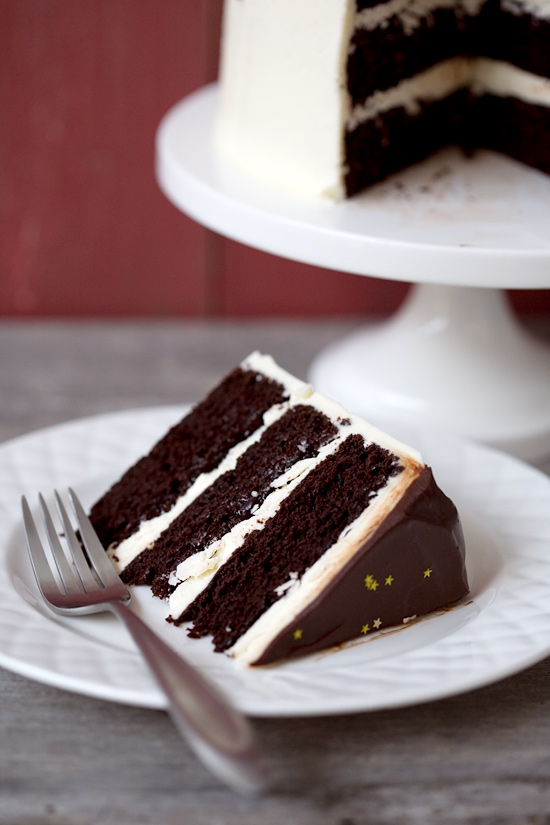 For Taylor's birthday this year, as usual, he requested "chocolate cake, just a good, moist chocolate cake." You'd think he'd know by now that there's no way I'm going to make him "just" a chocolate cake. But chocolate as a starting point? That I can definitely work with.
For a while now I've been eying this bottle of blackberry wine. A sticky sweet wine made locally here in Tennessee. It's not exactly the kind of wine you pour and have a glass or two with dinner. Way too sweet for that. It's practically fruit juice. Highly alcoholic fruit juice.
I felt that wine was destined for something more.
Simply swapping the typical black coffee in a classic chocolate cake recipe with the dark and fruity spirit produced a decadently moist chocolate cake unlike anything I've ever had before. Subtle notes of fruit came through the rich dark chocolate, tantalizing the palette without screaming "Hey! Look at me, I'm filled with wine!" Layered with blackberry preserves and whipped vanilla buttercream, and topped with a dramatic chocolate ganache drizzle, this definitely isn't just another chocolate cake.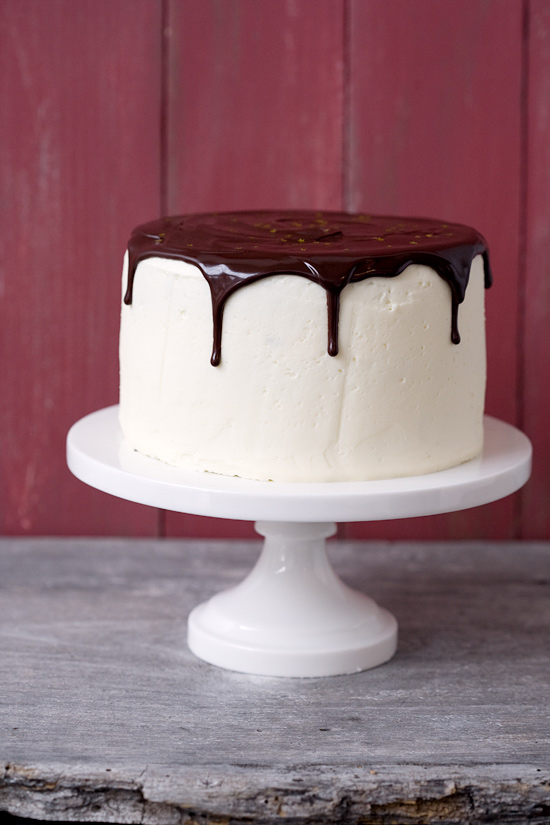 Looking at these photos now, I should have been more ambitious with the drizzle. I guess I was afraid the chocolate would cascade down the entire side of the cake, overflowing onto the cake stand and the table below (read: mess). While I was going for glamorous, I think what I ended up with was a bit more sanguine. Vampire-esque almost. And kind of creepy. But delicious. Oh. So. Delicious.
Blackberry Red Wine Chocolate Cake
A decadently moist chocolate cake recipe made with dark and fruity red wine and layered with blackberry preserves and chocolate ganache.
Ingredients:
For cake:
2 cups (400g) sugar
1 3/4 cups (218g) all-purpose flour
3/4 cup (70g) dark or dutch-processed cocoa powder
2 teaspoons baking soda
1 teaspoon baking powder
1 teaspoon fine sea salt
2 large eggs, at room temperature
1 cup (240g) buttermilk
1 cup (240g) blackberry wine or red wine*
1/2 cup (112g) light olive or vegetable oil
2 teaspoons vanilla extract
For frosting:
2 cups (452g/4 sticks) unsalted butter, softened and cut into cubes
3 3/4 cups (452g/1 pound) powdered sugar, sifted
1/4 cup heavy cream, or more as needed
2 teaspoons vanilla extract or vanilla bean paste
Pinch fine sea salt
1/3 cup blackberry preserves
For chocolate glaze:
3.5 ounces (100g) dark chocolate, finely chopped
1/4 cup heavy cream
1/4 cup powdered sugar, sifted
2-3 tablespoons warm water
Directions:
Preheat oven to 350ºF. Butter and line three 8-inch round baking pans with parchment paper. Butter parchment.
In a large mixing bowl, combine the sugar, flour, cocoa, baking soda, baking powder, whisking until thoroughly combined. Add eggs, buttermilk, wine, oil, and vanilla and beat with an electric mixer on medium speed until all dry ingredients are incorporated. Divide evenly among prepared pans.
Bake for 30 to 35 minutes or until a toothpick inserted in the center comes out clean. Remove from oven and place on a wire rack until cool enough to handle. Run a small knife around the edges of each pan, then gently invert onto wire racks. Cakes should come out cleanly. Allow to cool completely. At this point, the cakes can be frozen until ready to use, up to 1 month. Simply wrap each layer individually in a double layer of plastic wrap and then store inside a large zip top bag (I find frozen cakes to be much easier to work with later, and always freeze mine even if I'm finishing the cake the next day).
To prepare frosting, in the bowl of a stand mixer fitted with the paddle attachment, beat butter on medium speed until very pale and creamy, about 8 minutes. Add powdered sugar, a little at a time, mixing well after each addition. Add cream and vanilla extract and beat until light and fluffy, about 6 minutes more. Add more cream or powdered sugar as needed to acheive desired consistency.
To assemble, level each cake layer by cutting of the domed top with a long serrated knife. Place one layer, flat side down, on a cake stand or serving platter. Spread half of the blackberry preserves evenly on top, followed by approximately 1/2 cup of buttercream. Position second layer on top and press to adhere. Repeat with remaining preserves, another 1/2 cup of buttercream, and final cake layer, flat side up.
Cover the entire cake with a thin layer of buttercream. This "crumb coat" will make frosting the cake easier. Refrigerate for about 15 minutes to allow this crumb coat to set. At this point if you will be coloring the remaining buttercream, add your food coloring to the mixing bowl and beat until color is uniform.
Remove cake from refrigerator and frost with remaining buttercream, reserving some for piping decorative details if desired. Return cake to the refrigerator for at least 30 minutes.
Meanwhile, to prepare the glaze, place chopped chocolate and heavy cream in a double boiler or a heat-proof bowl set over a pot of simmering water. Stir until melted and smooth. Remove from heat and whisk in powdered sugar, stirring until smooth. Add water 1 tablespoon at a time, whisking well after each addition, until the chocolate is of a good pouring consistency. Let cool 10 to 15 minutes or until lukewarm.
Pour glaze slowly on top of chilled cake, spreading to edges with an offset spatula, allowing the chocolate to drip over the edges. Continue pouring until desired drizzle effect is achieved (you may not use the entire amount). Chill until set.
*Want a solid but basic chocolate cake? You can swap out the red wine here for coffee or water.
Did you make this recipe?
Let us know what you think!
Leave a Comment below or share a photo and tag me on Instagram with the hashtag #loveandoliveoil.