You'll love this classic vanilla pound cake with a swirl of strawberry hibiscus sugar and a brilliant pink glaze.
Boring bundt no more: this modern take on a classic recipe is as bold in flavor as it is beautiful. With a ribbon of strawberry-hibiscus sugar throughout, and a gorgeous fuchsia glaze, this cake is sure to turn heads (and delight tastebuds) wherever it goes!
I was recently gifted a beautiful bundt pan, dare I say the most beautiful bundt pan I've ever seen (my jaw dropped when I saw someone post a cake made with this pan in our facebook group, and I expressed as much in the comments. My lovely friend and neighbor was clearly paying attention as he got me one for my birthday a few days later).
I knew I had to do this gorgeous pan justice. Being the indecisive soul I am, I put it to the group to help me decide what kind of bundt cake I should make first. Strawberry won, hands down (with marzipan coming in a close second, so that will probably be my next endeavor!)
The group had spoken. Strawberry bundt cake it is!
I tried and I tried (really, I tried so hard) to get a strawberry pound cake to work. But whatever tweaks I made to the recipe, the texture just wasn't quite right. From very very not right (think dense, gummy mochi cake) to close but still slightly off-putting. Something about adding strawberries in any form (fresh and/or freeze dried) to a cake does weird things to the texture. Flavor-wise it was spot on, but I just couldn't get the texture right. I guess there is good reason most of the strawberry cake recipes you see these days use strawberry Jello.
Despite my failures, I still couldn't shake the idea of a strawberry bundt cake in my beautiful new bundt pan, so rather than drive myself crazy trying to fit a square peg in a round hole, I changed my perspective. Instead of making the cake itself strawberry flavored, I stuck with a tried and true classic pound cake and then added swirl of strawberry-hibiscus sugar. It's still got an intense strawberry flavor (especially once you add the glaze), but it preserves the perfect crumb of the vanilla pound cake.
And speaking of that glaze… it's as bold in flavor as it is in color. Made from the same strawberry hibiscus sugar as the swirl inside the cake, the stunning fuchsia color is thanks to a concentrated hibiscus tea (when I did the same thing with plain milk the results were a slightly pinkish mauve).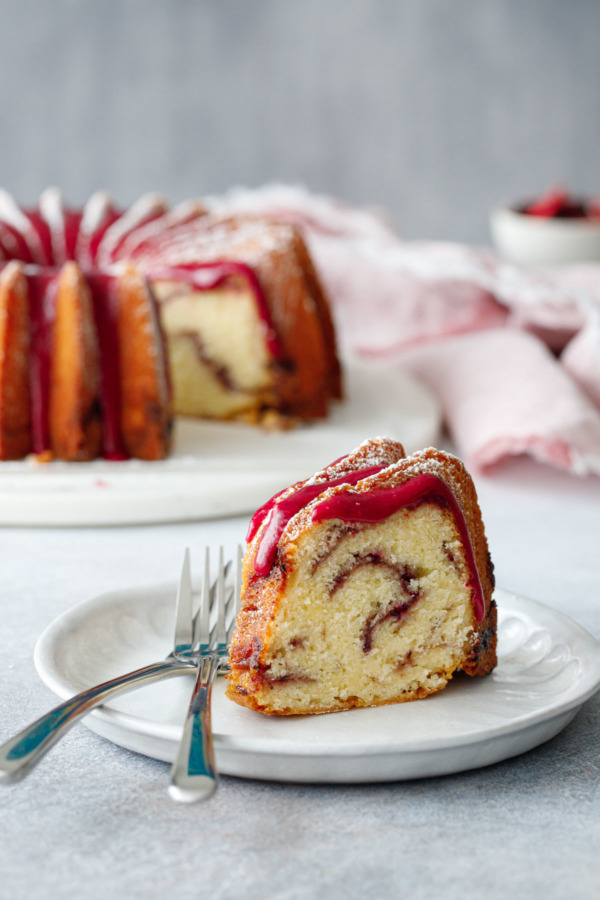 Doesn't that swirl look a bit like a question mark, like the cake itself is just asking to be devoured?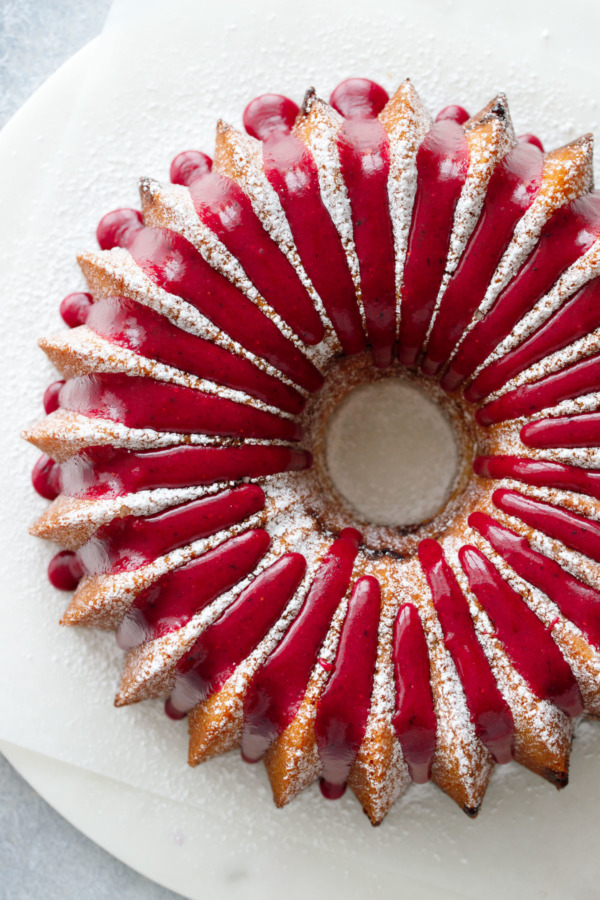 Rather than my usual pour-and-drizzle, this particular bundt shape looked best when the glaze was confined to the valleys between the ridges.
I found it easiest to pipe it using a squeeze bottle and a round piping tip, which gave me more control over where the glaze dripped down.
A dusting of powdered sugar first really makes the color pop.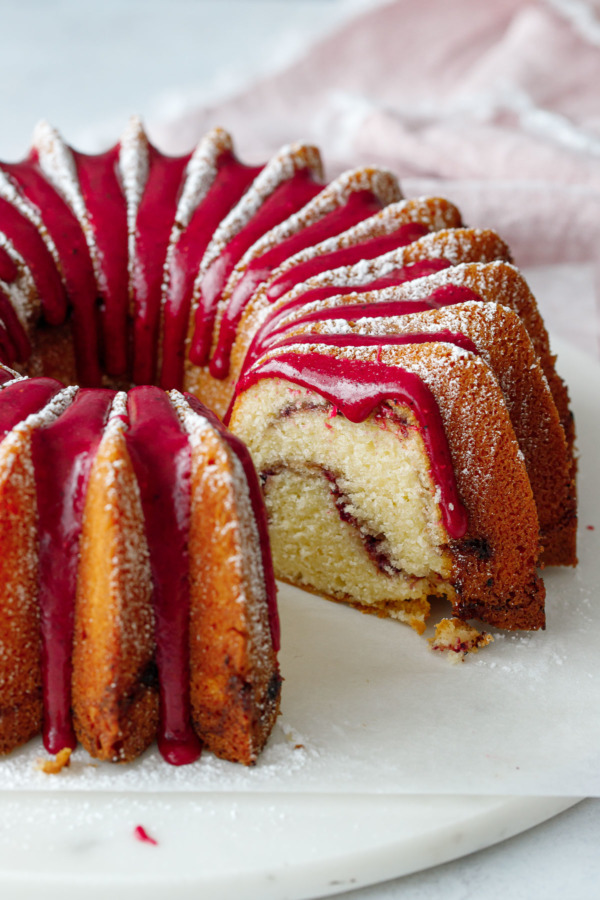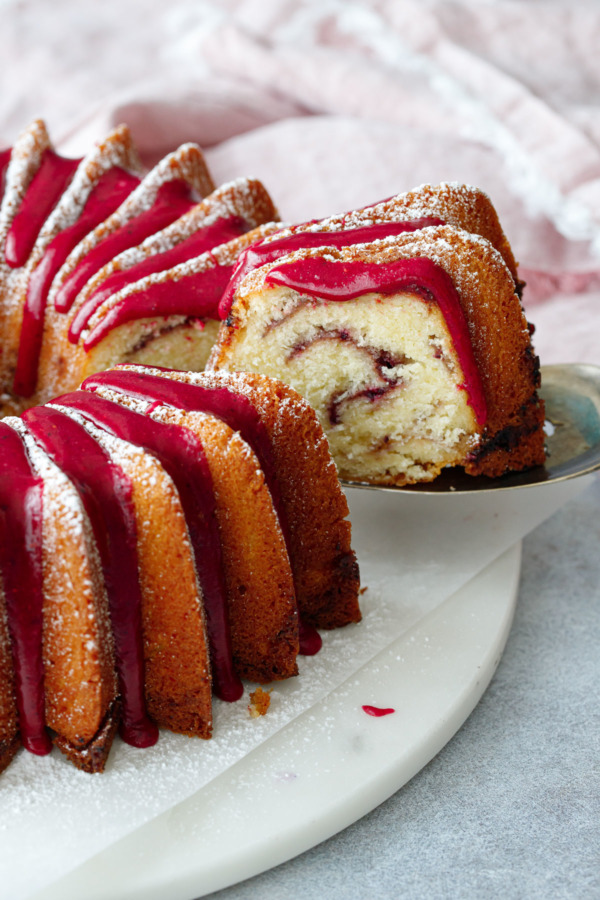 This recipe can also be made in a 9-by-5-inch loaf pan if you prefer (increase baking time to 60-70 minutes as needed).
Make ahead: the pound cake can easily be made a day ahead of time (in fact, I'd argue pound cakes especially can benefit from a day of rest) and stored in an airtight container, then sugared and glazed the next day. You can also freeze the unglazed cake (wrap in plastic wrap and place in a ziptop bag if it'll fit!) just be sure you let it thaw completely before dusting with sugar and drizzling with glaze.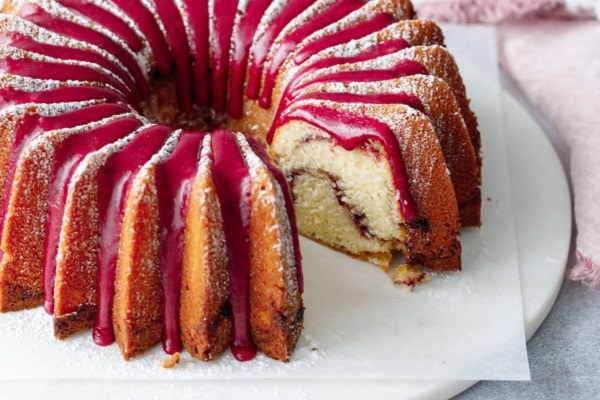 Strawberry Hibiscus Swirl Bundt Cake
A classic vanilla pound cake gets a swirl of strawberry hibiscus sugar and a hot pink glaze drizzled on top.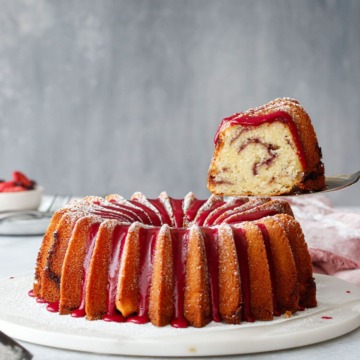 Ingredients:
For Sugar Swirl:
1/2 ounce (14g) freeze-dried strawberries
1 teaspoon (3g) dried hibiscus flowers
1/4 cup plus 2 tablespoons (90g) granulated sugar
For Pound Cake:
12 tablespoons (1 1/2 sticks) unsalted butter, at room temperature
6 tablespoons (3oz or 85g) cream cheese, at room temperature
3/4 teaspoon salt
1 1/2 cups (300g) sugar
1 teaspoon baking powder
1 teaspoon vanilla extract
1 teaspoon almond extract
5 large eggs, at room temperature
3 tablespoons (45g) milk
1 3/4 cups (220g) all-purpose flour
For Glaze:
3/4 cup (90g) powdered sugar, sifted, plus more for dusting
2-3 tablespoons brewed hibiscus tea*
Directions:
Preheat oven to 350 degrees F, with the baking rack positioned in the lower third of the oven. Lightly grease a 10-cup capacity bundt pan.
In a clean coffee/spice grinder or a small food processor, pulse strawberries and hibiscus flowers together with 2 tablespoons sugar until very finely ground. Transfer to a small bowl and stir in remaining 1/4 cup granulated sugar.
In a mixing bowl or the bowl of a stand mixer, beat together the butter, cream cheese, salt, sugar, baking powder, vanilla extract, and almond extract until light and fluffy, 3 to 5 minutes.
Add the eggs, one at a time, beating well after each addition and scraping down the sides of the bowl once or twice as you go. After you've added the final egg, increase the mixer to high and beat for 3 minutes.
Reduce mixer speed to low. Add half of flour, mixing until almost incorporated. Mix in milk, followed by remaining flour, mixing until just combined. The batter will be smooth and thick, but still pourable.
Spoon about 1/4 of the batter evenly around the bottom of prepared bundt pan. Sprinkle generously with about 2 tablespoons of strawberry sugar mixture. Spoon about half of remaining batter on top, sprinkle with another 2 tablespoons sugar (reserve what's left for the glaze). Spread remaining batter evenly over top.
Place the bundt pan on a baking sheet (just in case) and bake for 40 to 50 minutes or until a toothpick inserted in the thickest part comes out clean (If you use an instant-read thermometer, the temperature should register about 200-205 degreesF.)
Remove from the oven and place on a wire cooling rack for 15-20 minutes, then gently invert the cake onto a cake stand or serving plate. It should come out cleanly. Let cool completely, then dust generously with powdered sugar (optional, but it makes the glaze stand out more).
For glaze, whisk powdered sugar with remaining strawberry sugar (about 4 tablespoons or so). Add 2 tablespoons of hibiscus tea and whisk until smooth. Add more tea as needed, 1 teaspoon at a time, until glaze is thick but pourable (too thin and it'll just run down the sides of the cake). Pour or pipe onto cake. Let set for a few minutes before slicing and serving.
Store leftover cake in an airtight container at room temperature for up to 2 days. You can also freeze the unglazed cake, wrapped tightly in plastic wrap and/or in an airtight bag, for up to 1 month. Let thaw completely before glazing.
*You can make hibiscus tea using dried hibiscus flowers: steep 1/2 cup flowers with 1/2 cup boiling water for 10 minutes; strain and discard flowers. Optionally you can simmer and reduce the tea by half for a more concentrated flavor.
Did you make this recipe?
Let us know what you think!
Leave a Comment below or share a photo and tag me on Instagram with the hashtag #loveandoliveoil.