Crispy and chewy oatmeal cookies meet toffee-coated apples… it's a seasonal flavor combination you're sure to love!
These unique and delicious oatmeal cookies are a textural delight: crispy on the edges, soft and chewy in the center, and studded with chunks of cinnamon-spiced dried apples and crunchy toffee bits throughout.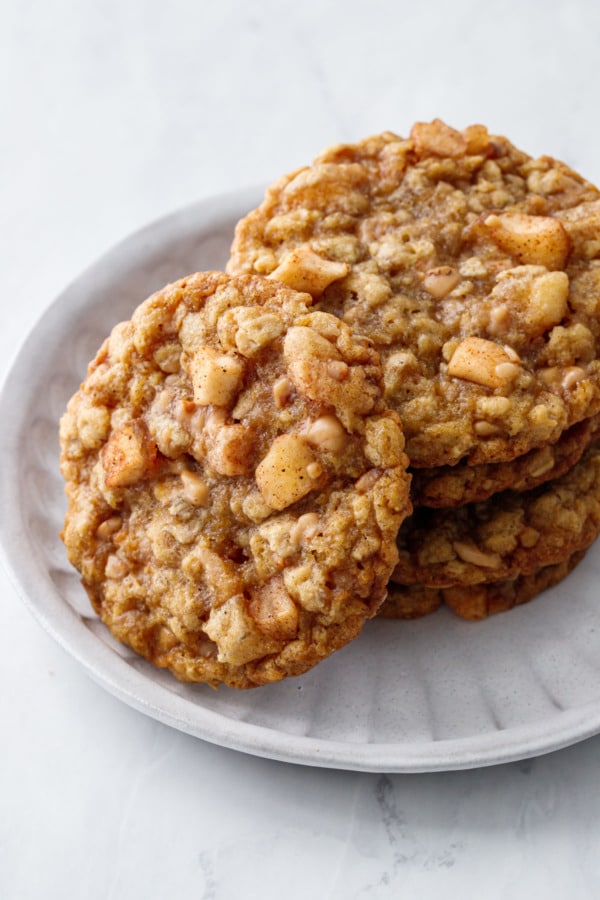 Look, when it comes to cookies I'll admit to being lured by the fancy: the filled and the frosted, the stuffed and the sprinkled. I tend to write off anything else as boring and not worth my time. I mean, I don't even have a classic chocolate chip cookie recipe on this site for gosh sakes.
That said, despite the fact that these toffee apple oatmeal cookies are decidedly not fancy, not to mention not the least bit photogenic, they may just be one of my favorite cookies of the year.
Texturally, they're a delight, something that's incredibly hard to convey with photos. I'd describe them as both chewy AND crispy, proof that the impossible is possible.
Baked thin, they'll be more on the crisp side, though still with plenty of chew throughout the middle. You can also opt to bake them thicker, and while the edges will still be delightfully crispy, the centers will be soft and almost gooey. See more info below on how to control the shape and spread of your cookies
I'm typically in the soft cookie camp most of the time, but I have to say, the combo of crisp and chewy really won me over this time.
The base is a classic oatmeal cookie recipe, adapted from my mom's famous oatmeal raisin cookies, a recipe that is somewhat of a legend in our extended family although I never remember actually eating one myself. Because, raisins. (ironically my mom can't stand them either, it must be genetic). I think she only ever made them for my grandfather. (The secret, if you're curious, is to soak the raisins in the vanilla and lightly-beaten egg for at least an hour before you bake. That then gets added to the batter after the flour.)
But raisins aside, it's a solid oatmeal cookie recipe, necessary for those times when you're wanting something a bit more toothsome and textured than a classic chocolate chip. I found it was the perfect foundation on which to build: a solid, classic oatmeal cookie that will support any variety of mix-ins and flavor additions.
For my mix-ins, I used dried cinnamon apple cubes and toffee bits, borrowing my flavor inspiration from toffee covered apples. Because, let's face it, toffee apples taste great and all but they're near impossible to eat. I'd much rather have those same flavors in cookie form any day!


These are perhaps the most inconsistent looking cookies I've ever made, and in fact I almost didn't post them for that reason. Each batch came out looking slightly different depending on the room temperature, oven temperature, dough temperature, dough shape (round or slightly flattened) and who knows what other factors (alignment of the stars, etc. etc.) Different cookie sheets (thick or thin, light or dark) also affect the final appearance, as well using silicone baking mats instead of parchment.
Keep this in mind, your cookies probably won't look like mine, but that's ok!
I recommend baking a test pan with two or three cookies to see how they bake, then you can adjust as necessary (changing oven temperature, or chilling the dough) before you bake the rest.
For flat, crispier cookies, use room temperature dough and slightly flatten the dough balls with the ball of your hand before baking. I also bake them at 325ºF for slightly longer, the lower temperature helps them spread even more.
For thicker, softer cookies, chill the dough in the bowl for 20-30 minutes before scooping. You can experiment with using round balls vs slightly flat ones to achieve your desired shape. Bake at 350ºF for 9-11 minutes.
Give it a Swirl
These cookies will come out of the oven looking like a hot mess, an oozing puddle of caramelized goo that is only vaguely round. They'll look more like pancakes than cookies.
Don't panic! Mine started off ugly too. Here's what you want to do:
While the cookies are still hot, swirl a large round cookie cutter around the edges of the cookie (like a spirograph… remember those?) This will tuck in the uneven edges, creating a beautifully round cookie with crisp, golden brown edges. I used the largest circle cutter from this set.
Don't have a large round cookie cutter? Two spoons will work in a pinch, just use the curved inside surface of the spoons to pat the uneven edges towards the center, moving around the cookie to create a more uniform shape.
Subs and Swaps
– Dried apple cubes are a bit of a specialty product, probably not something you'll be able to find at the store (I've only ever seen apple rings or crunchier apple chips). You'll likely need to order them online or make your own.
DIY dried apple cubes: Peel and cut an apple into 3/8-inch cubes. Toss with cinnamon sugar. Spread in a single layer on a parchment-lined baking sheet and bake at 175 degrees F for about 2 hours.
You can also swap in any other dried fruit here with excellent results. Yes, even raisins. If you're into that kind of thing (this blog, however, is a strict no-raisin zone).
– I used Heath Bits 'O Brickle toffee baking bits in this recipe. You could also chop up some English toffee if you have some on hand.
In place of the toffee bits (or in addition to) you can also use 1 cup of baking chips (salted caramel is particularly good [I actually used these for my first batch of these cookies before deciding on the toffee bits instead] but butterscotch or cinnamon would work too).
– The recipe calls for old-fashioned rolled oats. Quick oats will work here in a pinch, the final cookie will just be softer and not as toothsome.
Toffee Apple Oatmeal Cookies
These unique and delicious oatmeal cookies are a textural delight: crispy on the edges, soft and chewy in the center, and studded with chunks of cinnamon-spiced dried apples and crunchy toffee bits throughout.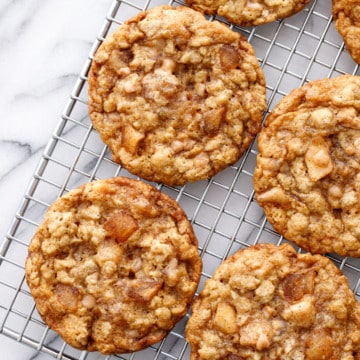 Ingredients:
2/3 cup (150g) unsalted butter, at room temperature
2/3 cup (134g) granulated sugar
2/3 cup (140g) packed light brown sugar
1 teaspoon baking soda
1/4 teaspoon fine sea salt
2 large eggs, at room temperature
1 teaspoon vanilla extract
1 2/3 cup (208g) all-purpose flour
1/4 teaspoon ground cinnamon
1 1/3 cup (145g) old fashioned oats
1 1/2 cups (200g) dried apple cubes
3/4 cup (100g) toffee baking bits
Directions:
Preheat oven to 325 degrees F, 350 degrees F if you don't want your cookies to spread as much. Line two heavyweight, light to medium colored baking sheets with parchment paper.
In a mixing bowl or the bowl of a stand mixer, cream butter until fluffy. Add sugar, brown sugar, baking soda and salt and beat on medium-high speed until light and fluffy, about 2-3 minutes.
Add eggs, one at a time, mixing until each egg is incorporated and emulsified, scraping down the side of the bowl between as necessary.
Add flour and cinnamon and mix on low speed until flour is almost fully incorporated; add oats and mix until just combined. Mix in apples and toffee bits.
Scoop balls of dough onto prepared cookie sheet, using a medium (#40) cookie scoop (or a scant 2 tablespoons of dough), leaving 2-3 inches of space between cookies as they will spread quite a bit.
The shape in which the cookies bake depends on a lot of factors, primarily the dough temperature and shape. If you want flatter cookies like mine, use room temperature dough and press down the balls slightly into puck shapes (it's pretty sticky, but should be doable). For thicker cookies, chill the dough for 20-30 minutes and leave the balls fully formed. I recommend baking off a test cookie or two to make sure you like the shape first.
Bake for 13 to 15 minutes at 325 degrees, or 9 to 11 minutes at 350 degrees, until edges are golden brown and centers are no longer raw looking.
Remove from oven and immediately swirl a large round cookie cutter around each cookie to tuck in the edges and shape the cookies into perfect circles (you can also use the concave side of two spoons to achieve something similar). Let cool for 10 minutes on cookie sheets, then transfer to a wire rack to cool. Repeat with remaining dough, being sure to let the cookie sheet cool completely before scooping more dough onto it. You can reuse parchment, wipe off any greasy bits with a paper towel and you can use the same sheets to bake this entire batch.
Store cookies in an airtight container for up to 5 days.
Did you make this recipe?
Let us know what you think!
Leave a Comment below or share a photo and tag me on Instagram with the hashtag #loveandoliveoil.