Don't be fooled by their cheerful exterior, because these chocolate brownie cookies have a dark secret: a hidden core of rich and creamy chocolate ganache.
Cosmic brownies: cookie-fied! Your favorite nostalgic childhood treat is now in cookie form, with the traditional milk chocolate ganache topping stuffed inside a chewy brownie cookie.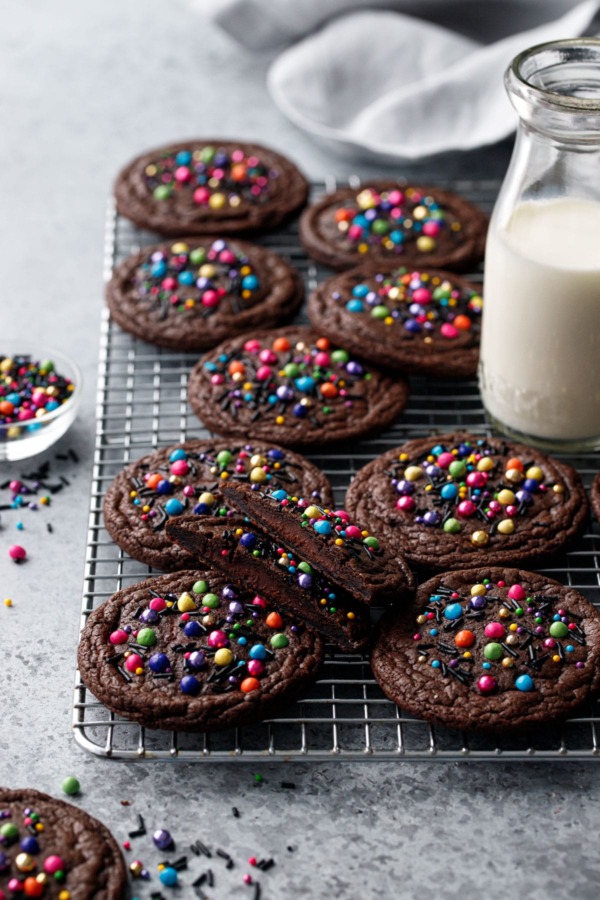 Another day, another stuffed cookie recipe, and these ganache-stuffed brownie cookies (aka "Cosmic" brownie cookies) are fan-freaking-tastic.
I mean, the brownie cookie alone would be worth sharing, with its perfectly crinkly exterior and rich, chocolatey flavor. But with the hidden ganache filling? Well, these cookies take the cake.
The cheerful sprinkles on top only add to the appeal (it's the truth that rainbow sprinkles make everything better).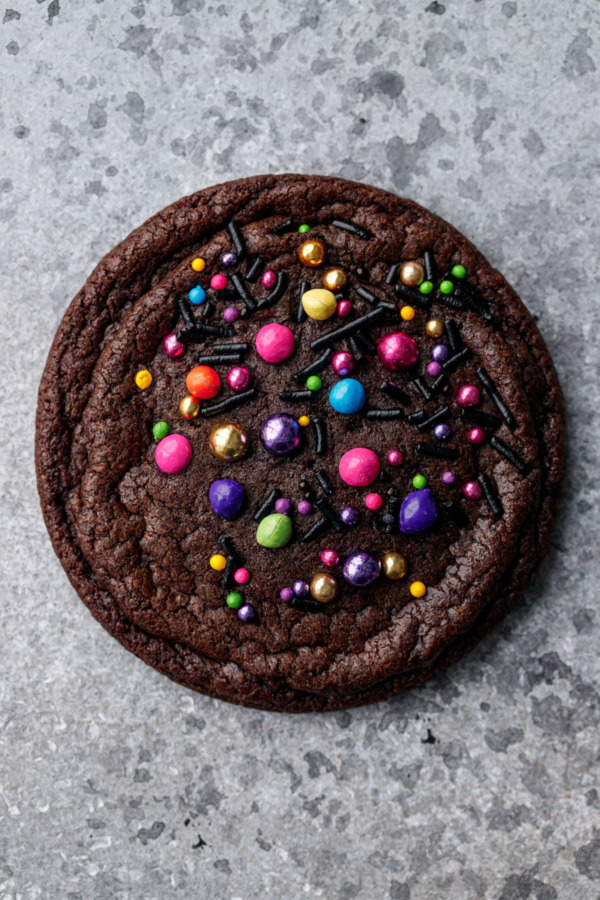 I originally set out to recreate my Out of This World Brownies, aka knock-off Cosmic Brownies, in cookie form.
I debated between a stuffed cookie or a sandwich cookie, but you all know how much I love my stuffed cookies, so I really didn't debate long (and really, if you think about it, a stuffed cookie is just a one-piece-sandwich-cookie so… it's a win win all around).
And folks… this recipe really is a winner. I'm beyond thrilled with how these came out and strongly (strongly) encourage you to make them ASAP.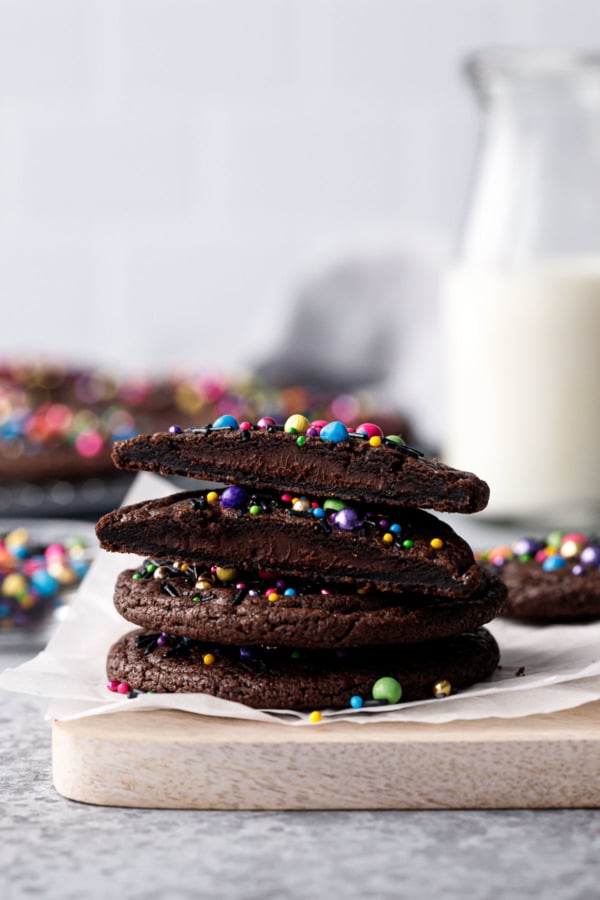 The ganache filling is identical to my Ganache-Stuffed Chocolate Chip cookies, stuffed inside a crinkly, brownie-like chocolate cookie instead of a traditional chocolate chip.
I also ended up doing a mix of milk and dark chocolates here, to be more true to the original cosmic brownie flavor (and I also wanted to be able to see a bit of contrast between the dark cocoa cookie and the slightly lighter brown filling). I found that using entirely milk chocolate makes the filling a bit too soft, however, which is why I ultimately used a mix. You could use all dark chocolate (I recommend 50-60%) here if you prefer.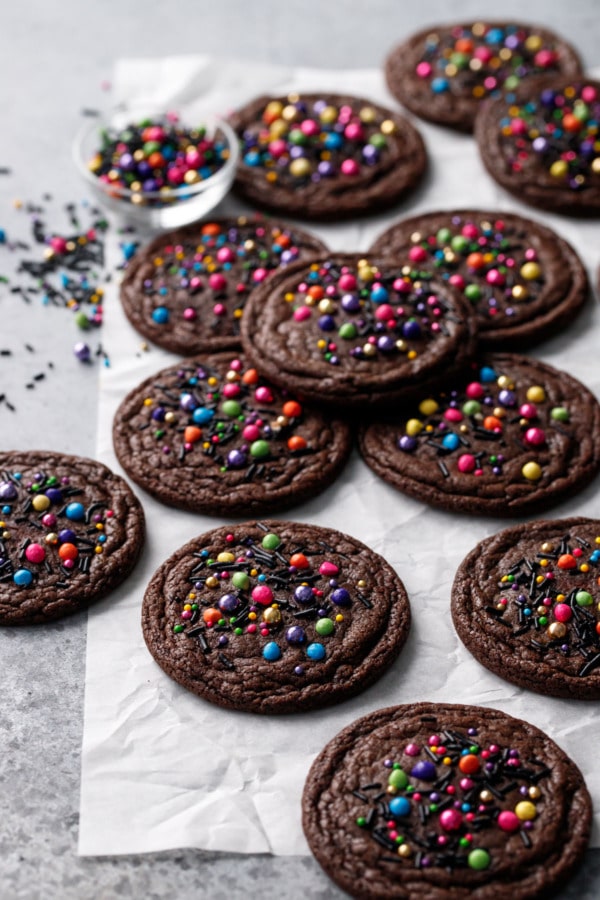 As a side bonus… the ganache cores keep the cookies soft and succulent for days (not that they'll last that long, but it's the thought that counts). Makes sense since while a cookie can certainly dry out, ganache can't. This fact would make these cookies a great option for shipping in care packages!
While I feel the ganache filling takes these cookies from darn good to downright incredible, the brownie cookie base is a solid recipe on its own. Unstuffed, they'll flatten out a bit more when baking, and, without the filling to keep them soft, are really best enjoyed within a few days of baking (so maybe freeze some of the balls so you can have fresh-baked cookies on demand).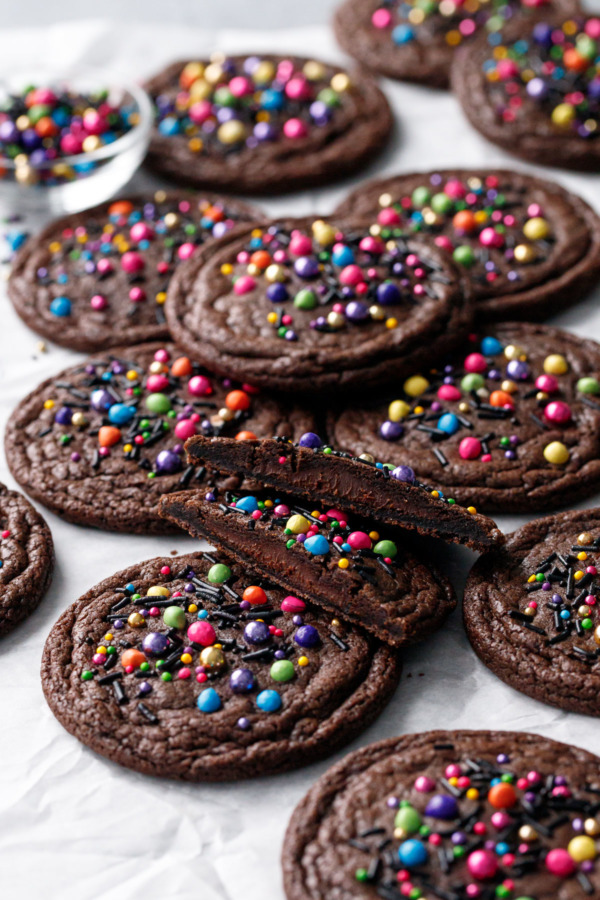 Make the ganache about an hour ahead of time, since it will need to cool for 20 to 30 minutes until it's pipe-able, approximately the consistency of peanut butter.
Dollop or pipe rounds of ganache onto a parchment-lined baking sheet (think the size/shape of macarons, if you've ever made those before – you want more of a flat round of chocolate, not a tall 'kiss'). I think a piping bag is way easier for this step, but you can spoon it out too (about 1/2 tablespoon per dollop).
Pop the centers into the freezer until they are good and solid, another 30 minutes or so (you must have a firm filling to be able to shape the dough around it). You can also do this part a day of time, they'll keep just fine in the freezer overnight. For longer than a day, I'd suggest transferring them to an airtight bag once they're frozen to avoid freezer burn.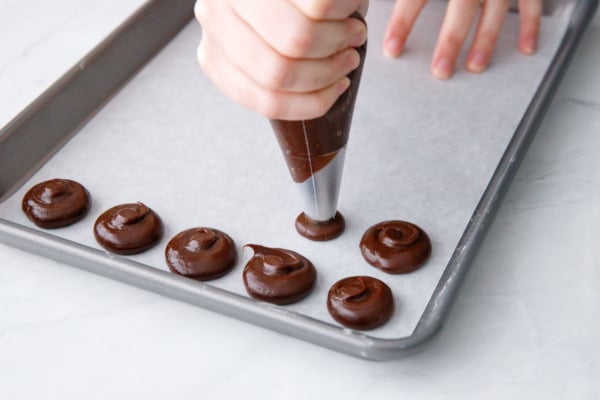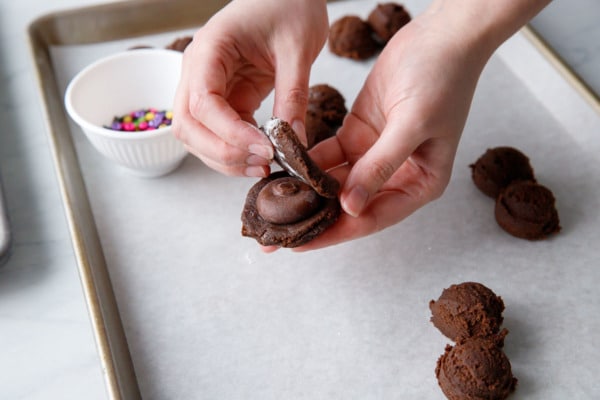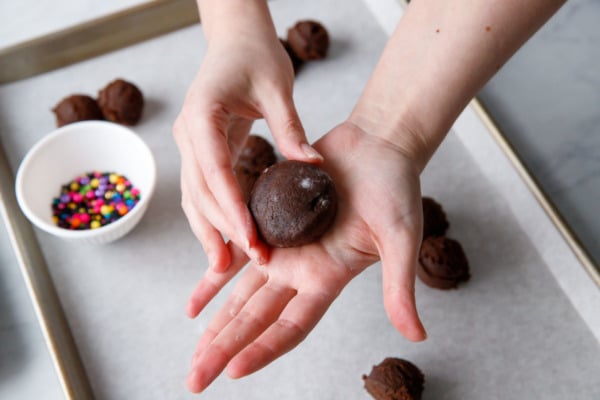 My technique for stuffing cookies involves two pieces of flatted dough that are then shaped around the frozen filling.
Here I used a small #70 cookie scoop, two balls per cookie.
This dough is a bit sticky (I chill it for about 20-30 minutes or until it's just workable). If you need to, dab a little flour on your palm, then flatten the two dough balls. Place a dollop of frozen ganache on one piece of dough, top it with the other piece, then seal the edges and shape it into a nice 'puck-like' ball.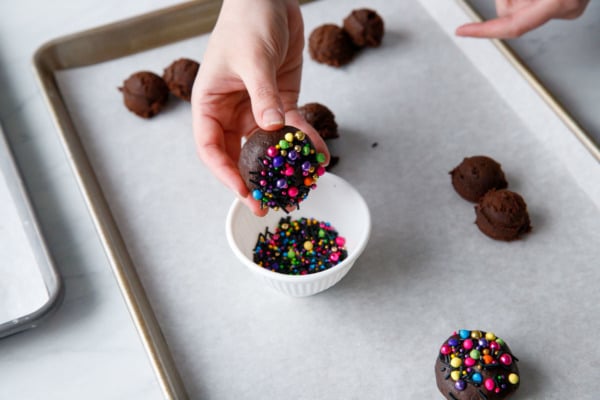 Pour your sprinkles into a small bowl and then dip the tops of your shaped dough balls into the sprinkles. The sprinkles will spread out more as the cookies bake, so I gave them a pretty packed in layer of sprinkles (press them in a bit more if necessary so they don't roll all over the place).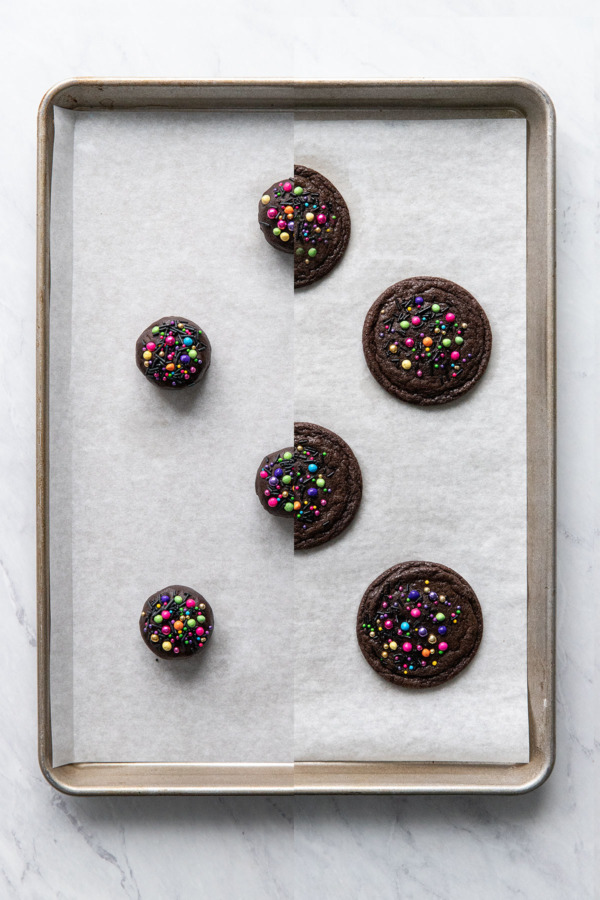 These cookies really benefit from the cookie cutter trick: swirling a large round cookie cutter around the cookies as soon as they come out of the oven, while they are still warm and soft (I posted a quick clip to my Instagram stories if you want to see what I mean here. It's a bit hard to explain in just words alone).
Doing this results in perfectly round cookies with a gorgeous rumple around the edge. If you want picture-perfect cookies, this will be your new favorite trick.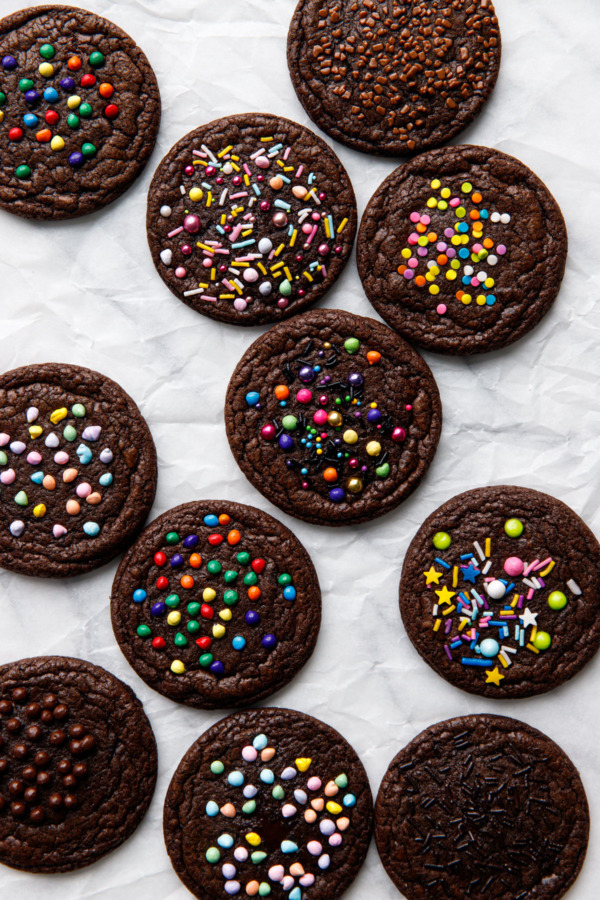 You can really use any sprinkles you want here, from the traditional Cosmic brownie rainbow bit chips to any fun sprinkle mix you might have on hand. As long as the sprinkles themselves hold up fairly well to baking, you're good as gold.
After baking up a bunch of different variations using just about every sprinkle type in my pantry (my legendary indecisiveness strikes again) I ultimately went with a retro bit chip mix (a discontinued Sweetapolita medley called Lite Brite), which gives a nod to the original cosmic rainbow chips but with a bit more sparkly retro flair. But really, you can't go wrong with any of the options.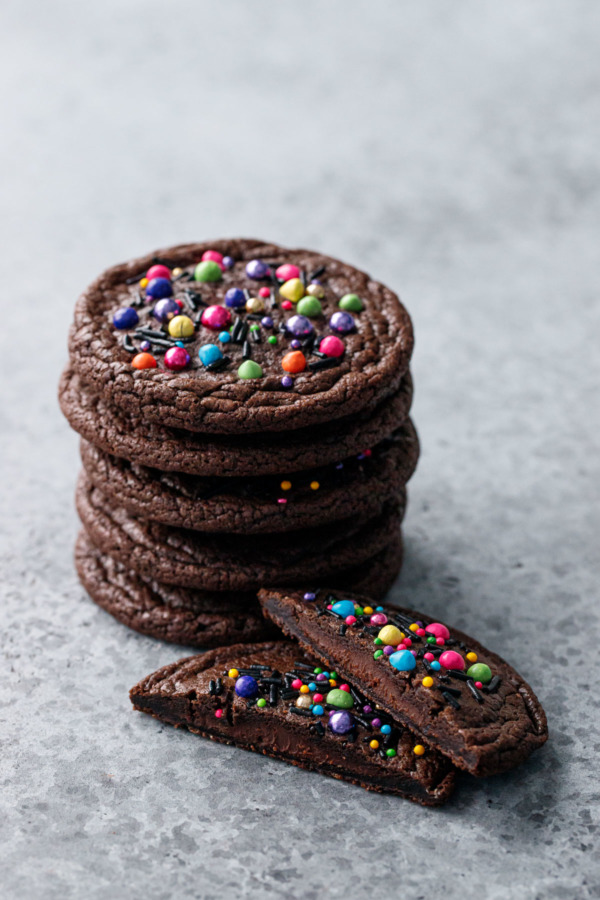 These cookies freeze beautifully, just freeze the stuffed and shaped cookies on a baking sheet until frozen solid, then transfer to an airtight container (a container may be a better option for these since so they don't jostle each other and knock off all the sprinkles). You can bake them straight from frozen, just add 1-2 minutes to the specified baking time.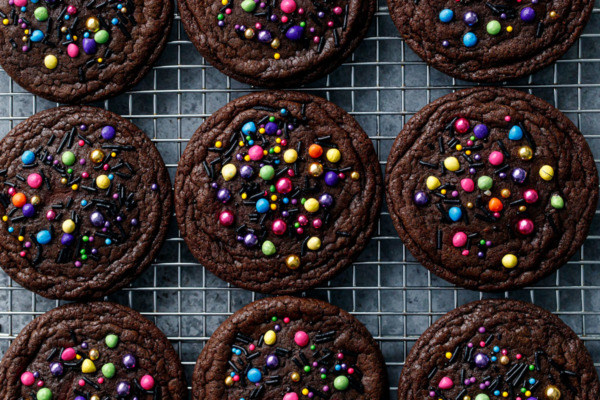 Ganache-Stuffed Brownie Cookies
Rich and chewy brownie cookies stuffed with a creamy chocolate ganache and topped with colorful sprinkles.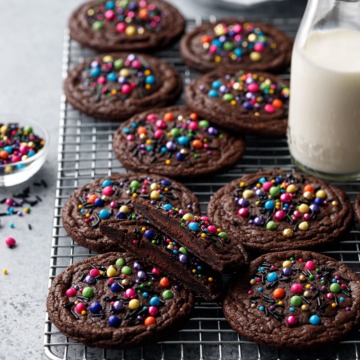 Ingredients:
For Ganache:
3.5oz (100g) good quality chocolate (I used a mix of 35% milk and 57% semisweet chocolate), finely chopped
1/4 cup (60g) heavy cream
For Cookies:
2 cups (250g) all-purpose flour
6 tablespoons (40g) Dutch-process cocoa powder
1 teaspoon baking soda
1/2 teaspoon kosher salt
4oz (110g) good quality semisweet chocolate (50-60%)
¾ cup (1½ sticks/170g) unsalted butter, at room temperature
1 cup (220g) packed brown sugar
½ cup (100g) granulated sugar
2 large eggs, at room temperature
2 teaspoons vanilla extract
rainbow bit chips or other sprinkles, as desired
Directions:
To make ganache, place chopped chocolate in a heat proof bowl. Line a small baking sheet or flat plate with parchment paper.
Warm cream in a small saucepan until it just begins to bubble around the edges (do not let it boil). Pour over chopped chocolate. Let sit for 30 seconds then slowly whisk, working from the center outward in concentric circles until an emulsion forms. Continue to gently whisk until cream is fully incorporated and chocolate is melted. Let cool, scraping the sides and folding a few times to ensure the ganache cools evenly, for about 20-30 minutes or until ganache is thickened to the consistency of peanut butter.
You can either scoop teaspoonfuls of ganache onto parchment-lined baking sheet, or, for more precise centers, transfer ganache to a piping bag fitted with a 1/2-inch round tip and pipe approximately 1¼-inch rounds of ganache onto baking sheet (pipe them like you would macaron batter, you want flat-ish shaped rounds rather than tall kisses, if that makes sense!) You should end up with about 2 dozen centers. Freeze until completely set, at least 30 minutes.
To make cookie dough, whisk together flour, cocoa powder, baking soda, and salt in a bowl and set aside.
Gently melt chocolate in a double boiler or microwave (use 50% power in 20 second increments) until just melted. Set aside to cool slightly.
Place butter and sugars in the bowl of a stand mixer fitted with the paddle attachment. Beat on medium-high speed until lightened and somewhat fluffy, about 2 to 3 minutes.
Reduce mixer speed to low and add eggs, one at a time, mixing until each egg is completely incorporated before adding the next. Scrape down the beater and the sides of the bowl, then increase speed to medium high for 30 seconds until slightly lightened in color.. Mix in vanilla.
Pour in lukewarm cooled chocolate and mix on low speed, scraping the sides and bottom of the bowl well, until batter is uniform in color. Add dry ingredients and mix on low speed until just incorporated.
Press a layer of plastic wrap on the surface of the dough. Refrigerate for 20 to 30 minutes or until it's just firmed up enough to work with (I find that chilling the dough longer makes it harder to scoop, and doesn't produce as nice looking cookies).
Meanwhile, preheat oven to 350 degrees F. Line two baking sheets with parchment paper.
Use a small cookie scoop to divide dough into balls, two small balls will combine to make one cookie (you can also use a medium cookie scoop and split each ball in half). Flatten dough balls into a pancake shape (if you find the dough sticky you can lightly dab your palm with a bit of flour first).
Place one frozen ganache dollop in the center of one flattened piece, then top with a second. Seal the edges around the ganache, then roll slightly into a flattened ball/puck shape.
Pour sprinkles into a small bowl. Press the tops of dough pucks into the sprinkles, then invert and place on prepared baking sheet, leaving 3-4 inches of space between cookies (I only fit 6 cookies on one sheet, they spread quite a bit).
Repeat with remaining dough, returning ganache pieces to the freezer in the interim (if they get too soft they'll be hard to work with). At this point the stuffed and sprinkle-topped dough balls can also be frozen if you want to save them to bake later.
Bake for 9 to 11 minutes or until tops are puffed and no longer shiny.
Remove from oven and immediately swirl a large round cookie cutter (larger than the diameter of the cookie) around each still-soft cookie. This will tuck in the edges and make your cookies perfectly round. Let cool on sheets for 10 minutes, then transfer to a wire rack to cool completely.
Cookies will keep in an airtight container for up to one week.
Did you make this recipe?
Let us know what you think!
Leave a Comment below or share a photo and tag me on Instagram with the hashtag #loveandoliveoil.