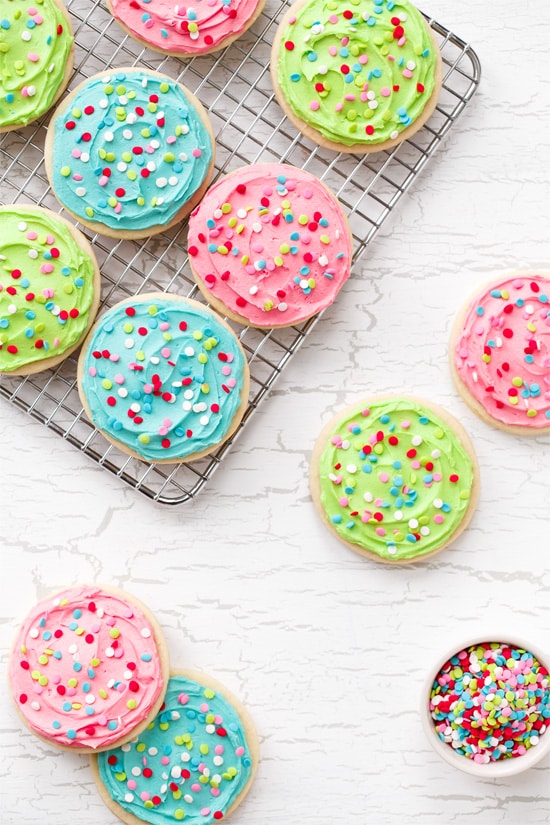 We all know them, we all love them. Those pink frosted sugar cookies from the grocery store. Soft and fluffy, with a generous swirl of pink tinted buttercream and rainbow sprinkles. Is there anything happier in all the world?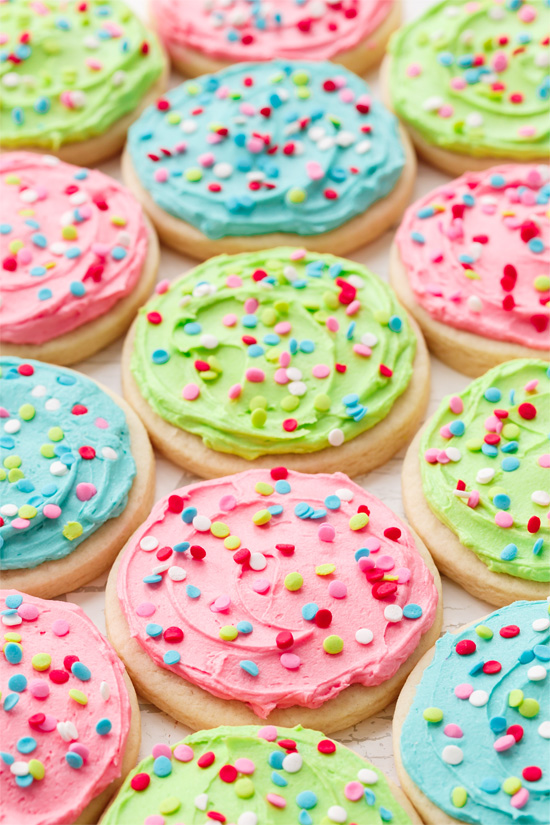 I mean, seriously, if you can look at this spread and not crack a smile… well, I don't think we can be friends anymore.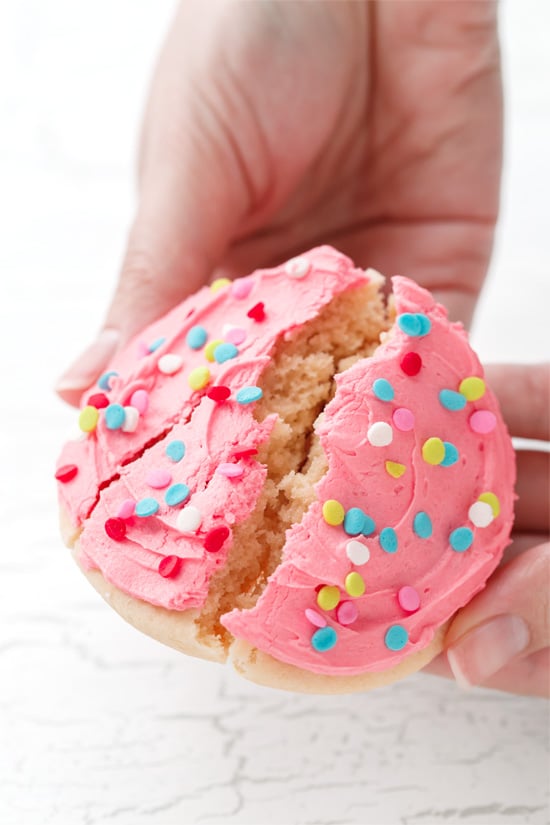 This recipe was adapted from my first book, where I originally topped it with an amazeballs cookie dough frosting (yes, it's as crazy good as it sounds).
The cookies on their own aren't earth shattering, in fact, they could be described as a bit boring. They're noticeably less sweet than the sugar cookies you may be used to, and that's entirely intentional, in anticipation of the added sweetness from the frosting. Together, a complete cookie-and-frosting package, it's nothing less than perfection, to say the least. Where a sweeter cookie would become too much when topped with a thick layer of American buttercream, but the balance here is spot on, with just the right amount of sugar to satisfy, and a hint of almond and a salty finish.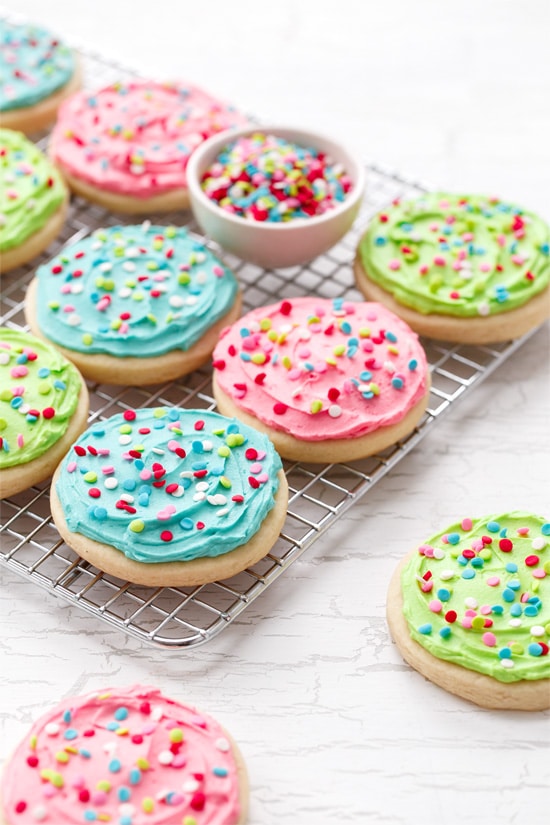 I made these cookies in preparation for this year's Great Food Blogger Cookie Swap. Which, as tradition has it, gets a new style of cookie in the logo each year. We've had chocolate chip, chocolate white chocolate chip, snickerdoodle, and molasses crinkles. I figured it was high time a pink frosted sugar cookie made an appearance, and the results couldn't have been any more delightful! (Related: if you're a food blogger and want to participate in this year's swap, be sure you're signed up for the notifications list to get an email alert as soon as sign ups open (likely in the next 4-6 weeks!)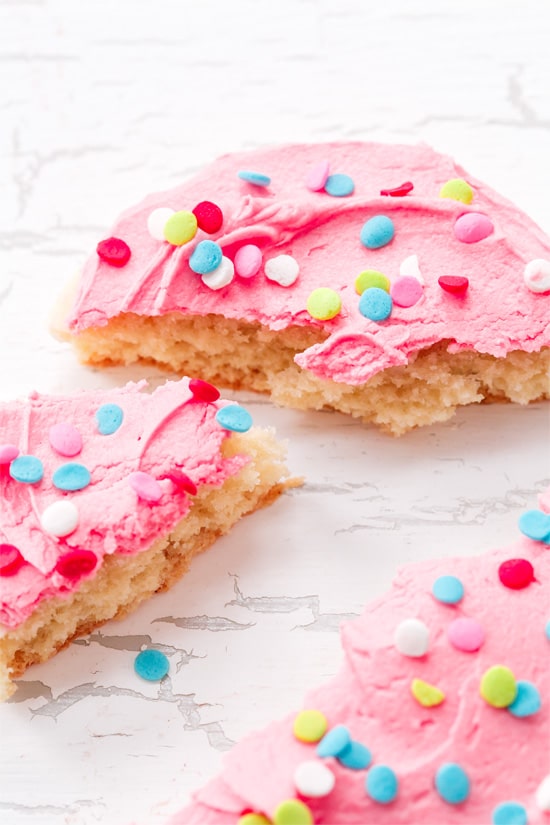 This recipe uses half butter and half shortening for the cookie base. If you used all shortening your cookies would stay softer longer, but lack some of the unctuous butter flavor. If you used all butter you'd get proportionally more flavor, but the cookies wouldn't be quite as soft. I found the mix of the two to be the best balance. The same for the frosting, the little bit of added shortening makes the frosting more stable and fluffy in texture, which is especially helpful if you're making these on a hot day.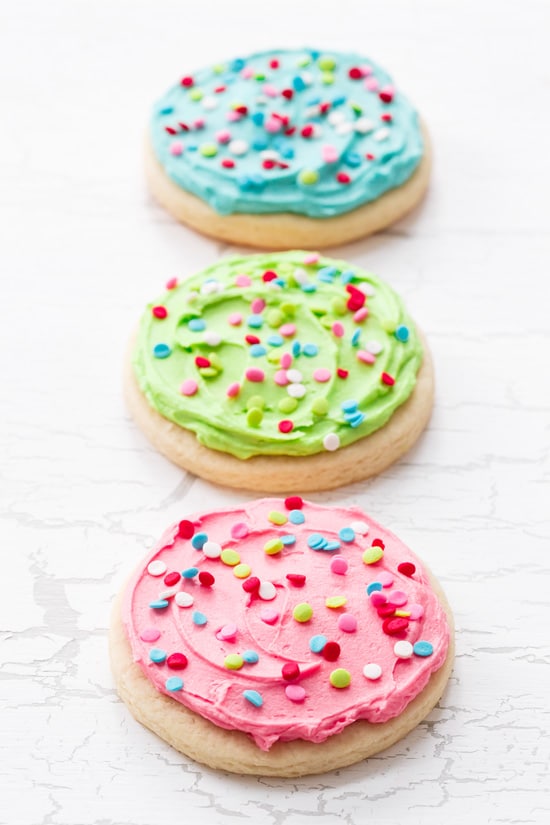 So the next time you're feeling down might I suggest rolling up your sleeves and indulging in a bit of baking? Because once you whip up a batch of these amazingly soft cookies, complete with a slathering of buttercream and a sprinkle of happiness, you won't be able to help but feel a little bit better about the world.
Life is better with rainbow sprinkles.
Soft Frosted Sugar Cookies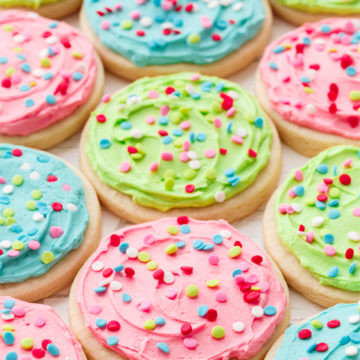 Ingredients:
For Cookies:
3 1/4 cups all-purpose flour
1 tablespoon cornstarch
1/2 teaspoon kosher salt
1/2 teaspoon baking soda
1/2 teaspoon baking powder
6 tablespoons (3/4 stick) unsalted butter, room temperature
4 tablespoons (1/4 cup) unflavored vegetable shortening, room temperature
1 1/4 cup granulated sugar
2 large eggs
2 teaspoons vanilla extract
1/4 teaspoon almond extract (optional)
For Frosting:
14 tablespoons unsalted butter (1 3/4 sticks), room temperature
2 tablespoons unflavored vegetable shortening, room temperature
2 cups powdered sugar (or more as needed)
1 teaspoon vanilla extract
food coloring (optional)
sprinkles, for decoration
Directions:
Whisk together flour, cornstarch, salt, baking soda, and baking powder in a bowl until incorporated. Set aside.
In a large mixing bowl or the bowl of a stand mixer, beat butter and shortening together until smooth. Add sugar and beat on medium-high speed, 1 to 2 minutes or until fluffy. Add eggs, one at a time, followed by vanilla. Mix well, scraping down the sides of the bowl as needed.
Add dry ingredients in two batches, mixing on low speed, until flour is incorporated and no dry spots remain. Cover and refrigerate for at least 30 minutes or until firm enough to handle.
Preheat oven to 350 degrees F. Line two baking sheets with silicone baking mats or parchment paper.
Split dough into two pieces and roll half on a lightly floured surface to an even 3/8-inch thickness (this is significantly thicker than you might be used to for normal cut-out sugar cookies, that thickness is the key to the cookies' softness). Cut into 3-inch circles using a round cookie cutter or a drinking glass. Arrange cut rounds on baking sheet, leaving 1 to 2 inches of space between them.
Bake for 8 to 10 minutes or until tops are set and bottoms are just beginning to turn light golden brown. Do not overbake. Let cool on baking sheets for 5 minutes then transfer to wire racks to cool completely before frosting. Repeat with remaining dough.
To prepare frosting, combine butter and shortening in a large mixing bowl or the bowl of a stand mixer. Beat on high speed until smooth and very fluffy (there should be no visible chunks of butter or shortening. Be sure both ingredients are entirely room temperature or you will likely end up with undesirable chunks).
Add powdered sugar, 1/2 cup at a time, until frosting reaches desired consistency. Mix in vanilla and food coloring as desired. Spread frosting onto cooled cookies with an offset spatula. Decorate with sprinkles. Store cookies in an airtight container for up to 5 days, though cookies will be best if enjoyed within 1 to 2 days for optimal softness.
Did you make this recipe?
Let us know what you think!
Leave a Comment below or share a photo and tag me on Instagram with the hashtag #loveandoliveoil.