If you're looking for an easy treat that's a legit snack, look no further than this old-fashioned Oatmeal Chocolate Chip Snack Cake.
Basically an oatmeal chocolate chip cookie in cake form, this quick and easy snack cake makes for a sweet afternoon treat. It's ridiculously easy, uses only one bowl, and is the perfect balance of sweetness—no frosting necessary.
Every so often, when I'm feeling particularly uninspired, I like to pull out my grandma Elaine's old recipe box and flip through the faded index cards and magazine clippings inside. Despite the fact I've had the box for 5 years now, if I inhale deeply, it still carries the scent I will forever associate with her kitchen.
Her old fashioned coffee cake is a reader favorite, and her New York-style cheesecake holds a special place in my heart.
This ridiculously easy, and ridiculously good, oatmeal chocolate chip snack cake is another gem from her box, one that is sure to be an instant hit. Grandma never fails me, and this cake is no exception.
Now, she didn't call it a snack cake, that's my own moniker, given because this cake is so simple and perfect for snacking. No excuse needed to grab a square at three in the afternoon.
In fact, I'd argue the afternoon is the ideal time to consume a cake like this, when lunch is but a distant memory and you need some serious sustenance to get you through to dinner. The oats in the cake give a bit more heft and substance than a typical springy sponge, making it both satisfying and filling.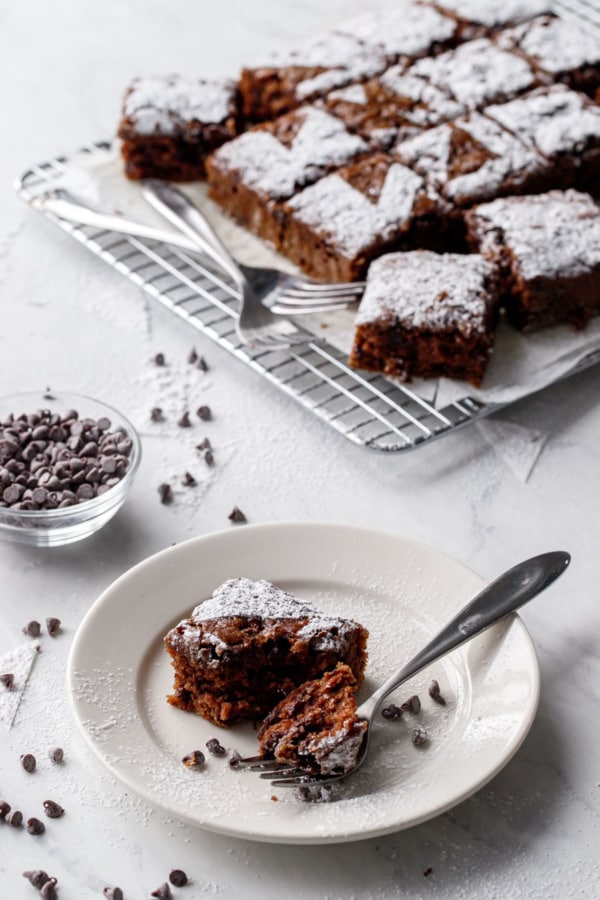 The texture of this cake is hard to describe. It's not springy nor fluffy nor light (clearly I need to expand my cake vocabulary). In fact, it's actually quite dense, each square has a surprising heft to it, with a coarse crumb and an undeniable moistness that I attribute to the oats.
Rather, it falls somewhere between a fluffy white cake and a fruitcake, or maybe a hearty muffin, with a bit of, shall we say chewiness to it… not unlike mochi cake made from glutenous rice.
You might be thinking… dense? Coarse? Chewy? This cake sounds awful. And maybe my cake-descriptors are lacking here, because it's decidedly not awful but actually quite lovely.
You'll just have to trust me on this one. And luckily, if it turns out you don't like it, you've haven't wasted hours upon hours of time baking and trimming and frosting and fussing. It really doesn't get any easier than this frosting-less one bowl wonder of a cake (if that's not reason enough to try it I don't know what is).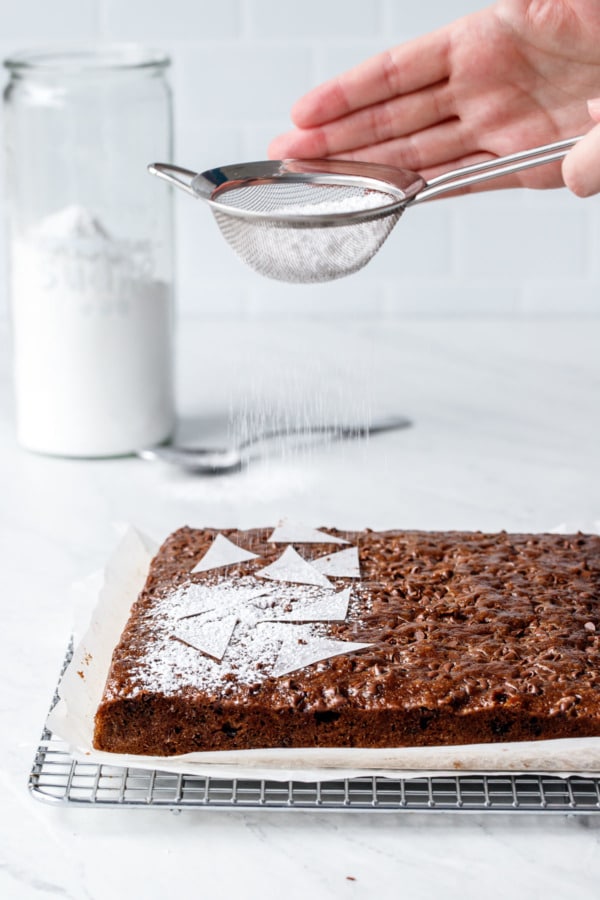 The big question here is… to frost or not to frost?
That is certainly a conundrum.
Grandma's recipe mentioned nothing about frosting.
However, I'm firmly on team NEVER TOO MUCH FROSTING, so I originally wanted to add some undulating swirls of light chocolate buttercream (ok, ok, I partially admit to wanting frosting solely as a vehicle for sprinkles… so sue me).
Chalk it up to a bad luck or misaligned planets or something (or, more likely, my own impatience), because I managed to botch two separate batches of frosting. My chocolate separated and my buttercream curdled and I seriously had to stop myself from throwing the bowl across the room.
Irritated and frustrated and quickly losing light, I threw* some powdered sugar on top and called it a day. (*angrily dusted)
Turns out, grandma was right… the cake really doesn't need frosting. (Sorry grandma, I should have never doubted you!)
It's incredibly moist and tender, and the chocolate chips throughout, paired with a light dusting of sugar on top make for an ultra satisfying, perfectly sweet snack that wants for nought.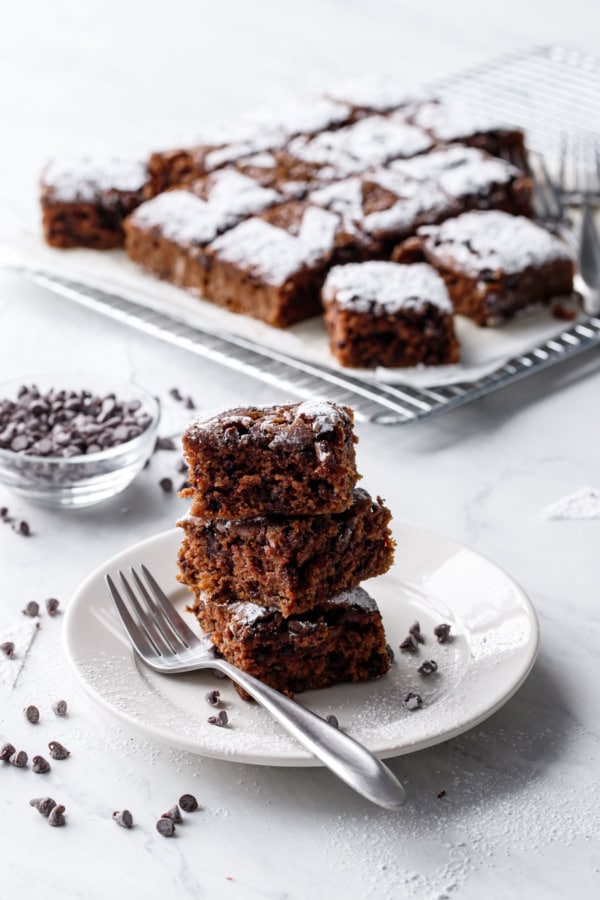 To make the sugar topping a bit more interesting I laid down some parchment paper triangles on top of the cake before dusting it liberally with powdered sugar. Then I gently removed the triangles using a pair of tweezers, leaving behind a crisp geometric design on the top of the cake.
In hindsight I probably should have done a more regular design, or placed the triangles on top after cutting, because while it looked cool in its uncut form, once it was cut into squares the design sort of lost its geometry.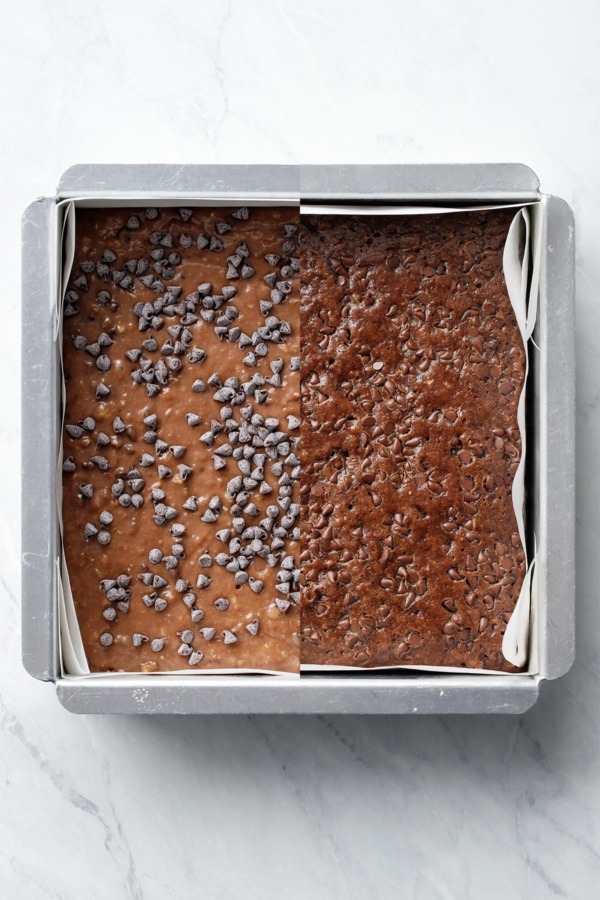 Since I know I'll probably get questions about the quick oats used in this recipe, I wanted to clarify. You really want to look for quick oats on the package. Old-fashioned or rolled oats do not work nearly as well here, and don't even try to use steel cut oats. I also recommend against using packets of instant oatmeal which often have added flavorings and other ingredients.
Both quick and rolled oats are processed by steaming and rolling the oat groat into thin flakes (Steel cut, on the other hand, are just the whole oat groat chopped into coarse pieces.)
Quick oats are steamed longer, rolled thinner, and cut into smaller pieces than old-fashioned rolled oats, allowing them to cook, well, quicker.
If you only have old-fashioned rolled oats, it will technically still work, however the texture of the final cake isn't ideal, since the thicker, larger oat flakes don't soften and absorb quite as fully. When I tested it, I found the texture a bit uneven, with bits of chewy oat pieces still obvious in the cake. I recommend pulsing the oats a few times in a blender or food processor if you, which will break up the larger flakes a bit more and hopefully give the cake a slightly more even consistency.
Or, better yet, just get some quick oats and enjoy this cake as it was meant to be. 😉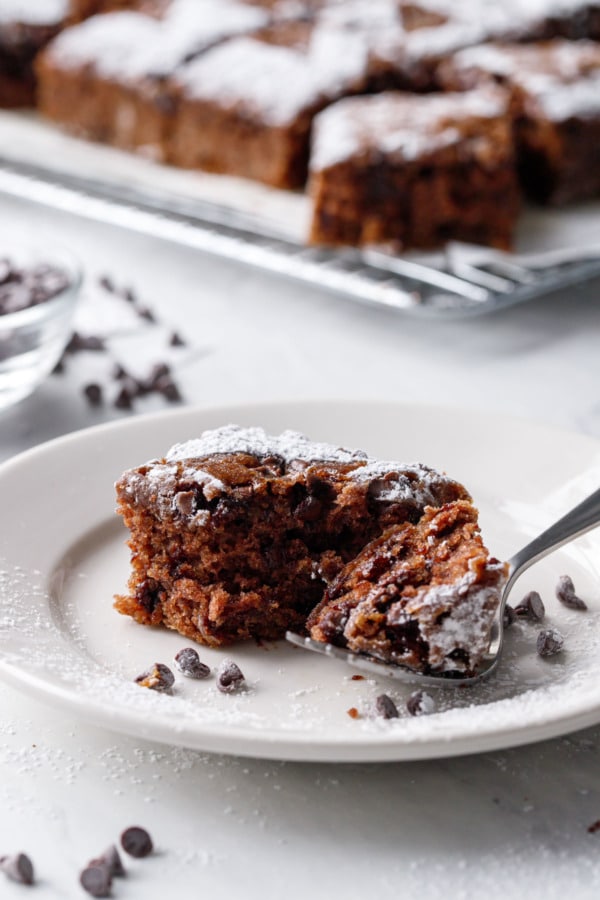 The moistness of this cake means that it keeps wonderfully, it doesn't dry out like normal cakes tend to do, and can even be frozen (before the sugar dusting, of course).
I scaled down grandma's original recipe to make an 8-inch cake; simply double it to make a full 13-by-9 (the baking time won't be that much longer, maybe 5 minutes more).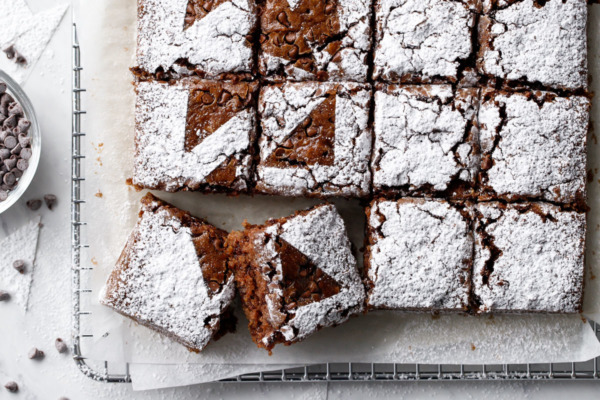 Oatmeal Chocolate Chip Snack Cake
Basically an oatmeal chocolate chip cookie in cake form, this quick and easy snack cake makes for a sweet afternoon treat. It's ridiculously easy, uses only one bowl, and is the perfect balance of sweetness—no frosting necessary.
Ingredients:
½ cup (50g) quick/instant oats (not old fashioned oats*)
¾ cup (185mL) near-boiling water
¼ cup (56g, 1/2 stick) unsalted butter, at room temperature, cut into cubes
½ cup (110g) packed light brown sugar
½ cup (100g) granulated sugar
1 large egg
1 teaspoon vanilla extract
¾ cup + 2 tablespoons (110g) all-purpose flour
1 tablespoon cocoa powder
½ teaspoon baking soda
¼ teaspoon kosher salt
¾ cup (120g) mini semisweet chocolate chips
powdered sugar, for dusting
Directions:
Preheat oven to 350 degrees F. Lightly butter and line an 8-inch square baking pan with parchment paper.
Place quick oats in a mixing bowl, pour over hot water and stir. Let sit for 10 minutes.
Add cubes of butter and gently stir until butter is melted and incorporated.
Stir in sugar, and brown sugar, then whisk in the egg and vanilla.
Add flour, cocoa powder, baking soda and salt and stir until almost fully incorporated, then add ½ cup of chocolate chips and fold until evenly distributed.
Pour batter into prepared baking pan. Sprinkle with remaining chocolate chips.
Bake for 30 to 40 minutes or until a toothpick inserted near the center comes out clean. Remove from oven and set pan on a wire rack to cool. Use parchment paper to lift cake out of pan. If desired, dust top with powdered sugar before slicing into squares and serving.
Cake will keep, refrigerated in an airtight container, for up to 5 days.
*Rolled/old fashioned oats don't absorb quite as completely into the batter, and you will have little bits of chewy oat in the final cake. If that's all you have, they will technically work, however I recommend pulsing the oats a few times in a blender/food processor before proceeding. Also use full boiling water and let the oats soak for 15 minutes instead of 10 to give them a bit more time to soften.
Did you make this recipe?
Let us know what you think!
Leave a Comment below or share a photo and tag me on Instagram with the hashtag #loveandoliveoil.