I give you the ultimate sweet and salty treat: a crumbly oat cookie smeared with rich and creamy dulce de leche and finished with a sprinkle of flake sea salt.
Now you don't have to decide between a sweet or salty snack: these addicting oatmeal cookie bars combine the best of both!
I've been itching to adapt my Oatmeal Jam Bars like this for some time now, and finally hunkered down and did it. Not sure what took me so long because these bars are legit.
You're welcome.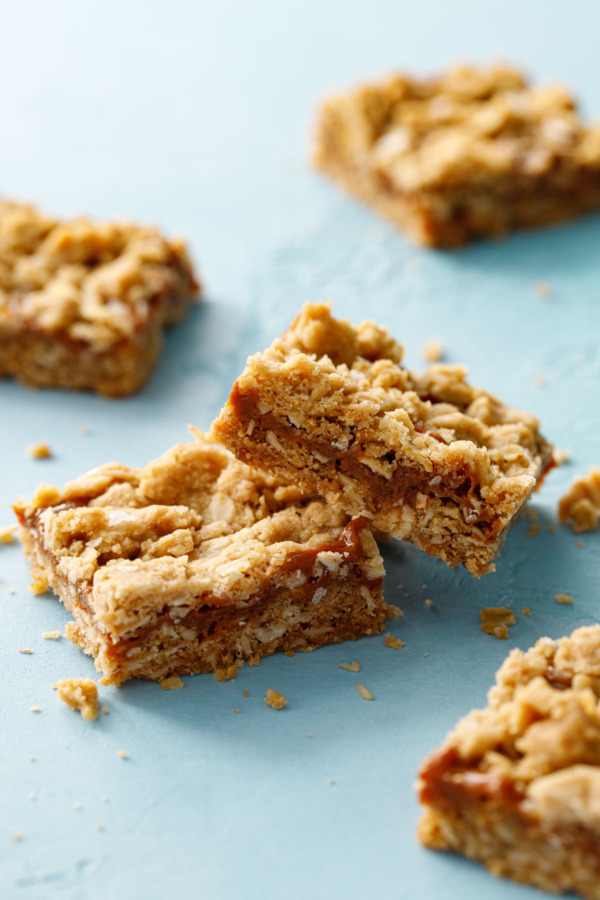 I tested both this oat version as well as a brown sugar shortbread (since it's obvious that dulce de leche and shortbread were meant to be). But the oat version was the resounding winner: something about the crunchy texture of the oats and the optimal proportion of caramel to crumb was simply perfection.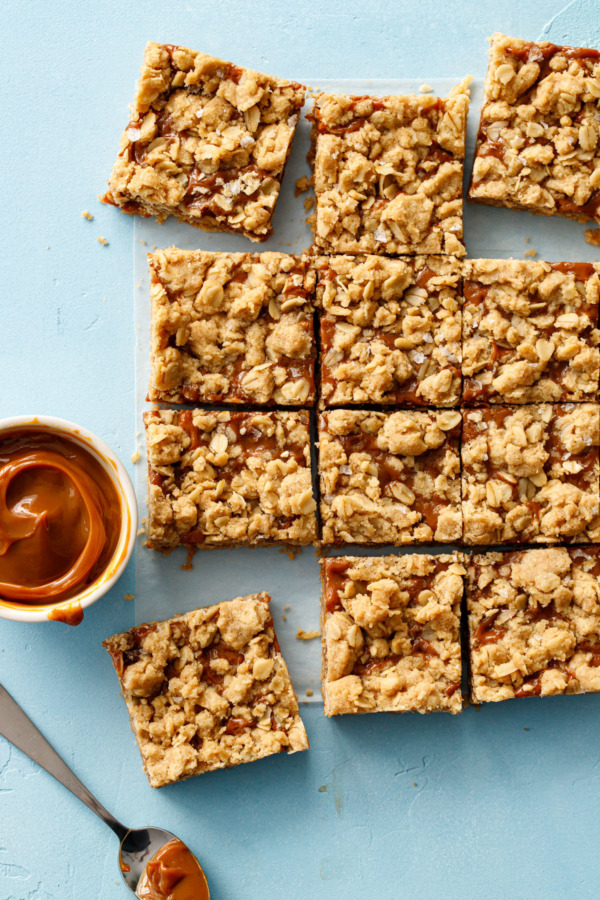 Talk about easy: whip up a quick oatmeal dough, press about 2/3 of it in a baking pan. Spread the dulce de leche on top (I used the canned stuff, but you can make your own if you prefer) then crumble the remaining dough on top.
Don't forget a sprinkle of flake sea salt to finish it all off (that hint of salt really takes these up a notch).
I baked these in an 8-by-8-inch square pan, but you can easily double the recipe to fit a 13-by-9-inch pan too (and a double recipe will use a full 13.4oz can). Baking time will likely be a few minutes longer for the larger pan: just keep an eye on it and pull it once the top is golden and the caramel is bubbling.
You can also halve the recipe for a 6-by-6 inch square pan (how's that for putting that high school math to good use)? But, let's be honest here, a 6-inch pan simply isn't enough. Once you try one of these bars you'll know what I mean: they're seriously addictive! So you're going to want that bigger pan.
This recipe is based on my Oatmeal Jam Bars that originally appeared in the That's my Jam bonus recipe book. And indeed, you can certainly swap in your favorite fruit jam or preserve in place of the dulce de leche if you're feeling fruity… everything else about the recipe stays exactly the same (sort of like my classic thumbprint cookies, where you can swap out fillings to your heart's content!)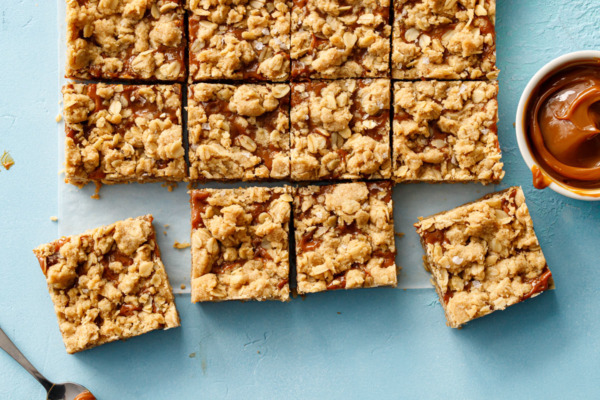 Dulce de Leche Crumb Bars
Sweet and salty at its best, these dulce de leche crumb bars feature a creamy layer of dulce de leche in between a buttery oat crumble.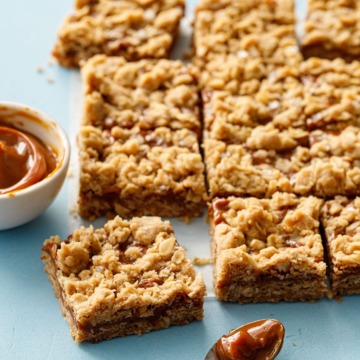 Ingredients:
1 cup (125g) all-purpose flour
1/2 cup (100g) brown sugar
1/2 teaspoon salt
1/4 teaspoon baking powder
1/8 teaspoon ground cinnamon
1/2 cup (1 stick, 113g) unsalted butter, at room temperature
1/2 teaspoon vanilla extract
1 cup (100g) rolled oats
1/2 cup (160g) dulce de leche (about half a 13.4oz can)
1/2 teaspoon coarse flake salt (such as Maldon)
Directions:
Preheat oven to 350 degrees F. Line an 8-by-8-inch square baking pan with parchment paper or aluminum foil and lightly coat with butter.
Combine flour, brown sugar, salt, baking powder and cinnamon in a large mixing bowl or the bowl of a stand mixer.
Cut butter into chunks and add to bowl with flour; mix on medium-low speed until butter breaks up into pea-sized chunks. Mix in vanilla. Add oats and mix until dough comes together in crumbles.
Press about 2/3 of the crumb mixture (~325 grams worth) into prepared baking pan. Spread dulce de leche in an even layer on top. Finally, crumble remaining dough evenly over top. Sprinkle with flake salt to finish (optional).
Bake for 30 to 35 minutes or until crumbles are light golden brown and dulce de leche is bubbly. Place on a wire rack to cool completely before slicing into bars and serving.
Did you make this recipe?
Let us know what you think!
Leave a Comment below or share a photo and tag me on Instagram with the hashtag #loveandoliveoil.