Soft and chewy and ready to party, these birthday cake amaretti cookies are studded with rainbow sprinkles and flavored with almond and cake batter extract.
Rainbow sprinkles make everything better, and my popular amaretti cookies are no exception! With pops of bright color peeking through the sugary cracks, and a nostalgic cake batter flavor with a hint of almond, there's no denying these confetti amaretti are little bites of fun!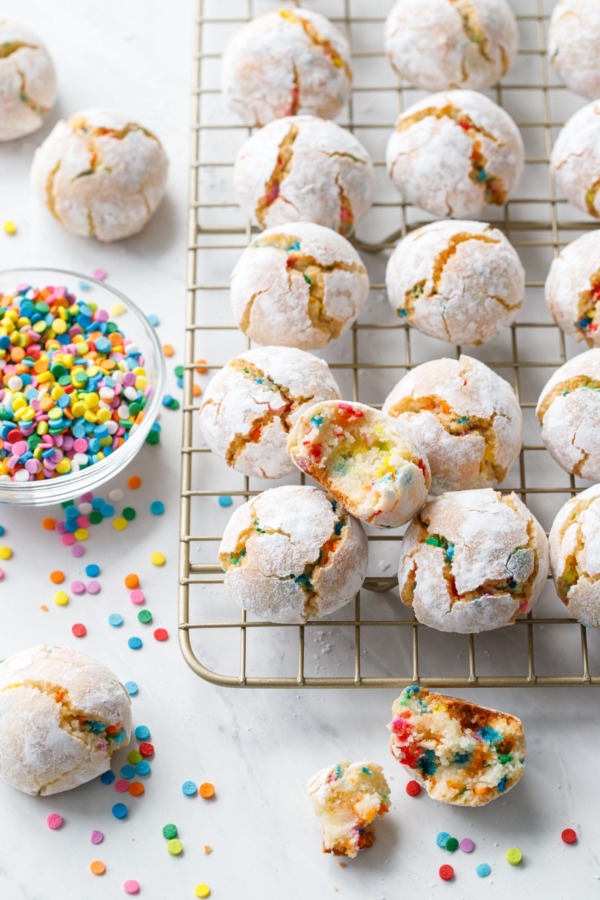 With the half dozen different amaretti flavors I've posted so far, I'm actually kind of shocked I didn't think of this sooner. Especially considering my obsession with wordplay and recipe names (funfetti fours, strawciatella, cookies 'n cream puffs, the list goes on. I often name a recipe before I develop it for this very reason.)
I mean, if there was any cookie more destined for a funfetti/confetti adaptation, it's amaretti. Funfetti amaretti. Confetti amaretti. Spaghetti amaretti? (Ok, nix that last one).
It's virtually impossible to look at these cookies and not feel just a little bit better about the world.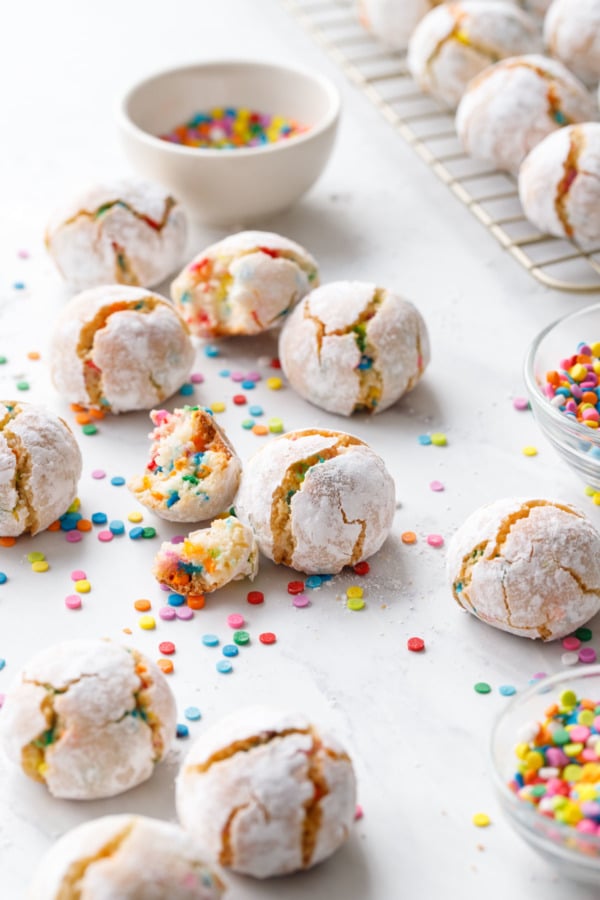 In addition to adding sprinkles, I added a touch of cake batter flavoring along with the almond extract, which gives these cookies a nostalgic flavor reminiscent of box-mix vanilla birthday cake, which has some underlying almond notes anyway so it really goes perfect with the natural almond flavor of these cookies.
There are other brands of cake batter flavoring out there, which may not be as concentrated as the LorAnn brand. Just use your best judgement and add as much flavoring as you think you need or want.
You can also leave the cake batter extract out if you wish, of course, though I recommend doubling the almond extract if you do so.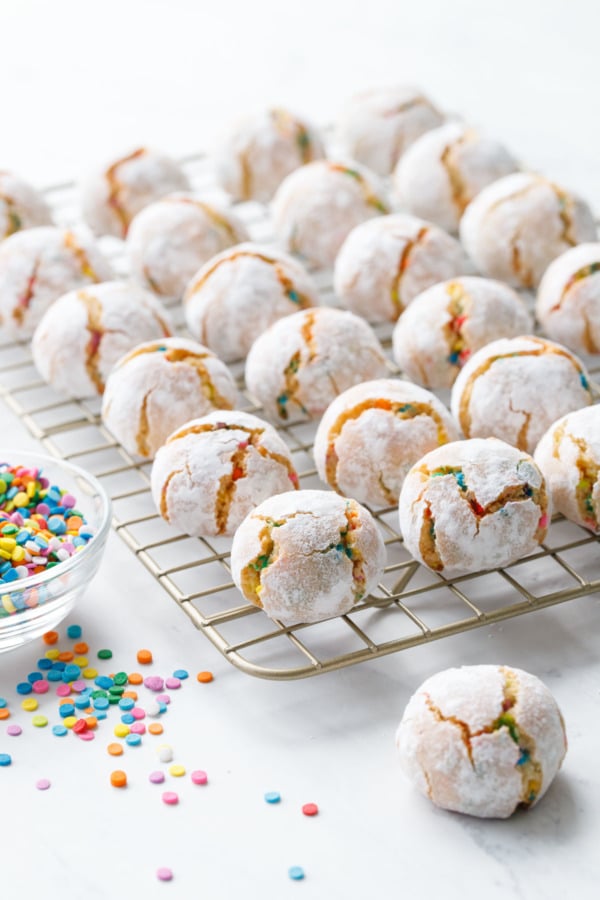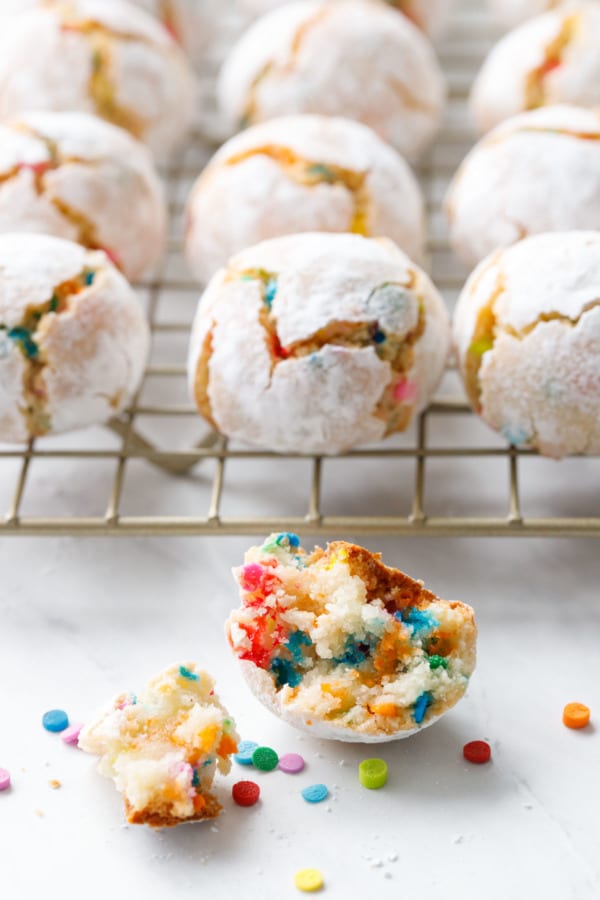 I will say the bottoms of this batch got a wee bit too brown, which I've now realized as I sit here writing the recipe is because I cooked them at 325 instead of 300. 🤦🏻‍♀️
You would think that with a recipe like this that I've literally made dozens of times, I would know what temperature to bake them.
Also: doubling the baking sheets is an important part of this recipe, which allows the cookie to bake longer without the bottoms getting overdone. The low and slow method is necessary for meringue-based cookies like this one, which leads to its unique chewy texture. If you only have one baking sheet, I'd recommend taking these cookies out of the oven 5-7 minutes earlier, so the centers will have more of a raw marzipan like texture that's softer and not as chewy.


And remember, this recipe can very easily be veganized by using aquafaba (the leftover liquid from a can of chickpeas) in place of the egg whites. If you do this be sure to seek out organic sugar, both granulated and powdered, since many regular white sugars are technically not vegan.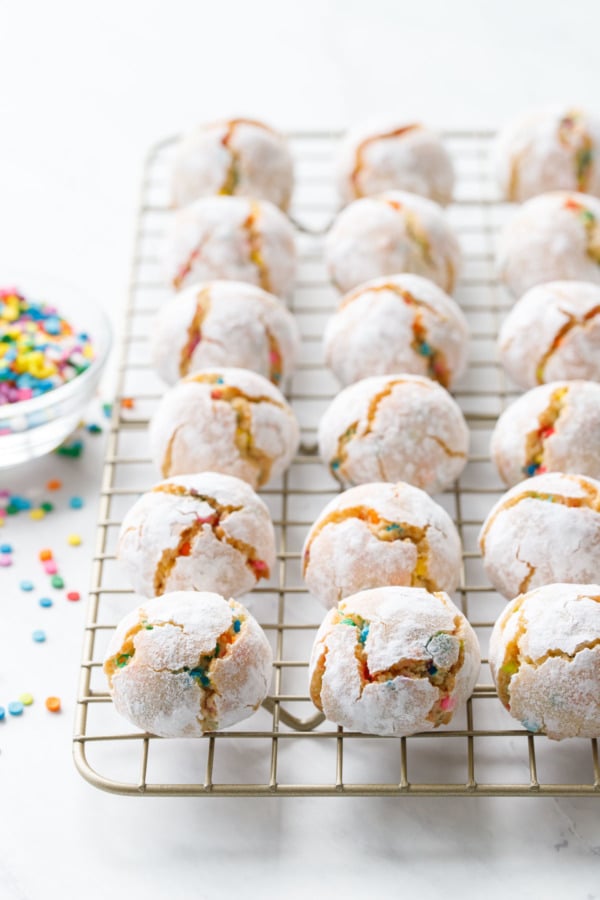 Let's talk sprinkles, because, when it comes to funfetti, what kind of sprinkles you choose matters.
My go-to sprinkles for anything funfetti are mini quins or sequins. These flat, wafer-like sprinkles hold their color and don't bleed into the dough, and stay suspended evenly throughout the cookie. Jimmies are your next best bet, though depending on the brand/formula they may bleed a little bit, so stir them as minimally as possible to avoid streaking. Don't even bother with nonpareils (trust me, they aren't worth it).
Quins are the best sprinkles for funfetti, hands down. When baked, they melt into pockets of pure color, but still retain a bit of crunch which adds a nice textural element to these otherwise uniformly chewy cookies. Their color stays bright and saturated, without bleeding into the surrounding dough when you mix them in.
I used the rainbow quins from Sweetapolita (which are currently out of stock, however they have some pastel and naturally colored options that'd work great here!) As always, use code LOVEANDOLIVEOIL15 for 15% off your first order!
Everyone loves rainbow sprinkles. Even cats. 😂
Confetti Amaretti Cookies
Soft and chewy almond cookies flavored with cake batter extract with colorful confetti quin sprinkles throughout.
Ingredients:
2 1/4 cups (200g) almond flour or very finely ground almonds, sifted
7/8 cup (175g) granulated sugar
1/4 teaspoon salt
2 large egg whites (about 65 grams)
1/4 teaspoon lemon juice
1/4 teaspoon almond extract
1/4 teaspoon cake batter flavoring (optional, increase almond to 1/2 teaspoon if omitted)
1/4 cup confetti quin sprinkles
confectioners' sugar, as needed
Directions:
Preheat oven to 300 degrees F. Stack two matching, heavyweight, light to medium colored cookie sheets one inside the other (stacking two cookie sheets together keeps the bottoms of the cookies from getting too brown). Line with parchment paper or a silicone baking mat.
In a large bowl, whisk together almond flour, sugar and salt until evenly incorporated.
In a mixing bowl or the bowl of a stand mixer fitted with the whisk attachment, whisk egg whites and lemon juice until they hold soft peaks.
Add beaten egg whites, almond extract, and cake batter flavoring to dry ingredients and stir until mixture forms a soft, sticky dough, kneading with your hands if necessary. Stir in sprinkles until evenly distributed.
Lightly dust your hands with powdered sugar. Use a small cookie scoop to portion dough into 1-inch balls. Roll into a smooth ball, then roll in powdered sugar. Arrange on parchment or silicon-lined baking sheets, leaving 1 inch of space between cookies.
Bake for about 30 minutes until tops are cracked and bottoms are just barely golden (if you are NOT using doubled cookie sheets your cookies will brown much quicker, and will likely need less time, so watch them closely). If you prefer crunchier cookies you can give them an extra 5 minutes or so or until the tops begin to brown too. Remove from oven; let cool a few minutes, then transfer to wire racks to cool completely.
Cookies will keep at room temperature in an airtight bag or container, for up to 5 days.
Did you make this recipe?
Let us know what you think!
Leave a Comment below or share a photo and tag me on Instagram with the hashtag #loveandoliveoil.