These curried chicken & arugula wraps are proof that lunch doesn't have to be boring: healthy and satisfying with a mix of tantalizing flavors and textures that'll make your tastebuds happy indeed.
Featuring a curried chicken and chickpea salad, sweet tart cranberry sauce, crunchy almonds and a pile of spicy greens and herbs, these fresh and flavorful curried chicken wraps are sure to be a new lunch favorite.
Lunch has always been a struggle for us. Working from home, you think it wouldn't be, but unless we have leftovers from the night before (which we often do, we're masters at cooking for 4 despite there being only 2 of us) our well of lunch-inspiration is disappointingly shallow.
We went through a long stretch of cheesiness (get it, cheese? stretch?) with grilled cheese, quesadillas, or cobbled together cheese and crackers being the most common of our lunch choices, along with the holy trinity of 'salad' sandwiches (chicken salad, tuna salad, and egg salad).
But in an effort to eat a bit less cheese, we turned to wraps, and quickly realized that basically any kind of sandwich or salad (or salad sandwich), can, in actuality, become a wrap.
Still, as good as a chicken caesar salad or turkey club wrap is, it gets repetitive after the first week or two. And the quickest way to turn us off from something is to overdo it. Needless to say we try to mix up the wrap flavors regularly to keep it fresh, so we're always looking for inspiration.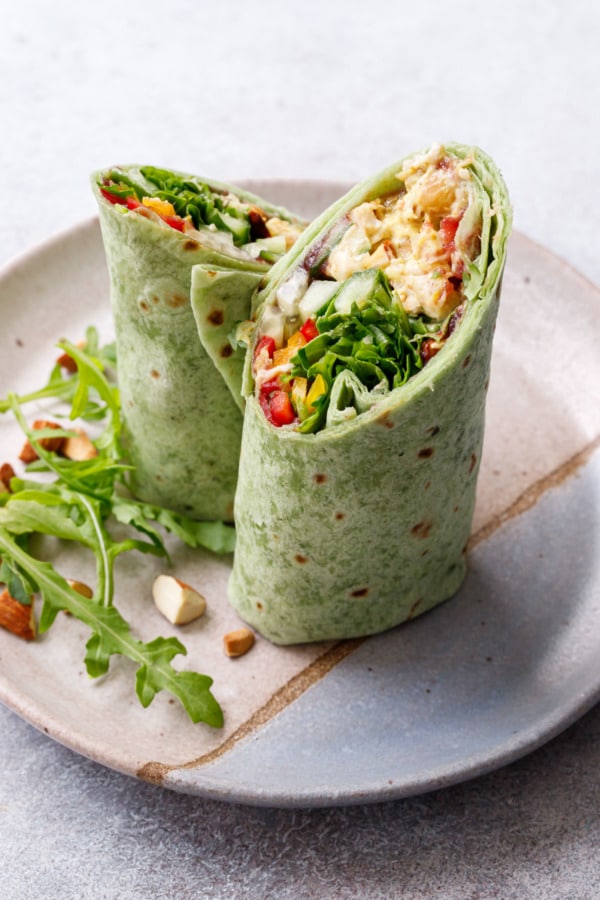 So when my sister mentioned a crazy-good sandwich she had (cleverly called the "Steph Curry" from Turner's Kitchen in San Francisco), it didn't take us long to transform those flavors into a wrap that's quickly become one of our favorites.
The wrap is made up of a curried chicken salad base, with the addition of chickpeas to give it more substance, cilantro and arugula to add some roughage and fill out the bulk of the wrap, plus sweet peppers, cucumber, crunchy almonds, and a smear of tart sweet cranberry sauce. The original sandwich also had crispy onions on it, which would have been lovely here, although that involves a bit more work than we're willing to put in for a weekday lunch.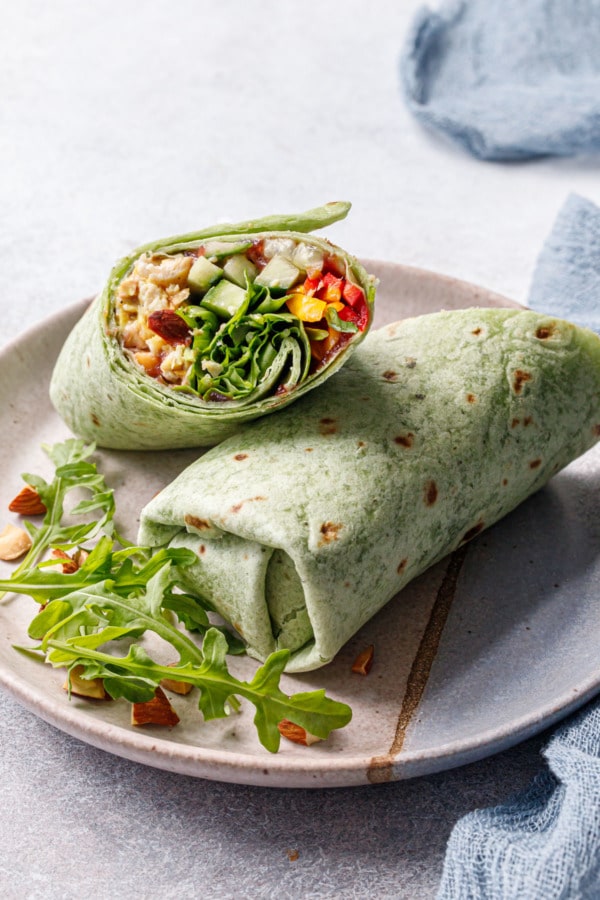 Wrap tortillas can be a bit hard to find, as you really need larger-than-average tortillas to assemble a proper wrap, but we were able to get these spinach-flavored ones (they also have plain and subdried tomato) at some of our local grocery stores.




How to Wrap
As for the wrapping itself, it can be a bit tricky to roll it up in such a way that the filling is tightly contained within the tortilla and doesn't fall apart when you eat it.
We tried a few different methods, and ultimately found this video which was the most helpful technique for tucking in the ends as you roll.
When adding the toppings, I found that arranging the ingredients in neat rows produced the cleanest wrap, as opposed to piling them on top of each other. Then, pile on the greens at the end, more greens than you'd think would fit (they will squeeze and compact them as you roll up the wrap.)
Make Ahead
If you're a meal prepper, you can easily prepare the chicken ahead of time (or use rotisserie chicken), just toss it with the mayo and chickpeas right before assembling. You can also have the cucumber and peppers pre-sliced and the cilantro and almonds pre-chopped to make for even quicker day-of assembly.
I think the wraps themselves would keep for at least half a day (refrigerated, obviously), if you've got an office job it would be a great option for you. That's one major benefit of wraps over sandwiches: tortillas don't get nearly as soggy as bread. Get yourself some of those foil wraps they use at Chipotle and (if you don't have access to a fridge) an ice pack, and you're golden.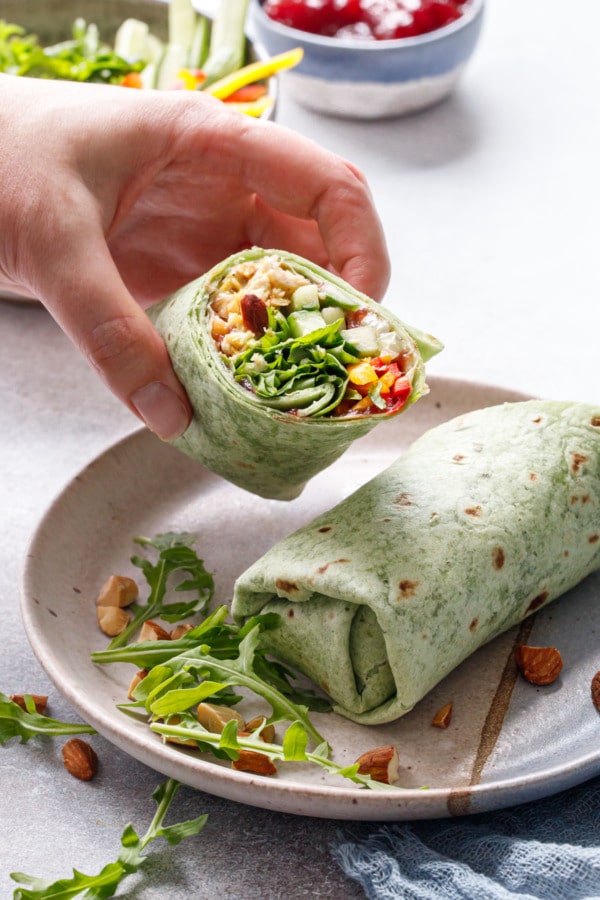 Swaps & Substitutions
Vadouvan curry powder: We find Vadouvan curry powder (a French curry blend) to be sweeter and less cumin-heavy than other varieties, but you can use your favorite curry spice blend. Jansal Valley is the brand of the one we've been using, and we love it, though it no longer seems to be available (boo). The replacement I got from World Spice wasn't quite as good (though I love their other stuff).
Cranberry sauce: While we loved the tart sweetness the cranberry sauce adds to the party, we've also made this numerous times with pepper jelly as well (Taylor actually prefers the pepper jelly to the cranberry sauce). Or better yet, make a batch of cranberry pepper jelly and get the best of both!
Almonds: The inspiration sandwich used smoked almonds, but if you can't find any, regular toasted almonds work perfectly well. You could also substitute walnuts or even peanuts here too, but that little bit of crunch really makes this wrap sublime!
Arugula: I personally love the peppery flavor of arugula, but you can also use fresh baby spinach or a spring lettuce mix instead.
Cilantro: Look, if you hate cilantro, no one is going to change your mind about it, so I won't even try. Just leave it out and no one ever has to know.
Chicken: We season boneless chicken breasts with curry powder and roast them, however you can also use rotisserie chicken instead (just shred or chop into bite sized pieces). I'd recommend upping the curry powder in the chicken salad mixture to make up for the lack of it in the chicken itself.
No wraps? No problem. This same combination of ingredients would make a wonderful sandwich too.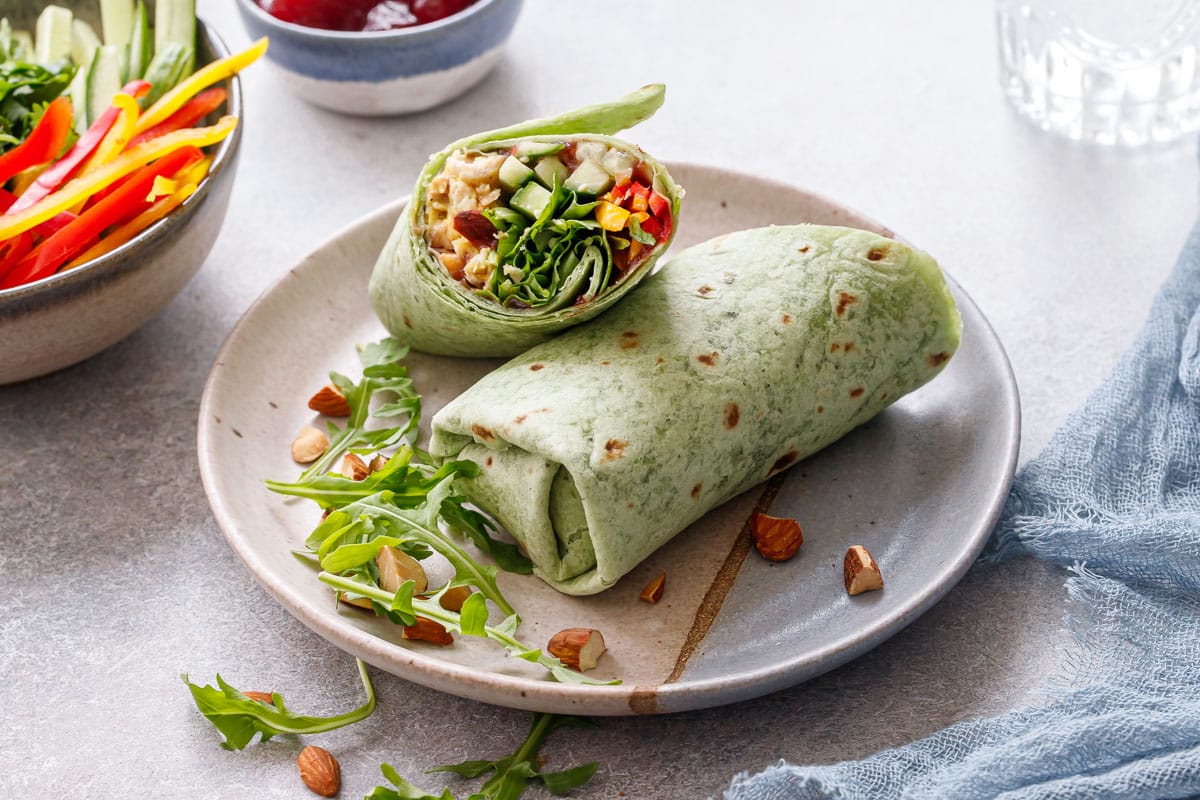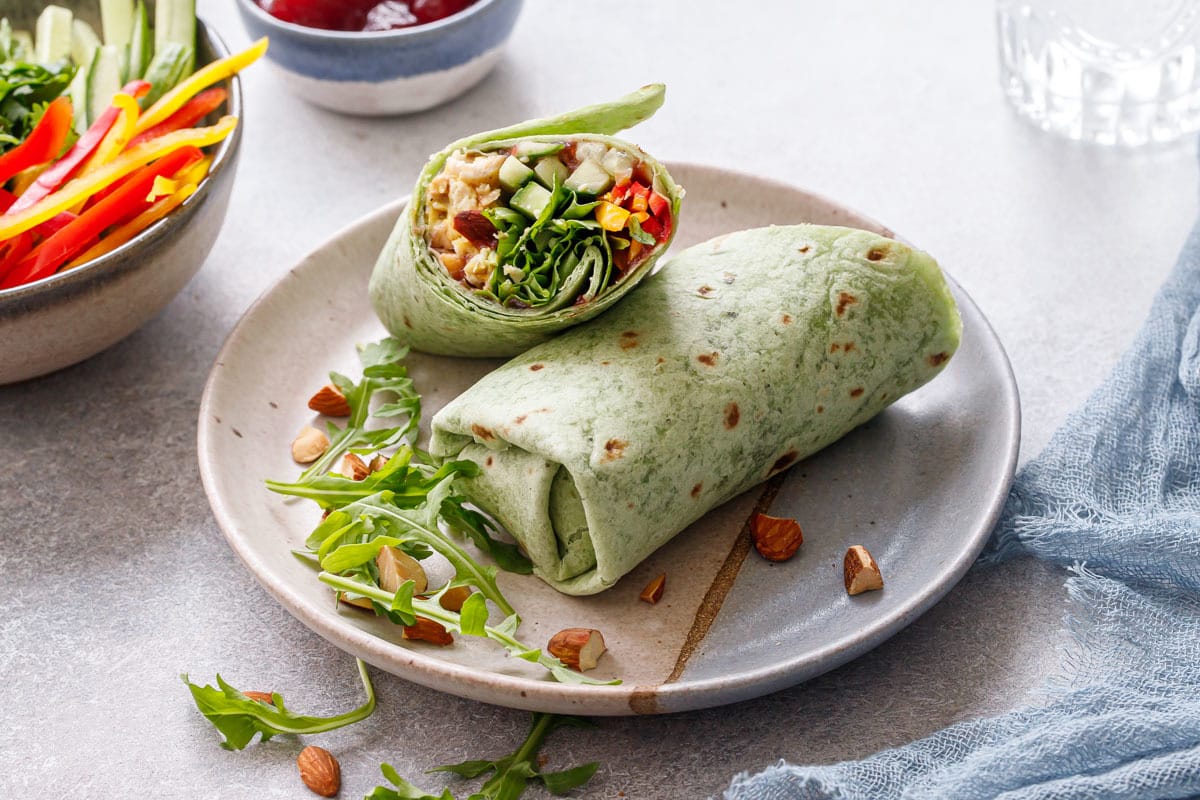 Curried Chicken, Chickpea & Arugula Wraps
A curried chicken and chickpea salad, sweet tart cranberry sauce, and a pile of spicy greens and herbs for a wrap that's both healthy and satisfying.
Ingredients
8

oz

/

226

g

chicken breasts

,

1 large or 2 small

1

tablespoon

olive oil

1

teaspoon

Vadouvan curry powder

salt and freshly cracked black pepper
To Assemble:
½

cup

drained canned chickpeas

,

coarsely chopped

¼

cup

/

56

g

mayonnaise

1

teaspoon

Vadouvan curry powder

,

or to taste

4

large wrap tortillas

¼

cup

/

70

g

cranberry sauce

1

small cucumber

,

cut into 1/4-inch square strips

1

medium bell pepper or 3-4 small sweet peppers

,

cored, seeded and thinly sliced

¼

cup

/

35

g

toasted almonds

,

coarsely chopped

2

cups

/

40

g

baby arugula

¼

cup

coarsely chopped fresh cilantro
Instructions
Preheat oven to 350 degrees F. Place chicken on a lightly oiled cookie sheet. Drizzle a bit of oil over chicken, then rub until evenly coated on both sides. Sprinkle with curry powder and a bit of salt and pepper. Bake for about 25 to 35 minutes depending on the size of your breasts, until lightly browned and cooked through (will read 165 degrees F on an instant-read thermometer inserted in the thickest part of the breast). Set aside and let cool completely.

Chop chicken into small bite-sized pieces; you should have about 1 cup. Place in a bowl along with coarsely chopped chickpeas. Add mayonnaise and curry and gently fold until evenly coated. Taste, then add more curry powder, along with salt and pepper as needed.

To assemble, place one tortilla on your work surface. Spread 1 tablespoon of cranberry sauce in a square on the bottom half of the tortilla closest to you, leaving a few inches of empty space on either side and about an inch on the bottom.

Spoon 1/4 of chicken mixture in a row the same width as the cranberry sauce.

Arrange a row of cucumbers just above the chicken, followed by a row of sliced peppers.

Sprinkle 1 tablespoon of almonds on top of the row of chicken.

Add a generous handful of arugula and some cilantro on top of the other ingredients.

To roll, fold in the bottom left and right edges on a slight diagonal, then start rolling from the bottom, using your hands to compact the arugula and keep it contained in the tortilla. After one roll, start tucking in the left and right sides a few times as you roll up the rest of the way, keeping things as tight as possible. If necessary, secure with a toothpick to hold it in place before cutting in half crosswise and serving.
All images and text ©
for Love & Olive Oil.
Did you make this recipe?
Let us know what you think! Leave a Review below or share a photo and tag me on Instagram with the hashtag #loveandoliveoil.