Live your most colorful life with these soft and chewy sugar cookies studded with vibrantly colored milk chocolate M&Ms candies!
The perfect sugar cookie is soft and chewy in the center and crispy around the edges, with notes of sea salt and vanilla and a delicate crunch from the granulated sugar coating. With the addition of colorful candy coated milk chocolate pieces peppered throughout, it might just be the cookie recipe you've been craving.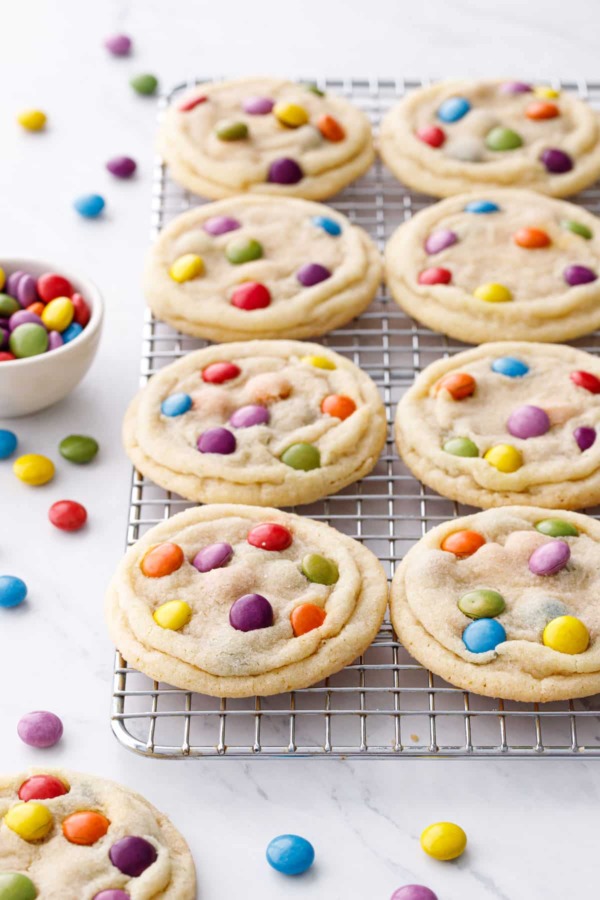 When I think of M&M cookies, I envision the giant ones you'd find in a bakery: pale blonde in color with a lightly ruffled, crackly tops and studded with colorful candy coated chocolate pieces.
Maybe I have a skewed impression of things, as most recipes for M&M cookies online seem to be more of a chocolate chip cookie-like base, just with M&Ms instead of chocolate chips.
While chocolate chip cookies and sugar cookies are somewhat similar, they have notably different flavor profiles (a bit of brown sugar makes a huge difference). So if you're looking for something that resembles a chocolate chip cookie with M&Ms, you best look elsewhere (although I've got lots of other cookie recipes that are worth checking out before you go!)
These cookies, on the other hand, are true sugar cookies: pale blonde and vanilla forward, with ample sea salt to cut the sweetness and enhance the buttery flavor, and rolled in sugar for a delicately crunch and sparkly finish. Add in the colorful candy coated milk chocolate pieces and you have yourself a winner.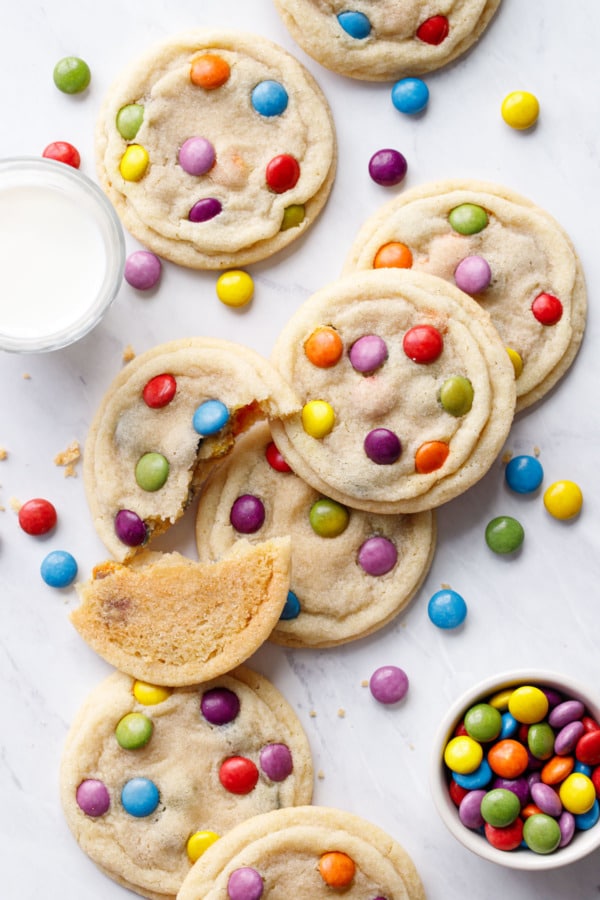 Would you believe that these cookies took me 9 tries to get right?
Normally I give up on a recipe if it's not working after 3 or 4 tries. But this one was so close, I knew with just a few more tweaks it'd be perfection.
Why so many tests? My main issue with these cookies wasn't the flavor necessarily, but rather the texture and longevity. Even with a fairly small batch size (this recipe only makes 20 cookies), it's just not reasonable to expect you to finish off an entire batch in 48 hours.
Unlike chocolate chip cookies, which are made with a combination of white and brown sugar (the later of which has extra moisture), sugar cookies are made with all white sugar and, for that reason, tend to dry out much faster. Finding a way to counteract that proved to be… more difficult than I thought.
While I normally love America's Test Kitchen's sugar cookies, which feature an unusual mix of melted butter, vegetable oil, and cream cheese that stay soft for days, in this instance I felt they had a bit of a funny aftertaste. I wanted to love them (because hello, soft for days), I ultimately decided to go with a more standard sugar cookie for flavor alone.
I did swap a bit of the butter with shortening to aid with softness without sacrificing flavor, which helped a bit, but even with that change these cookies are still best enjoyed within a day or so of baking.
But what ultimately sealed the deal was trying one of the cookies that had been chilling in the freezer for a week. I normally freeze unbaked balls of dough, but rarely do I freeze fully baked cookies. Not sure why I decided to test it this time, but I'm glad I did because somehow the cookies became even chewier than the freshly baked cookies, dare I say I almost liked the frozen version better? The fact that they froze so well quashed any remaining qualms I had with the recipe.
So, here's what you need to do: bake up a batch. Bake them all. Set aside as many cookies as you should reasonably eat in 48 hours (notice how I said should, not could, because… willpower). Wrap the rest two by two in plastic wrap and pop them in a zip top bag in the freezer for up to a month.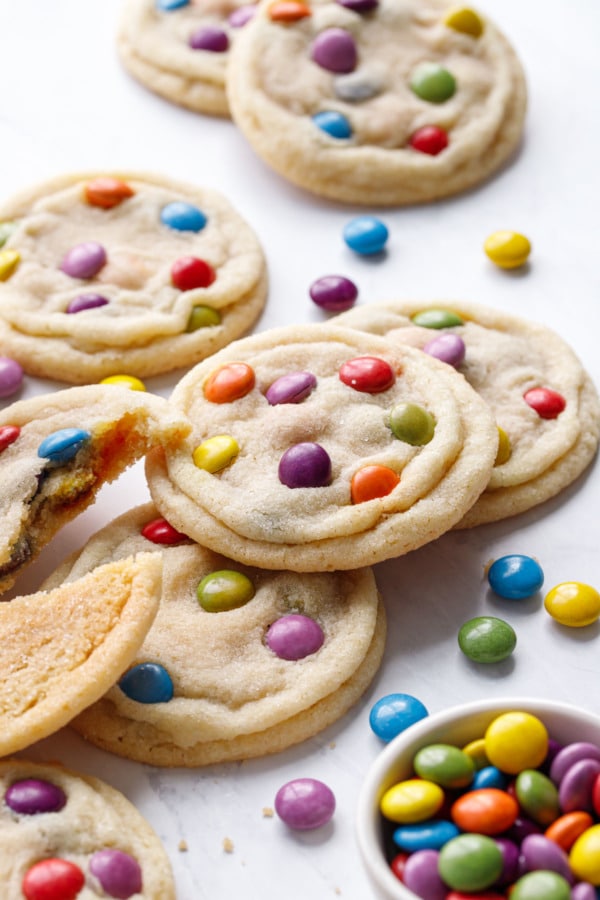 The gorgeous candy coated chocolates are not name brand M&Ms, but rather the Trader Joe's version of the classic candy. Personally, I love the colors (purple! in two shades!!) but the chocolate tastes much higher quality and the shells are thinner and more delicately crispy (which I loved, though they are definitely more prone to cracking). The natural colors are gorgeous, though they do have a tendency to bleed and fade a bit more in the oven than the name brand version.
While I tested adding the candies after baking (which many recipes recommend to avoid the candies cracking), I found that they didn't stick very well and had a tendency to fall off. So they may have been good for photos, but ultimately not very practical.
For picture perfect cookies, press a few candies on top of your shaped and sugar-rolled dough balls. They'll spread out a bit on top of the cookies as they bake, so don't be afraid to pack them on there. I found 6-7 was just about right for this size cookie.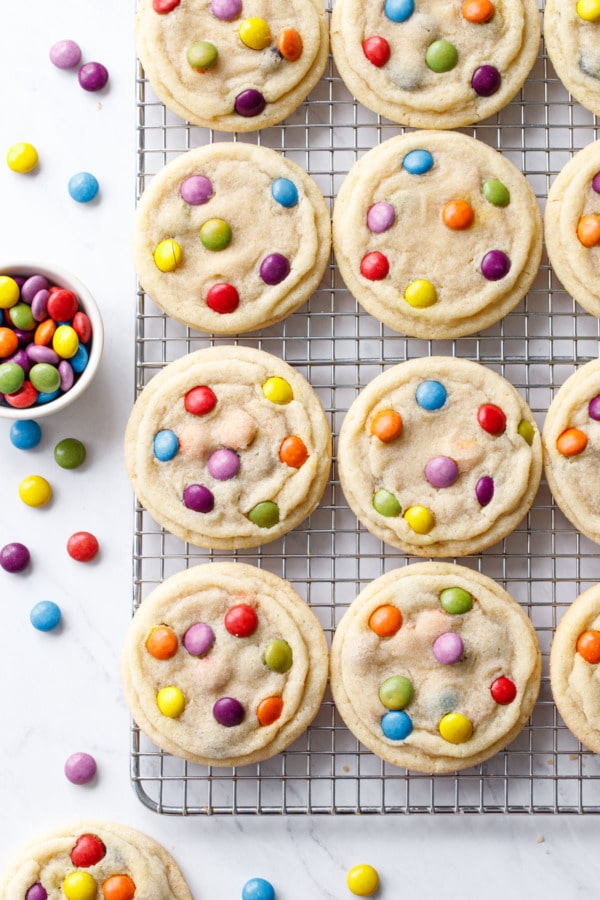 Technically you can bake these cookies immediately, no chilling required. However, I found that chilling the rolled and shaped dough balls briefly (10 to 15 minutes) resulted in softer ruffles and puffier tops. While 10 to 15 minutes was just about right for my tastes, if you want even less spread, you can chill them for up to 30 minutes.
Notice I mention shaping the dough and then chilling, which is faster and more even than chilling the entire bowl of dough. If you find the dough too sticky to work with, however, feel free to chill the dough a bit as needed.
As I've mentioned in many of my other recent cookie recipes, remember the cookie cutter trick: as soon as the cookies come out of the oven, swirl a large round cookie cutter around the outside of the cookie, tucking in the uneven sides and enhancing the natural ripples around the edges. If you don't have a cookie cutter, you can also use the concave side of two large spoons to tuck in the edges.
You will rarely get perfectly round cookies straight out of the oven, even with a cookie scoop; re-shaping the cookies while they are still warm fresh out of the oven is the only way to get perfectly round cookies every time.
Swaps & Substitutions
Shortening: This recipe calls for unflavored vegetable shortening (like Crisco). You can use all butter here (replace an equal amount by weight), however the cookies will spread a bit more and will dry out more quickly.
Fine sea salt: You'll notice this recipe calls for fine sea salt, which I've been using more often in my baking as it's much more consistent than kosher salt (which varies greatly from brand to brand). While you can use kosher salt in this recipe, how much depends on the brand. I'd recommend 3/4 teaspoon of Morton's, 1 1/4 teaspoons of Diamond Crystal. I do not recommend using iodized table salt in this recipe as it can impart an off flavor, especially in a recipe like this one that has more salt than many other cookie recipes.
If you prefer your sweets less salty, feel free to reduce the salt to 3/4 or even 1/2 teaspoon (I like the extra saltiness, especially in a sweet cookie like this one, but I know not everyone does.)
M&Ms candies: I used Trader Joe's candy coated milk chocolate drops, but regular M&M brand works great. You could also use mini M&Ms if you wanted, which give you more even distribution of chocolate to cookie. Alternatively, you can also use regular chocolate chips here as well, or even leave the chocolate out entirely if you're just craving a simple sugar cookie.
Freezing & Storage
As I mentioned, this recipe tends to dry out fairly quickly due to the lack of brown sugar. They'll stay softer if refrigerated (in an airtight container or zip top bag), and will keep even longer in the freezer.
While the freshly baked cookies are lusciously soft and delicately crispy around the edges, the freezer preserves the softness but somehow makes them even chewier, like magic.
Freeze the baked cookies in an airtight container or bag (I also like to wrap two cookies back to back with plastic wrap to keep them even softer). They'll keep well for up to a month.
Let the cookies come to room temperature for 30 minutes before eating.
That said, you can freeze unbaked dough balls, then bake them at a later time as needed. Simply arrange your shaped dough balls on a parchment-lined cookie sheet and freeze for a few hours or overnight, then place the frozen balls in a zip top bag (labeled with the recipe name, date, and cooking instructions).
You can bake the cookies straight from frozen (no need to thaw first): you'll want to reduce the oven temperature to 325 degrees and bake for about 15 to 17 minutes or until the tops are puffed and the edges are golden. They look a bit different than cookies baked from fresh dough, but they're still plenty tasty.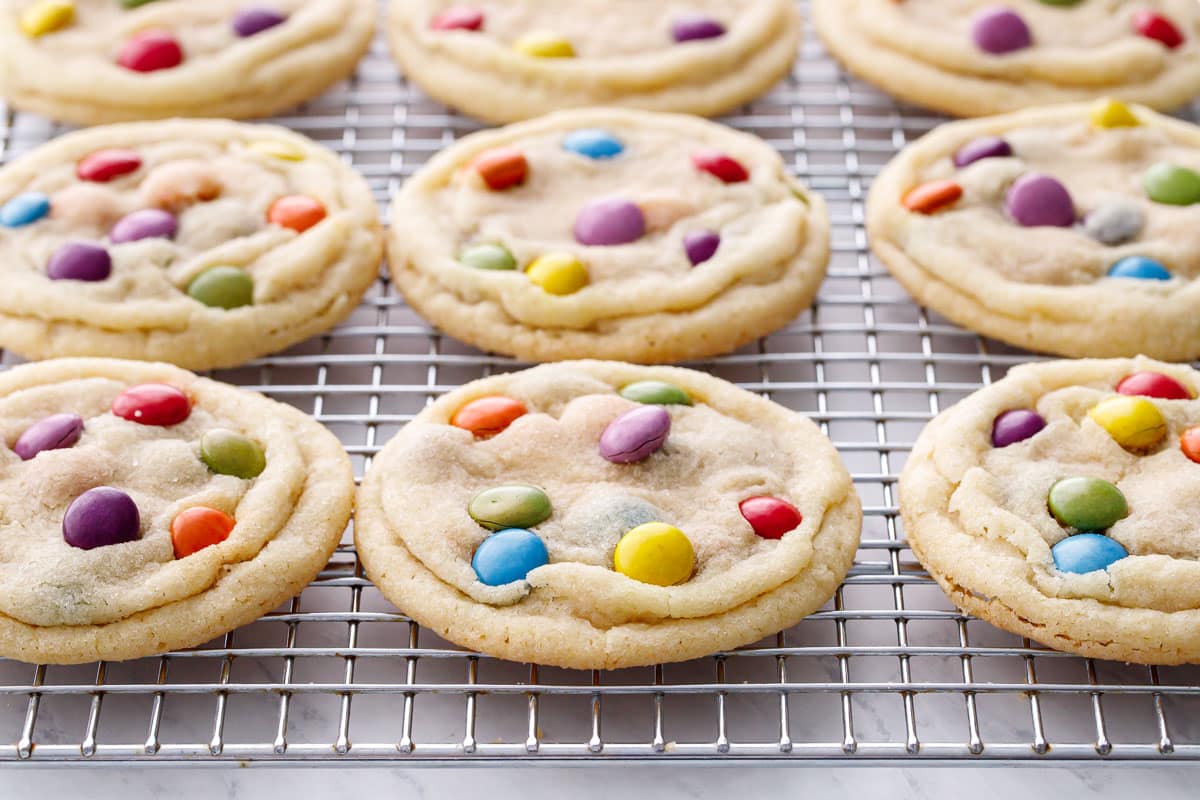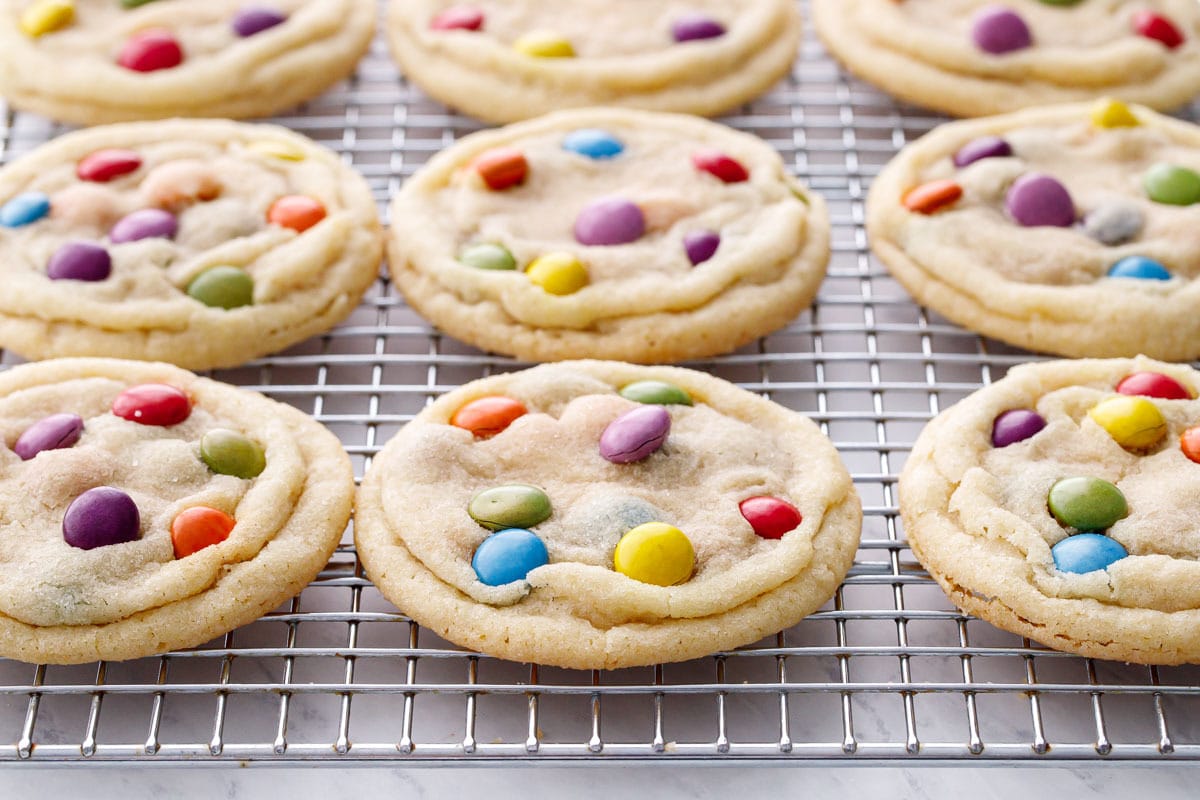 M&M Sugar Cookies
The perfect M&M sugar cookie is soft and chewy in the center and crispy around the edges, with notes of sea salt and vanilla and colorful candy coated milk chocolate pieces peppered throughout.
Ingredients
2 ½

cups

/

312

g

all-purpose flour

1

teaspoon

fine sea salt

¾

teaspoon

baking soda

¼

teaspoon

cream of tartar

¾

cup

/

168

g

unsalted butter

,

at room temperature

¼

cup

/

58

g

unflavored vegetable shortening

,

at room temperature

1¼

cup

/

250

g

granulated sugar

,

plus more for rolling

1

large egg

,

at room temperature

1

large egg yolk

,

at room temperature

1½

teaspoons

vanilla extract

⅔

cup

/

130

g

milk chocolate M&Ms

,

plus more for topping (you'll need about 200g total)
Instructions
Preheat oven to 350 degrees F. Line two heavy, light or medium colored baking sheets with parchment paper.

In a bowl, whisk together flour, baking soda, cream of tartar, and salt and set aside.

In a mixing bowl or the bowl of a stand mixer fitted with the paddle attachment, cream butter, shortening, and sugar until light and fluffy, 2 to 3 minutes. Add egg and egg yolk and beat on high speed for 30-60 seconds until smooth. Mix in vanilla.

Dump in dry ingredients and mix on low speed until incorporated and no streaks of dry ingredients remain. Add 2/3 cup M&Ms and fold until evenly distributed.

Scoop dough into 50g balls (a generous scoop of dough with a

medium #40 cookie scoop

, or approximately 2 tablespoons worth). Roll into a ball between your palms, then roll in a small bowl filled with granulated sugar until evenly coated.

Place on cookie sheet with 2 to 3 inches of space between cookies to allow for spreading. Press a few more M&Ms into the top of each dough ball for a prettier baked cookie (you can place them pretty close together as they will spread out in the oven).

While you can bake the cookies immediately without chilling, I recommend popping the entire cookie sheet in the fridge for 10 to 15 minutes; this will help the cookies bake more evenly and not spread quite as much. If you find your cookies are spreading too much still, chill the dough balls for up to 30 minutes as needed.

Bake for 12 to 13 minutes (10 to 11 minutes if baking from room temperature dough) or until tops are puffed and edges are just barely golden brown. I recommend checking on the cookies at around 9 minutes; rotate the cookie sheet, also give it a good hard rap on the oven rack once or twice to deflate the tops and ruffle the edges, then bake for a few more minutes as needed.

Immediately after removing from the oven, swirl a large round cookie cutter around the warm cookies, tucking in the uneven edges to create perfectly circular cookies. Let cool on cookie sheets for 15 minutes, then transfer to a wire rack to cool completely.

Freshly baked cookies are best enjoyed the same day, or refrigerated in a bag or airtight container for up to 3 days. For longer storage, wrap tightly in plastic wrap and place in a zip top bag in the freezer for up to a month. Let come to room temperature for 30 minutes before serving.
All images and text ©
for Love & Olive Oil.
Did you make this recipe?
Let us know what you think! Leave a Review below or share a photo and tag me on Instagram with the hashtag #loveandoliveoil.