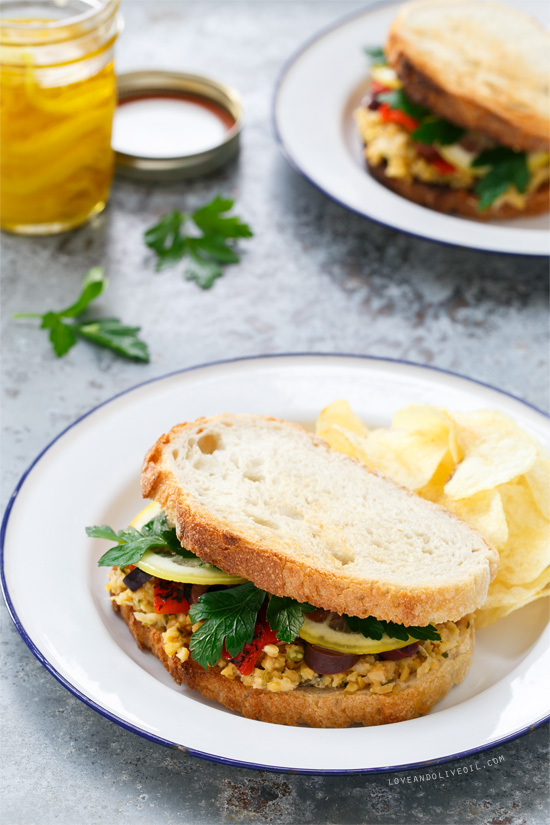 Taylor has been talking about a marinated chickpea sandwich for months now. I don't know where the idea came from but I finally told him to just find a recipe and make the damn sandwiches already. Less talk and more action; put your money sandwich where your mouth is.
I started calling these the 72-hour sandwiches long before they were finished.
Were they delicious? Yes. Were they worth the 72-hour wait? Debatable. (To its credit most of the parts can be made ahead of time, making the actual assembly of the sandwiches pretty quick and painless.) But still, 72 hours for a sandwich is an awful lot.
The sandwich is full of bold flavors, almost overly so. From the red peppers to the olives, the parsley to the preserved lemons, it's not a dull sandwich, that's for sure.
This is a copycat recipe from 'Wichcraft in NYC. Granted, we've never had the real thing, so we can't attest to its authenticity. The whole process is probably a lot more manageable for a commercial operation serving hundreds of sandwiches a day, as opposed to us, putting all this work for a few sandwiches. While it was a lot of work to assemble each component of these sandwiches, I think Taylor liked the idea of an all vegetarian sandwich. So many sandwich recipes tend to focus on animal protein, and this was a nice alternative.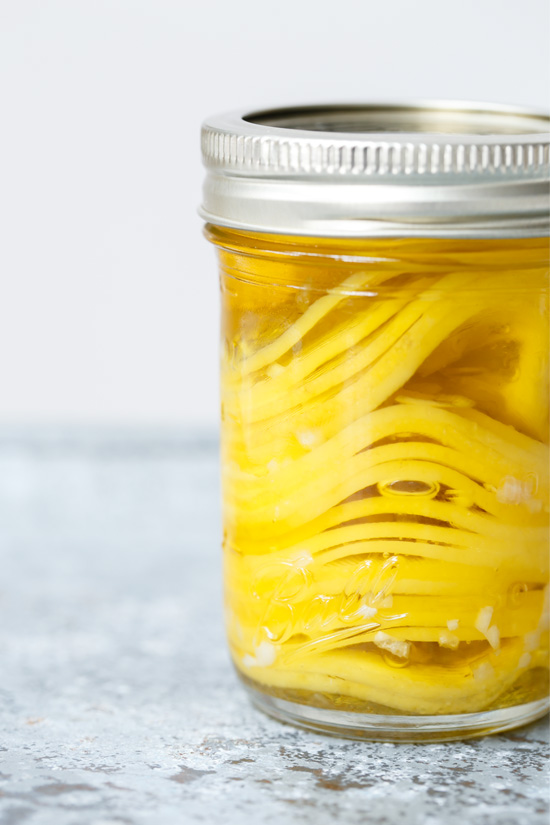 The preserved lemons were probably the most unusual part of this sandwich, and boy were they strong. While they were totally inedible on their own, within the context of the sandwich they mellowed, giving an unexpected brightness to the typically flat-flavored chickpea. I'd be curious if just a bit of lemon zest in the chickpea mixture would be a bit more practical.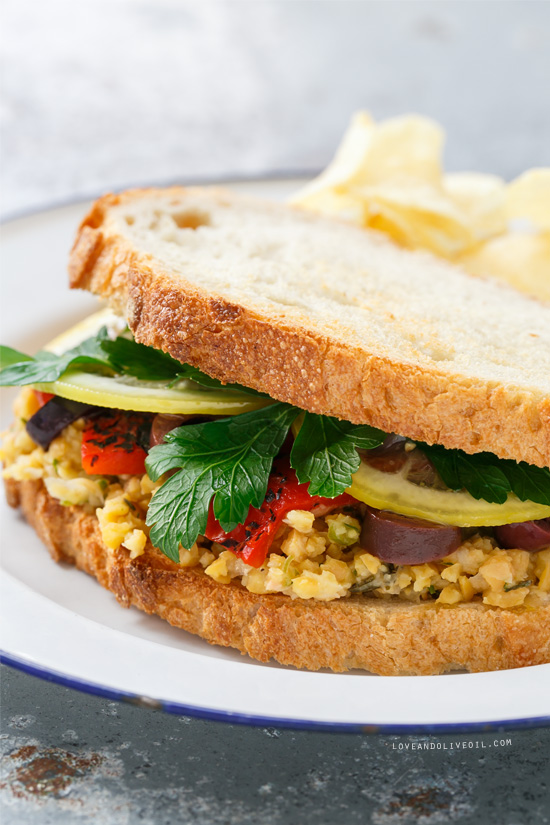 Marinated Chickpea Sandwiches with Lemon Confit
Ingredients:
For Lemon Confit (recipe can be scaled down):
12 lemons
5 shallots, peeled and minced
6 garlic cloves, minced
2/3 cup kosher salt
1/3 cup sugar
About 4 cups extra-virgin olive oil
For Marinated Chickpeas:
1 1/2 cups dried chickpeas, or 2 cups drained canned chickpeas
1 tablespoon plus 1/2 cup extra-virgin olive oil
1/2 yellow onion, quartered
1 celery stalk, cut in half, plus 1/2 cup finely diced celery
1 medium carrot, peeled and halved
2 sprigs fresh rosemary
1 sprig fresh thyme
Kosher salt and freshly ground black pepper
1/2 cup finely diced red onion
1/2 cup red wine vinegar
1 garlic clove, crushed and peeled
1/4 teaspoon cayenne pepper
1 tablespoon chopped fresh oregano
1/2 cup finely chopped flat-leaf parsley
Zest and lemon juice from 1/2 a lemon
For Assembled Sandwiches:
8 slices country bread
1/2 cup roasted red peppers
4 tablespoons pitted and chopped Nicoise olives
1 cup flat-leaf parsley leaves
Freshly ground black pepper
Directions:
For lemon confit, blanch the lemons in a pot of boiling water for 1 minute to soften the outer wax. Drain and rinse with cold water, then pat dry.
Using a mandoline or a very sharp knife, slice the lemons as thin as possible, discarding ends and seeds.
In a small bowl, combine the shallots with the garlic. In another bowl, mix the salt with the sugar.
Arrange a layer of lemon slices in the bottom of a medium container with a lid, making sure not to overlap the slices. Sprinkle the lemons with a bit of the shallot mixture, then with some salt and sugar mixture. Repeat, layering lemons in stacks and sprinkling them with the shallot and salt mixtures until the final lemon slices are topped with the last of the salt and shallot mixtures.
Seal lid or cover tightly and refrigerate for 3 days, flipping the stacks halfway through the process to allow the lemon to cure evenly.
Remove and drain the lemons in a strainer for 15 minutes or so. Discard the liquid. Pack the drained lemons tightly in a jar or other clean container and cover with oil, making sure the lemons are completely covered. The confit can be used immediately or kept in the refrigerator for up to one month.
For marinated chickpeas, if using dried chickpeas, soak the chickpeas in water overnight and drain. If using canned chickpeas, continue to the next step.
Heat 2 tablespoons of the oil in a large skillet over medium heat. Add the onion, celery stalk, and carrot and cook, stirring occasionally, for about 15 minutes, until softened and beginning to color.
Tie 1 sprig of rosemary and the thyme sprig in cheesecloth and add along with the chickpeas and enough water to cover by 2 inches.
Bring to a gentle simmer and reduce the heat to medium-low. Season with salt and pepper, and cook for about 1 1/2 hours, until the chickpeas are tender.
Remove from the heat and let cool completely. Drain, discarding the vegetables and herbs.
In a bowl, combine the red onion and vinegar and let sit for 15 minutes.
Drain the onion and transfer to a large bowl. Add the diced celery, garlic, peperoncini, chickpeas, remaining rosemary, oregano, parsley, remaining 1/2 cup oil, lemon zest, and lemon juice. Season with salt and pepper and mix well. Cover and refrigerate for at least 1 hour, making sure to turn the mixture a couple of times while marinating. (Chickpeas will keep refrigerated for up to 3 to 4 days. Allow to come to room temperature before serving.)
To assemble, in a food processor, coarsely chop the marinated chickpeas, until they're spreadable but still chunky. Evenly spread the chickpeas over 4 of the bread slices.
Top with the roasted peppers, olives, lemon confit, and parsley, in that order, and season with pepper. Top with the remaining bread slices, cut into halves, and serve.
Did you make this recipe?
Let us know what you think!
Leave a Comment below or share a photo and tag me on Instagram with the hashtag #loveandoliveoil.
(holy cow that's a long recipe)