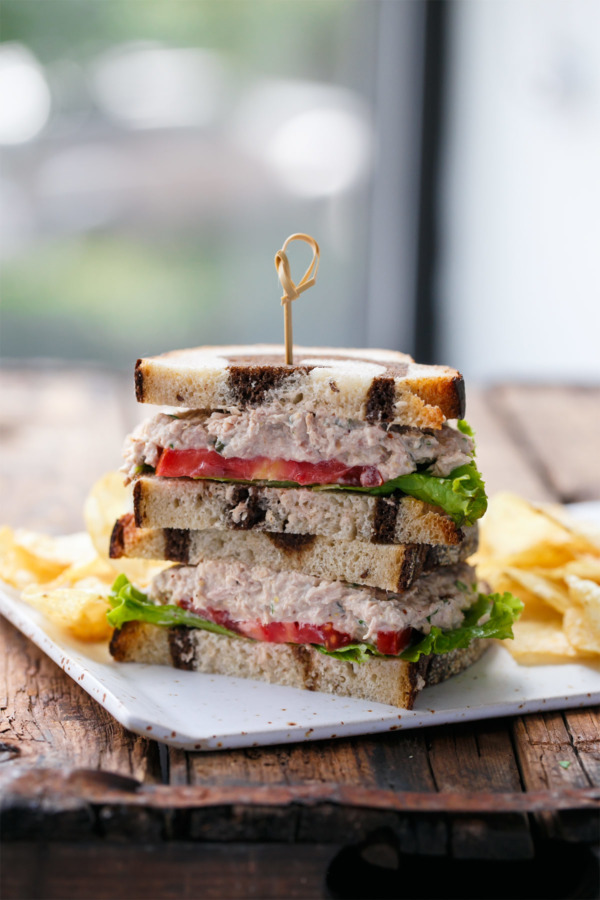 We have a few lunchtime staples in our house, things we can whip up quickly on days when we don't have leftovers (we've mastered the art of cooking for 4, and so most days will have lunch leftover from the night before).
This is one of our favorites, and I take no credit whatsoever. This is all Taylor. While I would always just mix tuna with some mayo, he went above and beyond and added tasty bits like capers, sweet relish, and fresh parsley for a truly awesome tuna salad with NO CELERY in sight (because in my mind, celery is a lot like raisins in that it has no business being in my food).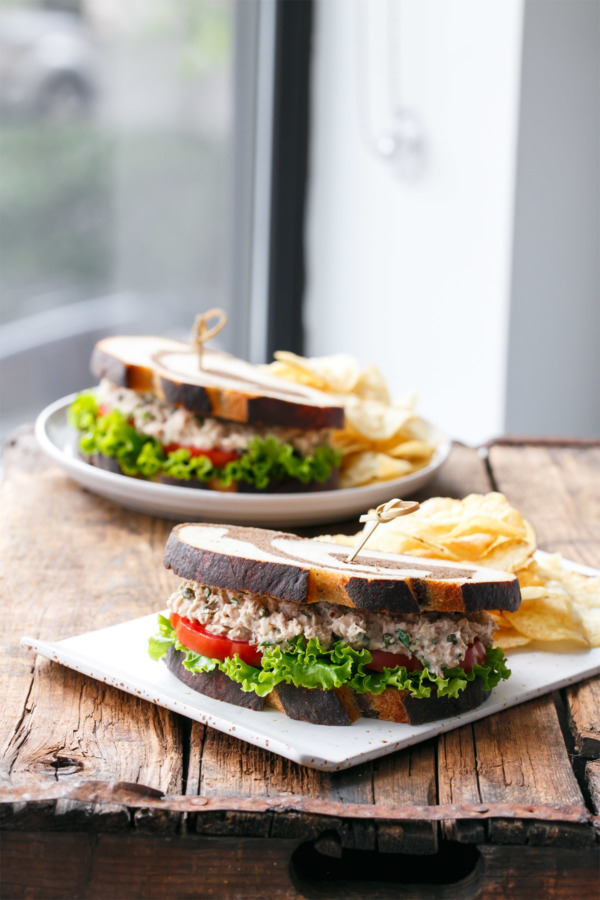 I love marble rye for sandwiches like this, though I wish it was easier to get around these parts. If you have a good Jewish deli or bakery near you my guess is you'll have a much easier time of it than I did. However any good sandwich bread will work just fine here, so use whatever you prefer or have on hand.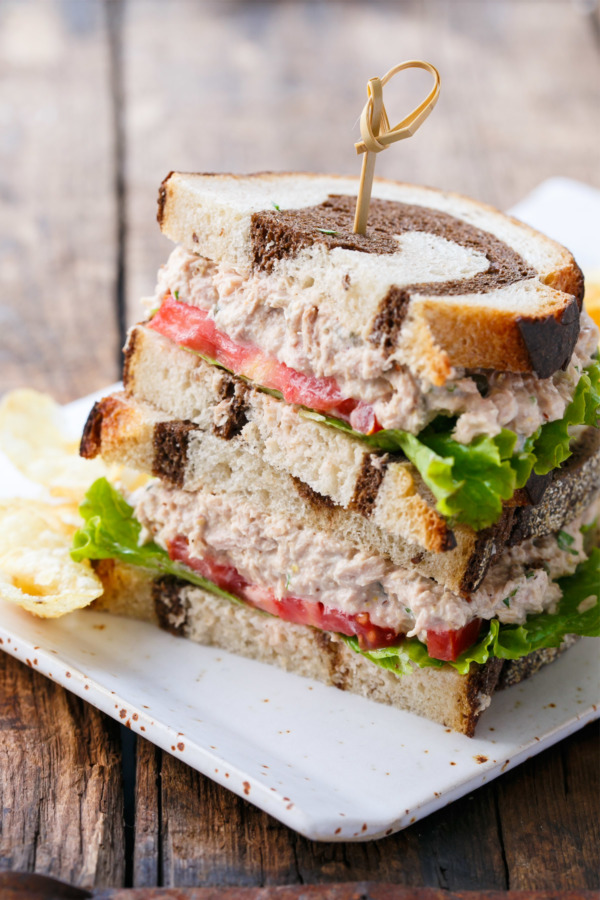 While you could certainly serve this plain on bread, I like adding a bit of lettuce (yay, vegetables!) and a slice of tomato to round it all out.
Also: I think this same formula would work great with canned or shredded chicken as well.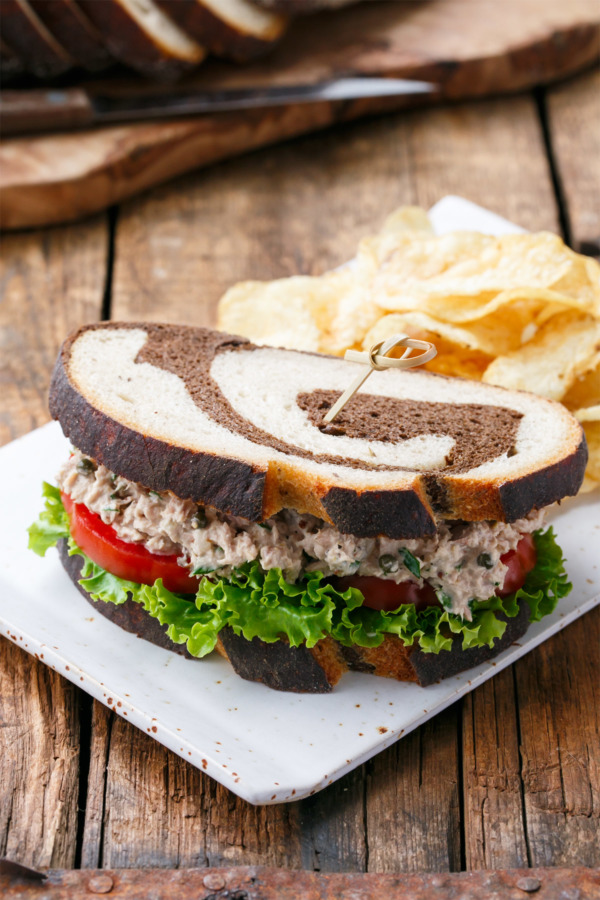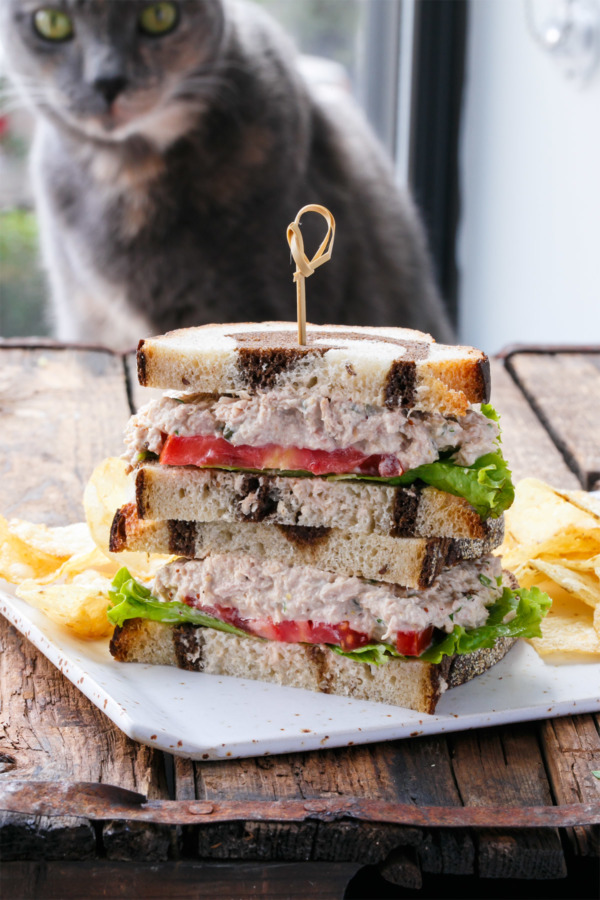 You know who else loves tuna?
Kalypso.
She's a tuna fanatic.
You turn your back for one minute and… suddenly it's not your sandwich anymore.
Taylor's Best Tuna Salad Sandwich
A lunchtime staple in our house, this is our all-time favorite tuna salad sandwich recipe.
Ingredients:
2 (5 ounce) cans tuna (I like using Trader Joe's solid white albacore in oil)
1/4 cup mayonnaise
2 tablespoons fresh parsley, chopped
1 tablespoon sweet relish
2 teaspoons stone ground or dijon mustard
1 teaspoon mini capers
salt and pepper, to taste
8 slices marble rye sandwich bread, lightly toasted
fresh tomato and lettuce, optional
Directions:
In a bowl, break up tuna with a fork. Add mayo, parsley, relish, mustard, and capers and stir to combine. Season to taste with salt and pepper.
To assemble, place lettuce and tomato on bread (if desired). Top with a generous portion of tuna and top with another slice of bread. Cut in half and serve.
Did you make this recipe?
Let us know what you think!
Leave a Comment below or share a photo and tag me on Instagram with the hashtag #loveandoliveoil.