Say hello to your new favorite sandwich: creamy egg salad seasoned with paprika, thin slices of roasted beet, and a generous handful of spicy microgreens to perfectly offset the richness of the egg.
Taylor's classic egg salad is simple and satisfying, with only 4 ingredients (eggs included), plus salt and pepper. It's not overly mayo-heavy or mustard-forward, with a very simple flavor profile that let you actually taste the egg (not overwhelmed by dill or relish or other add-ins). A pinch of sweet paprika gives the egg salad a well-rounded flavor and ever so slightly pink hue (something that pairs perfectly with the rich ruby red of the beets).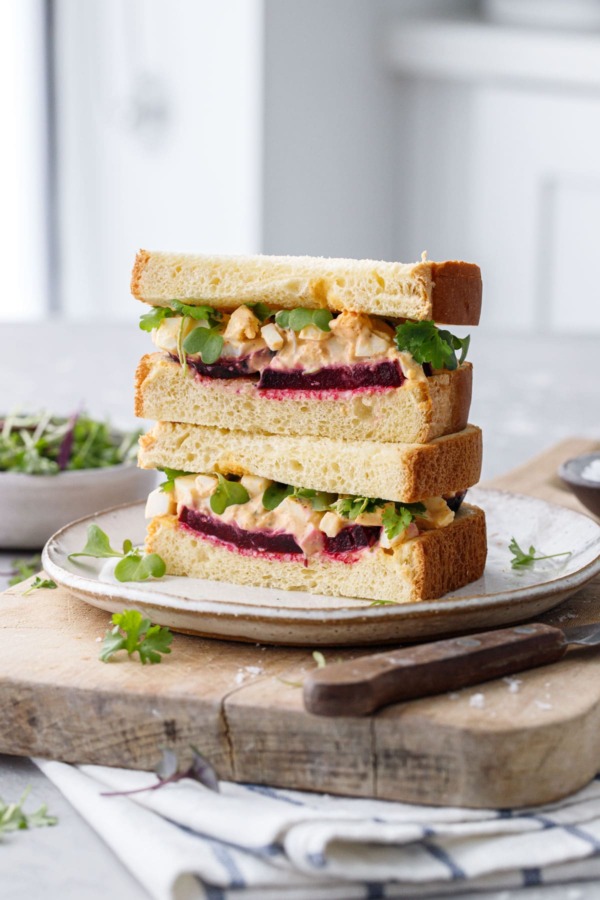 Lunch is often a struggle around these parts.
We try to plan our dinners to include leftovers (let's just say we're masters at cooking for 4 for this reason), but sometimes we find ourselves floundering in the kitchen at noon, hangry and without a solid plan for lunch.
It's days like these that egg salad sandwiches have become our go-to. Don't ask me where the idea for the beet came from, I just know I came downstairs one day to find Taylor had thrown this together and I fell in love all over again. Something about the sweet, earthiness of the beet goes so well with the creamy egg salad.
Assuming we have some roasted beets in the fridge (I fully admit we've been buying packaged pre-roasted beets and I'm not ashamed about it), these sandwiches come together in about 20 minutes, including the time it takes to boil, cool, and peel the eggs. Hard-boil a few eggs ahead of time and it'd be even quicker.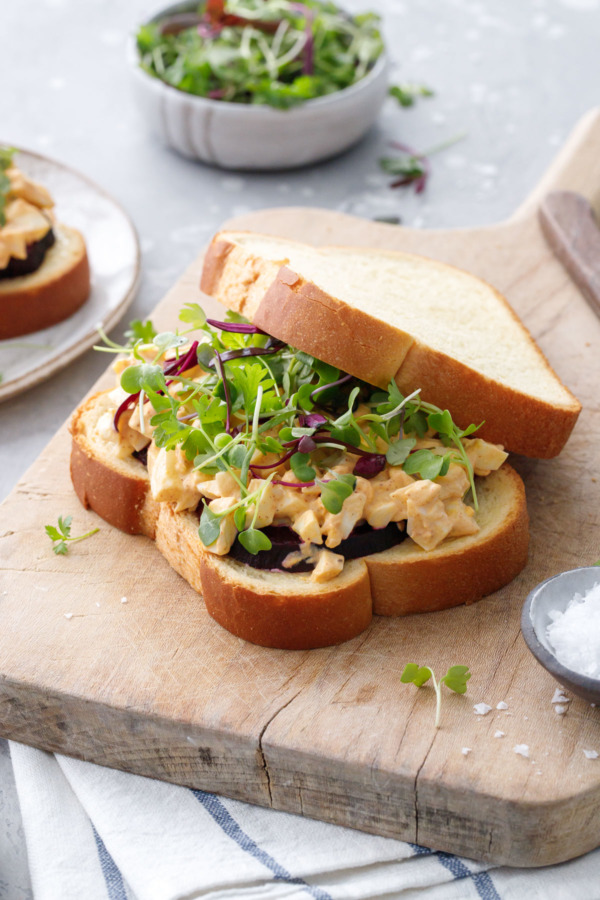 While this small-batch egg salad recipe could be used in a variety of ways, our favorite assemblage includes thin slices of roasted red beet, a thick layer of creamy egg salad, and a pile of spicy microgreens (arugula or watercress would also be great here too!)
The creaminess of the egg, the earthiness of the beet, and the spiciness of the greens all come together on slices of thick brioche sandwich bread to make what I consider the perfect sandwich.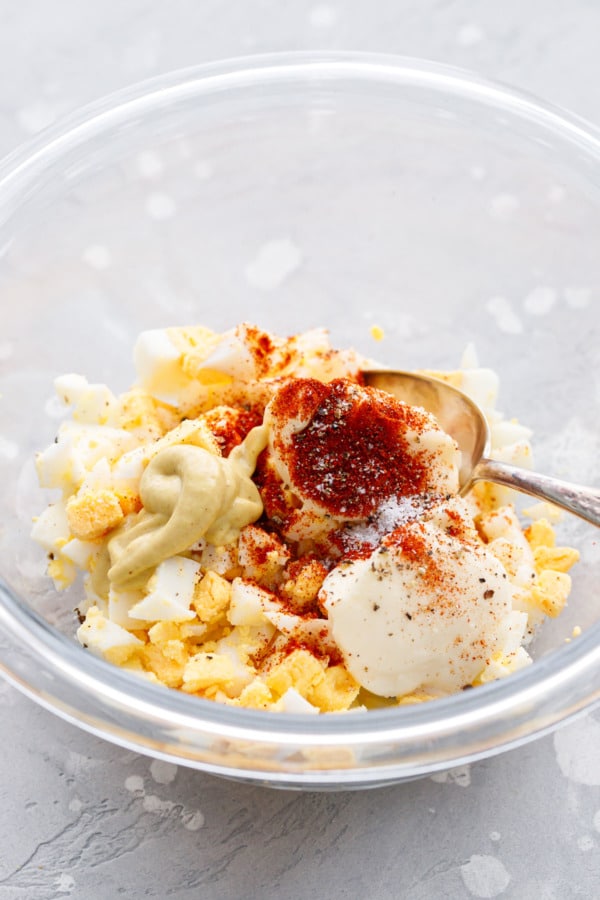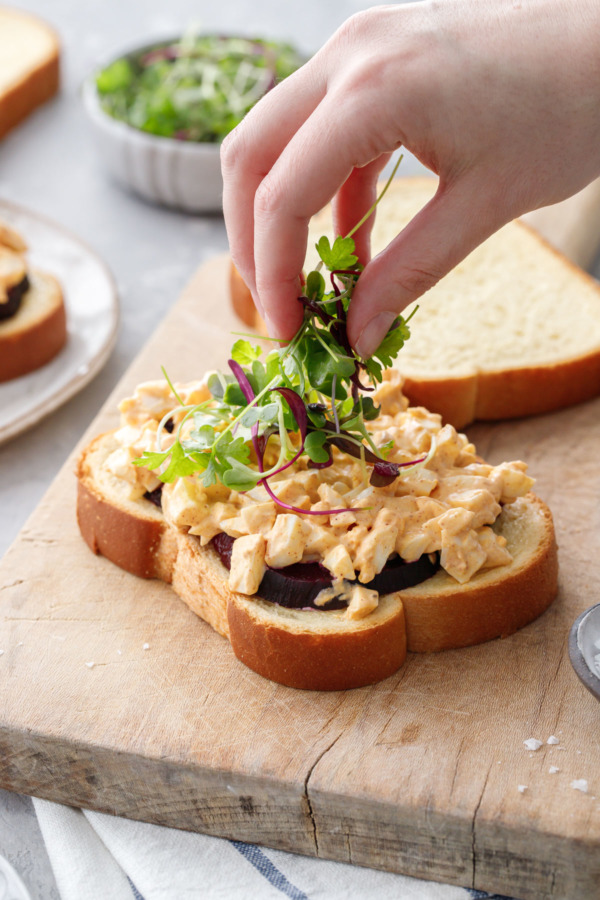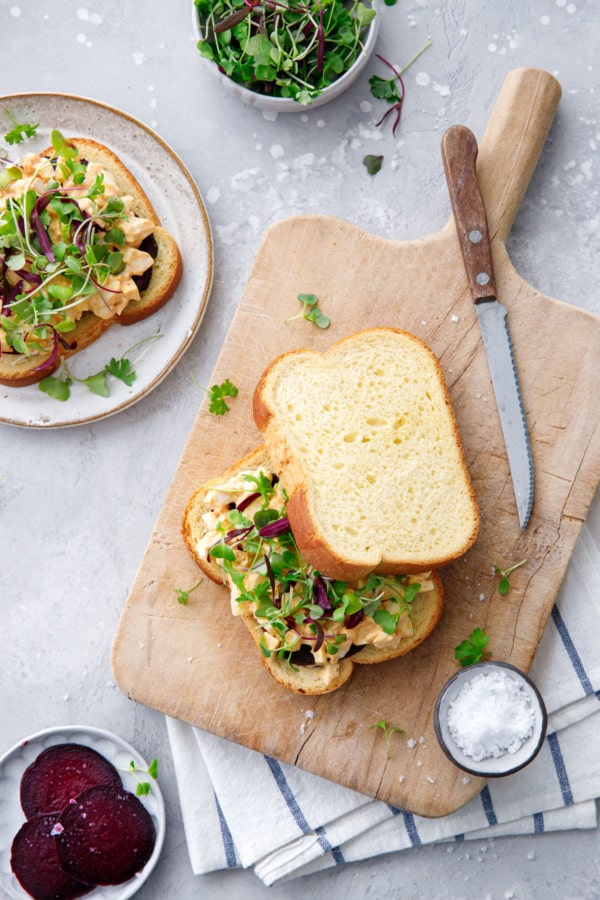 This recipe is perfect for two, yielding 2 over-stuffed sandwiches or 3 thinner ones. We find that egg salad tends to get a bit… weird… when it sits in the fridge for a while, and for that reason we prefer to make a fresh batch for lunch every day. That said, it's easy to scale though if you want to make a larger batch, just double or triple accordingly.
If you wanted to get some of the work done ahead of time, you could easily boil off a half dozen eggs on Sunday and they should last you through the week. Then each day you'd just need to mix up your egg salad and assemble your masterpiece.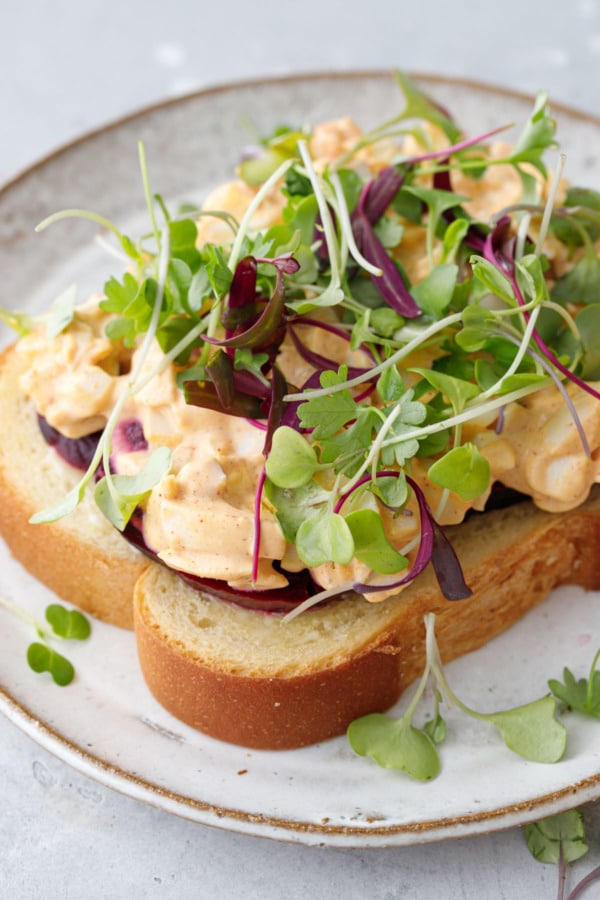 Trouble peeling your hard boiled eggs? Try using white eggs that aren't super fresh. For whatever reason, we've found that white shelled eggs that are a week or two old are usually much easier to peel than fresh, brown eggs (no idea why, but it's a noticeable difference). Normally I'm a big proponent of local farm fresh eggs, in pretty much all situations except hard boiled, just because they are so gosh darn hard to peel.
But luckily, egg salad (unlike, say, deviled eggs), allows you to disguise your peeling mess pretty entirely, so if the eggs don't peel cleanly it's definitely not the end of the world.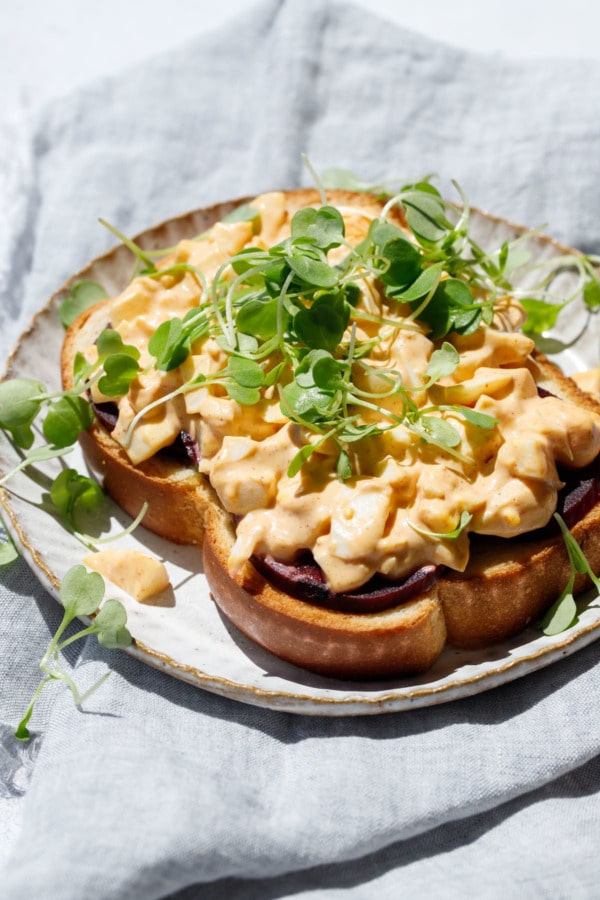 For us, the perfect lunch recipes come together ridiculously fast, and are filling and satisfying enough to get us through the afternoon. Usually that means leftovers from the previous night's dinner, however when that's not an option, these egg salad sandwiches have become our new go-to.
I know there are probably a lot of you out there not yet used to working from home and having to deal with lunch. Having done so for over 10 years, we've found that having a plan, first and foremost, makes lunch so much less stressful (and also less likely to be skipped-over or snacked-through). Working from home works best when you work normal hours, taking a normal lunch break just like you'd do if you were going to an office. Don't skip it!
Tell me, what's your favorite quick and easy lunch recipe?
Egg Salad Sandwiches with Roasted Beet
Creamy egg salad seasoned with paprika, served on brioche bread with slices of roasted beet, and a generous handful of spicy microgreens to perfectly offset the richness of the egg.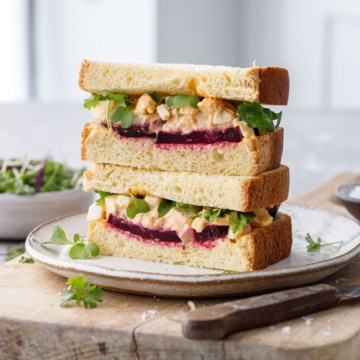 Ingredients:
3 large white eggs
2 tablespoons mayo
2 teaspoons dijon mustard
1/4 teaspoon paprika
1/4 teaspoon kosher salt
freshly ground black pepper, to taste
To assemble:
4 slices sandwich bread, lightly toasted
1 large beet, roasted and thinly sliced*
spicy microgreens, baby arugula or watercress
Directions:
Place eggs in a saucepan covered by an inch or two of cold water. Bring to a full boil, then cover and remove from heat. Let sit, off the heat, for 10 minutes, then transfer with a slotted spoon and into a bowl filled with ice water to stop the cooking process.
Once cool, peel eggs, then coarsely chop and place in a bowl along with mayo, mustard, paprika, salt and pepper. Fold to combine.
To assemble, arrange a single layer of beet on a piece of toasted bread. Top with half of egg mixture, and a handful of greens, followed by another piece of bread. Cut in half and serve immediately.
*To roast beets, preheat oven to 375 degrees F. Rub washed, unpeeled beets with a bit of olive oil, then wrap individually in aluminum foil. Place on a baking sheet and roast until tender (time may vary, but generally about 30 minutes for golf-ball sized beets and up to an hour or more for baseball-sized). Let cool, then rub with a paper towel to easily remove the skins.
Did you make this recipe?
Let us know what you think!
Leave a Comment below or share a photo and tag me on Instagram with the hashtag #loveandoliveoil.