Sweet and spicy, festive and fruity, this cranberry pepper jelly makes for a perfect holiday appetizer.
Today I'm sharing a holiday twist on my favorite pepper jelly recipe, adding fresh cranberries for a unique flavor and gorgeous ruby red color. Despite the mix of peppers and cranberries, it's still a pepper jelly first and foremost, rather than a spicy cranberry sauce (let's just clear that up from the getgo).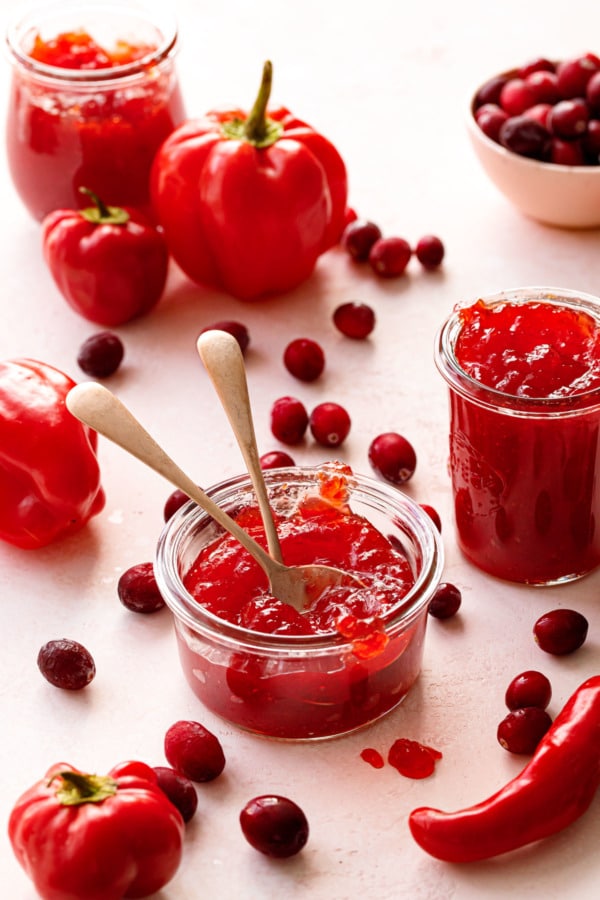 Look, I know I just posted a pepper jelly recipe all of 2 minutes ago (actually, it was 2 months ago, but we all know that in this alternate universe we're living in time has no meaning anymore so…)
The thing is, the peppers just keep on coming. It's mid-November and we're still getting piles of both hot and sweet peppers with our bi-weekly CSA deliveries from Caney Fork Farm. Circumstances have made me extra-conscious about food waste, and that, paired with the fact that I just really don't like peppers very much (so sue me), have led to batch after batch of pepper jelly (which at least has the benefit of being shelf-stable and more easily giftable than the fresh peppers themselves). I've made so much I'm actually running out of jars (oh, the horror!)
This holiday-variation pairs tart cranberries with sweet and spicy red peppers and just a hint of orange zest. I used mainly sweet red peppers, with two red Cayenne peppers thrown in for just a hint of heat (but you can easily customize this recipe to be as spicy as you'd like, as long as the final prepared quantity of peppers is the same, it doesn't matter what proportion of that is hot versus sweet).
It can often be hard to judge the heat level of pepper jelly beforehand, especially since no two peppers are alike in terms of heat level.
But here's a tip: as you prep your hot peppers (with gloves, please!!) set a small piece on your tongue and let it sit. If you get a bit of heat but nothing unbearable, you can probably use 4 to 6 of them without the jelly getting too spicy. However, if your tongue starts to tingle with a persistent burn, that means you have a hot one on your hands, and it'd probably be smart to limit it to 1 or 2 for the entire batch. Because there's definitely a difference between enjoyable heat and… pure pain.
Now, let's be clear: this is a cranberry pepper jelly, NOT a spicy cranberry sauce. It tastes like pepper jelly first and foremost, with the cranberries offering an underlying tang and fruitiness as well as a deeper red color.
I don't see this is being a replacement for traditional cranberry sauce on your holiday table, rather, it would be a great appetizer to stave off the hunger before the big meal. Serve it with crackers and soft cheese (goat cheese being my personal favorite), or dollop it on top of a molten wheel of baked brie. It also makes for a fantastic grilled cheese (ok ok, maybe it just goes great with cheese in any/all forms).
And be sure to bookmark the recipe for next year, since it's sure to be the star of the cheese board at your big holiday bash.
I scaled this recipe down, since, unlike classic cranberry sauce, pepper jelly is best enjoyed by the dollop and not the scoop. That said, know that it can easily be doubled and canned for enjoyment all year round (for canning instructions, follow the procedure of my original pepper jelly recipe here).
If you're needing labels, I didn't design anything new for this recipe since I opted not to can it, however the editable version of my sweet & spicy pepper jelly labels would be super easy to adapt to say cranberry pepper jelly instead.
Cranberry Pepper Jelly
Sweet and spicy, festive and fruity, this cranberry pepper jelly makes a perfect holiday appetizer.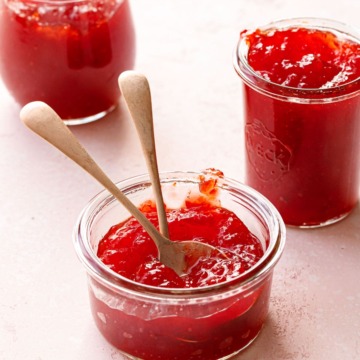 Ingredients:
3/4 cup finely chopped red peppers, a mix of sweet and hot peppers to taste
1/2 cup (2oz/58g) whole cranberries, finely chopped
3/4 cups apple cider vinegar
1/2 teaspoon freshly grated orange zest
1 3/4 cups (250g) granulated sugar, divided
1 teaspoon Pomona's Universal Pectin
1 teaspoon calcium water*
Directions:
To prepare peppers, remove stems and seeds and chop finely in a food processor. You can vary the proportion of sweet and spicy peppers, or even use entirely sweet peppers, as long as you have a total of 3/4 cups of finely chopped pepper. Pulse cranberries in the food processor as well until finely chopped.
In a bowl, whisk together 1/2 cup sugar and pectin until evenly incorporated.
Combine peppers, cranberries, orange zest and cider vinegar in a heavy saucepan set over medium heat. Cover and simmer, stirring occasionally, for 10 minutes to soften the peppers.
Add calcium water and increase heat to medium-high; bring to a full rolling boil, then whisk in sugar/pectin mixture, stirring vigorously until completely dissolved and mixture returns to a boil.
Stir in remaining sugar and return to a full boil. It should be noticeably thickened.
At this point the jelly can transferred to washed and sterilized jars, and either water-bath processed if desired (see here for full instructions). Otherwise, keep refrigerated for up to 3 weeks or frozen for up to 6 months.
* Calcium powder to make calcium water is included with the Pomona's brand pectin.
Did you make this recipe?
Let us know what you think!
Leave a Comment below or share a photo and tag me on Instagram with the hashtag #loveandoliveoil.