Tart and fruity, bright and boozy, these tequila, lime, & watermelon popsicles are the perfect late-summer treat!
Freeze a taste of summer that can be enjoyed all year round. You only need 4 ingredients to make these boozy frozen treats, talk about easy peasy!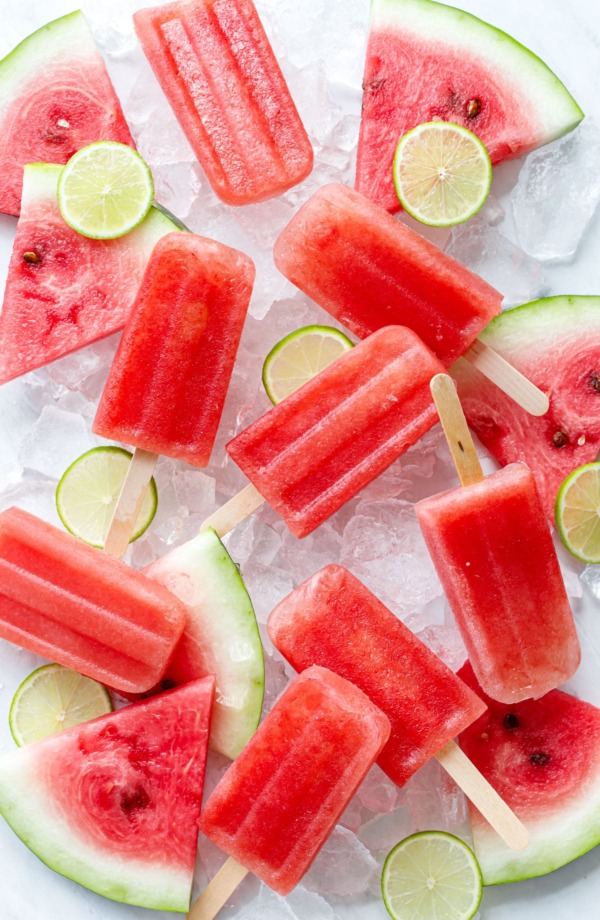 Sometimes, you find yourself with way too much watermelon.
Seriously. We're just two people. Do you really expect us to eat an entire watermelon all by ourselves?
We've been able to pick and choose the cantaloupe-sized melons from our CSA most of the summer, which, although they always made fun of us and our mini melons, were really the perfect size for two.
And then… the little melons turned into bigger melons and then even bigger melons the week after that. And, well, I wasn't NOT going to take a watermelon just because it was a little on the big side.
We ended up with two big melons, just sitting there, taunting us.
Time for action.
I cut and seeded and blended and strained; boiled and gelled and canned and froze.
And what do you know, I managed to eat/use/preserve every last bit of those melons.
Go me.
These popsicles used up the last of it. It was an "oh crap I made too much watermelon juice" kind of thing. Tossed with some sugar syrup and lime juice and, oh yea, some tequila (for good measure, you know), into the freezer they went.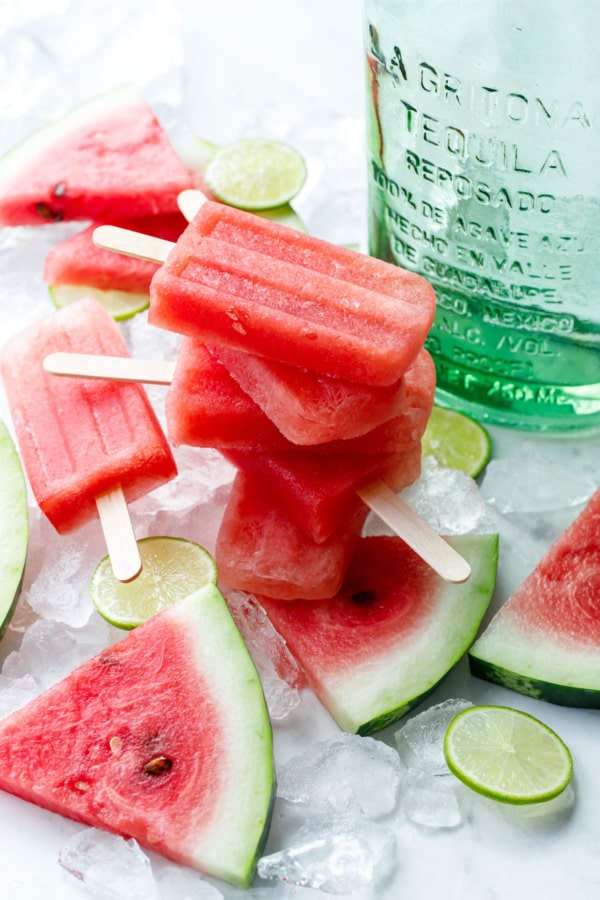 Avoiding Separation
Watermelon juice is especially prone to separating, so if you want to avoid distinct layers in your popsicles, gently stir the pops every 30 minutes or so as they slowly freeze. Once they get to a slushy-like consistency, stir once more then position the sticks in the middles before they freeze completely solid.
Pro tip: be sure to set a timer for yourself, no matter how good you think your memory is! Because it's far too easy to forget you have semi-frozen pops; once they're frozen solid you will not be able to add the sticks.
This is the popsicle mold I used. I love the geometric shape of it, however go ahead and throw away the metal top. It's stupid, because if you don't get your sticks perfectly straight up and down, the lid is almost impossible to get off with sticks pointing every which way. Instead, I just wait until the pops are slushy-like and just frozen enough to hold a stick in place, no lid required.
You can also make these pops in the plastic ice pop pouches (same as I used for my Mai Tai ice pops). These are nice because instead of stirring, you just need to invert the pouches and squish them a bit every 30 minutes or so to keep them from separating.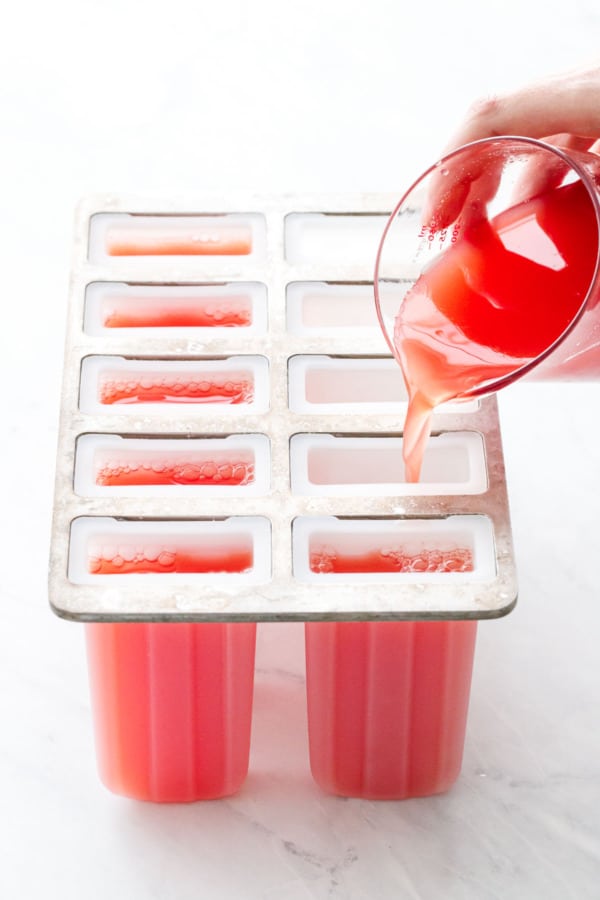 Zero proof? Zero problem.
You can make this recipe sans tequila with no other adjustments to the recipe.
You could also swap in smoky mezcal or any other liquor of your choosing.
I do not recommend increasing the alcohol from what is listed, as the popsicles will not freeze fully and you won't be able to get them out of the molds in one piece. If you must have it extra boozy, use the plastic ice pop pouches instead of a standard popsicle mold. These are a bit more forgiving with boozy popsicles since you don't have to worry about the pops coming out in one piece, rather enjoy the slushy consistency!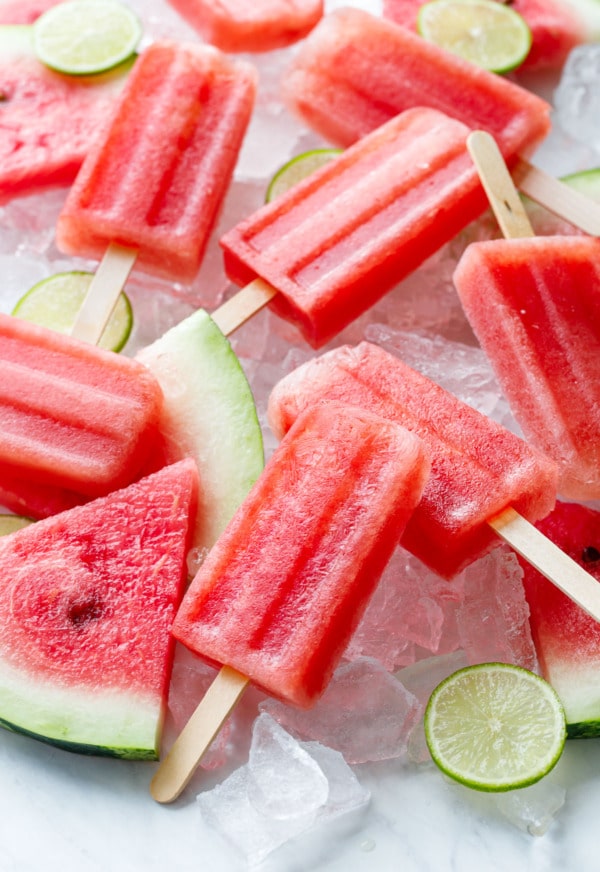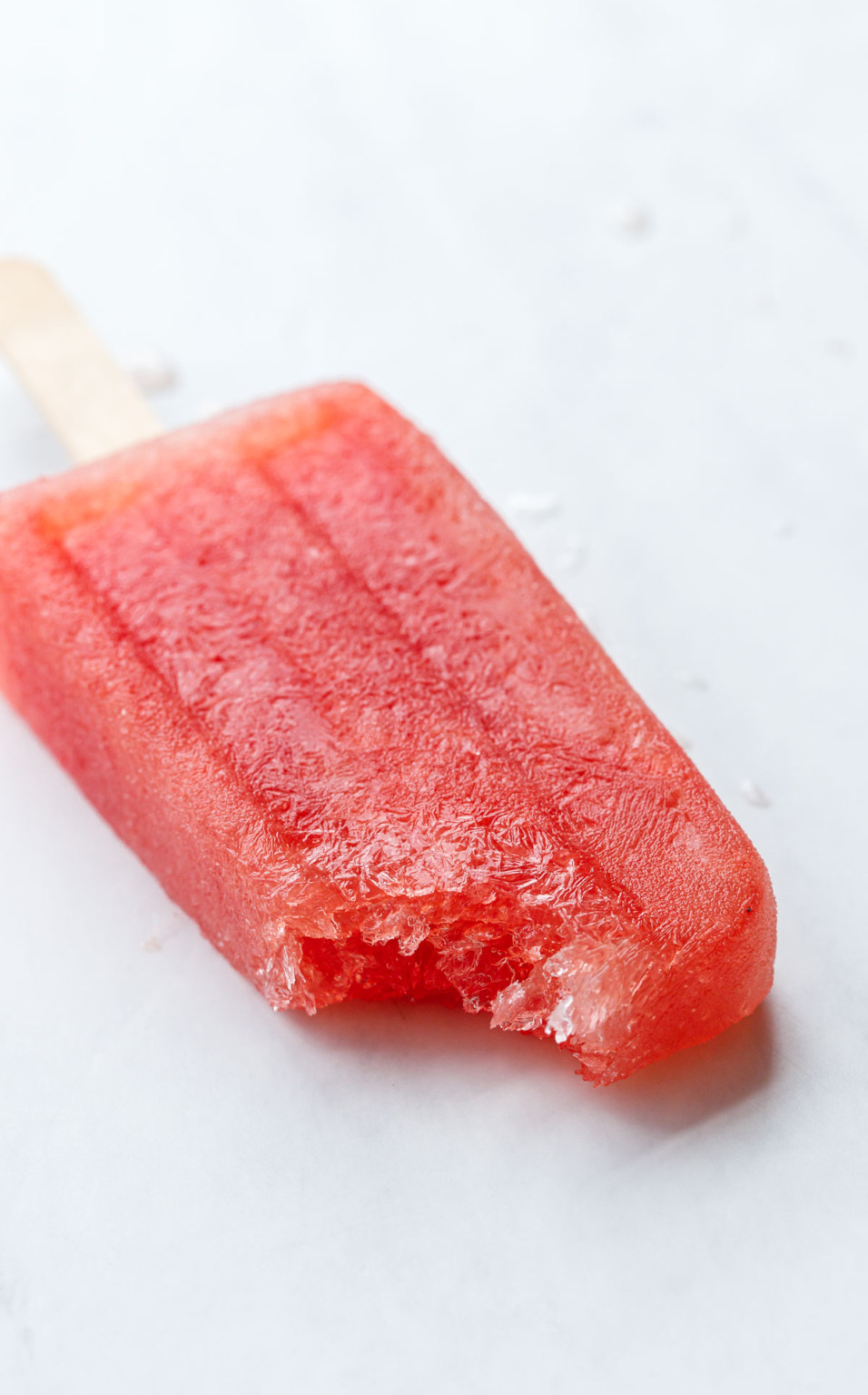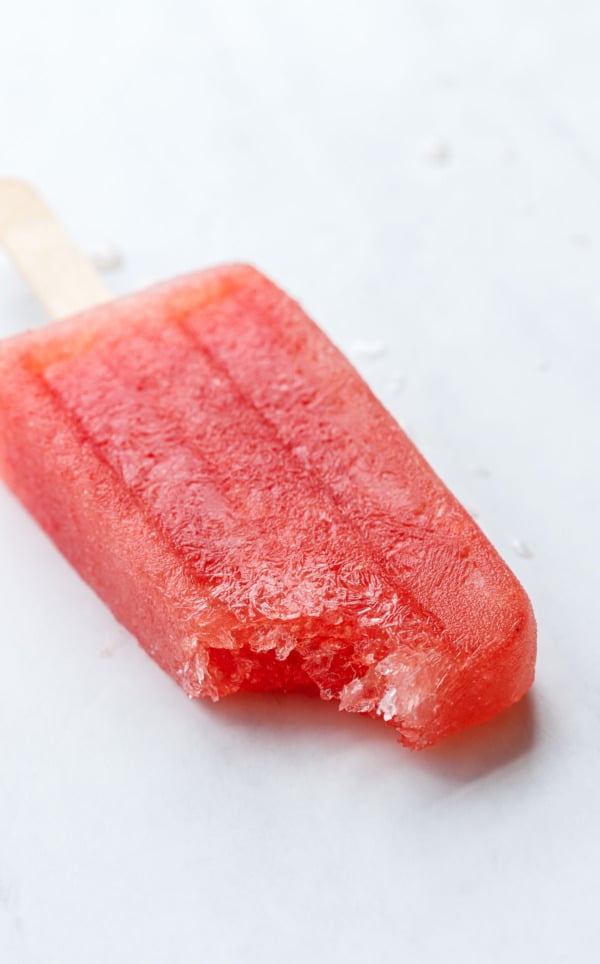 Before and After
This is a recipe I originally posted back in 2011 and am updating. Because it's a great recipe, but the photos (rather, photo, singular, since there's only one) in the old post leave… a lot of be desired.
For proof that I've come a long way in 11 years… here's a before and after:


When life gives you melons… just add tequila. Apparently.
(Also, if you like this recipe you'll love the Tequila Watermelon Jelly recipe in my That's My Jam ebook [Summer edition]. Seriously, so good!)
This recipe was originally published on September 30, 2011, it has been updated and rephotographed here. The main difference is the updated process to reduce separation, though I have scaled the recipe up to fit my 10-count popsicle mold. There's also a little extra lime juice and no lime zest.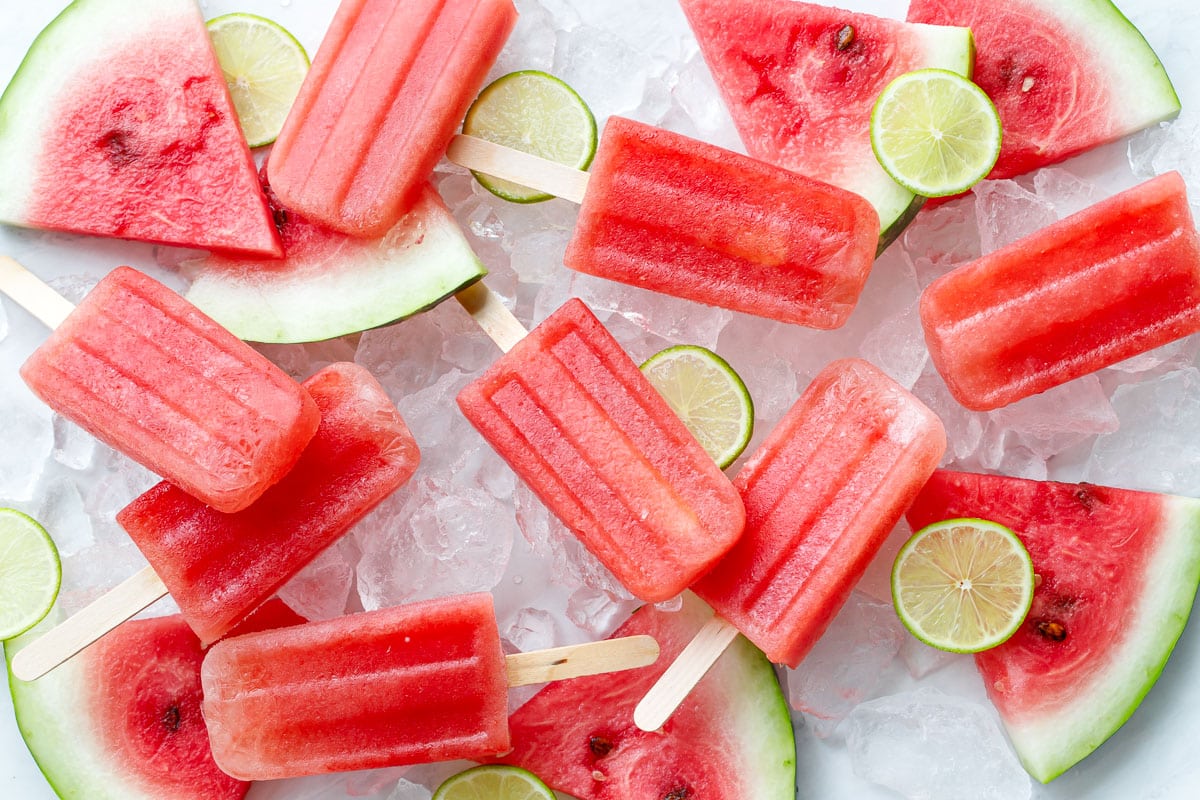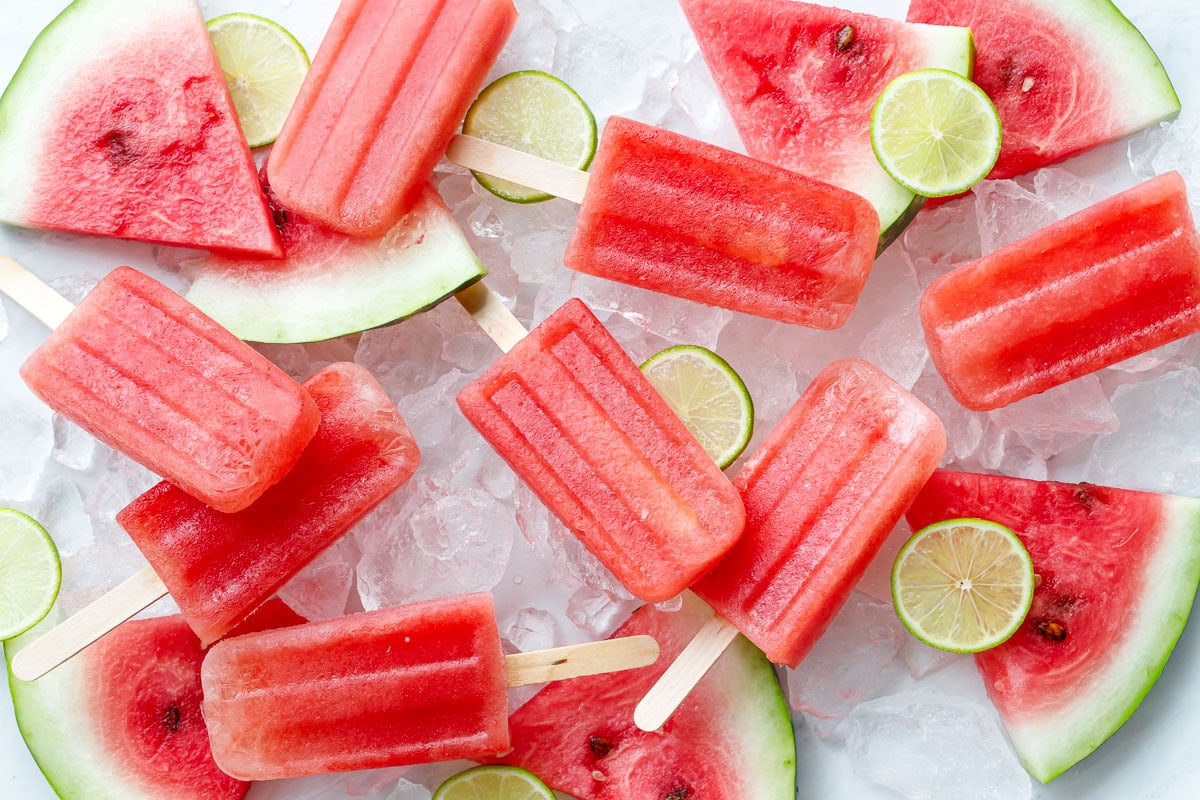 Tequila Watermelon Popsicles
Tart and fruity, bright and boozy, these tequila, lime, & watermelon popsicles are the perfect late-summer treat!
Ingredients
½

cup

/

120

g

water

½

cup

/

100

g

sugar

2

cups

/

480

g

watermelon juice

,

from half a small-ish watermelon

¼

cup

/

60

g

freshly squeezed lime juice

,

from 3 to 4 fresh limes

¼

cup

/

60

g

clear tequila
Instructions
Combine water and sugar in a microwave safe container or glass measuring cup. Heat on high for 30 seconds to 1 minute, and stir until sugar is dissolved and mixture is clear. You can also do this in a small saucepan on the stove, heating just until the sugar is dissolved and the liquid is clear. Set aside to cool completely.

To make watermelon juice, roughly chop watermelon. You'll need about 6 cups of chopped melon to produce about a cup of juice. Run melon through a food mill (if you have one), or give it a brief whir in the blender on low speed (careful not to pulverize the seeds). Strain through a fine mesh sieve. Measure out 2 cups of juice.

Combine watermelon juice, sugar syrup, lime juice and zest, and tequila in a small bowl or pitcher. If you want the pops to freeze faster, chill this mixture down in the fridge for an hour or two first. Pour into popsicle molds, leaving about ½-inch of head space to allow for expansion (for my molds this was approximately ⅓ cup/75mL per popsicle), then place on a level surface in the freezer.

To reduce separation (watermelon juice is particularly prone to this), gently stir the popsicles every 30 minutes (set a timer so you don't forget). After about 2 to 3 hours, the pops will take on a slushy consistency. When they reach this point, stir once more, and then position the sticks standing straight up in the middle. Return to the freezer overnight until frozen solid.

To remove the pops from the molds, gently submerge the popsicle mold ¾ of the way in a container of lukewarm water. Let sit for 30 seconds, then gently slide out the pops. To store them long-term, place pieces of parchment between pops inside a zip-top bag or airtight container and freeze for up to 1 month.
All images and text ©
for Love & Olive Oil.
Did you make this recipe?
Let us know what you think! Leave a Review below or share a photo and tag me on Instagram with the hashtag #loveandoliveoil.