If you thought grilled cheese couldn't get any better… try adding pickles. Golden toasty bread, gooey cheddar cheese and sweet and salty bread and butter pickles combine to make the ultimate grilled cheese sandwich.
The classic grilled cheese gets a flavorful update with the addition of tangy bread and butter pickles. The pop of vinegary sweetness is the perfect compliment to the rich, melty cheddar cheese and golden toasted bread.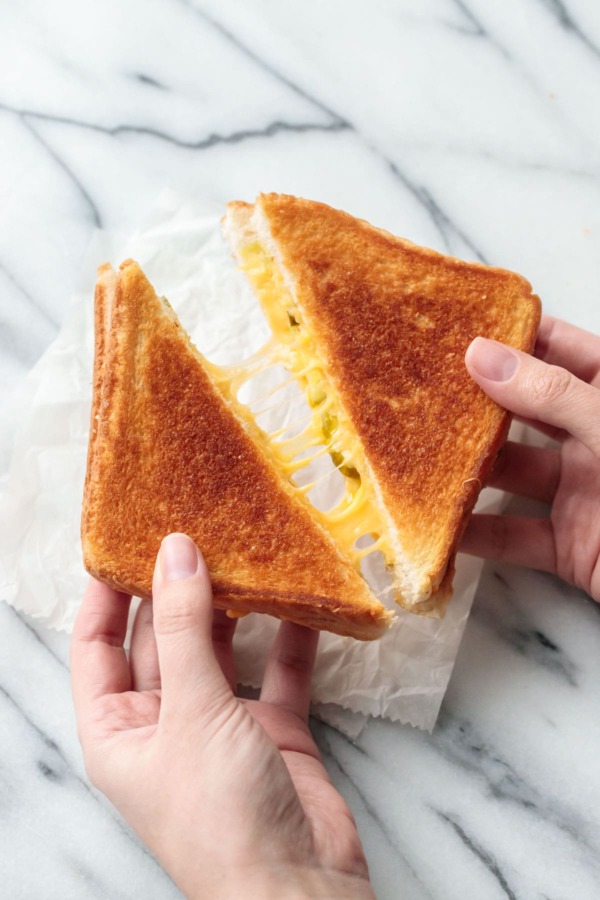 I love me a good grilled cheese.
There were few things that pleased me more than a classic grilled cheese sandwich, with toasted white bread and American cheese (yes, I was one of those picky kids who survived on starchy beige food for most of my childhood years). The *only* concession I ever made as far as additions was a bit of sliced avocado, and only then at Boogie's restaurant in my hometown (paired with a cookies 'n cream milkshake, well, it was pretty much my idea of heaven).
As an adult, my tastes have matured a bit, preferring quality aged cheddar in place of the processed stuff (just as melty, but without that weird plasticky texture). I'm also more open nowadays to grown-up additions like homemade jam (tomato and apricot being my favorite combinations), bacon (or, better yet, bacon jam!), fresh arugula, ripe tomato slices, or, in this case, bread and butter pickles.
Ok hear me out here, because I know it sounds a little weird. But the hint of salty, sweet, and sour is the perfect compliment to the sharp cheddar cheese and toasty bread. It's like the missing half of the puzzle you never knew you were missing. I mean, they are called bread and butter pickles for a reason, right? Why not enjoy them with their namesake (just add toasted cheese).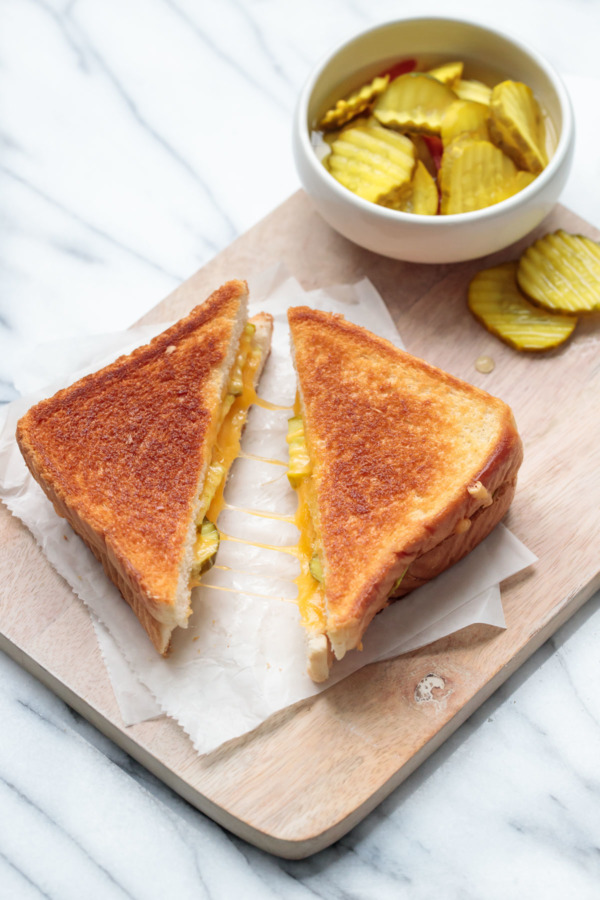 We tried this combination with dill pickles as well, but it really needs that sweetness from the bread and butters (probably why homemade jam works so well, that hint of sweetness really pairs perfectly with the sharp cheddar cheese).
Cheese matters. If you can find it, Tillamook's Medium Cheddar cheese is our favorite grilled cheese cheese: it's just sharp enough to give the sandwich flavor, but still perfectly oozy and melty. We shred our cheese vs slice, having found that shreds melt more evenly than slices do.
We've eaten probably hundreds of grilled cheese sandwiches over the years, and I'll say that Taylor is a grilled cheese master. I'm impatient, I tend to rush things. But the key to perfectly toasted bread and gooey melted cheese? Medium-low heat and a pinch of patience.
How to Make the Perfect Grilled Cheese:
Start with the right bread, like Texas toast or thickly-sliced white bread.
Top with shredded cheddar cheese for maximum meltiness.
Add a layer of bread and butter pickles.
Brush on softened salted butter (so soft it's almost melted – cold butter will just tear the bread).
Cook it low and slow in a nonstick skillet. If your pan is too hot, the bread will brown before the cheese fully melts. Cover the skillet if you need to to help melt the cheese.
As anxious as you are to chow down, don't rush it. Your patience will pay off with a perfectly golden brown and melty grilled cheese!
Also? This recipe would really be fantastic with some super thinly sliced pickled green tomatoes (I mean, right??)
Yes cheese!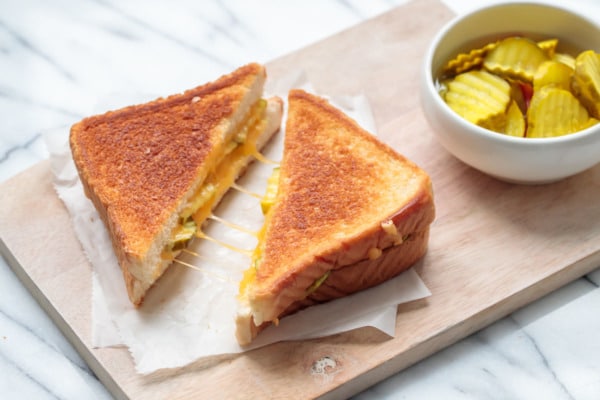 Pickle Grilled Cheese
Golden toasty bread, gooey cheddar cheese and sweet and salty bread and butter pickles combine to make the ultimate grilled cheese sandwich.
Ingredients:
4 slices bread (such as Texas toast or Italian bread)
2 tablespoons salted butter, very soft or almost melted
3 ounces cheddar cheese, coarsely shredded
10-12 bread and butter pickle slices, drained and patted dry
Directions:
Start preheating a large nonstick skillet (ideally with a lid) over medium-low heat.
Arrange bread on work surface. Spread or brush butter in a thin layer over tops of all pieces of bread. Flip 2 of the pieces so unbuttered side is up. Spread half of shredded cheese in an even layer on unbuttered bread. Arrange pickles on top of cheese, and then remaining cheese on top of pickles. Place other 2 slices of bread, buttered side up, on top.
Transfer sandwiches to warm skillet. It should be warm to the touch but not screaming hot at this point.
Cook slowly for 10 to 15 minutes or until cheese starts to melt and bottom is deep golden brown. If your bread starts to brown too quickly, reduce the heat and cover the skillet so the cheese has a chance to fully melt.
Flip sandwiches and cook for an additional 3 to 5 minutes, covered as needed, until bottoms are golden brown and cheese is fully melted.
Transfer to plates, cut in half, and enjoy immediately.
Did you make this recipe?
Let us know what you think!
Leave a Comment below or share a photo and tag me on Instagram with the hashtag #loveandoliveoil.
Disclosure: This recipe was developed as part of our ongoing Instagram partnership with Tillamook. And though we were not required to post it here, it's a recipe that's simply too good not to share. We're incredibly grateful for opportunities like these that allow us to continue sharing delicious recipes with you, so thank you for supporting us and the brands we love.