Our all time favorite chicken salad comes together in a flash using shredded rotisserie chicken and a bit of mayo for the perfect creamy consistency.
While this versatile chicken salad recipe can be enjoyed on its own or in a tasty sandwich, we've opted to serve it open faced on grilled sourdough bread with microgreens and crispy chicken skins.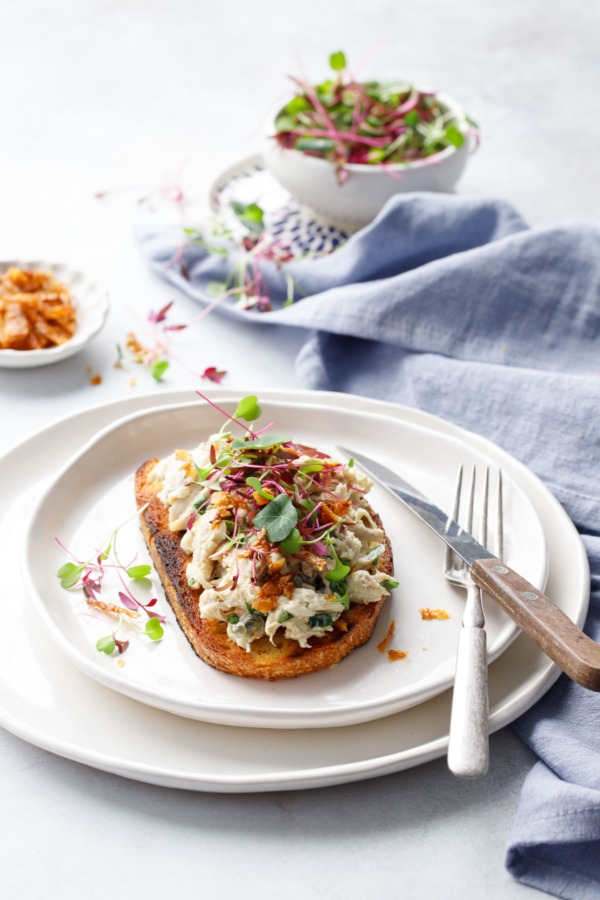 In a lunch rut? Tired of tuna? Sick of sandwiches? Mix it up a bit with this ultra flavorful chicken salad tartine, topped with fresh microgreens and crispy chicken skins made from the skin of the rotisserie chicken.
Tartine literally means a slice of bread in French, but most often refers to an open faced sandwich (I know, it sounds like it should be a little tart, but that's actually tartlet, not tartine, which is a different thing entirely).
Tartines feel fancier than toast, more special than sandwiches, even though they are no more difficult to prepare.
Here we've taken slices of crusty sourdough bread, brush it with olive oil and grill it to perfection in a cast iron skillet (but if you have a grill grill you could use that too for an added smoky flavor). The prepared chicken salad is then piled on top (go ahead, pile it on) and then sprinkled with crispy chicken skin crumbles and fresh microgreens (although some fresh baby arugula would be lovely here too).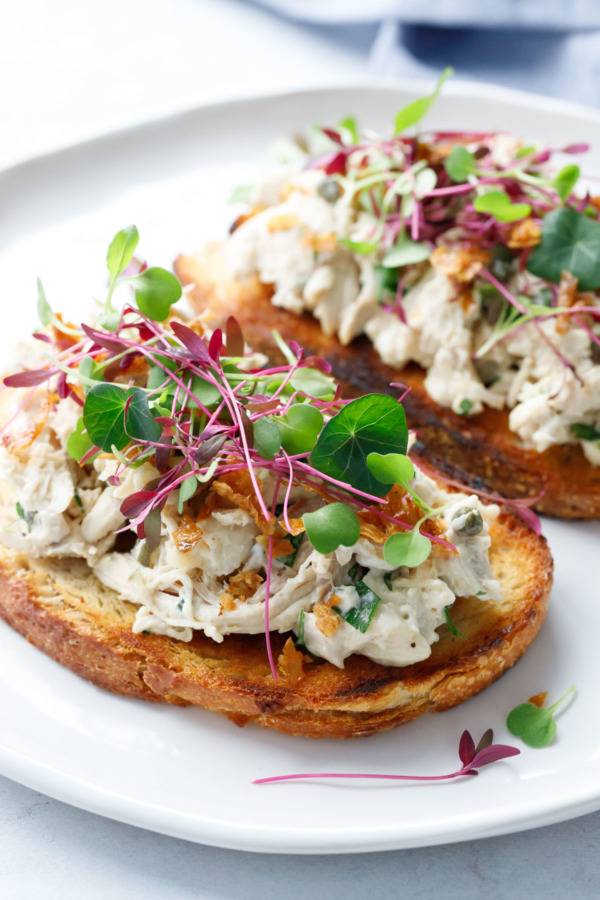 The chicken salad recipe itself is actually quite similar to Taylor's famous tuna salad, with the main flavoring elements being sweet relish, capers and fresh parsley. A touch of mayo brings it all together into creamy perfection, but not overwhelmingly so.
You could certainly enjoy this chicken salad on its own or as a two-sliced sandwich, but we love serving it as an open faced tartine on a slice of grilled crusty bread (preferably homemade sourdough if you happen to have a loaf handy!)


But the best part of these open-faced tartines is arguably the crispy chicken skins.
Rather than wasting the flavorful goodness of the rotisserie chicken skin, we sliced it into thin strips and then baked it until the strips are crispy and golden brown. Crumbled atop the creamy chicken salad, they provide the perfect amount of textural contrast and pop of intense chicken flavor.
Might I add that any leftovers can be used to top chicken soup, chicken tacos, or even a chicken caesar salad. Anywhere you'd add a sprinkle of crispy bacon or pancetta, really.
Indeed, crispy chicken skins are basically the poultry equivalent of bacon (well, more accurately pork rinds but we're not nitpicking here).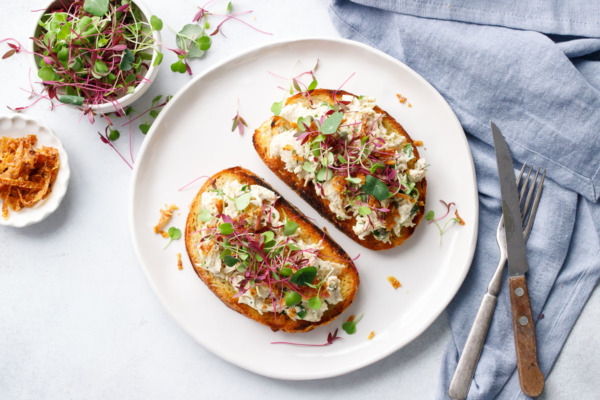 Chicken Salad Tartine Toasts with Crispy Chicken Skins
Creamy, flavorful chicken salad made with shredded rotisserie chicken and served it atop grilled sourdough toasts with crispy chicken skin and microgreens.
Ingredients:
1/2 rotisserie chicken
3 tablespoons mayonnaise
1 tablespoon fresh parsley, chopped
1 tablespoon sweet pickle relish
2 teaspoons stone ground or dijon mustard
2 teaspoons capers (the smallest ones you can find)
salt and pepper, to taste
6 slices sourdough bread, toasted
olive oil
microgreens (optional)
Directions:
Peel off a few big pieces of rotisserie chicken skin. Slice into 1/4-inch wide strips. Arrange on a baking sheet lined with parchment or foil and sprayed lightly with cooking spray.
Bake at 350 degrees F for 12 to 15 minutes or until skins are crispy. Remove from heat and let cool.
Shred chicken meat (2 cups worth or about 1/2 of a typical rotisserie chicken), breaking it up into bite-sized pieces. Place in a bowl and add mayo, parsley, relish, mustard, and capers. Toss to coat. Taste, then season with salt and pepper as desired.
To assemble, brush bread with olive oil. Grill or cook in a cast iron skillet until crispy and browned in spots.
Pile chicken salad mixture on top. Sprinkle with crumbled chicken skins and finish with microgreens, if desired.
Did you make this recipe?
Let us know what you think!
Leave a Comment below or share a photo and tag me on Instagram with the hashtag #loveandoliveoil.