You should know by now that I love coffee cakes (I mean, any excuse to eat cake for breakfast, right?) and this blueberry cream cheese variation may just be my favorite one yet!
With a moist and tender crumb, fresh summer blueberries, and a ribbon of sweetened cream cheese running through the middle, this bold breakfast cake is bound to make your morning better (or your afternoon, for that matter, as it can be enjoyed any time of day!)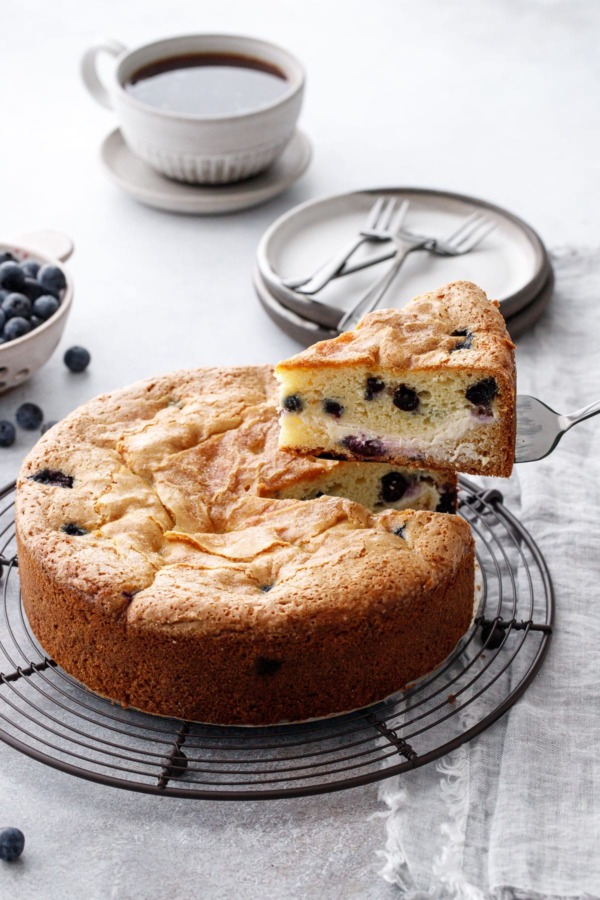 This pesky recipe. Considering it's nearly identical to my other coffee cake recipes (which are all based on my grandma's recipe for sour cream coffee cake), I didn't anticipate it needing quite so many tests. But that cream cheese swirl just didn't want to cooperate. First the cream cheese was too liquidy, making it nearly impossible to spread the final layer of thick cake batter on top. Then my blueberry distribution was off, resulting in a base of blue and barely anything in the top half. A few proportion and process changes improved the process greatly.
The cream cheese layer sunk a little bit in the final version, but I've decided I'm ok with that because this coffee cake is amazing and I didn't want you to have to wait any longer for the recipe.
Seriously.
I brought in one of my early tests to ceramics class, and heard from more than one of my classmates that this cake was one of the best things I've made. Which is saying a lot, considering they've also gotten to taste test my chocolate chai cheesecake bars, black sesame-stuffed matcha cookies, and blackberry lemon bars.
The cake base itself is adapted from my grandma's recipe, which is one of those recipes that is so incredibly versatile and can be adapted any number of ways (see: apples, chocolate chips, greek yogurt, and muffins). This time I added blueberries and a swirl of sweetened cream cheese in the middle.
In lieu of a crumb topping (because, let's face it, this recipe already uses way too may bowls), I stayed true to my grandma's original recipe and just sprinkled the top with sugar. This results in a lovely crackly crust on top of the cake.
You could also make this cake more dessert-appropriate by adding a drizzle of glaze to it, maybe with a hint of lemon or almond or even a hot pink blueberry glaze. Served a la mode with a scoop of vanilla ice cream, no one will know it's actually a breakfast cake!
I'm not convinced that tossing the blueberries with flour actually does anything. I did it here, however it's a totally optional step that I don't think makes all that much difference.
Instead, to keep the blueberries from sinking, spread half of the plain batter into the pan, before adding the blueberries, and then sprinkling a few blueberries on top of that. This gives the cake a supportive base that keeps the blueberries from sinking to the bottom.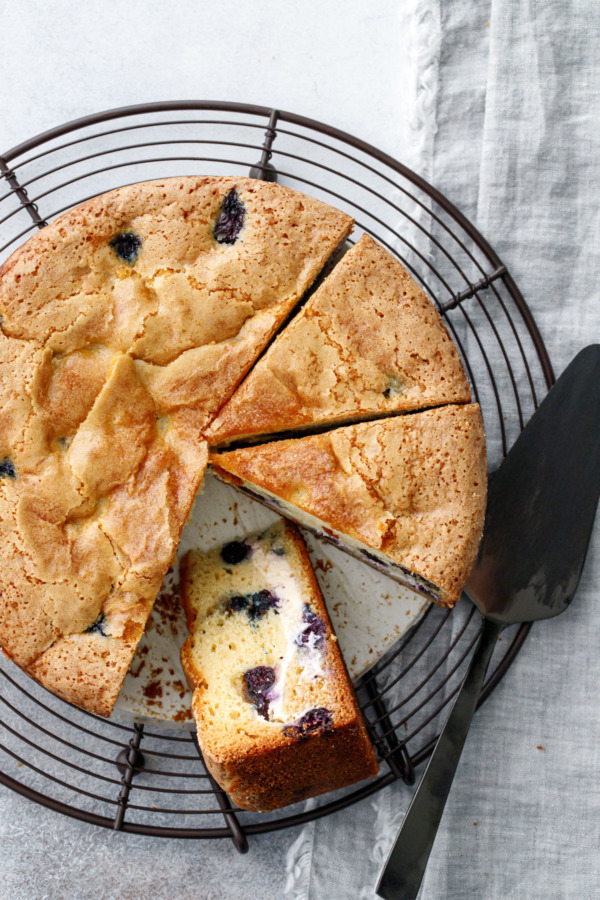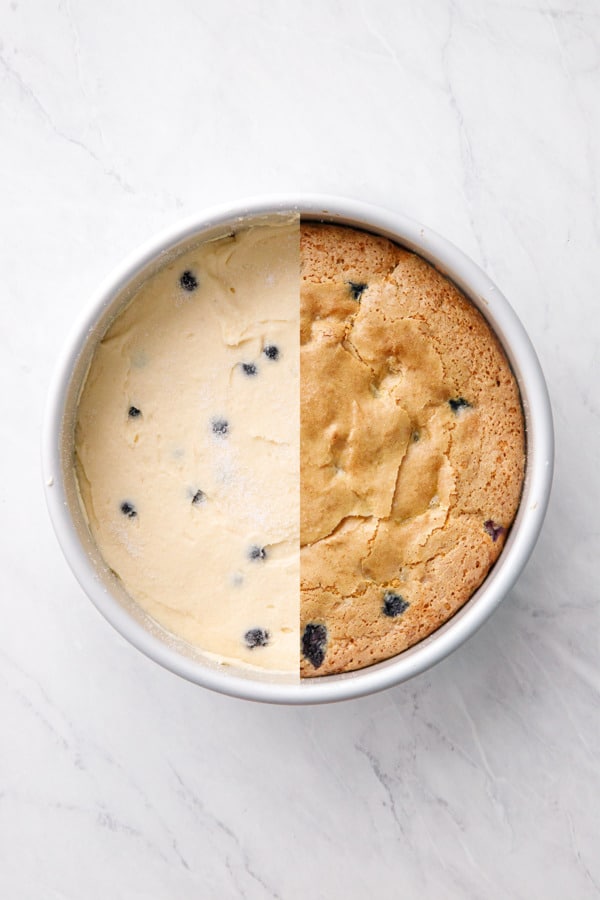 The assembly process of this cake is a bit more detailed than many other coffee cake recipes.
When you spread the cream cheese layer, leave about 1/2-inch of space between the cream cheese and the edge of the pan. This will keep it contained within the outer cake.
For the top layer of batter, rather than just dumping the batter in one big blob in the middle (which will require much more spreading, displacing some of the cream cheese layer below). Use a small spoon or cookie scoop to drop small dollops of the batter evenly around the entire pan. Then you just have to spread it a little to even out the top. It makes the process much easier, trust me!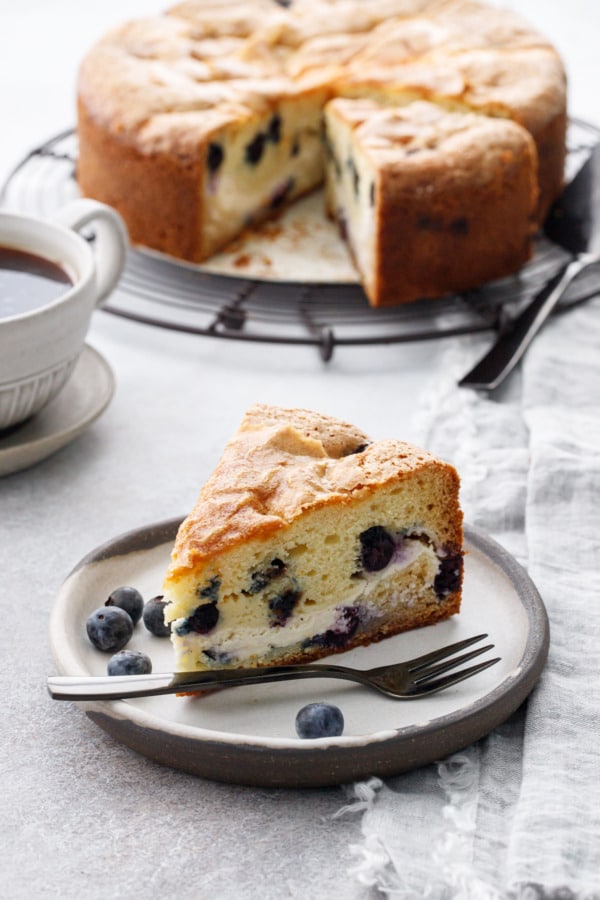 Size matters.
One of the changes I made during my testing process was to bake it in an 8-inch cheesecake pan instead of a 9-inch one. I really like the look of a really tall slice of cake, it makes the layers that much more impressive. The slightly smaller diameter makes it easier to spread out the various layers as well.
You can bake it in a 9-inch cheesecake pan if you like, just reduce the baking time by 5 to 10 minutes to account for the shallower depth.
An 8-inch tube pan also works here, the hollow center will help bake more quickly and evenly throughout (I'd recommend checking it after 40 to 45 minutes).
Halve the recipe for a 6-by-3-inch cake pan.
You'll note this recipe calls for a 3-inch deep pan: DO NOT bake it in a regular 2-inch cake pan or it will overflow on you.
I used these aluminum cake pans with removable bottoms, the thick, insulated walls bake beautifully compared to a springform pan which is often quite thin and won't bake as evenly. You can also use a deep cake pan without a removable bottom if you have one. If you do, I recommend adding a few long strips of parchment down in the pan and overhanging the sides: you can use these strips to 'lift' out the cake from the pan without inverting it.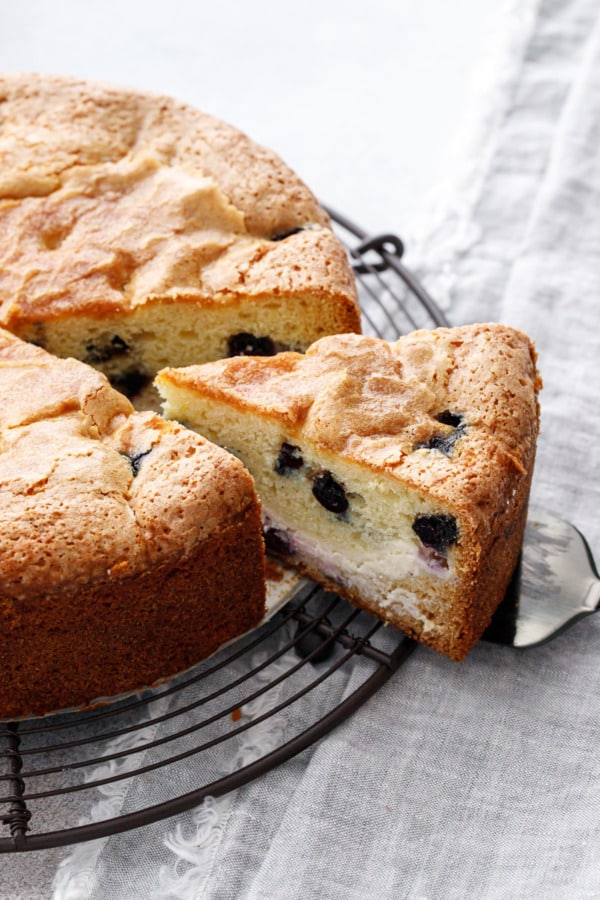 Swaps & Substitutions
Fresh vs Frozen Blueberries?
You can use frozen blueberries in this recipe, however they need to be fully thawed and ideally at room temperature before you add them to the batter. Otherwise, the cold berries drop the temperature of the batter and your cake will be underdone in the middle.
To quickly thaw frozen blueberries, I recommend putting them in a fine mesh sieve or colander and running them under lukewarm water. Then let them sit and drain for 20 to 30 minutes and come up to room temperature.
Greek Yogurt
Technically you can use Greek yogurt in place of the sour cream, however the final cake will be drier due to the lower fat content. I DO NOT recommend using low or non-fat yogurt or sour cream in this recipe for a reason: the cake will come out dry.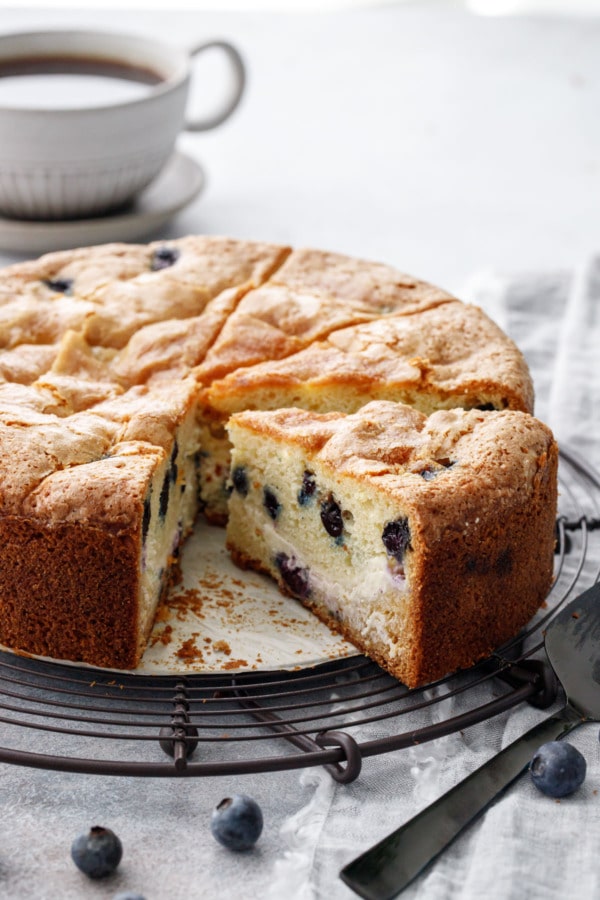 Where's the Coffee?
Hold up. Before you leave a comment wondering, "where's the coffee?!?" please know that in the United States, coffee cake refers to a muffin-like cake served with your morning coffee. It does not actually have coffee in it.
Coffee cake in the US means something very different than in the UK or other countries. I know there's been some confusion about this in my other coffee cake recipes (and the reason I ultimately developed this espresso coffee cake recipe for those who want an actual coffee flavored cake).
Whether you call it a coffee cake or a breakfast cake, this moist and delicious blueberry cream cheese cake is delightful any time of day!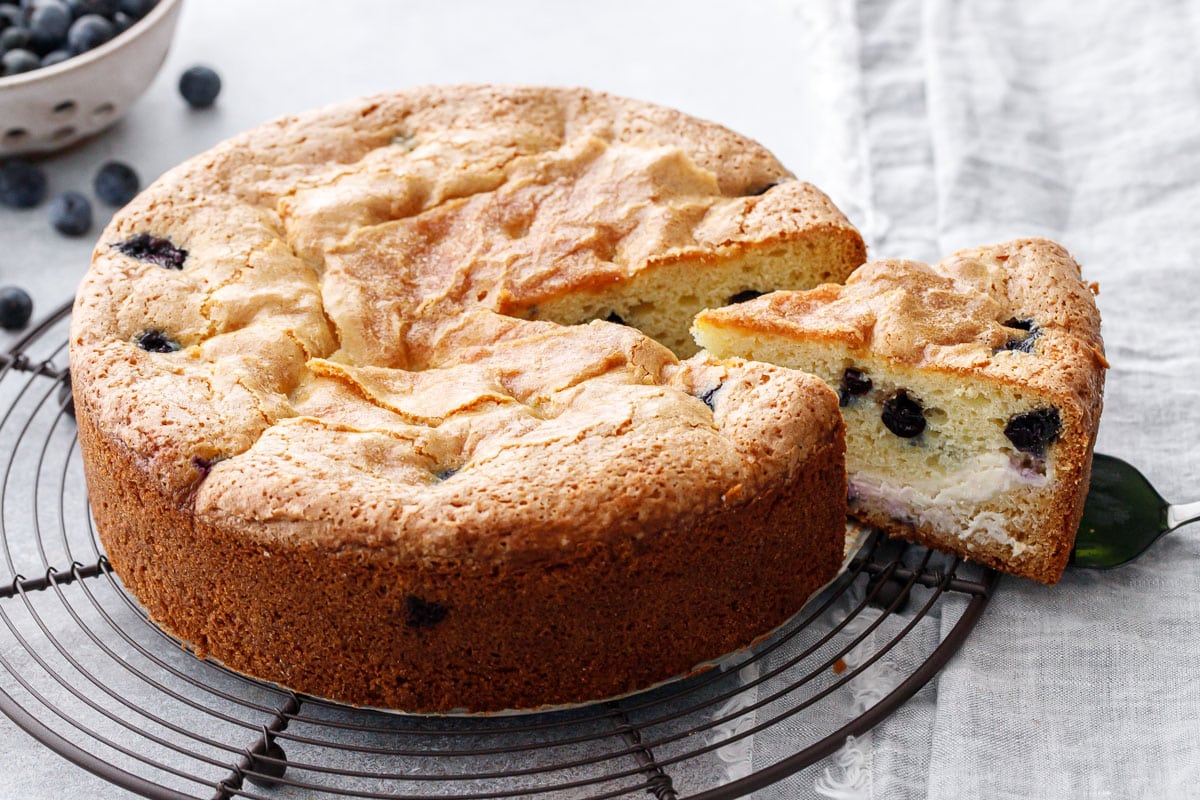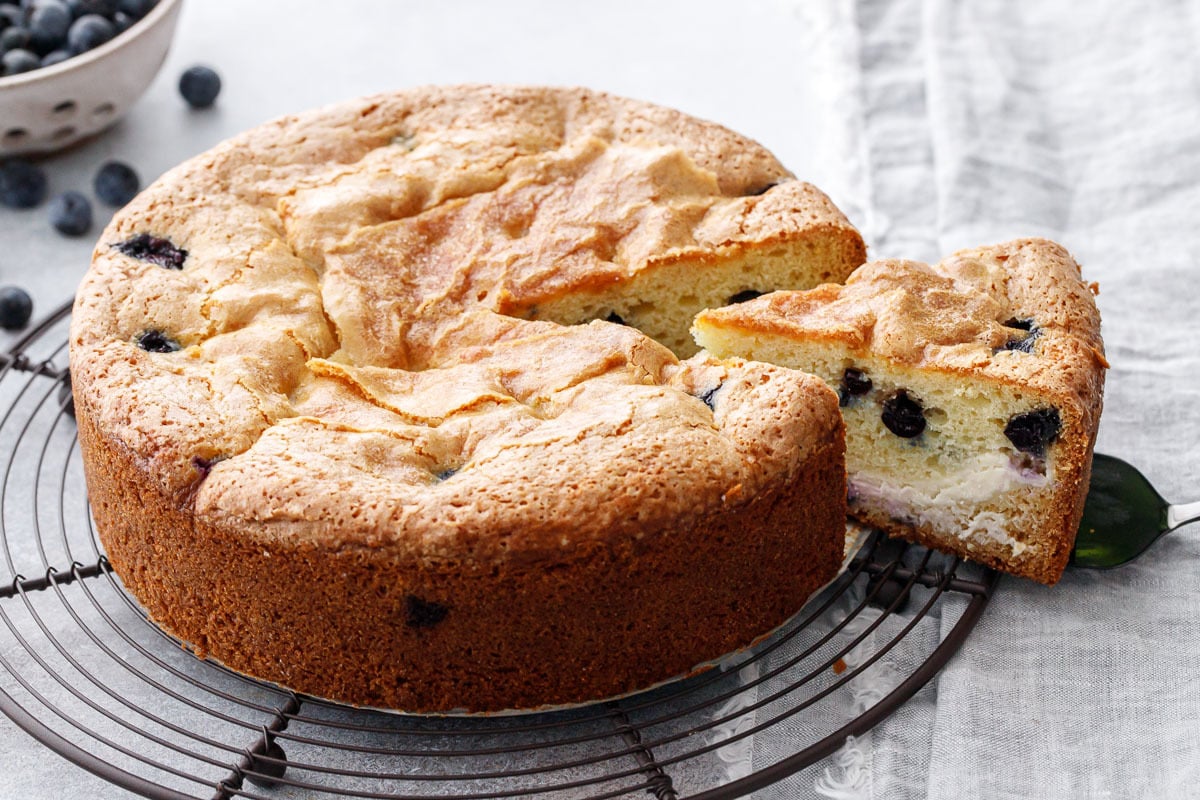 Blueberry Cream Cheese Coffee Cake
Blueberry cream cheese coffee cake may just be my favorite coffee cake recipe yet, with a moist and tender crumb, fresh summer blueberries, and a ribbon of sweetened cream cheese running through the middle.
Ingredients
For cream cheese layer:
6

oz

/

170

g

full fat cream cheese

,

at room temperature

¼

cup

/

30

g

powdered sugar

,

sifted

1

teaspoon

vanilla extract
For cake base:
½

cup

/

113

g

(

1 stick

) unsalted butter,

at room temperature

1

cup

/

200

g

granulated sugar

,

plus more for topping

2

large eggs

,

at room temperature

1

cup

/

240

g

sour cream

1

teaspoon

baking soda

1 ⅔

cup

/

210

g

all-purpose flour

1 ½

teaspoons

baking powder

½

teaspoon

fine sea salt

1

teaspoon

vanilla extract

½

teaspoon

almond extract

1

cup

/

140

g

fresh blueberries*
Instructions
Preheat oven to 350 degrees F. Butter an 8-inch round by 3-inch deep cake pan (preferably with a removable bottom). Line bottom with parchment paper; lightly butter parchment.

In a mixing bowl or the bowl of a stand mixer fitted with the paddle attachment, beat cream cheese and powdered sugar together until smooth, 1 to 2 minutes. Mix in vanilla. Transfer mixture to a small bowl, scraping out as much as you can from the main mixing bowl.

In the same mixing bowl (no need to wash it), cream butter and sugar together until fluffy, 2 to 3 minutes. Add eggs, one at a time, mixing well after each addition. Mix in vanilla and almond extracts.

In a bowl, whisk together flour, baking powder, and salt until evenly distributed. In another small bowl or glass measuring cup, whisk sour cream and baking soda.

With the mixer on low speed, add half of dry ingredients to batter, followed by half of sour cream, mixing after each addition until just incorporated. Scrape down the sides of the bowl, then repeat with remaining dry ingredients and sour cream.

Spread half of the plain batter into prepared cake pan. Sprinkle with about 1/3 of blueberries, pressing them lightly into the batter.

Dollop cream cheese mixture on top, carefully spreading it into an even layer that doesn't quite go to the edges of the pan.

Fold remaining blueberries into the rest of the batter until evenly distributed. Drop small spoonfuls (I use a cookie scoop) evenly all over the top of cream cheese layer, then use an offset spatula to spread it out until smooth. Sprinkle with a tablespoon or two of granulated sugar.

Bake for about 55 to 60 minutes or until top is deep golden brown and a skewer inserted near the center comes out clean (use a skewer or cocktail pick, a regular toothpick isn't quite long enough). Note that different sized pans may take more/less time to bake, so adjust accordingly (see full post for more info).

Place pan on a wire rack to cool. Run a knife around the edge to release, then remove from pan and cool completely before slicing. Cake will keep, covered in an airtight container, for up to 5 days.
Notes
If using frozen blueberries, be sure to thaw them completely and let them come up to room temperature; otherwise they will bring the temperature of the batter down and result in a cake with an underbaked center.
All images and text ©
for Love & Olive Oil.
Did you make this recipe?
Let us know what you think! Leave a Review below or share a photo and tag me on Instagram with the hashtag #loveandoliveoil.